Day Zero
Today is what is referred to in the medical world as "Day Zero".
It is the first day of dosing for multi-stage vaccinations given to those of us lucky enough to be traveling for an extended period of time into areas described as "high risk" for various nasty diseases.
Which explains exactly why both my arms are sore right now.
Left work around 1:30, picked up Kendra at home and went over to Jefferson Hospital on 10th and Chestnut. Took the elevator to the 6th floor to the Travel Medicine Department, met a very nice doctor named Valerie with this pleasant poster on her wall (Not a joke):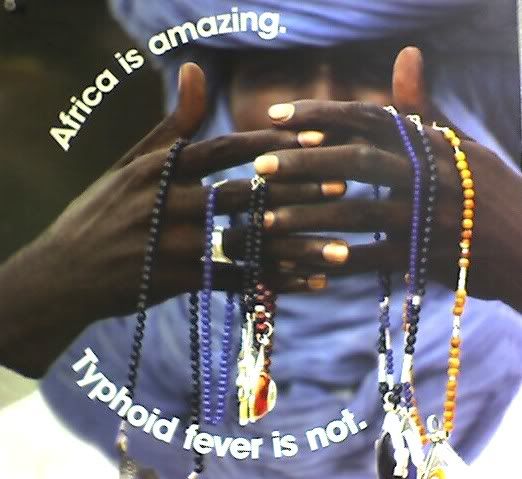 She proceeded to give us the breakdown on all the risks involved with being in Southeast Asia for an extended period of time, how certain diseases are spread and what modern medicine could and could not prevent. Then we find that not everything can be given in one shoot-me-up-a -dozen-times needle session. We have to come back several more times for follow-up stages for proper levels of vaccination. It's a good thing there are several options for doubling up on some shots, so we were able to work it all out with us being in Manila for a week, then being in various places in the U.S. in January.
Then it turns out that some of the vaccines can cause severe allergic reactions...Including, but not limited to,
hives, swelling of the face and neck, shortness of breath, nausea, paralysis and death.
(Did I hear there was a role in Chestnut Hill.....?)
ANYWAY: So here's the Damage for
Tim and Kendra's Day Zero
:
Tim gets:
(Left Arm):Hepatitis A, Hepatitis B
(Right Arm):Rabies and Influenza
Kendra passed on the Japanese Encephylitis...wanted to avoid the swelling, paralysis, etc...probably would have had the same effect on her as bee stings, so a good call!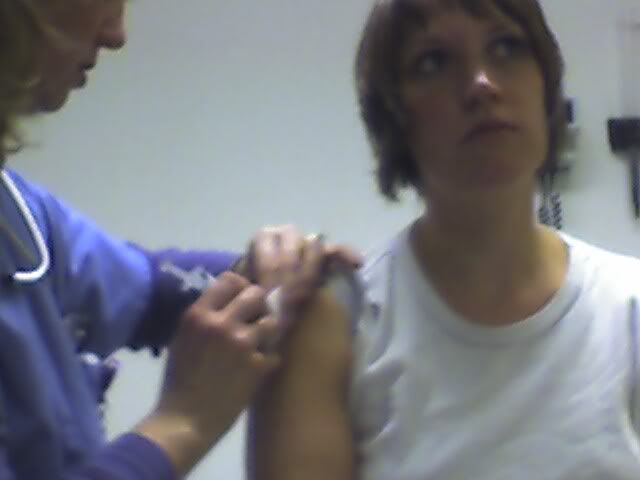 Took home a weeks worth of pills for Typhoid (a live vaccine, so keep refrigerated and take one every other day on an empty stomach) and made plans to be back in one week for more Rabies, more Japanese Encephylitis and for some lovely Tetanus. (Tuberculosis will be performed at our regular doctor before we leave.)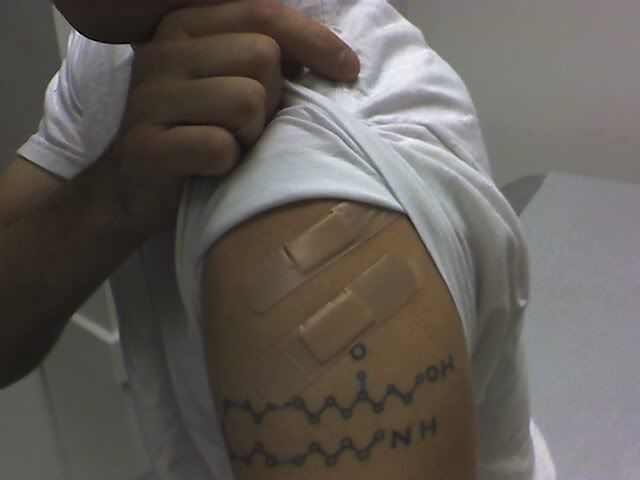 So, now we're all bandaged up, sore (me more than Kendra) and approximatly 25% of the way protected from some of the most widespread epidemic illnesses in the non-developed world. (Now I'm at home, sneezing because of my cat. I guess you can't win them all.)