Partyin' in Pittsburgh!!
Guess what?
The
P
i
t
t
s
b
u
r
g
h
S
te
e
l
e
r
s
are in the Super Bowl.
If for some reason we didn't already know, that simple fact has been succesfully driven into our heads and the black and gold colors of P-town have been seered into our mental imagery for weeks to come. It's like every inhabitant of the entire Pittsburgh region has made it their personal mission to make sure that every other soul on Earth is aware of this. That, or their just trying to convince themselves...but more on that later!
This past weekend we headed westward to the great City of Three Rivers to say our final pre-Manila goodbyes to our dear friends and family on the other side of the state of Pennsylvania. Got up Saturday around 7am, hopped in the car, and after getting thoroughly Starbucks-ed up, pulled into Station Square around 1 pm. Chris and Lisa stopped by shortly after and we had some drinks in the hotel lobby before heading to
Buca di Beppo's
down the street.
Chris had a bad experience with a group dinner at Buca's previously, so we were not quite sure how they would handle our crazy group of 14, even though they had sworn they "never split up a group". Well, they were sort of right. We didn't get an entire table all to ourselves, but close enough, and our server, Charlie, kept us well served all evening. After appetizers (with enough garlic to kill several generations of vampires), we feasted on some massive portions of baked ravioli, linguini, spaghetti with (massive) meatballs and beer.
In addition to Kendra and I, we had had
Chris (Kendra's brother) and his wife Lisa,
Emily #1 (formerly from Accenture) and her fiance Mark
Emily #2 (P-Pack, Accenture) and her husband Matt
Pete (from Donegal HS) and his wife Erin (also from Punta Cana)
Derek (again, Donegal and Punta Cana) and his girlfriend Lonnie
Ryan (YCP & Punta Cana)
Tall (as opposed to Blonde) Greg, also from the Punta Cana trip.

(See, you spend one week surviving on
Presidente and mini-pizzas in the Dominican
, and you make friends for life!)
Shots of the crew: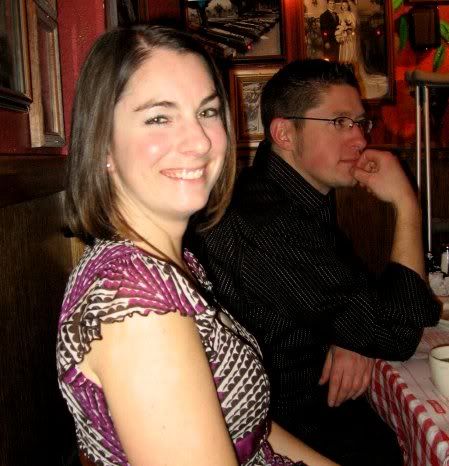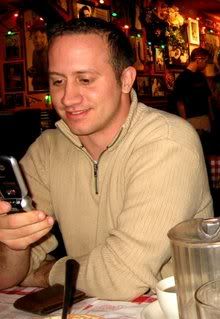 Not content to let the fun die early, we moved the party a few blocks down Carson St. to a club called Saddle Ridge. Now I knew Pittsburgh is pretty far west as opposed to Philly, but a moment after stepping into this club I could have sworn we were minutes from the Texas border. I've never seen so many people actively listening to country music since 9th grade gym class where we had to line-dance with the girls for class credit. The bizarre thing was the combination of the hard-core cowboy-hat wearing, mechanical bull-riding crowd and the glossy-lipped, low-cut tube top Jersey girl crowd. It's like they took Egypt on the Delaware, tossed out half the underage daddy's-girls from across the river and replaced them with attendees of a Garth Brooks concert. All a little strange to me, but the venue was amazing and everyone was having a great time.
After a while, we ventured off to another big warehouse-ish club playing more of a top-40 mix (with a little
Living on a Prayer
thrown in for good measure and audience participation). Everyone was dancing (even Matt on his crutches) and enjoying the night (got a rum and coke for $1.00!!). I should mention that at both bars, each track was introduced (and often interupted) with the following dialogue:
A:(Unseen wanna-be radio DJ guy):
"Are there any Steeler's fans in the house tonight?"
B:(crowd):
"Wooooooo!!!"
A:
"I said, are there any Steeler's fans in the house tonight?"
B:
"WOOOOOOOO!!!!!!!
A:
"Pittsburgh, if you know who's gonna win the SuperBowl, le
t me hear you make some noise!!"
B: "
Wooooooooooooooooooooooooooooooooo",
etc... etc
Ah, good times!! Much thanks to everyone who came out for dinner and for P-Pack and Matt for showing us a great time in their city!
For our entire drive back to Philly, we were between a dark raincloud and a band of bright blue sky, resulting in multiple rainbows on and around the Turnpike...here's a double rainbow, taken through a wet windshield and moving wipers: