When Children are Forgotten...
...each Day becomes their Last Supper. (billboard in Makati City)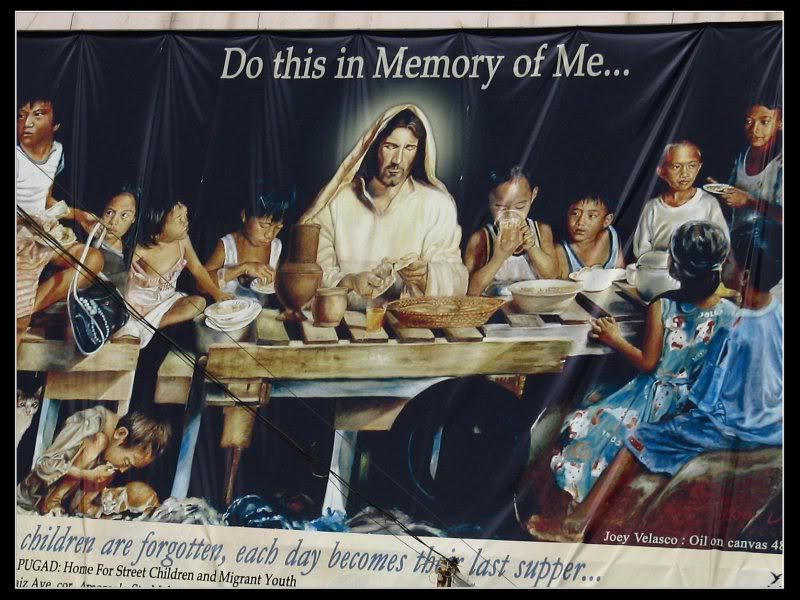 Yesterday I had the privledge of being able to meet and speak with a Filipino man who is preparing for his first trip to the U.S.A, where his fiance awaits him in Illinois! You can read their story and experiences together and apart on their
blog site
. Talk about a long-distance relationship!
Currently, Julius is anticipating his visa application interview on March 13, and they have asked if I could aid him in preparing him for that critical appointment by tutoring him in his English and communication skills. We spoke for an hour yesterday out in Glorietta Park,-I asked him a million questions and helped him with some of his pronunciation...it was very cool to learn so much about someone in so little time! I have complete faith in his ability to do well in an interview setting from what I saw yesterday, and we'll continue to get together each week to work on his presentation and communication skills.
(I know there are several people out there thinking, "
what?!
Someone's asking Tim to instruct
them
on communication?" -Hey! I do what needs to be done! ...and my B.A. degree is in mass
electronic
communication, not
human
communication! Though, I did do quite well in Abnormal Psych junior year...)
Some images from the past few days.
I've been trying to get away from mall-world Makati, and it sure doesn't take long to get a sense of the physical proximity but massive chasm between various classes and lifestyles here. Sometimes there's barriers, sometimes not. A filthy canal of unimaginabe stench seperated from shopping areas by a row of trees and flowers - A man selling individual cigarrettes from an opened pack on the steps of a an office high-rise. And we already mentioned the 3-year old girl in a leg cast selling flowers to the guy driving the Escalade. Sometimes it's really hard to look at.
I'm thankful for my camera. It allows me to experience aspects of life through it that I would otherwise not want wish to witness. I guess that lens is my barrier.