Observation Post
Here's a few odds & ends about life here:
Catholicism is everywhere. The amusement park plays religious Christmas carols over the public address system. All the top newspapers have daily religious devotions. Many of the Jeepney's have Bible verses painted on them. There are numerous religious bookstores as well as places to observe Mass in the mall. Here's a church located next door to a gentleman's club.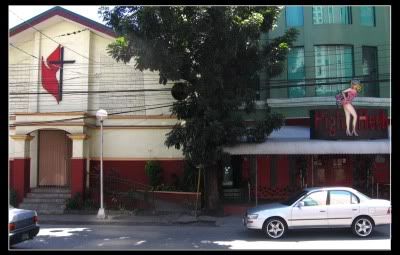 Salt in the Philippines goes in the shaker with the fewer holes...the shaker with more holes gets the Pepper.
Food is a major part of life here. Everything revolves around eating- the entire 2nd floor of the mall is dedicate to restaurants. People eat constantly, adding a 4th meal to the day, merienda, which is like tapas or afternoon tea. When I'm walking back home from the grocery store with 4 plastic bags in each hand, there are still 2 girls outside of each restaurant asking me to come in for lunch. Restaurant "doggy-bags" are literally plastic bags...even soup gets put into a knotted plastic bag for you to take home.
However portion sizes are not what you'd expect for food lovers. A "Family Size" pizza at Pizza Hut, is only slightly larger than a Personal Pan in the States. McDonald's serves a side of rice wrapped in paper. So does Wendy's. Last Friday night I ate a pig's ear.
Here's some more on Filipino cuisine.
Customer Service Quality Part 1:
I bought some presents for 2 little girls that we know here. At the toy store, they were offering gift-wrapping for an extra 15 pesos (about 30 cents). The lady that wrapped my two items could have created a swan out of a postage stamp. This was absolutely the most precise and intricate gift-wrapping I have ever seen. Out of one sheet of paper, she created an amazingly creative and shrink-wrap tight package. She created a hand-made stand-up gift bag for the customer before me- Stunning!
Customer Service Quality Part 2:
I was looking for a professional-looking portfolio to display some of my photography, so I bought one at a nearby bookstore. After taking it home and opening it up, I discovered that the plastic pages looked like a rope toy after 15 minutes with Dozer. Grabbed the receipt, took the portfolio back to the store for an exchange. I explained and showed the damage to about 4 people at 2 different desks, who told me it was the only one of that kind in the store. Eventually a manger finally took my card and refunded my money. I thanked them all, and exited the store, but not before seeing the manager return the damaged portfolio back on the display shelf.
And Skype:
Finally! Our 8 dollar payment has made it's week-long journey via cyber-space, pony express, rowboat and Masai warrior on foot to it's destination, allowing us to enjoy free, unlimited voice (and video!) calls to any other Skype customer in the world as well as calls to any U.S.-based landline or cell-phone for $.02 a minute. Let us know if you are interested in Skype (it's a free program download!) or would like us to call you sometime! -Don't call us- it's much more expensive!!