Playing with Volcanoes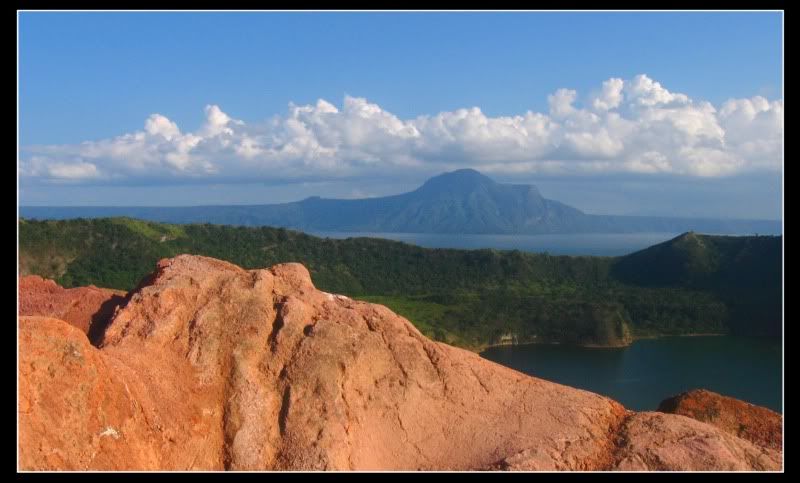 What?! No smog, jeepneys, mega-malls, high-rises, or incessant honking? That's right! We're in Tagaytay!!!!



[Preface- by Tim.
: In attempting to document these adventures as well as possible, I must admit that some of the following shots are not quite up to my previous standards. The Canon Powershot A520 that I was using does not have a conventi
onal viewfinder, and since the sun was so bright all day, I was having tro
uble find
ing the prop
e
r exposure. D
ue to the large number of shots, I posted them s
m
all size- click on the pic to open a large
version. That said- enjoy the story!
]
I knew it would happen sooner or later, and I think the State of Emergency that restricted Tim's mobility to about a 1 square mile area might have forced the issue. This last Friday, Tim was at the end of his rope with Glorietta and went into "adventure or bust" mode. He wanted to spend some time together at a place other than our apartment or the mall, and he came up with a list of potential places he had researched.
As one by one, the places were deemed unsuitable for foreigners to go by themselves by my co-workers, Tim grew more and more frustrated. Finally, one of my co-workers suggested Tagaytay - the home of
Taal Volcano
- the smallest but one of the most active volcanos and the home of Sonya's Garden - an organic herb, vegetable, and flower garden B&B. Tim looked up some information and was happy with that choice, so the planning began!
We arranged a car and driver through Accenture. The driver ended up being a tour guide as well - all in one - and a very nice guy. His name is Ramer. He picked us up at 9:00AM sharp at our apartment.
I will briefly digress here (bear with me Chris and Lisa) to say that throughout the day, I came to learn some very interesting things about how I am perceived by MDC's facilities and services people who do many things, including arrange the transportation and housing for expats. I attempt to be low maintenance. I accomplish some level of "medium-maintenance". Mostly, I just like to know the details and I like to know what to expect. So, particularly when I am in a foreign country, I ask a lot of questions. How much? What time? What does he look like? Apparently, all of this detail has resulted in the impression that I am hard to please. So, when I called (actually at the last minute, which I apologized for) to our F&S people to reserve a car for me, the woman was very worried that I would not be satisfied with the service, and called her best driver. She texted him repeatedly throughout our adventure to ensure all was well (on a Saturday). I'll have to work on that...
Anyway, Ramer came at 9:00am in his Econoline-150 Ford Van and our adventure started. We gave him the agenda of what we wanted to do, and he suggested a few additional things. We had reservations for Sonya's Garden at noon, but other than that, our schedule was flexible.
On the drive out (about 1.5 hours from Makati), we passed inumerable fruit and vegetable stands on the road sides. The stands were beautiful and I really wish there were more of these in the city. They were yell and shout at the passing cars to stop and buy vegetables. Cars would pull to the side and either get out to choose veggies or have their order brought to the car like a drive in.
[B-A-N-A-N-A-S!! (thanks Gwen!)]

[Cherries from coffee trees drying in a house]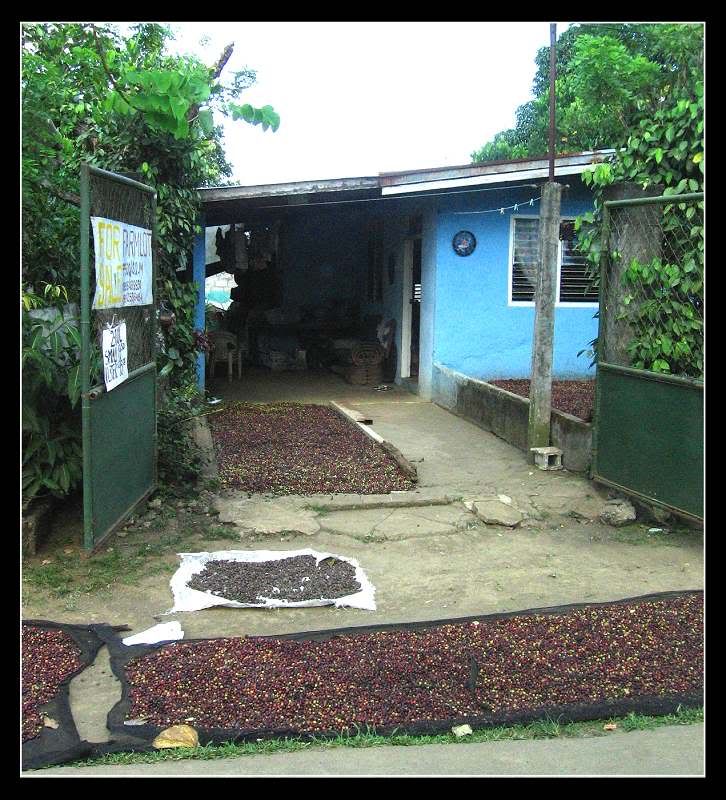 We arrived in Tagaytay about an hour before our lunch reservations, so we pulled over at a scenic place to look at the island and volcano we were going to visit later in the day and take some pictures. People literally ran after us shouting to try to get us to buy their boat services or other tourist services. Our driver was very helpful in dissuading them which was nice. I wasn't sure what to expect from a hired driver - if he literally would just drive or if he would also be a guide. Ramer was great in all accounts.
After this, we stopped in at Taal Vista. Taal Vista is a place behind a really beautiful hotel (by the same name) where people could get wonderful views of the volcano and the island. The Taal Volcano is in the middle of Lake Taal (formed after a massive eruption), and has another lake (Crater Lake) inside the volcano cone. [The small wooden objects seen floating on the water are fish traps] It just looked beautiful - even from that distance and the large amount of fog/mist/cluds that were hanging in the air. Tim took several pictures there and we walked around the grounds. I remembered commenting that I was surprised at such a hotel being built in a city that seemed pretty removed from the main drag and very removed from the main areas where business people stay. It looked expensive, and I wondered if any of the local people could have afforded to stay there for a night.
[The small wooden objects seen floating on the water are fish traps]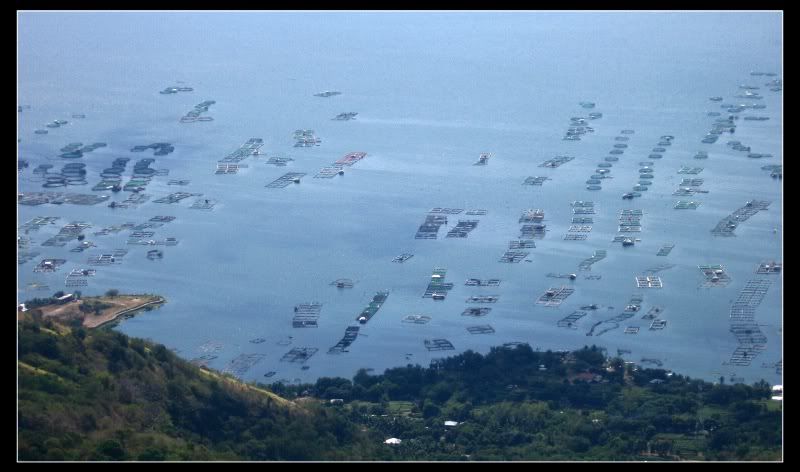 [The perfect spot for a dinner for 2...with volcano view!]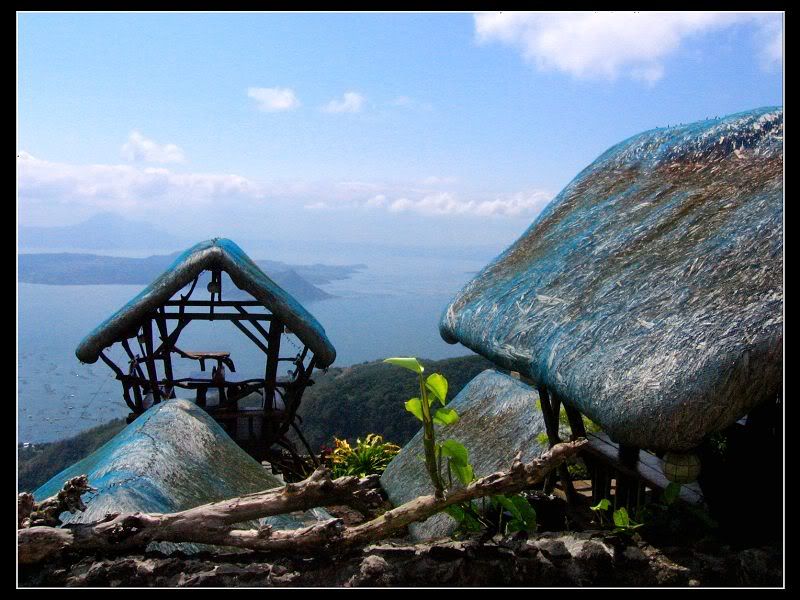 [Taal Lake, with the crater in the center and more fish traps]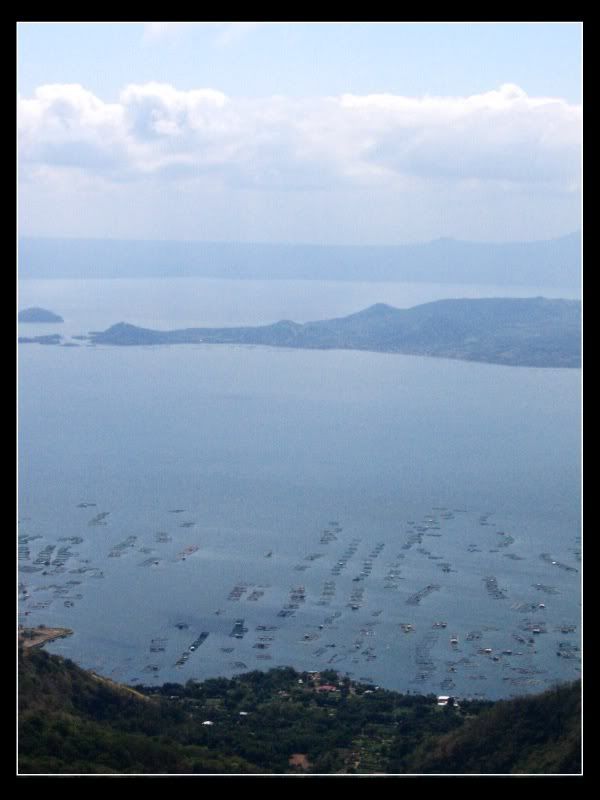 Finally, it was time for our lunch at Sonya's Garden. I was told by my manager that we would love the food, that it was all organic, and that it would be fantastic. Still, I didn't know what to expect really. I've been told that before about some restaurants here and have arrived to find iceberg lettuce only and chicken in the food. So, I was excited to try something new but not overly hopeful to tell you the truth.
Well, when the van pulled up, we were shocked. It was absolutely gorgeous in a very nature-y and quaint way. There were flowers and wonderful smells everywhere. We got out and Ramer left to take his lunch elsewhere.
[Ahhhh! the first fresh air in a month!]

A woman came out and escorted us to one of the buildings where we would have lunch. There were about 4 tables for 2-4 people and one large table for 10. Everything was covered with embroidered tableclothes and the napkins were the same. Each table was preset with dishes, organic salad with real greens, homemade dressing, and small containers full of fruits, vegetables, and other salad toppings. There was a picture of some type of refreshing drink containing mint leaves, mango, lemon, and some type of tea.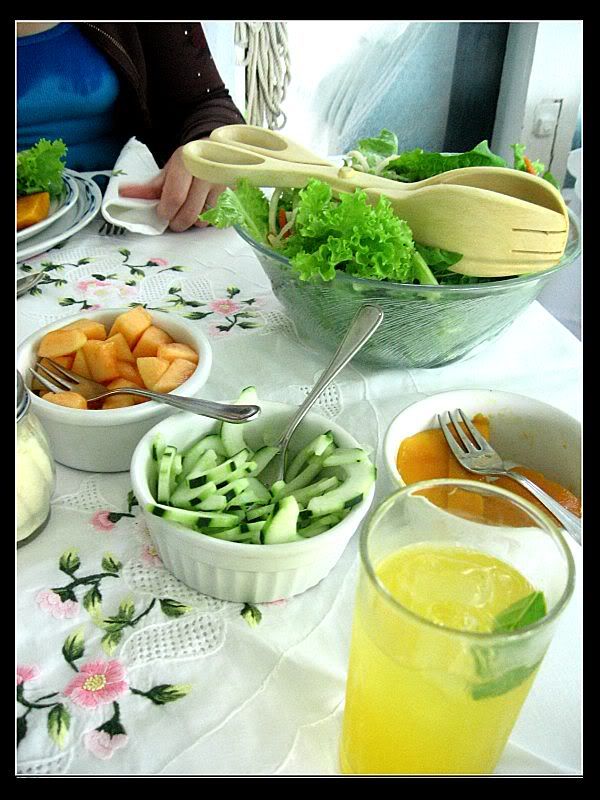 The room was simple and white with large windows covered with lace curtains gathered in the middle, and the corners of the room contained fresh water with fresh flowers floating in it. I asked the server if the water for the drink was filtered. She smiled and said yes it was, and I didn't ask another question about food prep for the rest of the meal. (Neither of us had any ill after effects!).
After about 10 minutes, our server brought out fresh hot bread and more small dishes with toppings of pesto, mushroom pate and white cheese. I was on my second salad- I was so happy to have real greens!
A little later, she brought out homemade pasta and more small dishes with toppings, and cheeses. There was also fresh basil sprigs on the table.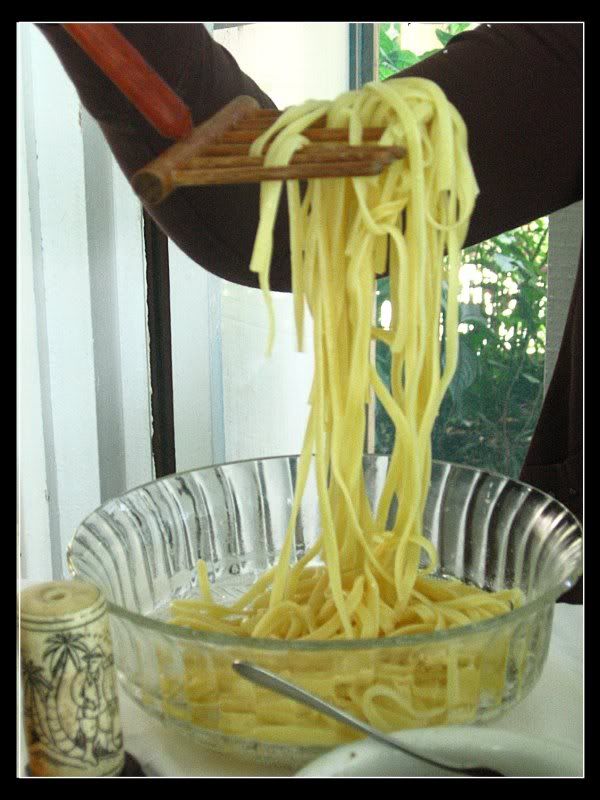 Finally, she brought out hot water with mint leaves floating in it, followed by fried plaintains and some sort of sugary rolled dessert.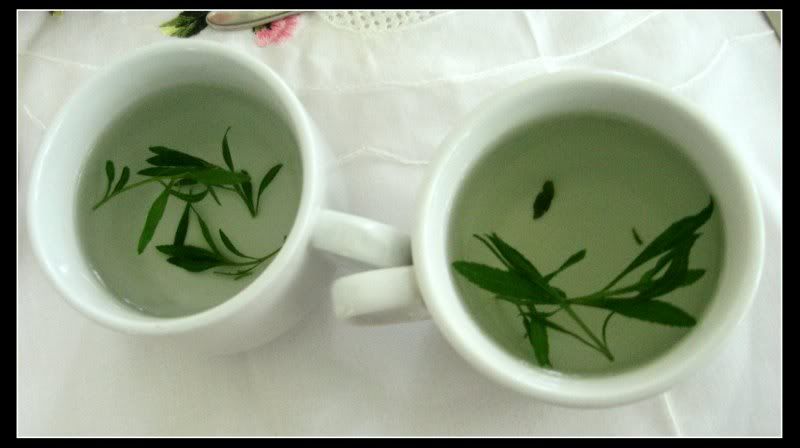 The entire meal was fantastic. I was so happy to have food that I eat all the time at home and take for granted. When the bill game and we saw this entire 3-course meal was the equivalent of $26 USD, including tip, we couldn't believe it. We were far enough away from Makati that we could observe that other than in Makati, things are significantly cheaper here.
We followed the superb meal with a walk through the gardens, greenhouse, and gift shops. Dispersed in the gardens were little canopy beds with lace and little divans. On some of the divans were people getting pedicures. (Sonya's Garden also offers a spa and salon services). I got some souveniers. I also bought a bag for my sister outside the garden. I am kicking myself for not bargaining for it. Oh well - next time.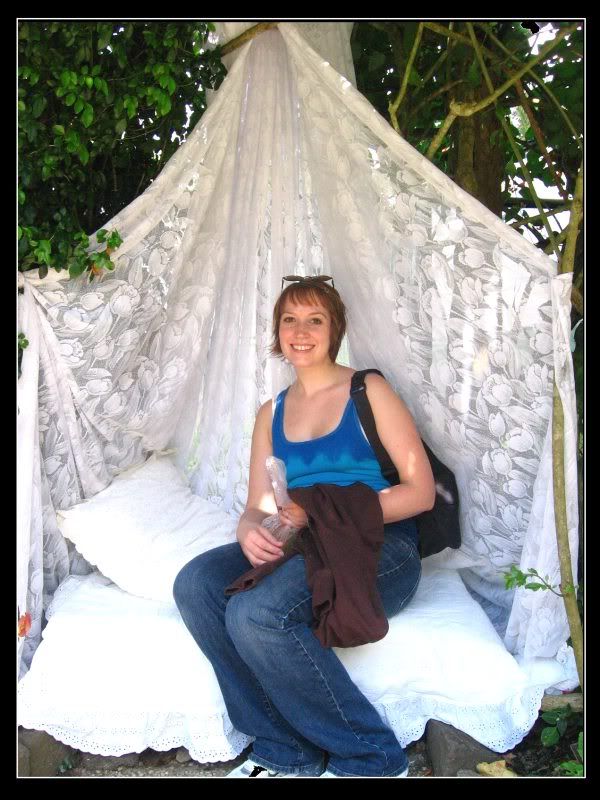 I am extremely curious as to how somebody grows up in that area and it occurs to them to create a beautiful organic area with flowers, organic food which is mostly all vegetarian, and a bed and breakfast. What occurs to that person, in a country where most of the residents are just trying to make sure their basic needs or food and shelter are covered, to see to little details like embroidered, hand made napkins. It is absolutely shocking. But I am happy that she made this little refuge. I had no problem breathing, I ate all my food without worrying about becoming sick, and I almost forgot completely about the volcano :-)
[Papaya Tree]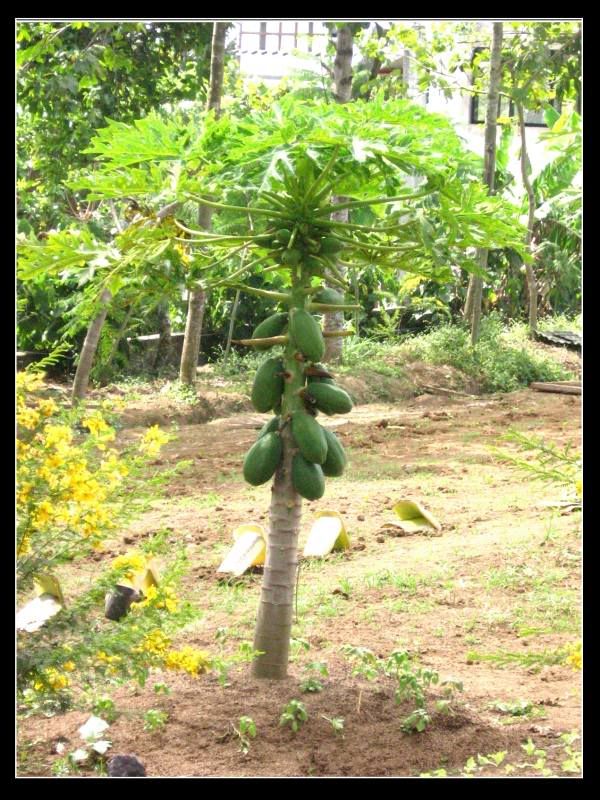 We left the area, excited to return later and eventualy stay overnight, and headed to the Taal Volcano. Ramer told us we would have to drive down a very steep and windy road (he wasn't kidding) to the sea level where we would find somebody to rent a boat. He told us he would barter for the boat for us because we would be charged more than necessary if we didn't.
[One non-stop ticket to sea-level, please!]
[The sign read: "First gear mandatory]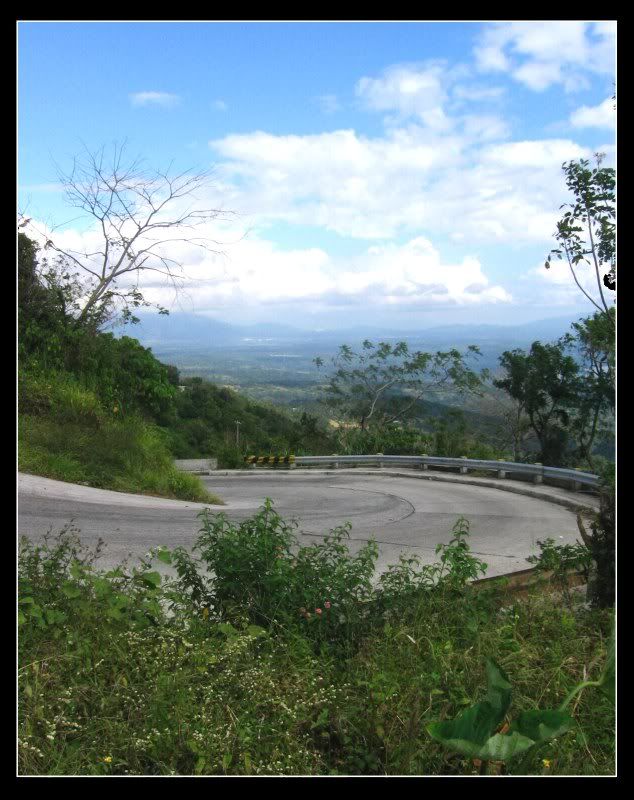 Ramer chose a boat owner, parked, and headed for the shore. We were being shouted at by everyone to buy this, buy that, but we kept walking. Ramer came with us on this part of the trip because he had been to the volcano many times and knew the way up to the crater. Just before we walked out onto the shore there was this huge racket coming from a large hut crammed with people. It was... you might have guessed it... a cock fight. This made me really upset, but I understand it is extremely common form of entertainment. Some people saw us look and asked Tim if he wanted to watch - sounding very excited. We both mumbled that cock fighting is illegal in the states, and that we didn't want to watch it. We weren't too harsh though. It isn't illegal here (as long as it is held indoors), and the guys would have been so excited to bring Tim in there. But... no thanks.
On the shore, it was a little more quiet. We walked out into the boat on a rickety wooden ramp and the driver took off.
[Walking to the shore of Taal Lake...volcano in the distance]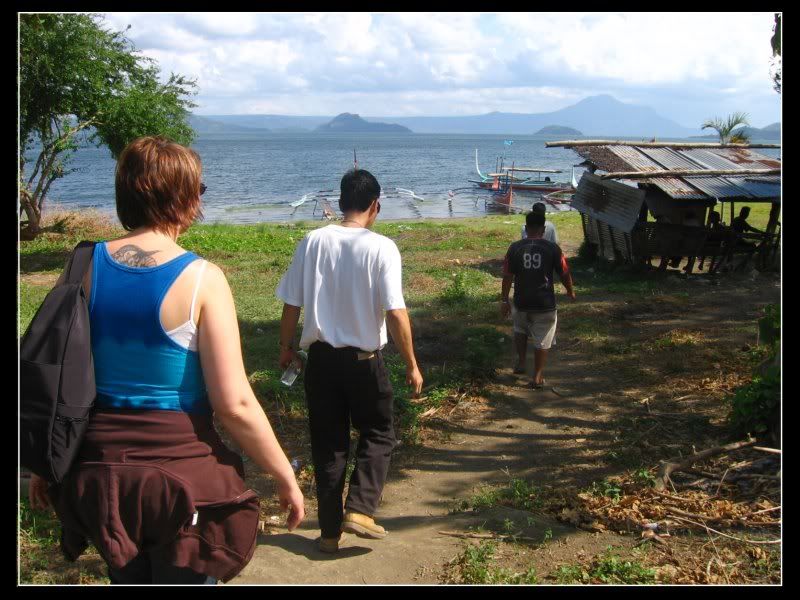 [First Class transportation across Lake Taal!]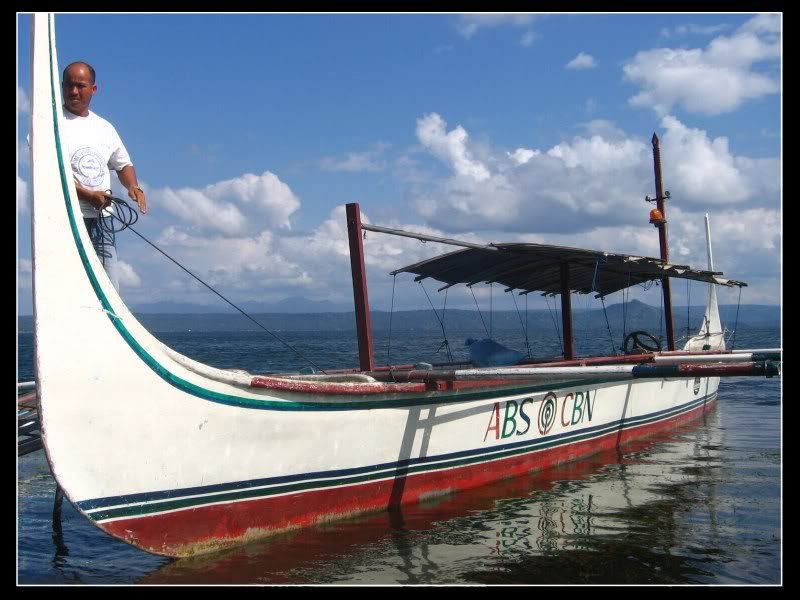 [All Aboard!]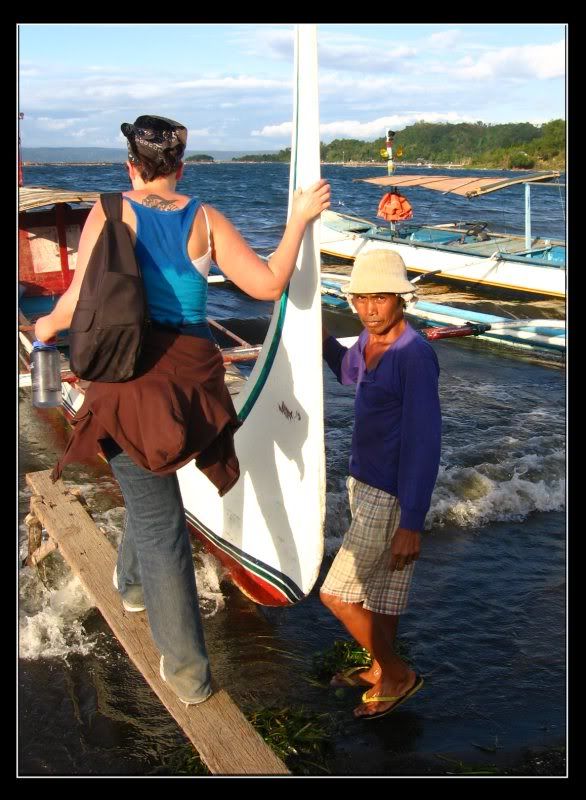 It was a pretty long boat ride. The water was beautiful and it was so nice to feel the wind and the spray from the water.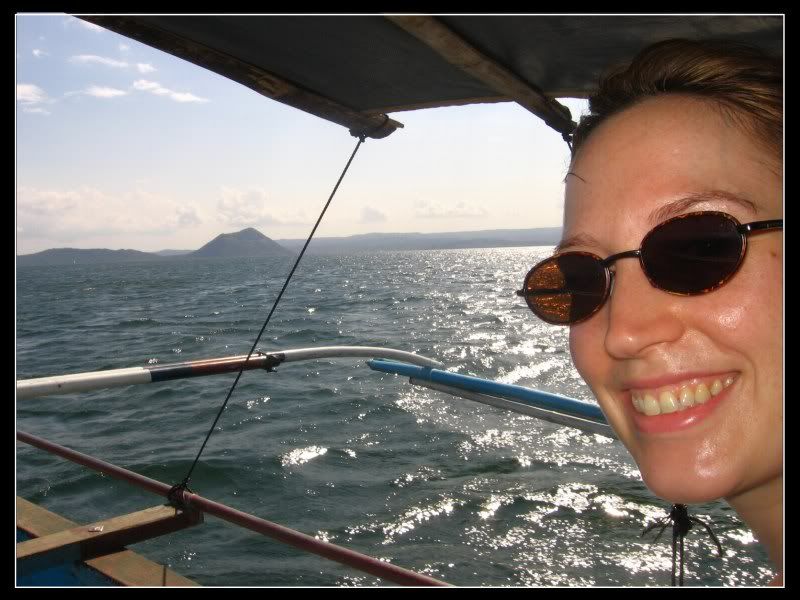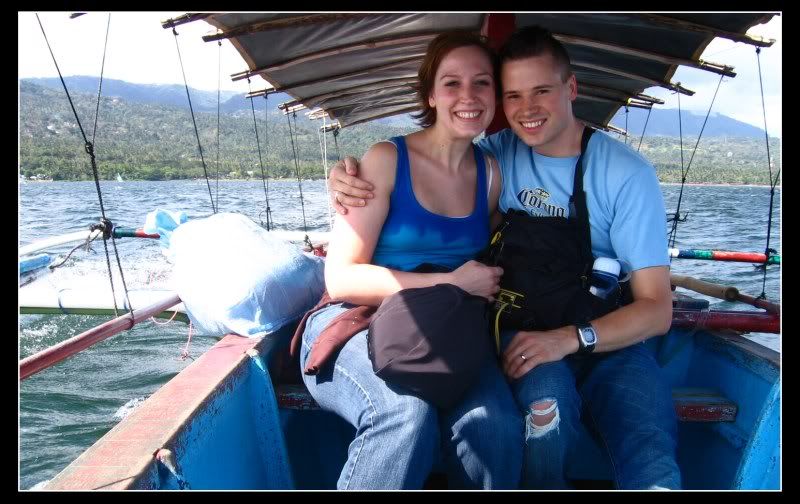 [The captain of our fine vessel!]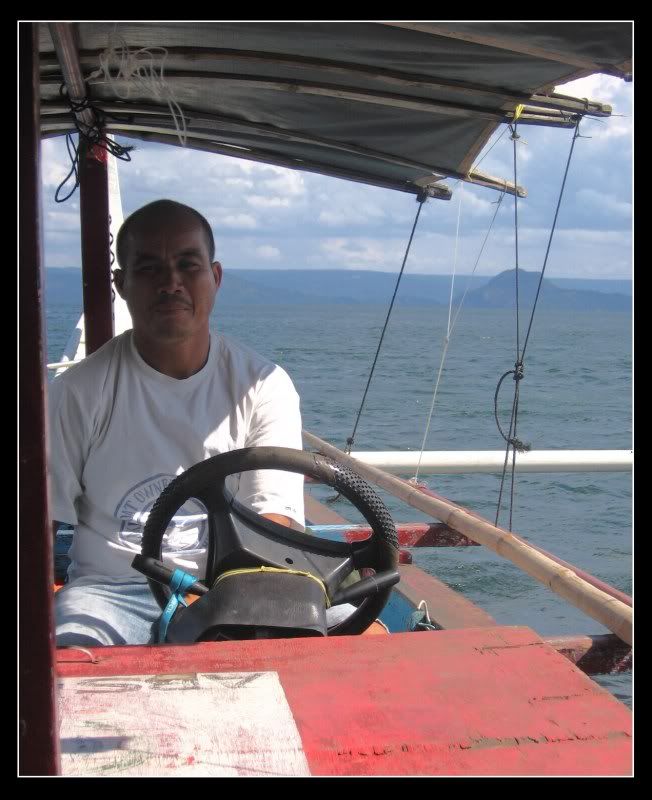 [Another boat crossing our path]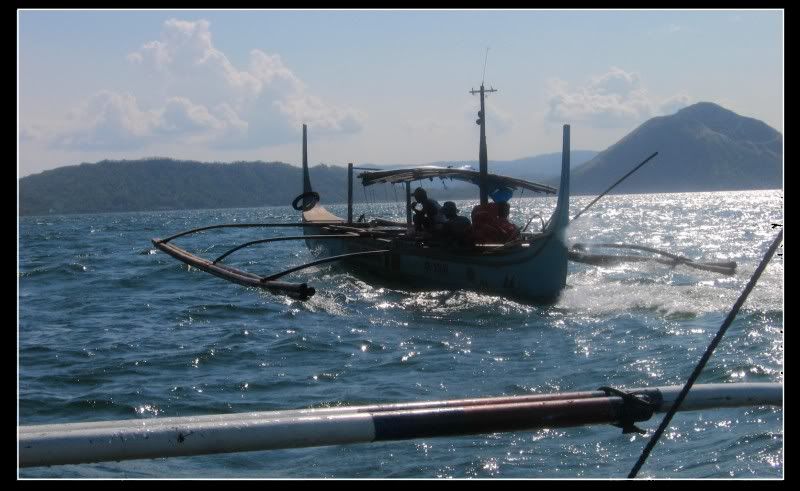 We arrived at the other side to an island that was obviously used to tourists, but almost a land that time forgot. The island had a ton of stray animals and farm animals (that all roamed free) and the only enterprise seemed to be a family owned business of renting out horses (read: small ponies) for tourists to ride for the 4 Kilometer treck up to the crater of the volcano.
[Villagers living in the shadow of a volcano]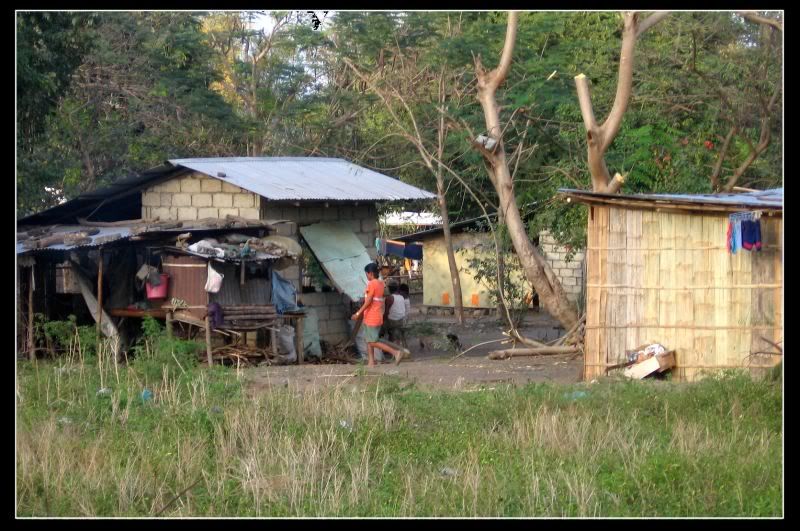 [Would you trust this creature to carry you and a small child up a mountain?]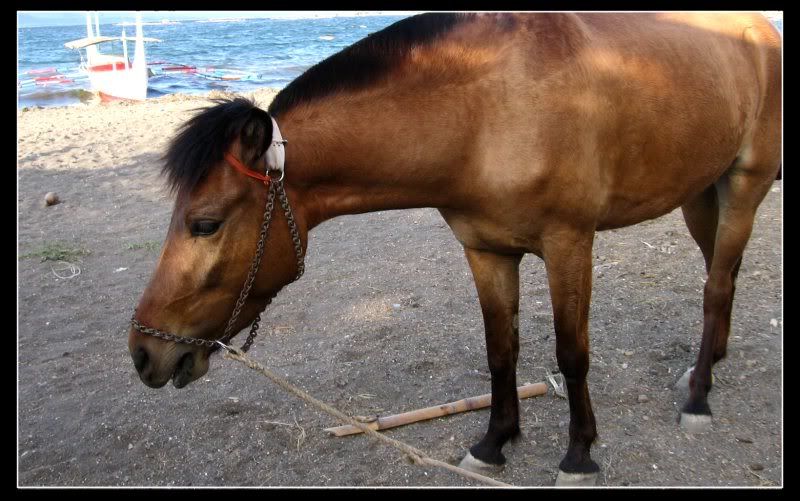 One look at these pony/mule/donkey creatures and it was obvious that even though there were plenty of people much larger than Tim and I using them, those ponies were not meant to carry someone more than 100 pounds. I am more than 100 pounds. So is Tim. We walked. The horses not only were expected to carry the tourist, but also a small child on the back (sometimes another adult) who drove the horse and guided them.
It wasn't exactly easy to walk, but it was doable. The volcano had erupted many times in the past and there was still about 2-3 inches of soft, black volcanic ash on the trail.
[Here's a shot to illustrate the fine volcanic ash that we had to hike through. It got kicked up by our feet and the horses' hoofs, coating everything in a layer of black]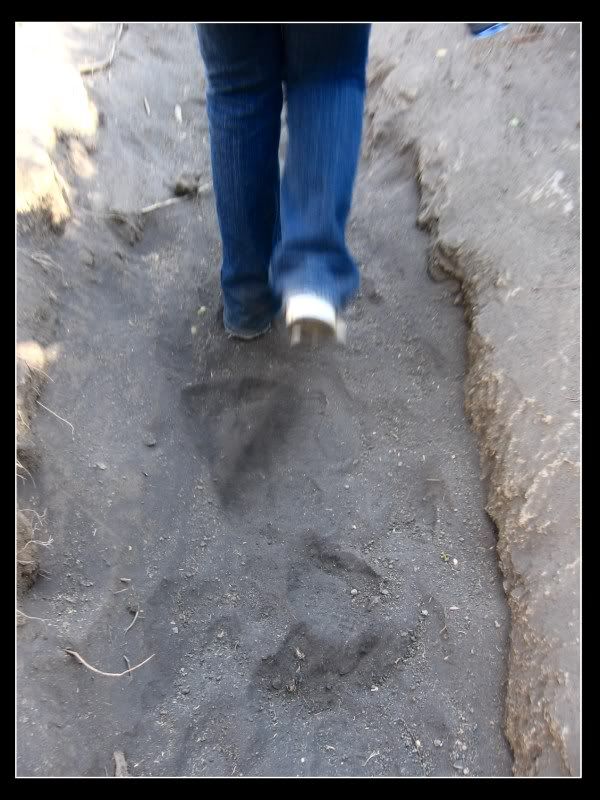 Some places were deeply rutted from the horses and their continual journey up and down, and there was a constant effort to avoid both the horse manure and the horses themselves. However, it was worth it, good exercise, and I was happy not to add to the horse's premature chiropratic issues! Our driver (now turned guide) was in agreement with us and said he usually walks.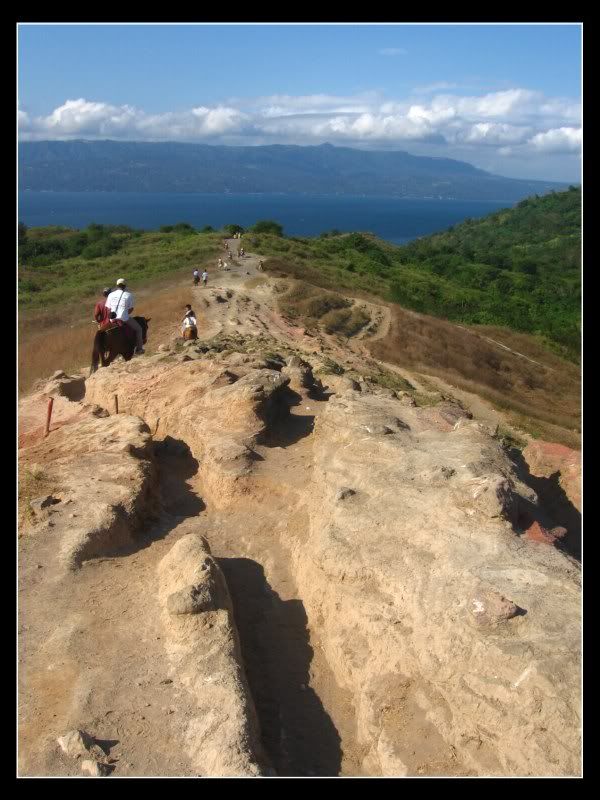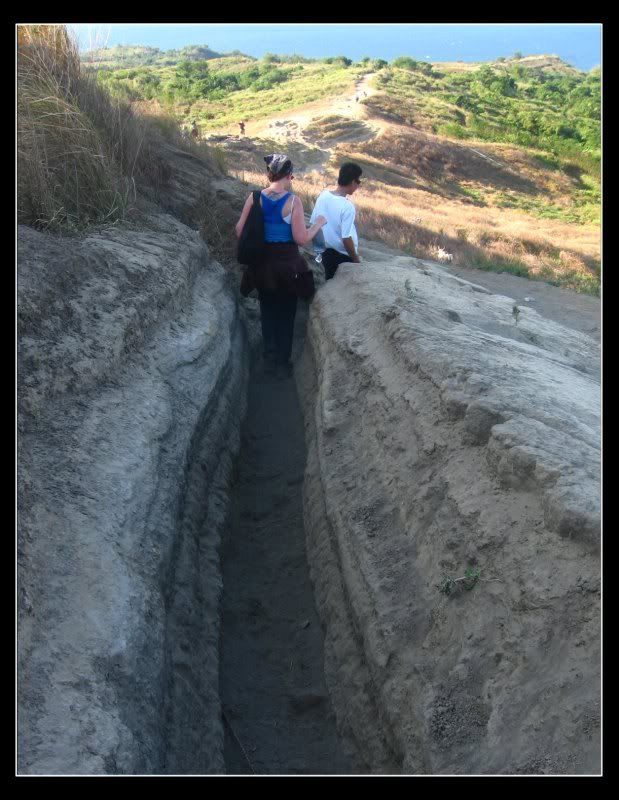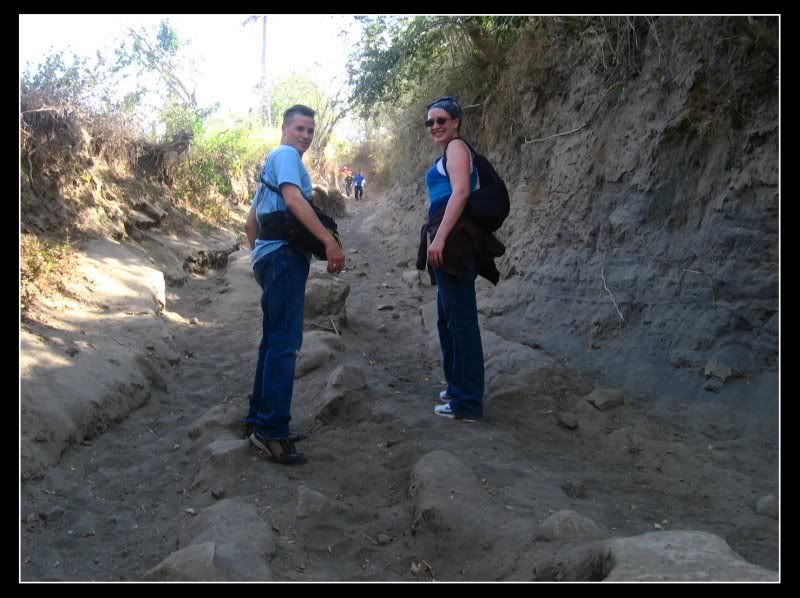 I had to pause several times just to catch my breath and take some water. Tim took photos :)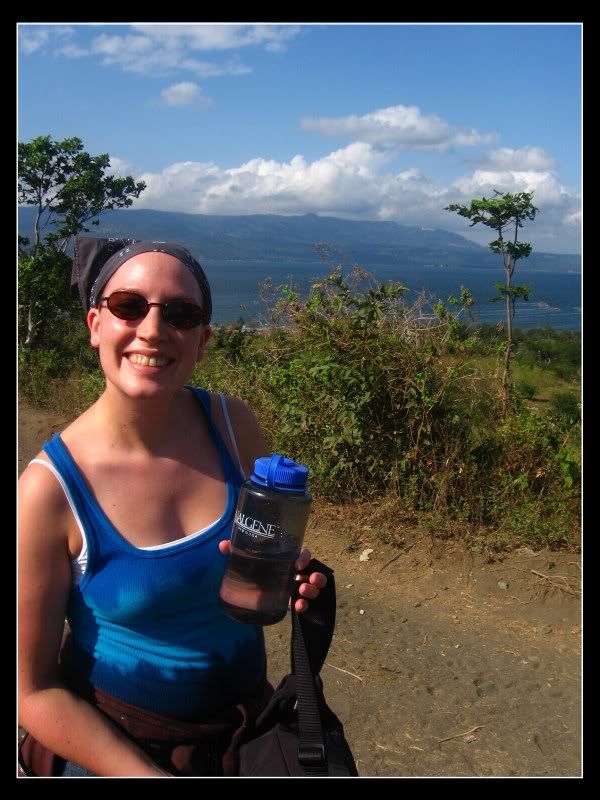 [Here we encountered the elusive Taal meadow Cow]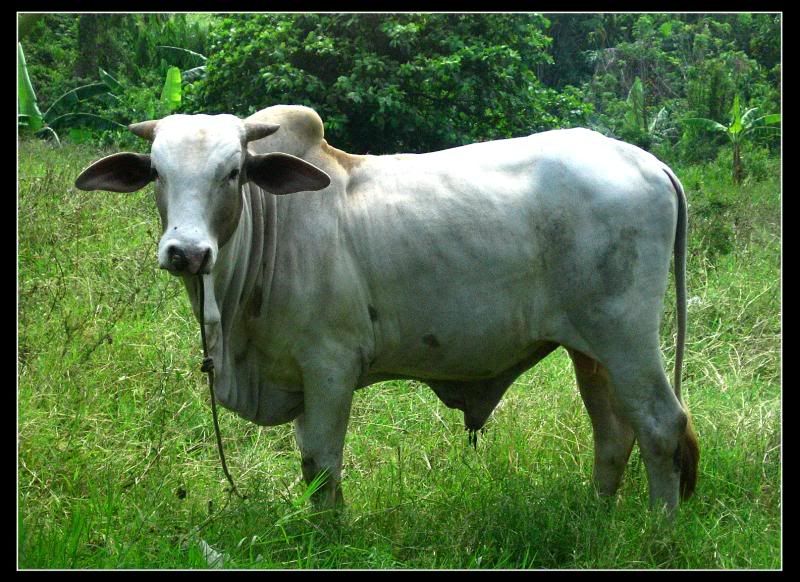 [An (unmanned) police outpost on the Taal trail.]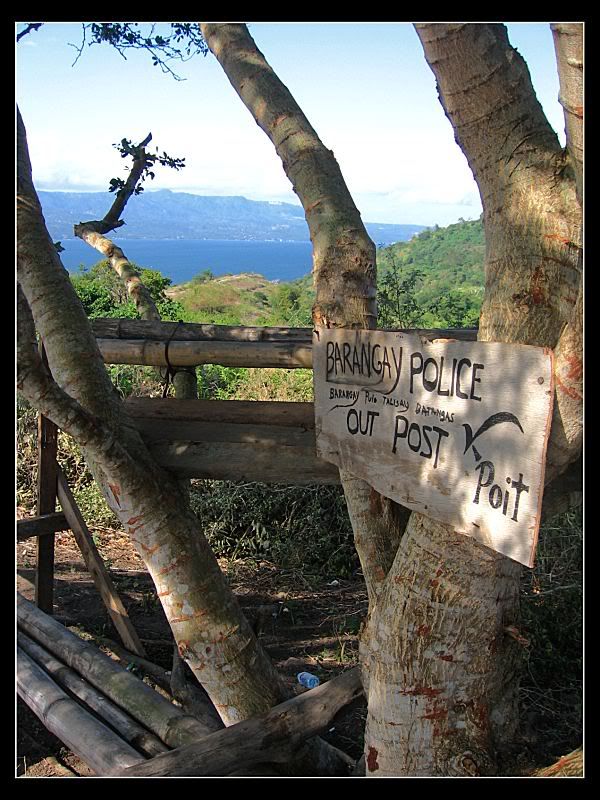 When we finally got to the top, making our way past dozens of horses tied to the trees, I had drank almost all my water in the 1 L bottle. Ramer bought us each a young coconut and chopped off the top so we could drink the watery liquid inside. It a little bit sweet and very refreshing. Ramer tried to tell us (at least this is how I was understanding it) that people can use young coconut water as an IV drip because it regenerates you with essential sugars and nutrients. After we drank the water, he had a girl who was about 10 years old with a massive machette cut the coconuts open and we tasted the meat. It was very good! We topped off our canteens with the large quantity of liquid in each coconut.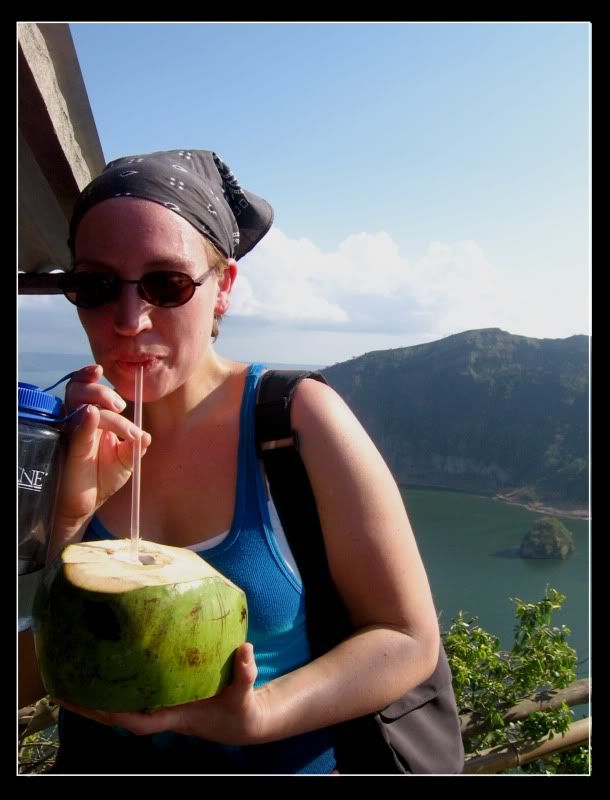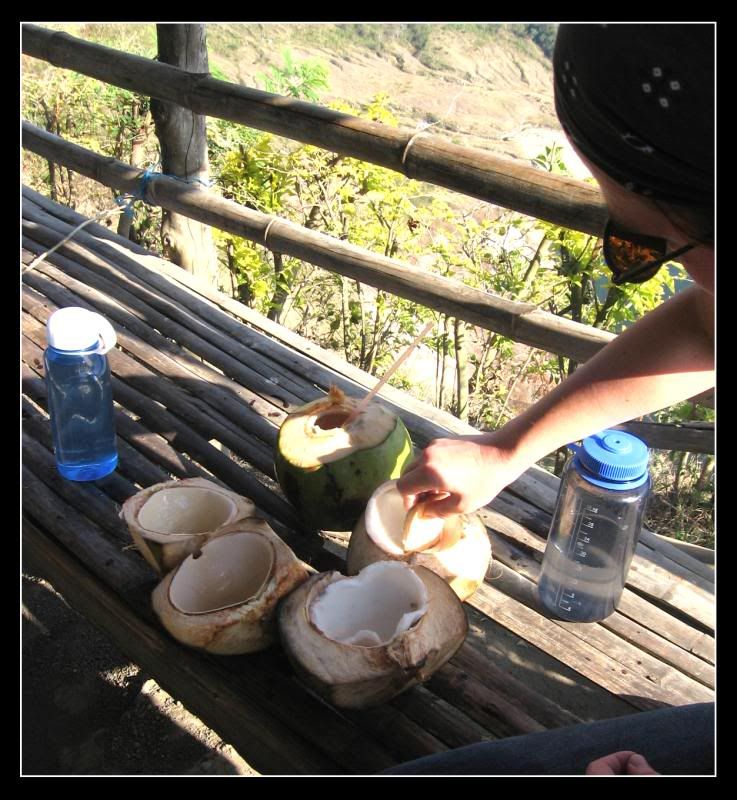 [At the Top!]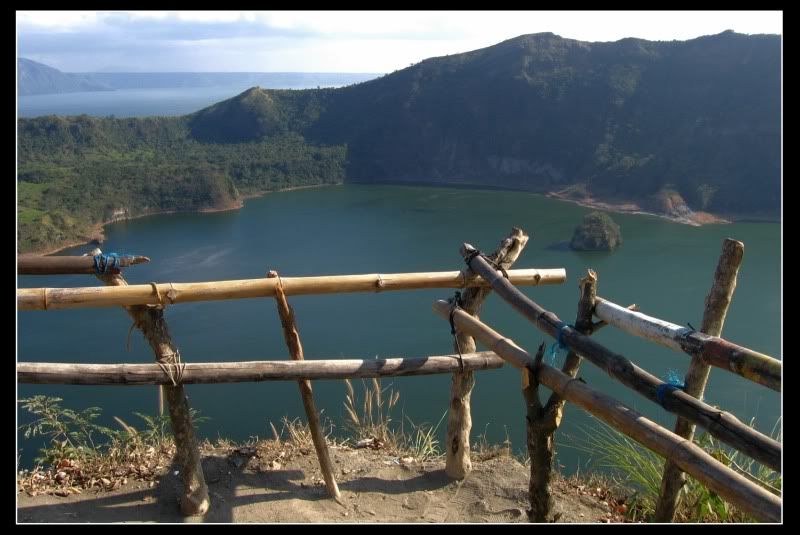 From our position in the summit hut, we could see down the rim and across Crater Lake but Ramer knew of a better viewing point. We hiked along the steep and slippery crest of the crater around to the peak. It really was gorgeous. I wasn't overly scared (like I was at the Grand Canyon -where I was almost in tears), but it was a very narrow path, with steep dropoffs on either side and I'm not sure someone would have survived the fall or the landing in the hot water below if they fell.
[Yep, that would be the edge. Next stop: Lava.]
[Very similar to the smells and colors of Yellowstone]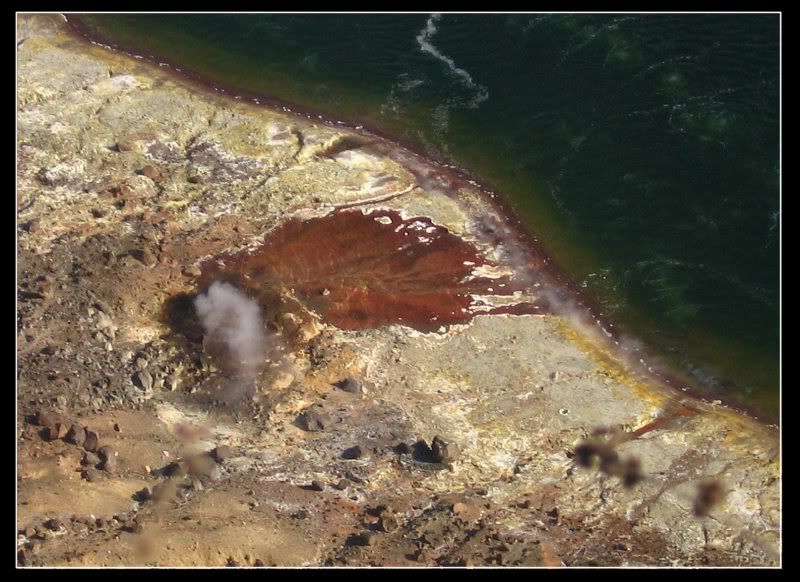 Tim got very close to the edge at times to get good shots and really wasn't paying attention. He also has a habit of walking with his camera to his face and not really focusing on his footing, which scared the hell out of me - and him when he realized what he was doing. I'll let the photos speak for the crater the rest of the way - it isn't really possible to explain it well in words.


[Hey, look! That rock's on fire!]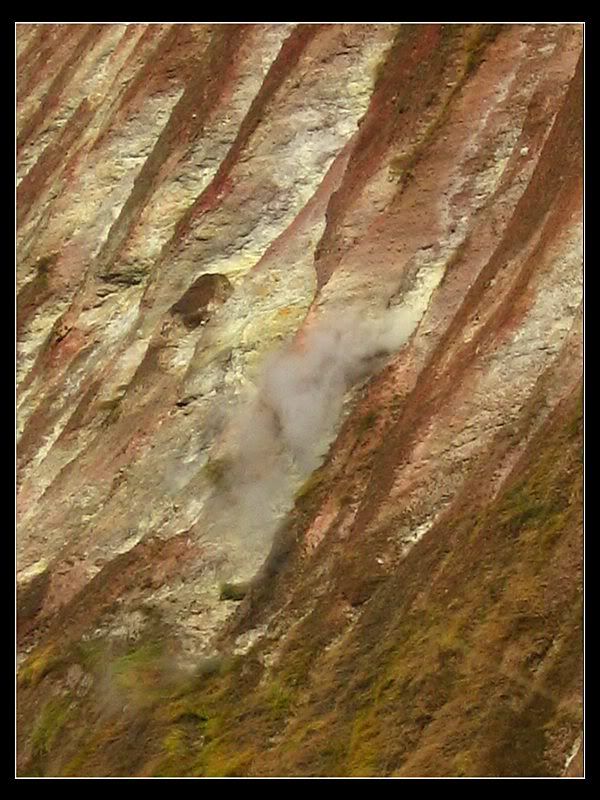 [Kids playing basketball on the shores of Lake Taal]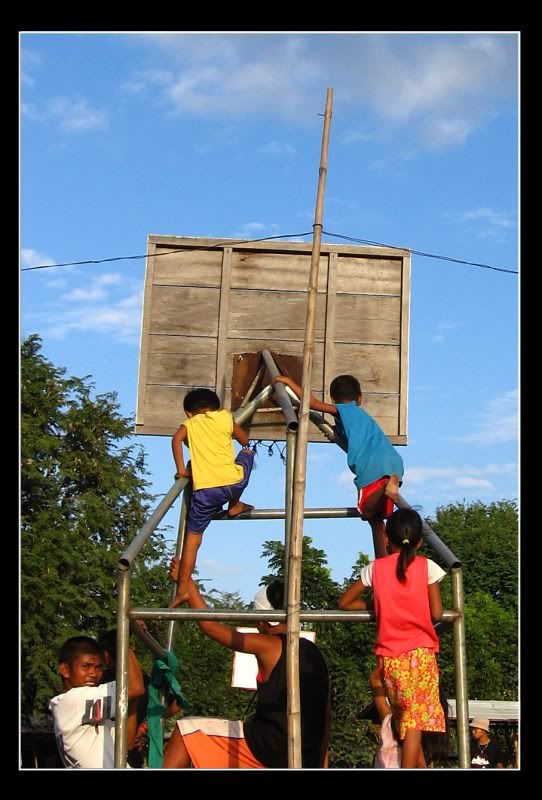 [Woof!]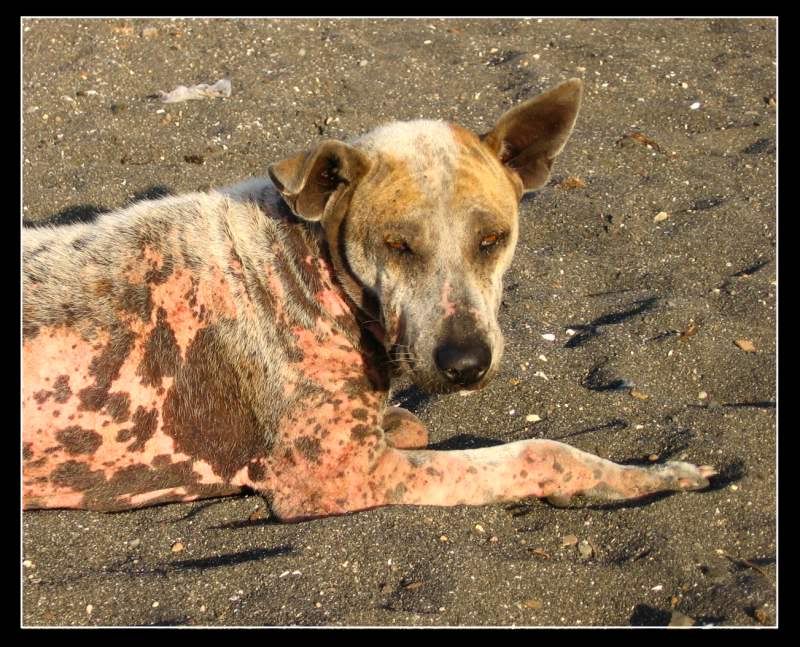 We were pretty tired at this point and very sunburnt and sore. Although we had really loaded on the mosquito repellent, we didn't put on much sunscreen, and were regretting it. We decided to just take one more stop and then grab supper and head home.
We stopped at the People's Park in the Sky after dark. It was really too foggy and cloudy to see anything of a view, but it was kind of cool and eerie to be up there in that setting. The house (in the daylight) offers a fantastic view of the Taal volcano and the country side. The house was meant to be the palace of former president Marcos, but was never finished due to the EDSA coup and uprising. Now it is open to the public for a 15 pesos per head admission.
[Ghost Town]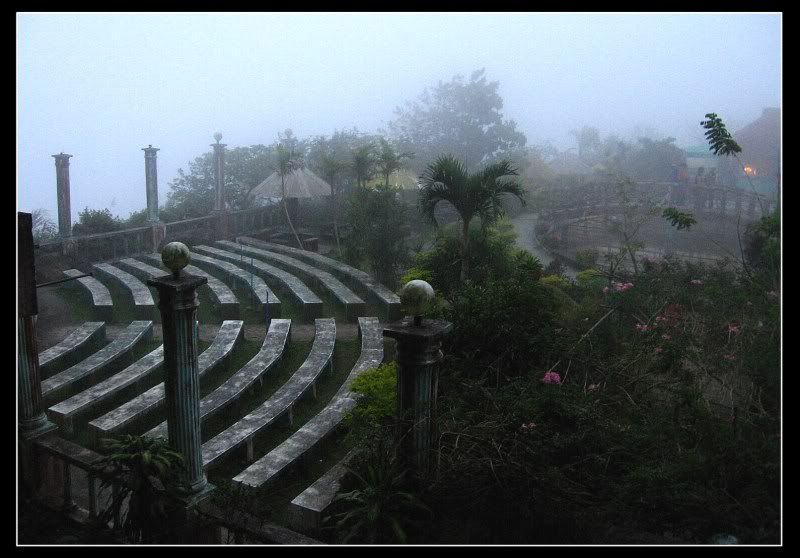 Our last stop was for pizza at a place called Carlos' Pizza. We shared a mushroom and tomato pizza, some french fries, and a beer, which really all hit the spot.
On the way home, Ramer put on a movie (Behind Enemy Lines) on the LCD monitor in the van. We arrived back at our apartment literally 5 minutes before the end, and so we don't know how it ends! We arrived right at the part where Luke Wilson and "Ice Cube" were rushing towards the chopper, but it turned away at the last minute thinking he was dead. Please tell us how it ends if you have seen it!!!!
Once inside, we peeled off our ash-covered clothing and jumped into a hot shower, which revealed that the airborne volcanic ash had effectivly penetrated all layers of clothing and we were covered head to toe in black soot.
It was a fantastic experience to have after a month of foreign country city living! We would love to export some of that delicious mango mint lemonade from Sonya's back to Philly!!
Video Time!!
Powered by
Castpost
Powered by
Castpost
Shot at the rim of Taal.
Powered by
Castpost