Shakin' It in Makati!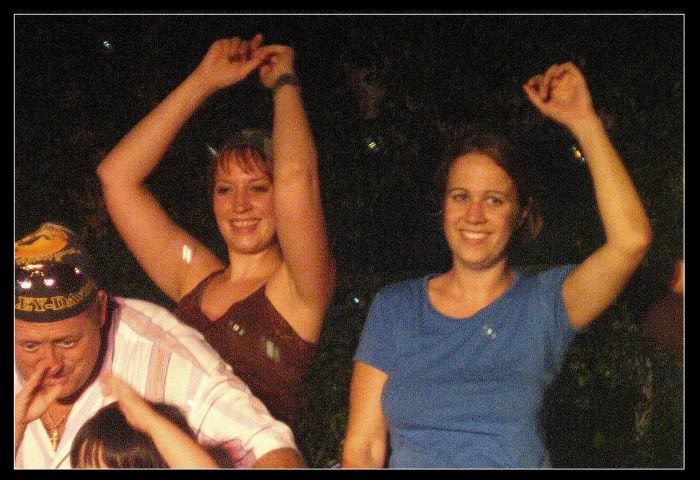 Last week we were recieved a notice under our door that our building was hosting a "Magical Night of Mystical Music and Fortune Telling." Kendra RSVP'd that we would be attending and put the date (today) on the calendar so we wouldn't forget.
Monday of this week, I received a telephone call from the building management confirming that the two of us would be there- I said that we would and thought "Wow, this must be quite a production- they are taking multiple steps to get their guest list." Well, yesterday I came home to hear a message on our voice mail that we had a text message at the front desk. Guess what that turned out to be? That's right- another confirmation that we would be attending the party tonight. I again said that we would (couldn't back down now- they're obviously really into this thing!).
So as to not miss this one-of-a-kind event, Kendra and I headed down to the 6th floor pool deck at 5pm sharp. They had built a stage with a sound system and lights, tables, chairs, along with colorful cushions and cloths on the floor for sitting on the ground. Kendra and I walked around the pool and over to a massive spread of food. There were about 6 flaming hot grills each overloaded with sizzling kabobs of steak, chicken,
kofka
(lamb), shrimp and pork. A large tent covered a table full of meditterannean fare such as hummas, feta, taboulie, grape leaves, olives, cous-cous, vegetables with briani rice and hot peppers.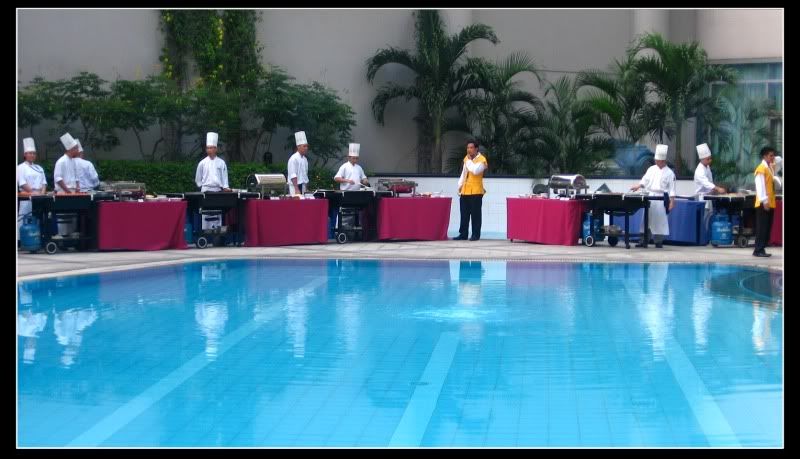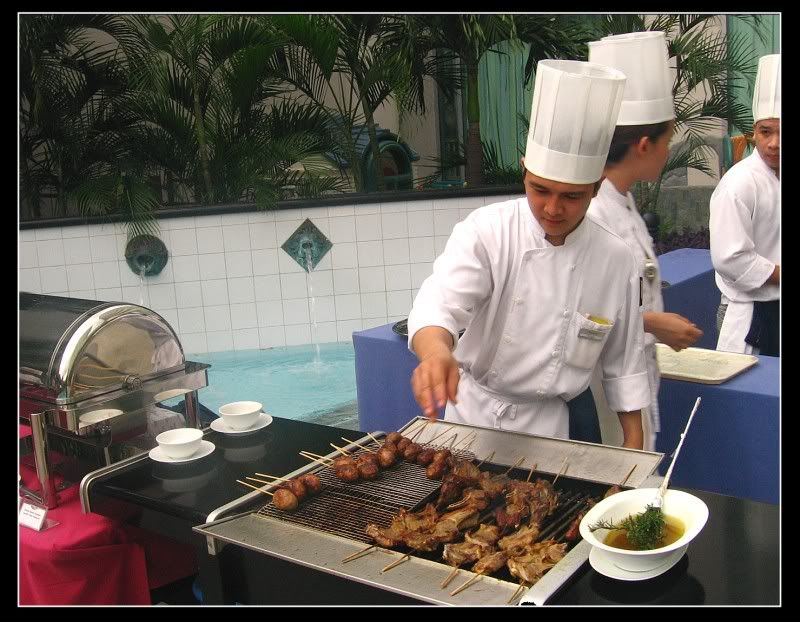 We loaded up several plates of the mediterannean things and found ourselves a table (meant to be a cocktail table, but it stopped just short of our knees). There was an open bar, serving wine, beer, soda and coffee. Kendra got a glass of red wine and I chose the Pale Pilsen variety of San Miguel beer. The food was fabulous and the waiters kept our drinks full. We complemented the chef several times, who was very much on the scene with making sure everything was presented properly (A flurry of activity was brought on as Kendra approached the buffet before the covers were taken off all the dishes and our request for a knife resulted in an entire tray being brought out to the table).
As we ate, we were able to meet several of the other ex-pats who are also residents in our building- we've seen many, but we've actualy never talked to them much (It's sort of an odd situation riding an elevator in a forign counrty with another Westerner- you feel you should say something, but you never know what!) We talked to people from Washington D.C., Tennessee, Canada, North Carolina and Reno. Alot of them are here with their families, so there were lots of games and activities for the children, such as face painting and a contest to see who could fold a sheet the fastest using only their barefeet.
One of the neatest things about tonight was seeing how little children have a universal language in the form of playful activity, with no concept of racial or cultural differences. There were over a dozen kids of various ages from various countries all enjoying each other's company as fellow kids. You could almost here the unspoken converstions: "You're a little girl- I'm a little girl- Let's play and dance together!!" I think all the global political issues could instantly be solved if we were all 5 years old and somoene turned on a bubble-blowing machine!!
The theme for the night, from the invitations to the costumes and decorations was Arabian Gypsys (well, at first I thought they were pirates, but I was wrong). At one point in the evening, a group of colorfully costumed bellydancers took the stage and gave quite a show. After they finished they invited all who were interested to come up for a quick lesson in bellydancing. The stage was swarmed with little kids who didn't care so much about technique, just excited to jump and dance around. Kendra got up as well, and was joined by several other American and Indian women (and men) once they saw her take the stage (the first person over 7 to get up!).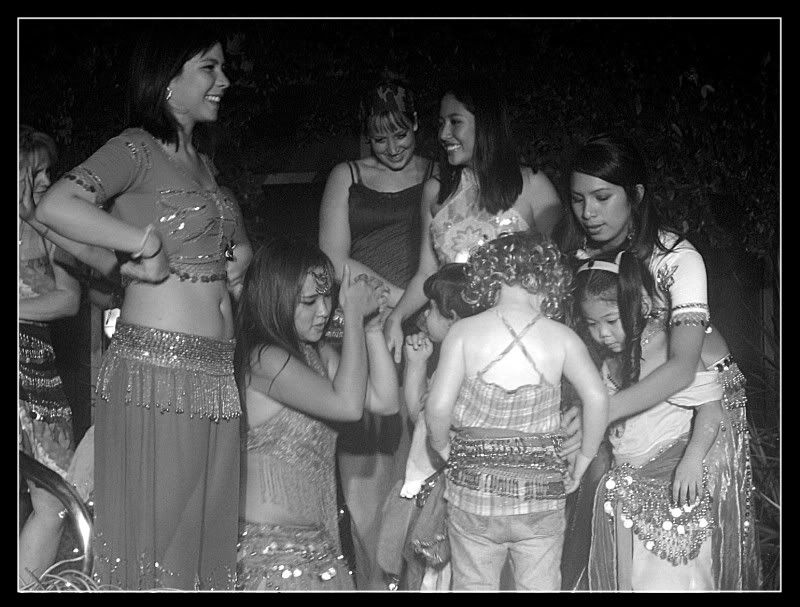 The dancers gave each participant a belt of shimmering and jingling beads and went over several of the key moves and techniques for proper bellydancing. Everybody on stage had a good time and everybody else had a great time watching.
After this we ran into Tin-Tin, the person who arranged our stay here and who coordinated many of the arrangments for Accenture and other ex-pats. She was extemely nice and introduced us to Elizabeth, from Washington D.C., who is on her last month of a 6-month assignment at the U.S. Embassy. The three of us talked for a while about adjusting to a foreign culture, being home-sick, dealing with taxi's, etc. It was great to be able to share similar experiences, concerns and issues with someone our own age!
As we were talking, the MC announced that they would were having a bellydancing contest, with some really great prizes for the winners. Kendra and Elizabeth both went up, along with more women, a few men and lots of kids. After a few minutes of free-for-all dancing, each person was brought foward to show their stuff. By the time the voting was to take place, one of the only two men had left the stage, so the prize was given to the guy that was left by default. A prize was also given to one of the kids who won the most applause from the audience (mainly because she was the youngest and shyest girls on stage).
[Kendra and Elizabeth donning the neccesary bell-dancng gear]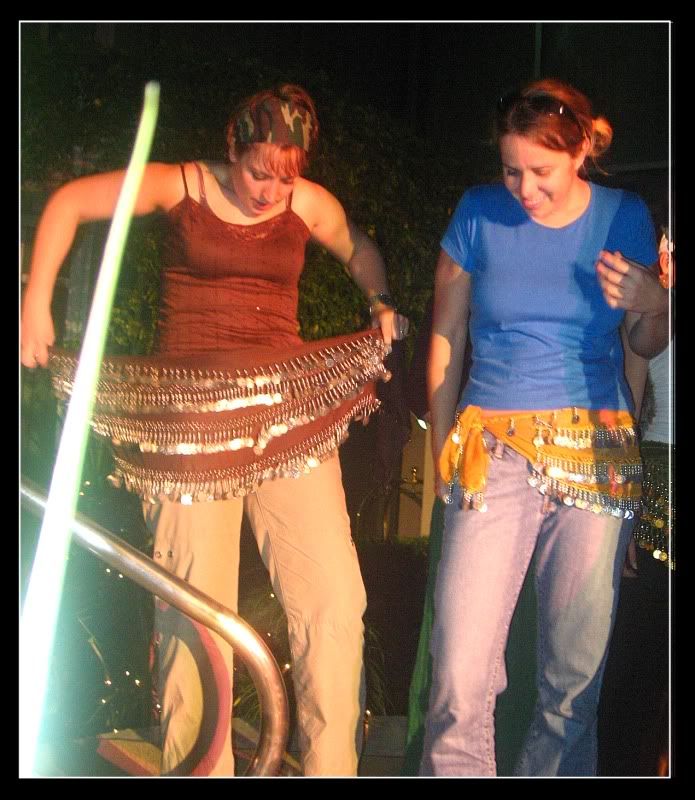 About 7 girls remained and the hostess went down the line getting their names and asking for the audience's applause. By far the greatest applause was for Kendra and the girl after her. They were then both asked to come forward for a final "belly-off". Up till now, Kendra had been feeling very self-conscious: not because of the bell-dancing in particular, but because she was a good 5-6 inches taller than any one on-stage except Elizabeth. Whether this height issue gained her an advantage in being voted on, I'm not sure! But when the final applause came, the loudest and most enthusiastic response came for her! (Of course, I was all-out cheering for her about 3 feet from the front edge of the stage with my camera!!) She was crowned belly-dancing champion and given a free one-hour combination swedish and shiatsu massage at the fitness center. As Kendra descended the steps from the stage, several older Indian gentlemen came up to her and told her that they had all voted for her and that they were going to walk out in protest if she hadn't won. It was a really fun time!!
Additionally, Elizabeth won a trip to Tokyo in the raffle and Kendra won a dinner at the restaraunt in the building for being the first person to RSVP for the party (the "Early Bird" Award). America represents again!!
How ironic
: Kendra wins two awards for things we all knew she was naturally good at: Being punctual and shaking her ass!!!
---------------------------------------
Here's some exclusive video of the bellydancing and the contest.
Kendra's Note: Not my best moves there at the end...it was really hot out, and I was really tired of dancing at that point!!!
These links will take you to the site where the videos are hosted. The clips are a bit longer, so they might play better from there. Let me know if you have any difficulties viewing them, or if you want to book Kendra's belly-dancing talents for your next party!!!

Here's the Proffesionals!

Here's the Finalists!
And Here's Kendra taking the gold for the U.S. of A!! Philly in the House!!