Subic Bay Adventure
The Drive There
We met our driver, Ramer again (yay!), at 7:00am and headed out! The drive was a little over 3.5 hours, including a stop for Starbucks and Gas and another stop for a "CR" break. Along the way, we saw some amazing sights, such as Mt. Pinatubo in the distance and lots of fruit stands along the road. One of the neatest things was the acres and acres of rice patties lining the highway. Often there were groups of people bent over, harvesting the rice by hand, usually accompanied by a large white cow, lying down among the vegetation. There were also many small shanty villages at the edges of the fields, where the workers and their families lived. Ramer did another incredible job of driving and navigating- the way this guy places his vehicle among the multiple lanes of insane, no-rules traffic is nothing short of surgical precision!
[Rice Workers in the fields along the highway]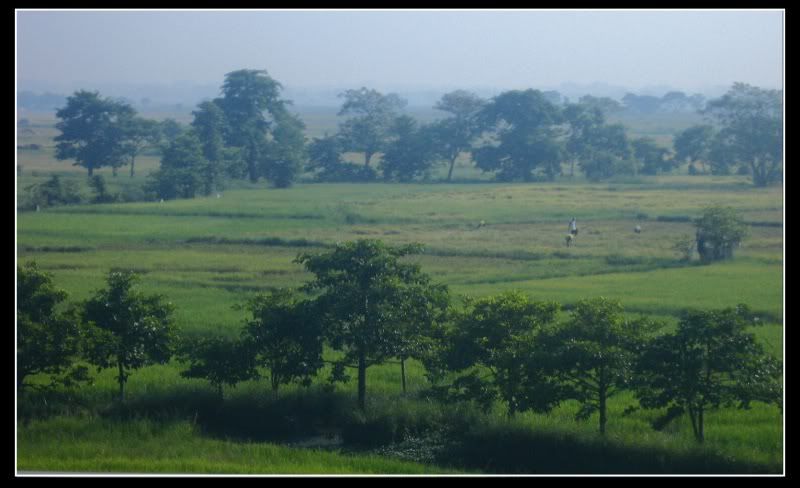 [Typical Traffic scene: As many people as a Tricycle can carry]

[Roadside Shanty with Mt. Pinatubo back there somewhere]

Zoobic Safari
When we arrived at Zoobic Safari, we were encountered with a situation that was pretty much what I expected. Often locations that are heavily themed and tourist-oriented – especially when in remote areas – end up having an almost too literal (bordering on cheesy) presentation and decorating style. It is a little bit like the Pocono Mountain Resorts in Pennsylvania. (OK, OK, I know this resort is romantic. Do we need the large hearts everywhere for posed pictures or quite so much pink?) This was how the Zoobic Safari was. A large tiger arch above the entrance with tiger eyes on the top. Everything, including the staff, was covered in Bengal tiger orange and black stripes. Right in the entrance was a miserable looking and very bored tiger in a cage the size of my sister's dog crates wearing a collar with a sign that says "no pictures". Baby tigers with oversized, fuzzy paws were running and jumping and biting each other in larger cages, and there was an enclosed pen with a tiger on a chain which I guess did tiger shows periodically (although we missed that part).
After some confusing exchanges on what the entrance fee covered, we bought the tickets and sat down for the introduction video. Our guide was named Mark and he seemed to give us special attention and make sure that we knew what was going on. (Potential reason to be seen later). We started the safari with a presentation from Mark and possibly a video, but I could neither hear nor see most of it. Mark was also talking very fast in a rushed English/Tagalog mix. We had arrived simultaneously with a large tour bus from I believe the Philippines. So, we had sitting in front of, on top of, and around us all manner of adults and children talking as loudly as they could and generally not paying attention. (There is a reason why there are "Please Observe Silence" signs all over our office as a reminder to this social and gregarious culture J ).
We walked around to see the other animals (that weren't tigers) with this group and took photos of monkeys, birds, goats, dear, a strange Australian bird, an ostrich, snakes, and rodents. My favorite was probably this extremely bad tempered monkey that had a Mohawk and scowled his teeth at all passersby. My second favorite was another Monkey who actually came close to Tim and posed and strutted for the camera. It was hilarious. Then there was that large Australian bird that was doing some type of odd jumping dance for no apparent reason. It would run and then jump and pound its legs back down. This was made more hilarious by the fact that the bird was more colorful than a peacock's feathers. There was also a pinkish albino cow, several rabbits and a number of goats, sheep and pigs which freely roamed around the zoo.
[A not-so-happy monkey]

[You're looking at the back end of a porcupine. He's hiding because he's afraid that the sign in the background will start giving people ideas]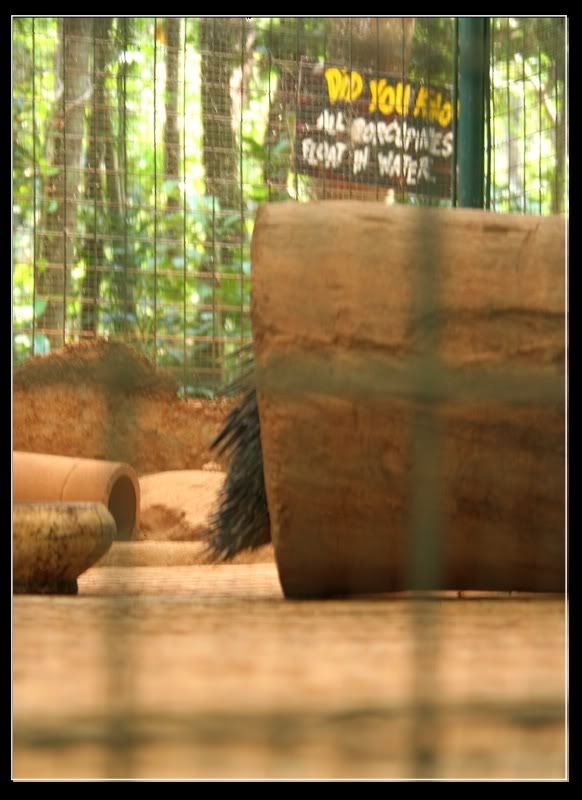 [I'm pretty sure this guy really wanted to jump on my head...You could see it in his eyes]

[Not the most exotic creatures, but they're cute!]

[Also, not exactly the main attraction, but you have to have equal representation for all species these days]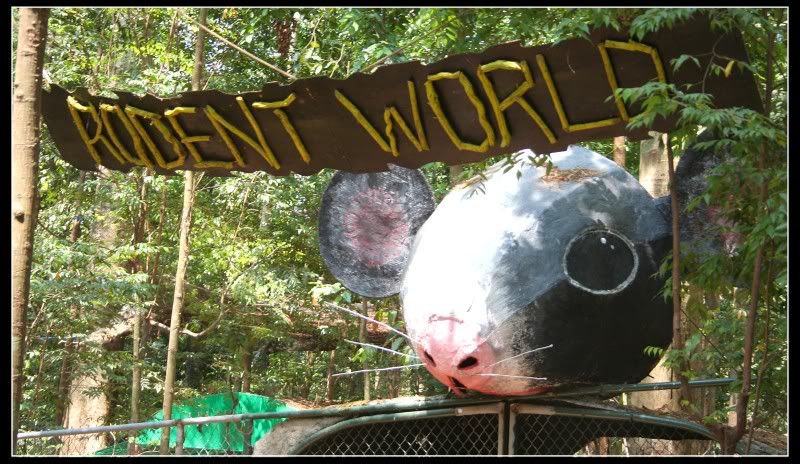 After walking through the zoo area, we went to a little cafeteria area where we waited for the next safari jeepney to head out into the area with the roaming tigers. At this point Mark came up to us and asked if we wanted to buy a live chicken for the tiger feeding for "200 Pesos Only" because without the chicken the tigers would ignore us and our ride would be "very boring." I have no doubt this was true, but there were a few problems with this setup:
1. Even if one person on the car pays 200 Pesos, the entire jeepney benefits from the live chicken feeding, and
2. If multiple people on the jeepney pay for the live chicken, the guy didn't seem to throw two chickens. Thus, seemed to be kind of a scam.
[The Zoobic Tiger Safari Jeepney]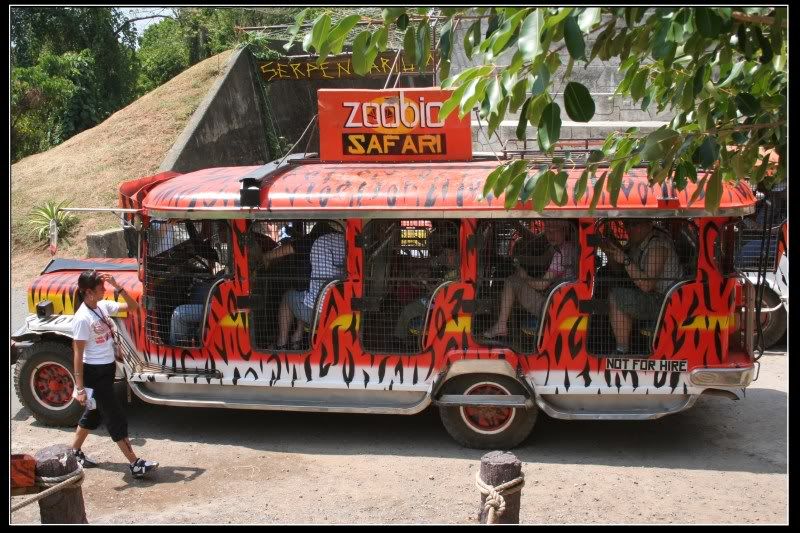 Regardless, we bought the chicken to ensure that Tim could get some good tiger pictures. Mark also told us we would be able to sit right next to the guy who threw the chicken which ended up not being true. The person who got to sit right next to the chicken throwing guy was this nice but inconsiderate man with a large camera with a very long lens who kept it out the small opening the entire time except when I asked him to lower his camera for Tim to be able to take photos. I was really, really annoyed by this because I wanted Tim to be able to use his new camera, and Tim would have been considerate enough to share the window space – especially since we bought the chicken.
But anyway – enough about the stupid chicken and the entire process.
[Dinner (The lettering along the top read: "DO NOT EXTEND YOUR HAND" ]

The jeepney started up and the guy with the chicken hung the live chicken out the window. A few tigers were sitting on a hill and ran up to our side when the saw the struggling chicken, which the guy has tied on a string. We didn't stop, however,and the tigers started running alongside. I was happy to see the tigers but it still didn't seem quite as impressive as I thought it would be. It is probably a good time to pause for a small autobiographical note. I love tigers. I have loved tigers for a long time – probably at least since I was 5 years old. I love all types of big cats and lions. I am also a Leo. So, I was really excited to see the tigers and was hoping for a more up close encounter with them. But – I guess that is why an African safari costs $10,000 US Dollars per person, and the Zoobic Safari costs $8.00 US Dollars per person. I realized I had to put all that in perspective.
[Eyeing up dinner]

OK – back to the story. The jeepney stopped and there was a large tiger outside looking at the chicken. Well, I thought he was large until a much larger one came running up and snapped at the first one. The jeepney started up again with the poor chicken still squawking and crying and the tigers roaring. The jeepney stopped again. This time, the larger tiger roared and jumped on top of the jeepney taking the chicken with him. The entire group in the jeep screams and a small child (who will probably need counseling now ) starts crying. The tiger jumps back down (all in one stride) and dropped a piece of the unfortunate chicken for the smaller tiger. You can see all of this really well on Tim's videos. It really was pretty amazing. But that was the most exciting thing that happened.
[Food on the go. Fast food. Eat & run. There's a million bad jokes here]

A large tiger came up to the jeepney and rammed his head a few times against it and the jeepney also stopped to photograph a more docile tiger laying there. (This was one of those times I asked the "long lens" man to let Tim have a turn at the opening in the cage).
[Ready for your close-up]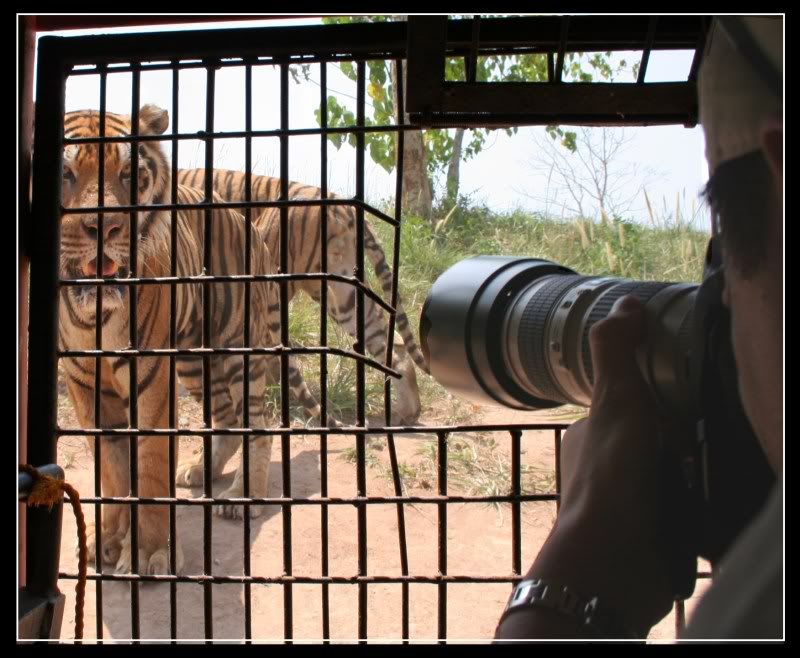 [Nice Tiger! Good tiger! (How many chickens have you had today?)]

After the ride, we all got out and Tim and I asked Mark what was next. Well, for "150 Pesos per Person ONLY", we could take another ride through the Ostriches and see more tigers in their cages. We opted not to do that. We have experiences driving through a range of ostriches before when we visited my friend Jonathan Trappe in Texas, and I am convinced that Ostriches are some of the most vicious and dangerous creatures on earth. Do not let those long lashes batting fool you. They are evil. In Texas they took off running after the car like the T-Rex in Jurassic Park, and we were just as petrified. Not 3 minutes before, Jonathan had dumped a pile of food into the laps of Nidia (his wife) and I and we were attacked with a vengeance. Heads in the car pecking away, biting, and pinching.
So, anyway, we opted not to repeat that, and I was not interested in seeing tigers in cages anymore. We met up with Ramer outside and we drove off to find our picnic spot!
Butterfly Garden
Tim had read somewhere that you could have a picnic at the Butterfly Garden. We told Ramer that this is what we wanted to do, and so he drove to the Butterfly Garden, parked, and explained to the owners what we wanted to do.
Although sometimes (well, frequently) the lack of structure in this country gets on my nerves, more and more I am starting to appreciate how this lack of structure allows people to do impromptu and meaningful things that would not be possible in America because it would be regulated againt, "not allowed" or grounds for arrest or a lawsuit. The Butterfly Garden was setup as a tourist attraction with a large arch, an entrance fee of 85 pesos per person, three tents with butterflies and flowers, and a building with preserved and hatching insects. The staff consisted of the owner and another guy who I think is probably the happiest man in the Philippines (more about him later). They said that we could have our picnic and set it up anywhere we wanted to and that "later" we would have to pay "this man" (the owner with red shorts) 85 pesos per person.
We set up our blanket and lunch between the first and second butterfly tents in the woods. The trees were really cool looking and the birds and cicadas were making a huge racket. It was nice to be in the woods again and hear all of these sounds. Tim took some videos of the sounds to see if his dad might know what types of birds were making all the noise (sorry – beautiful music!).
[Kendra by the massive root structure of a massive tree]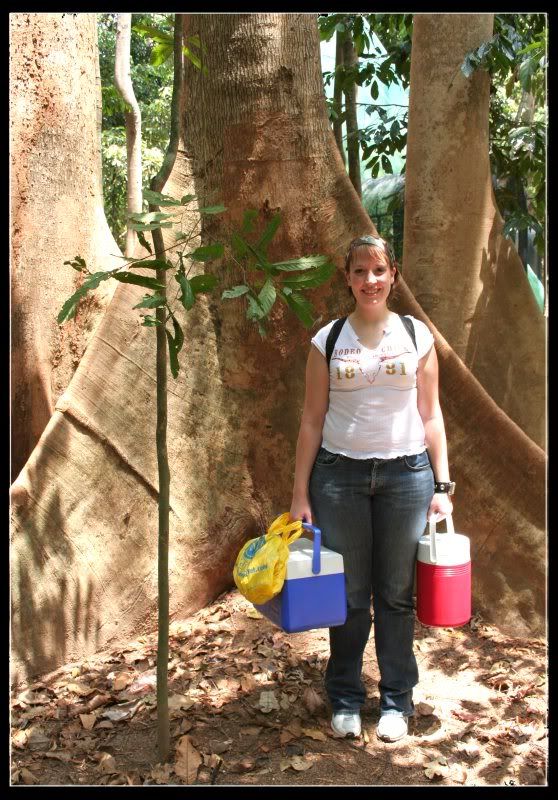 We were hoping that the area where we placed our blanket wasn't home so some sort of foreign fire ant species (although, what a great story that would be!). We did have a few tiny ants come visit us for food and saw some inverted cone nests in the sand. The food was great, as we were very hungry.
After we cleaned up our picnic (and some of the garbage that some previous people had left), we went through the other butterfly tents. Although the tents were extremely hot (made worse by the fact it was just after noon and the sun was high), it was really cool to see all the butterflies and have many of them land on us. Tim took a lot of photos, and I took some of Tim with the butterflies too. A lot of my pictures were blurry and out of focus…Tim and I have different vision settings and I was certainly not used to his new camera, but I still like the picture of the butterfly on Tim's nose.
[Plates were set out with colorful flowers and a sticky "Butterfly food" substance]

[The air was thick with butterflies..it was hard trying to avoid running into them or stepping on them]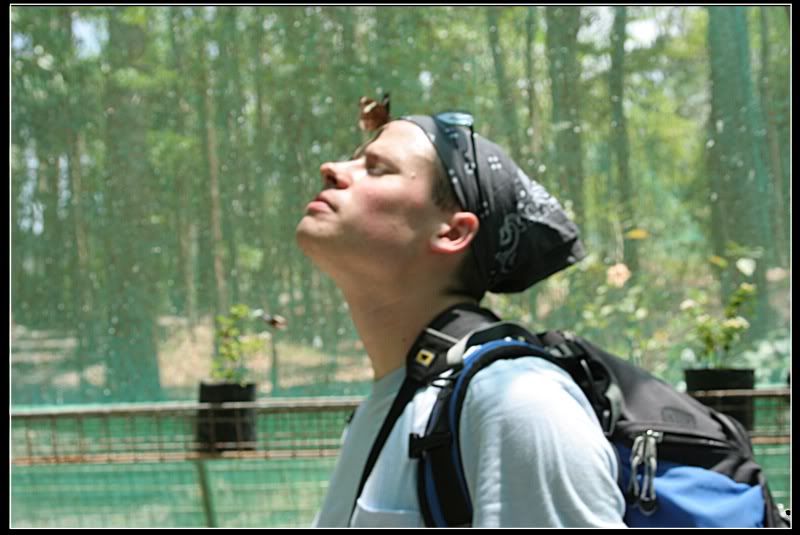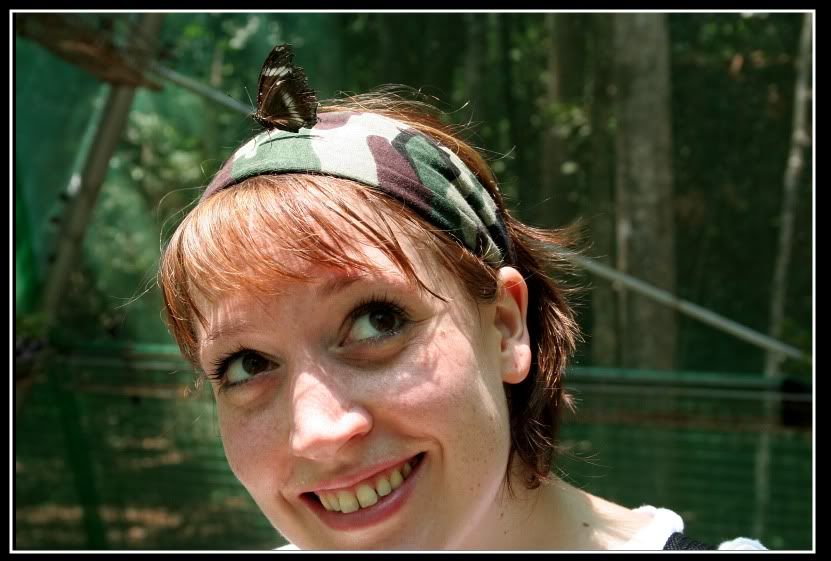 After the third tent, we were greeted by the previously introduced "Happiest Man in the Philippines." This man was so precious. He was so happy and so proud of his butterflies and insects and took us on a personal tour of his exhibits. He kept telling us to hurry and to see something quite exciting! He brought us into the room where they had set up a white board and had attached the crystalis (the cocoon where the butterflies emerge).
We watched as a newly-formed butterfly was making it's way out of it's cocoon and slowly spreading it's wings for the first time. Our guide gently used a water-filled spray bottle to ease the young butterfly out of it's silk home. He was so excited to show us this! Tim took some pictures of it and we were appropriately pleased and excited at the butterfly coming out. He also took us around to the preserved butterflies, moths, beetles, scorpions, tarantulas, and camouflaged insects (such as stick bugs, leaf bugs, etc).
[A board full of pinned-up cocoons ready to be broken out of by the newly formed butterflies. Note the Label: "For Departure"]

[A Butterfly is Born! It's a....boy?]

[The Happy Insect Man of the Philippines]

After our tour and
maraming salamat
to the Happy Man, we drove off for Ocean Adventure.
Ocean Adventure
At Ocean Adventure (picture a very small scale -and in the progress of being completed - Sea World in Orlando or San Diego), Tim had set up a "Whale Encounter" and we would also see some of the shows that they have (dolphins and sea lions). The park was staffed with very friendly people who tried their best to help us but often couldn't explain to us exactly what to expect or what to do. I have noticed here that rather than having specific agendas and schedules and standard operations, people have concepts of "soon" and "later". This was frustrating to me, because I wanted to know exactly when to be in my swimsuit, when and where I could get a padlock for our wallet, backpack, camera and other belongings, if someone could hold my padlock key while I was in the water, and what else we could do while we were waiting.
My frustration with the lack of answers must have been very obvious to a very kind man named Don because he took it upon himself to find us and take us on a personal tour of the animal sanctuary where they rescue injured or abandoned animals. On our way back across the bridge over the creek, we saw a crab scuttling sideways across the rocks. I was touched by how much they love animals and really want the Philippines to work towards preserving the amazing animals and natural resources they have. And it is true that the country is full of beautiful places and amazing things that I'm sure are hard to preserve with all the forces trying to exploit it.
After our personal tour, we caught the sea lion show which was adorable and helped yet me into a better mood. The sea lions were doing cute tricks and other antics.
["So, a sea lion and an otter walk into a bar..."]

Everything else continued to workout. We got our padlocks (for a 50 peso security deposit), it became clear to me when "later" was, we got changed, felt confident our things were secure, received a briefing on the rules ("Do not attempt to give the whales any type of instructions or commands"), signed a waiver, put on a life jacket, and got into the water with 2 trainers and 6 other people.
It appeared that 2 were Germans and the other 4 were Filipino. The trainers put Tim and I in a group together with the Germans and put the Filipinos in a different group. Then, we turned around and saw this long, dark shape swimming up to us underwater. Pounder and Tonka are the two "false-killer whales", sort of a cross between Shamu and a dolphin. They came right up to us and we were able to run our hands over them and grab their fins and tails. Tonka also opened his mouth so we could feel all his teeth and his huge pink tongue. He then blew water out of his blowhole and whistled for us.
Our group was first at the deep water dock. We took turns riding Tonka out to the dock by holding onto his dorsal fin. Once at the dock, we individually got to dance with the animal, ride him more on his belly, splash with him, and swim with him. It really was a very cool experience, and worth it, even though it was expensive.
[Us and the German dude hangin' out with the big fish]

[Kendra's New Friend: "Are you sure we can't take him home?"]

[Look! I caught a whale!]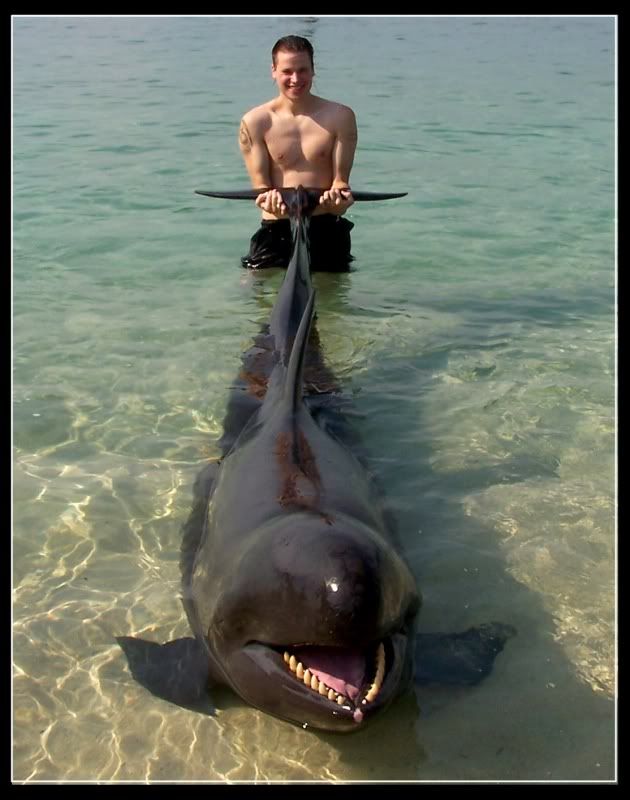 [Say cheese! Nice Teeth!]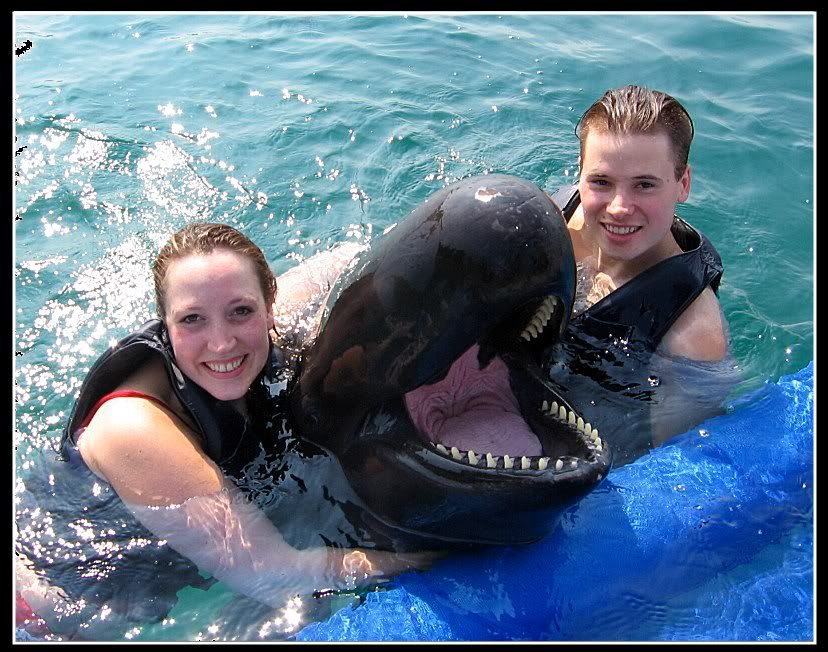 Since people obviously could not bring their cameras out and take pictures themselves, they had a photographer there. You could then buy prints or buy 10 prints on a CD for 500 pesos which was the best deal (if you had a computer). After the encounter, we dried off, changed back into our clothes, and watched the dolphin show, which was cute. We didn't find anything we thought would be suitable for gifts at the gift shop, so we called Ramer and met him outside.
[A new game: Fish Toss]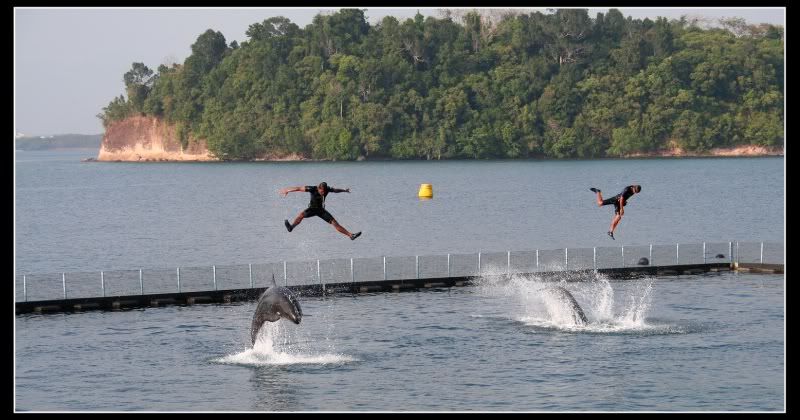 Of Bats and Bartering
We had heard that there was a Bat Kingdom that we thought would be kind of cool, since it was only late afternoon at this point, so we told Ramer that we would like to go to that, if possible, and then find a place for supper. Ramer drove us to where Bat Kingdom was purported to be. There was a sign but no entrance fee, no bats to speak of, and only several folding tables of ladies selling hand-made beaded jewelry. Tim took some pictures of the jungle area (sans) bats, and then we decided to return to the ladies who had been hollering at us since we parked: "You buy!, You buy!".
[Lots of Jungle...no bats!]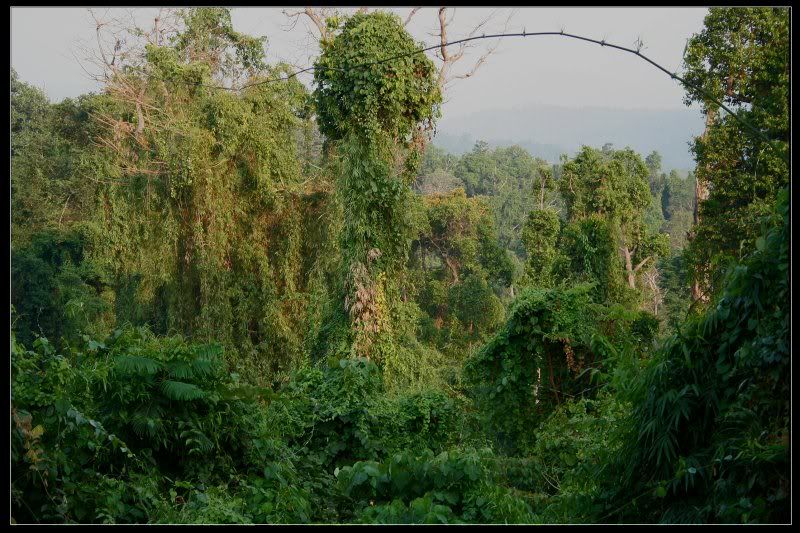 I was really glad that we stopped, because this small thing changed the entire mood of the day, because it let Tim and I laugh at ourselves, which is always good. You take me, who is generally too impatient to barter and would rather leave without something than stand there and haggle, and then you take Tim, who is an attractive, very young looking man who generally doesn't have a good baseline for what something like women's jewelry should cost, and you have two humorous bargainers. I have found that my impatience coupled with the fact that I can live without the things that people are selling are actually great bargaining tools. I usually pick out what I want and ask how much, and then reduce the price by half or more. If she says no, I walk away. 9 times our of 10 the lady says "Ok, Ok" and calls me back. This prevents the auction style price haggling that I don't care for. I probably still end up paying a more than a local, but I'm OK with that. I know how much time it takes to make jewelry like that, and even their original asking price is next to nothing.
We each had 500 pesos (about 10 USD) to work with. I went to one table and Tim went to the one next to mine. He picked out a hematite bracelet and a shark's tooth necklace and the lady told him it was 500 pesos. He said "baby, 500 pesos?" I said – "No, 300 – barter her down for more." In the end I was proud of Tim because I think it is hard to barter for items like that when you are Tim and when it isn't exactly your target commodity. He got his items for 300 pesos (which is about 6 USD). I used my "group products and give a price" method. I got the same bracelet Tim picked out (although I didn't realize it was the same one), 2 beautiful long beaded necklaces, 3 very nice wooden bracelets that were thick, and 5 beaded wooden bracelets that were thinner for 500 pesos. It was all pretty fun. I liked the necklace that Tim bought and regretted I didn't try to bargain for more of them for Chris and Jason (my brother and brother in law).
However, we were in luck, because when Ramer pulled into the beach where we were going to have supper, there were more of the jewelry people selling the same types of necklaces, although a little different in the beads used. I was immediately swarmed and the man said "buy this necklace" (which was similar to Tim's). I said "How much?" He said "150 pesos". I said no and walked away. He followed me and said "name a price". I said "I will buy 2 of them for 100 pesos total". He said OK, but only had one shark necklace, so I paid 50 pesos for it. He then ran after me with another one from his colleague and I bought that one for 50 pesos as well. I was pretty happy with this because now we had more for the guys!
Anyway, Tim and I had dinner, which was very nice, and the staff was accommodating for my "vegetables only, walang carne chop suey", which made me happy.
[Kendra on Subic Bay]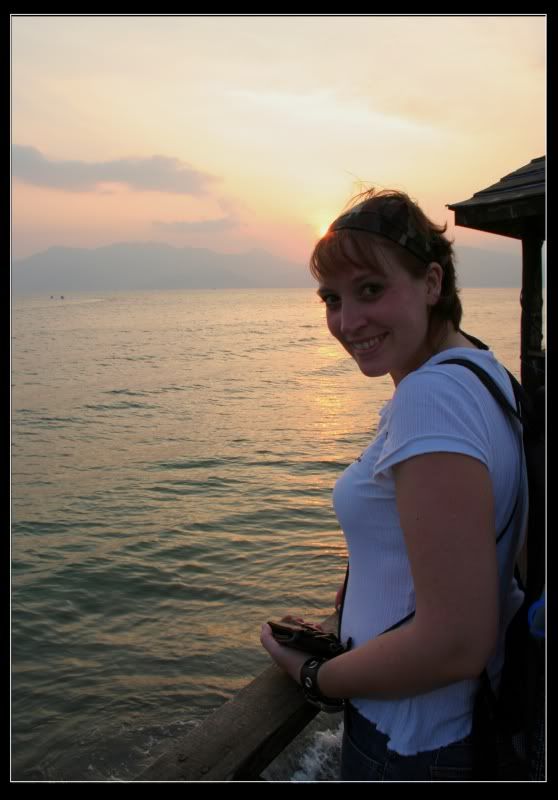 [Tim on Subic Bay]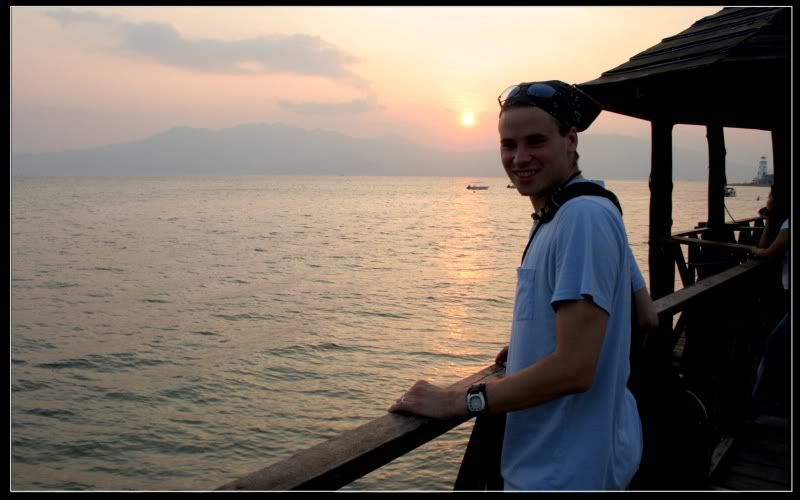 [Sunset over Subic Bay]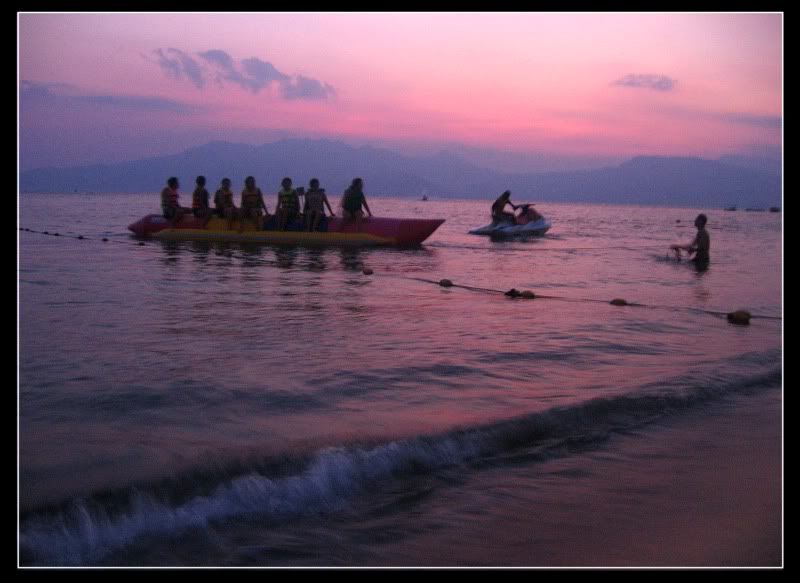 We got home and were exhausted but happy for our adventure!