The Tourism Department, Rizal Park and The Kids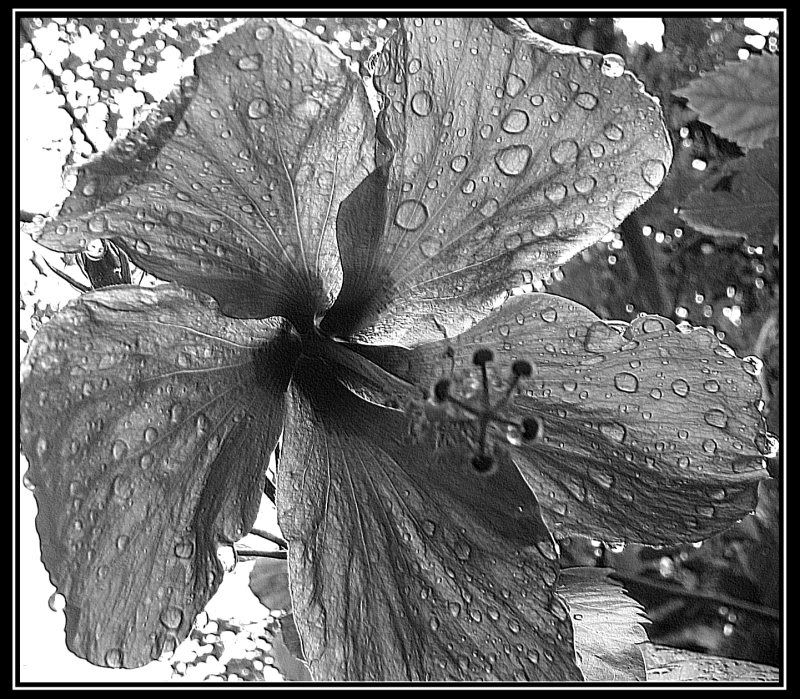 Today I had to go to the Philippine Department of Tourism to pay for our hotel accomodations for our trip to Benaue in June. Benaue is in the Northern Philippines about 350 Km from Manila...it's the location of ancient rice terraces built into the hillsides..we can't wait to see it..we've heard alot about it from friends.
So, in order to book the hotel (own and operated by the PDOT..
not
the Pennsylvania Dept. of Transportation..they are those ones who give me the parking tickets!), I took a car from our building in Makati to their offices near the Manila Bay in the heart Manila City. It took about 30 minutes in heavy traffic, during which I nearly puked multiple times due to the crude nature of my driver's braking and accelerating ability. It was enough to make me truly appreciate those drivers who are able to navigate us through these streets without inducing sea-sickness...having a higher-than average vehicle helps alot, too.
I arrive in one piece at the proper building, locate the correct office and do my business...(the credit card machine was down, so we went to another floor to complete the transaction). At this point it was raining pretty heavily, so I took an impromptu, self-guided tour of the building, which was full of vendors selling your typical Filipino gift items. I waited until the rain let up, then ventured out- at which point I saw that the building was located right at the edge of Rizal Park, an area which I had been meaning to visit sometime. I had an hour and half to kill before I was to meet Elizabeth at the U.A. Embassy building, so I took a stroll through the park.
Rizal Park was built as a tribute to national hero Jose Rizal, who was executed by firing squad for rebelling against the Spanish government in 1896. Lots of grass, flowers, pools, gardens, trees and stone walkways create a neat fresh-air environment. There is also an outdoor art gallery and a really cool Chinese garden. I was out around 2 in the afternoon so the place was full of people on benches taking their afternoon
siesta
(I guess that oppressive Spanish colonization wasn't
all
bad!).
[Siesta in the rain]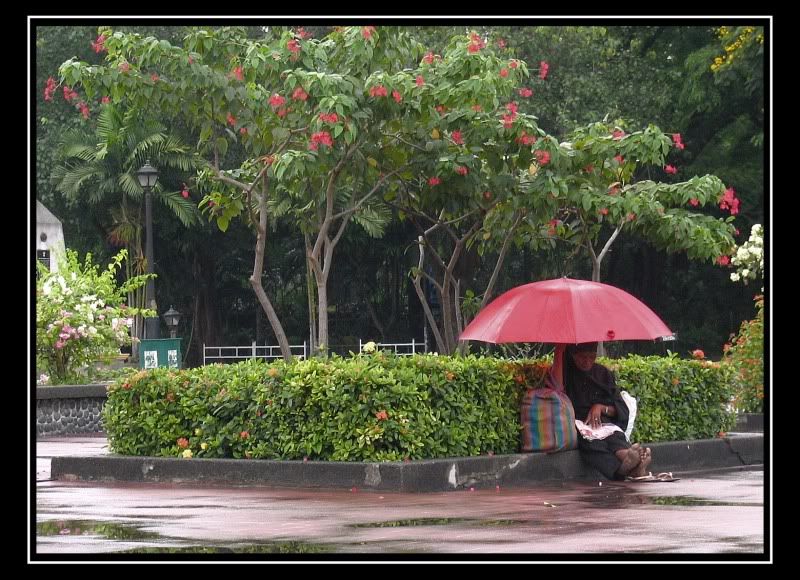 [A huge working clock with a face created with flowers]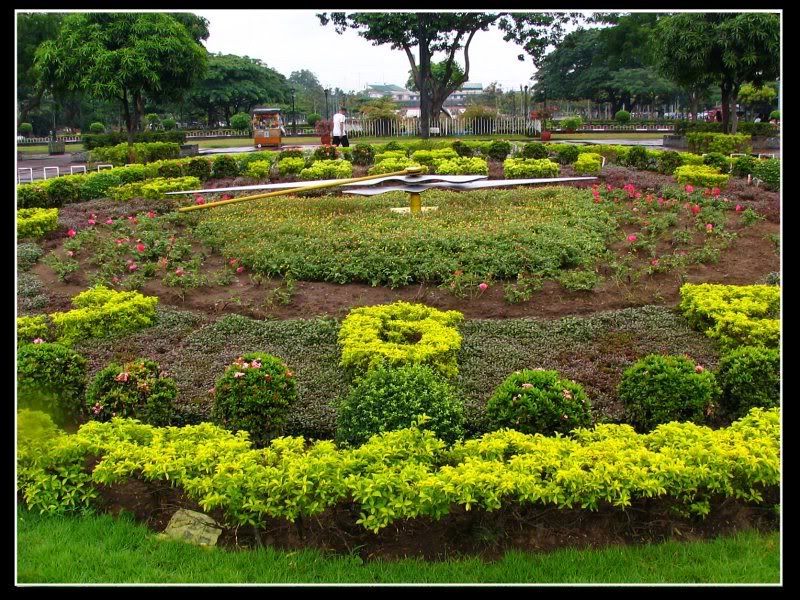 [Pigeon Condo]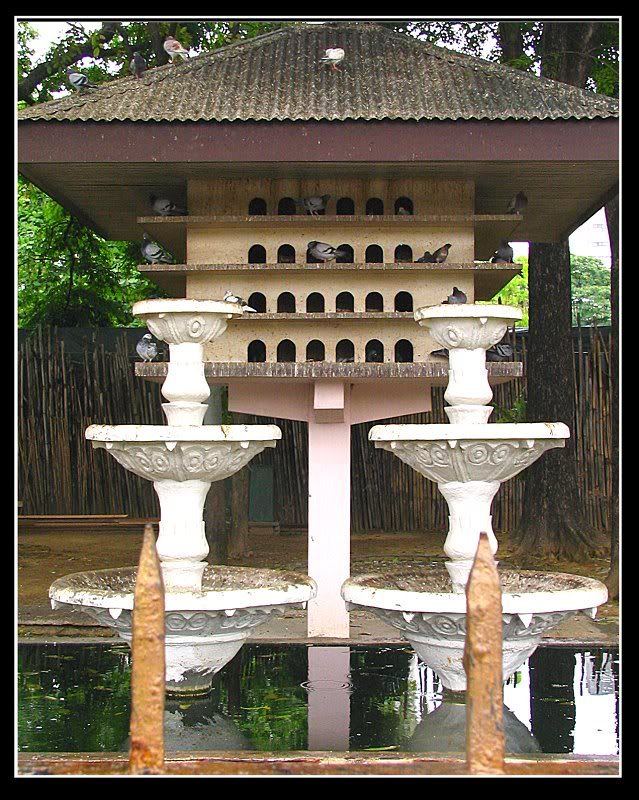 [Kitty Cat in Rizal Park]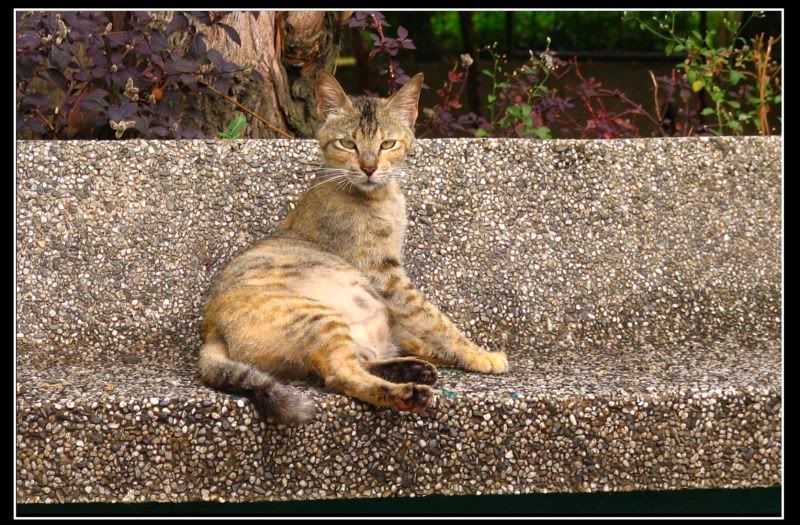 [The Entrance to the Chinese Garden in Rizal Park]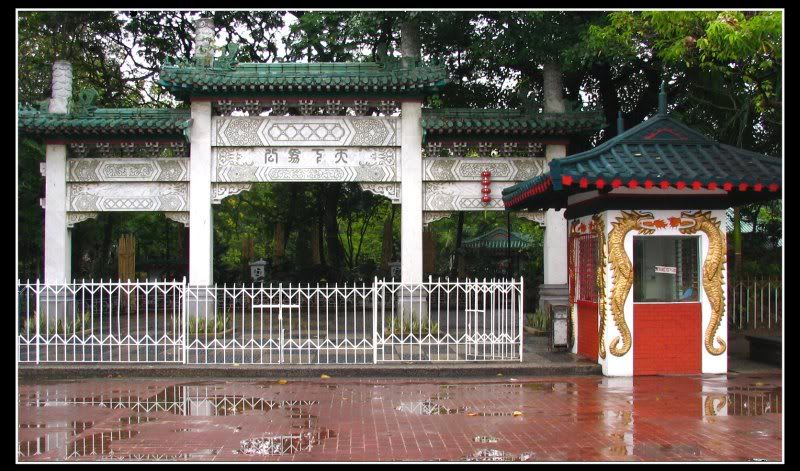 [Don't consider it as "sleeping on the job"...think of it as a "unique cultural tradition to be appreciated and admired"]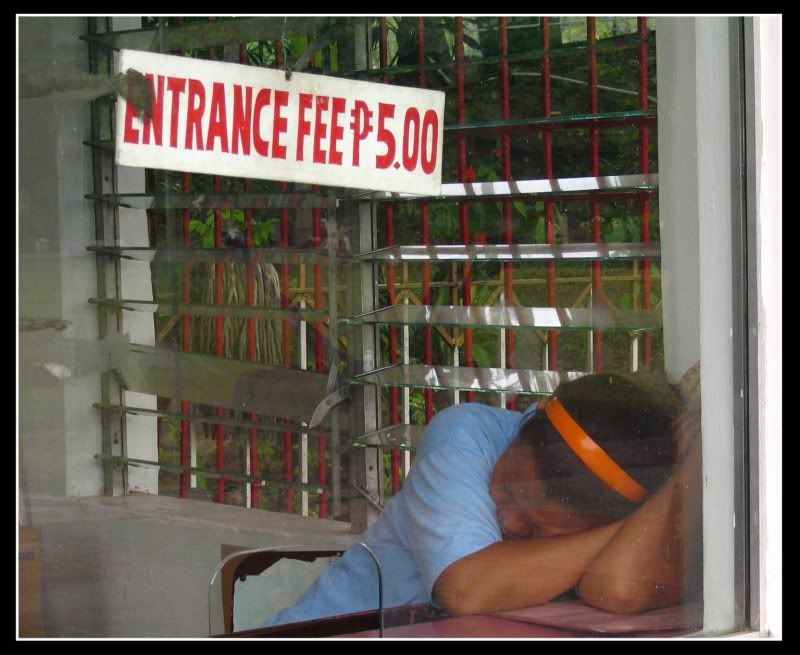 [Chess in the Chinese Garden. The happy man in the red cap was the one who showed me the cat and also his pet love bird in a small cage in a tree]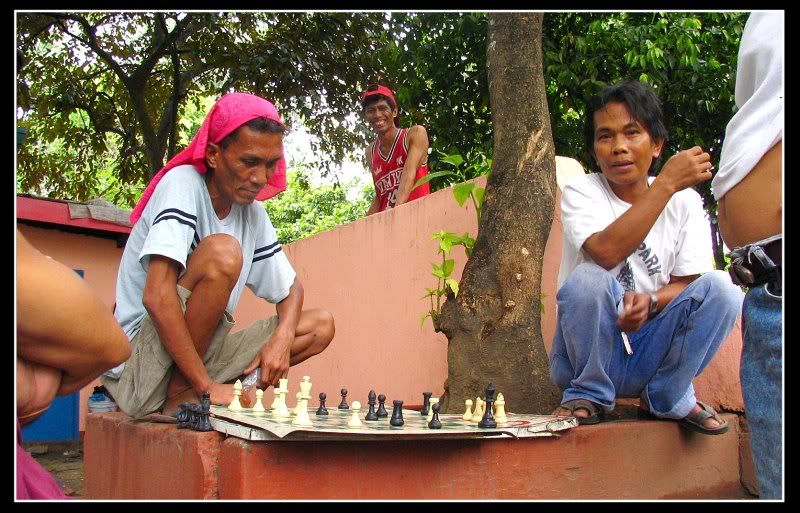 [Here's another great use for discarded soda cans]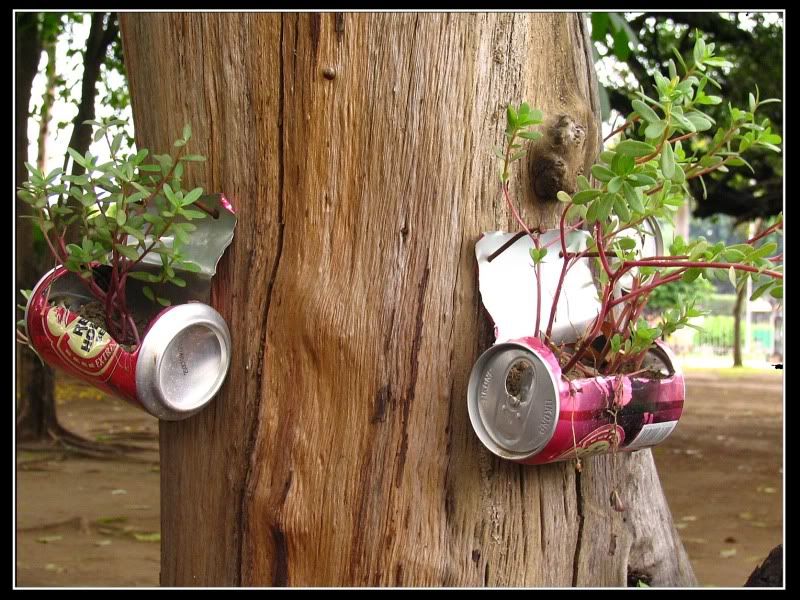 [I bought a Coke from this guy. He and his buddies were watching a small TV powered by a car battery]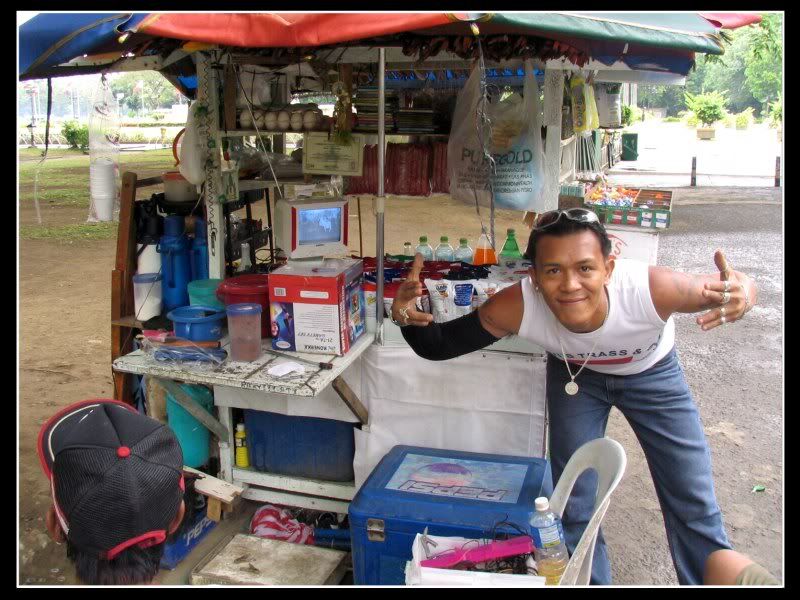 I made my way through the park towards Roxas Blvd, which is where the U.S. Embassy is located. Texted Elizabeth to let her know I was there, and tried not to make the armed guards too nervous with my prescence. Elizabeth came out and we got into a van with her driver, Edgar. We then picked up one of Elizabeth's co-workers, Patrick and headed out to the girl's home an hour away.
It would be a vast understatement to say that the girls were exstatic to see us again. They all know Elizabeth very well by this point and are very excited whenever she is there, but they all remembered me (
kuya
Tim) as well and were happy to meet their new
kuya
Patrick. Kendra had to work so she couldn't be there, but all the girls were asking where "my husband" was (
asawa
is the only Taglog word for spouse and it's not gender-specific).
It was still raining outside, so we took the girls up to the roof, which is an enclosed play area for them to run around in. Which they did. For hours. The three of us were dead tired by the time we left, but it was so worth it to spend time with these kids. We played a scaled-down version of Prisoner's Base and tag, as well as lifting them up and spinning them around to make them dizzy. (When I said that I had done it too many times and was about to fall over, they pulled me to a chair and had me breathe deep in and out). A bunch of them were singing praise and worship songs and asked me what my "favorite song from Jesus" was. Elizabeth also mentioned that they had promised to pray for her boss in the U.S. - that he would send her back to the Philippines...she is leaving in a week. Before we said goodbye, Elizabeth handed out pictures she had taken of the girls and I handed out new toothbrushes to each of them, along with a card that Kendra had drawn telling them that it was great to meet them and that brushing your teeth was important!
[Kids shoes by the Door]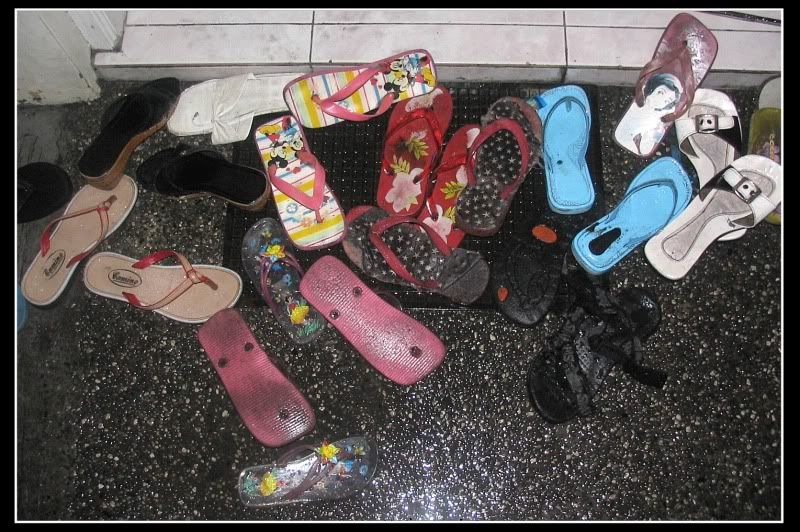 [Patrick was talking on his cell phone- when he turned around he found six small girls shadowing him and mimicking his every move!]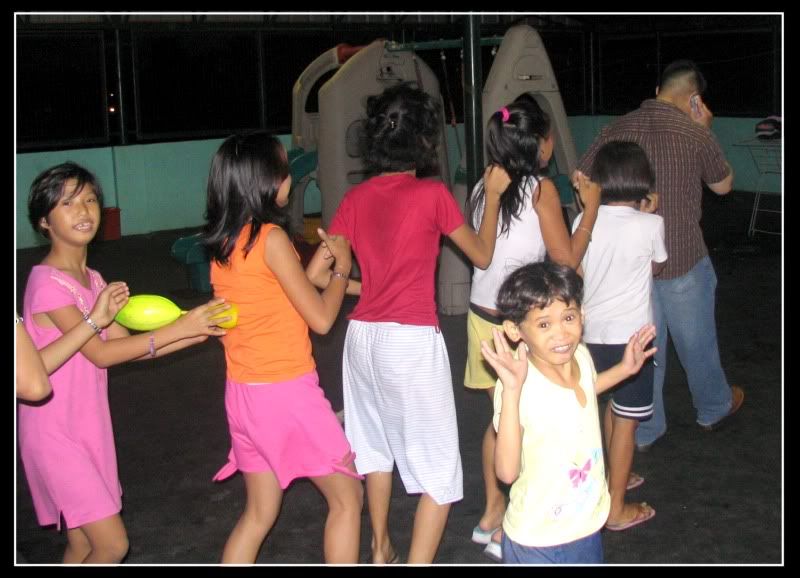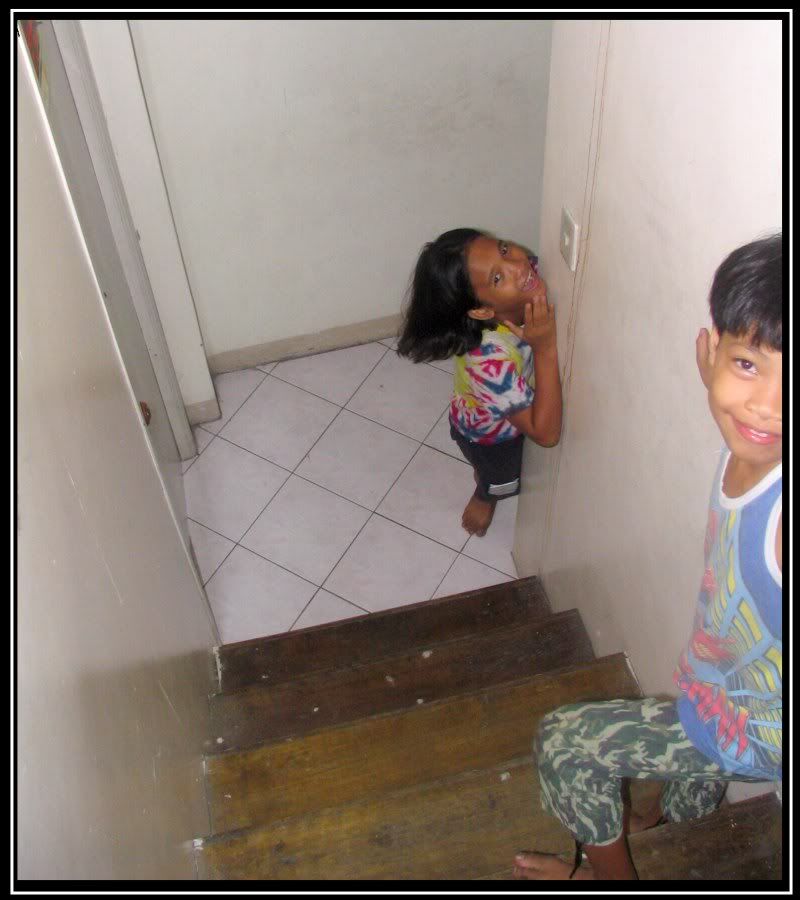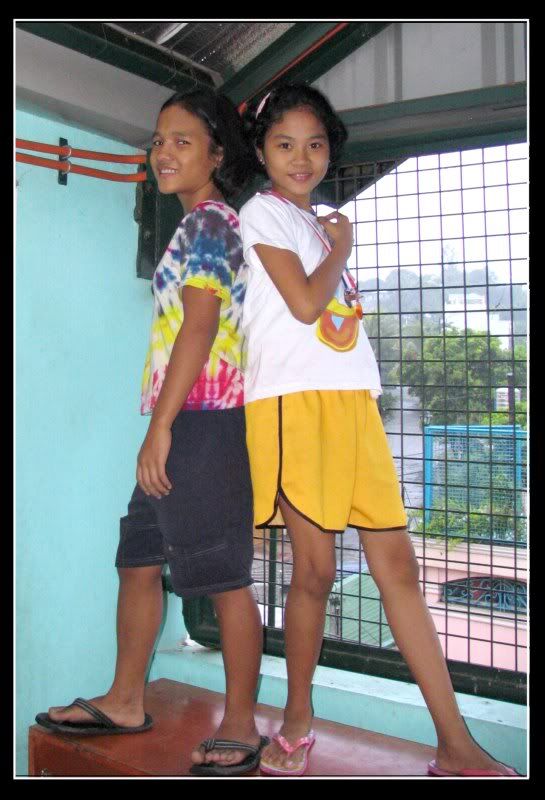 Edgar drove Elizabeth and I back to Makati then took Patrick back to Manila. A fun time had by all!
[Here's my Black & White take on Siesta in the Rain]