Visit to the Girls' Home
This afternoon Elizabeth invited Tim and I to accompany her to the girls' home she visits at least once a week. It is a little orphanage that she has developed a connection with and has quite a heart for these girls. We took the MRT (elevated train) from Ayala Station and then a taxi. This was actually Tim and I's first time for both of these here, since we either walk or take a car hired through work or our apartment building everywhere we go.
We arrived without any trouble and found that we were interrupting a very important lesson on teeth brushing. We tried to keep a low profile in the back, but soon it was clear our efforts were futile. One by one the girls came back to kiss
ate
Elizabeth and see
kuya
Justin again (he had visited previously) and meet
ate
Kendra and
kuya
Tim. (
ate
: big sister,
kuya:
big brother)
It really is awesome the connection that Elizabeth has formed with the girls and how she so frequently visits. The location is not incredibly close to Makati and not the safest for a foreigner. I really admire her for that.
The girls were amazing and very curious. Most of them are not shy at all and would pull your shirt, your hair, your ears, etc. if they are curious. When they saw glimpses of our tattoos, they pulled the sleeves and bottoms of the shirts to see them and touch them and ask questions about them. They wanted to touch everything and confiscated the boys' watches and played with our rings.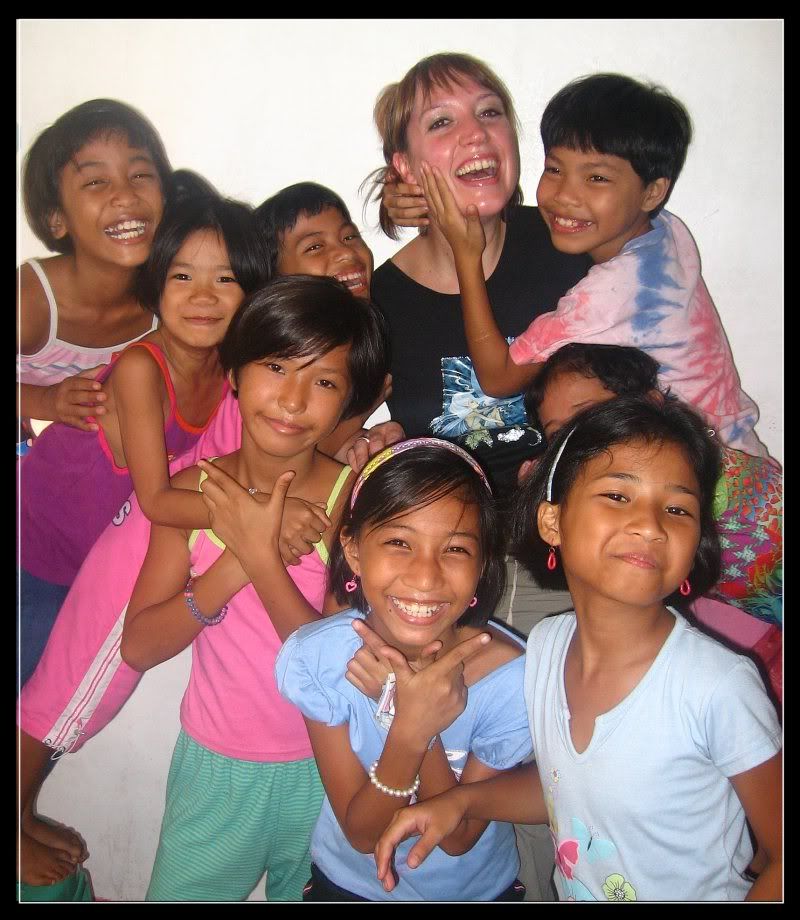 Tim and Justin were just amazing at playing with the girls and being good sports about having their limbs used as jungle gyms. As expected, Tim proved to have multi-cultural appeal in capturing the hearts of all little girls. He also was a huge hit with the neighborhood children and boys - not just the small ones but teenagers as well. They all wanted to touch him and give him high fives.
We then walked from the house to a near by macadam court where we ran around, swung around, and played games with the kids. This was when the neighborhood boys also came out and we all played together.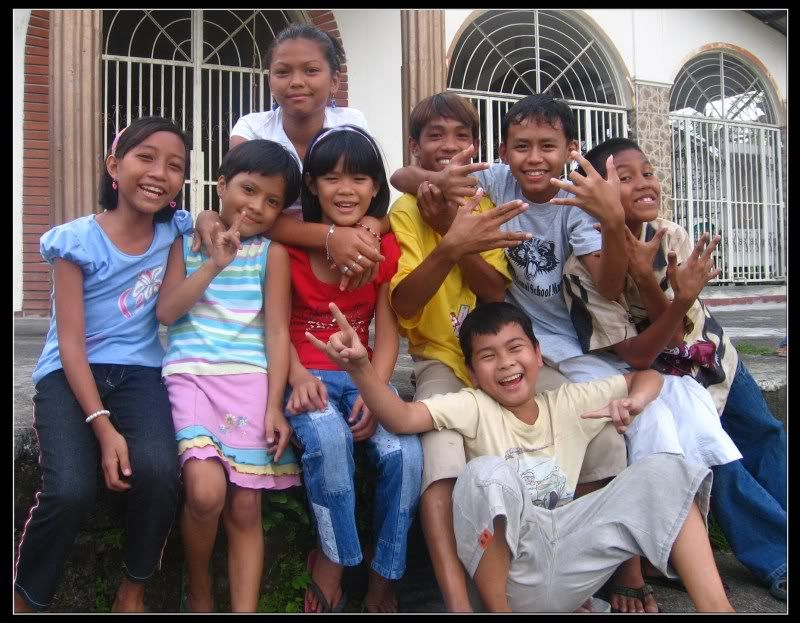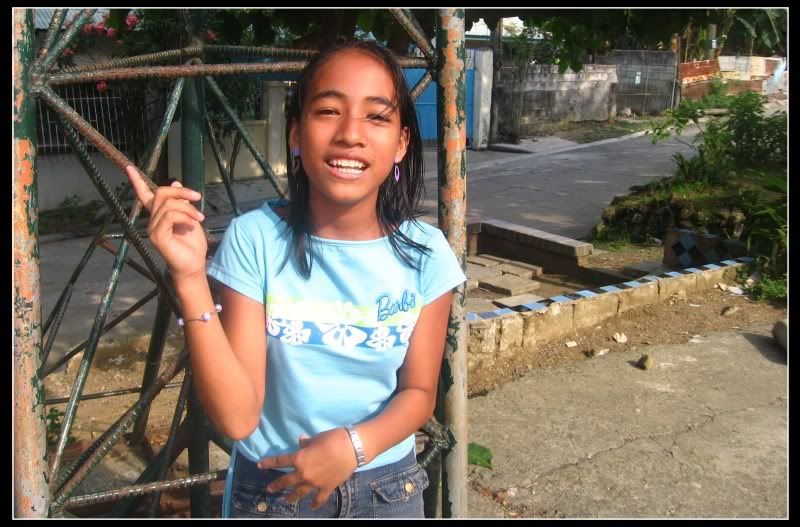 It was really, really hot. I got sweaty and hot pretty fast, so I didn't do a lot of running around. Justin (who is in the military here) is in far better shape than I am and took one for the team in running around playing tag. Tim was swept into volleyball to swinging games to horsey rides to playing UNO. (Afterwards, they said that Tim and I were the Barbie and Ken dolls, which inspired me to want to petition for a Filipino Barbie doll). I played yo-yo and danced around with the girls, doing little dips and spins. Elizabeth... well, she was very often covered in small children, so I didn't see specifically what she was doing most of the time ;-)
Just getting and giving a lot of hugs and special attention.
It was a really great time!
In this one, you can see the aftermath that occured -as soon as Tim arrived (with a bandana on), the girls surrounded him and wanted to see his real hair. They took off his bandana and played with his hair and giggled and giggled. I believe they were disappointed when they found out we were married :-)
In this one you see Justin, a friend of Elizabeth's, surrounded by girls. He really was smiling most of the time. It was just a little overwhelming at first. I think I have a picture of all of us when we have 5-10 girls on us and are a little overwhelmed ;-)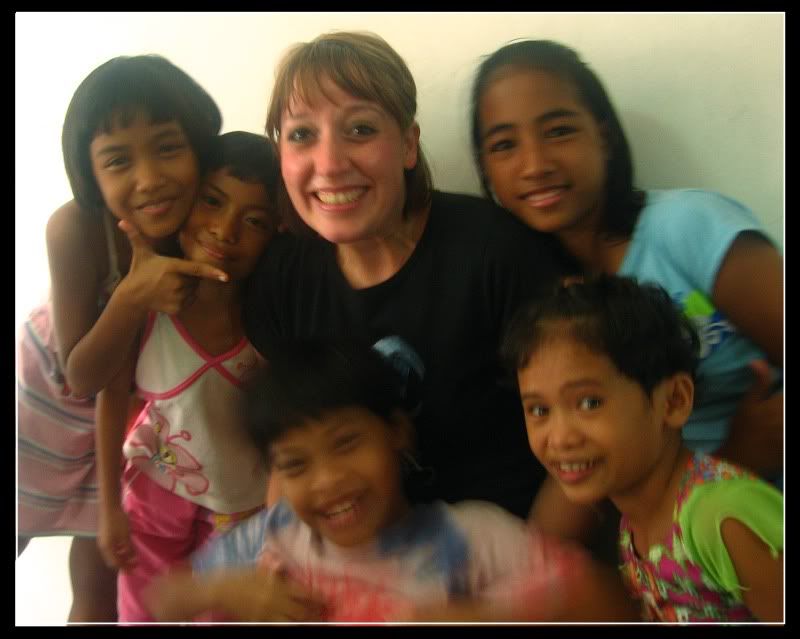 And, finally, here is one of me playing with the girls. I was teaching them to dip, but this one I just tossed in the air instead.
Tim:
This was a really fun (yet hot and tiring) time! As Kendra said, they were all a bit shy at first, and just waved to us from afar, but not 5 minutes later we were being bombarded with "What is your name?", "How old are you?, "When is your birthday?", "Do you have a car and a house?" and " Do you have brothers and sisters?". Then one minute after that we both had seven small girls hanging on our fingers and arms and crawling on our backs, inspecting my necklace, watch, rings, ears, and hair. They showed us little tricks they had learned (like cracking their knuckles and where you pretend to pull off the top part of your thumb) and made us watch them play with their yo-yo.
[I almost got beat at Uno!...the Filipino Barbie version doesn't have the words written on them like"Draw Two" or "Reverse", they just have symbols and colors. The first card I picked up was a "Wild" card...I was so confused. As soon as it was someone elses turn, there would be shouts of "Go
na
, Go
na
!!" (Go, Already!)]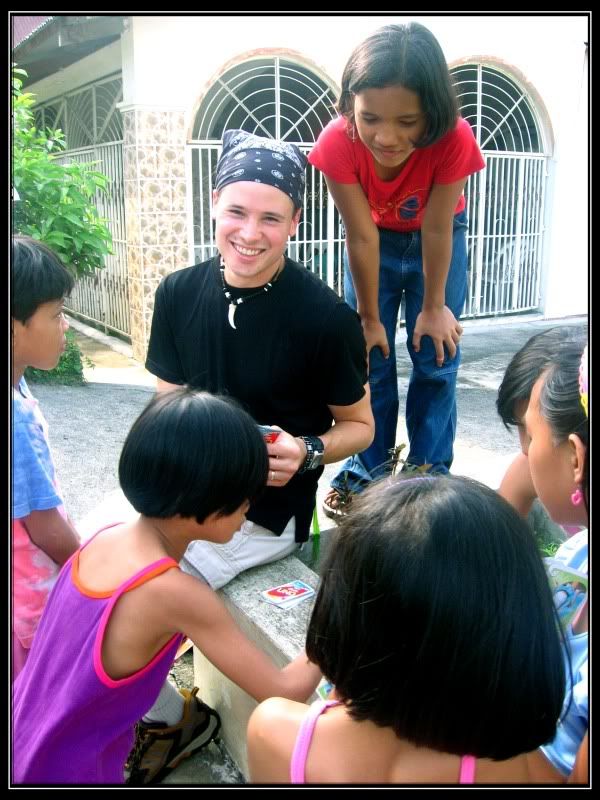 It was really amazing to see how excited they all were just that we were there and playing with them for a few hours. They all wanted their pictures taken and continously posed with us and with each other. A couple of them played Duck-Duck-Goose, or a net-less game of volleyball, or drew on the road with a chunk of chalk. One of the small neighborhood girls had a small, yellow chick for a pet, which she was very protective of. She passed by our group with her mother and let some of the girls touch the chick - with always a cautious eye on it.
This reminded me a great deal of St. Croix, in the Vigin Islands, where I spent 10 days with my youth group from church back in 1996. We staffed a daily children's camp there and did alot of playing and doing crafts with the kids. It was just as rewarding to see the great joy that a kid can have when they can run and play and have fun in a safe, non-threatening environment. (Although the kids in St. Croix are not nearly as outgoing and expressive as the ones in the Philippines!). It was also neat to be a part of a fun day for them, for all of these kids were at one time abused, abandonded and malnourished.
Much thanks to Elizabeth for taking us there with her and allowing us to have such a great time with these special kids! We'll be back whenever we get the chance!