CLUB NOAH, PALAWAN – DAY 1 (Activities)
After the orientation and a high-spirited welcome song, we went to our little cabana (#9) and saw the beautifull hibiscus flowers on the bed and the little balcony over the water. The cabana was not an overly luxurious or romantic place, but rather small and efficient. It had two single beds also, which would prove to make our sleeping uncomfortable because I still wanted to lay by Tim, but we didn't really both fit.
We both really liked the balcony though. It overlooked the sea on high tide and you could see tons of fish of every imaginable color swimming around over the white sand bottom that was visible.
[One of the types of fish we saw regularly was this thin, long-nosed guy]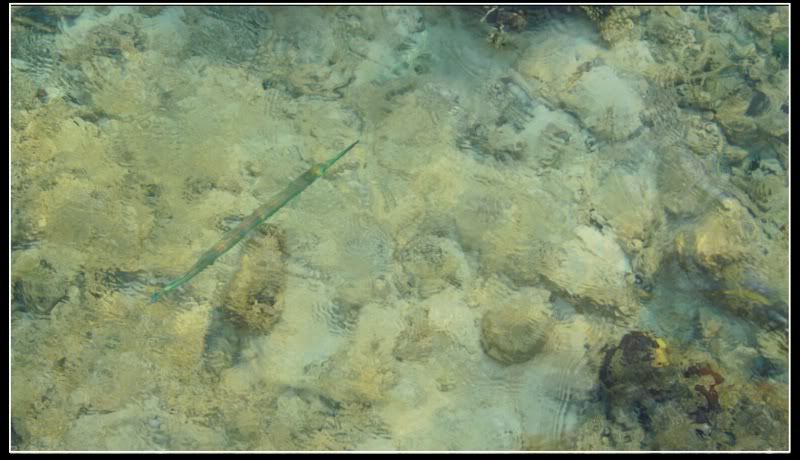 On low tide, the sea receded about 5-6 feet and the water was either very shallow or the sea bed was exposed. When this happened, tons of scurrying little crabs and fish-hunting blue herons took the place of the fish. I am not certain this was the species "blue heron" – what I mean is that it was a bird that looked like a heron and it was the color dark blue. [Tim just proved himself to be his father's son and looked up the bird – it was actually an "egret".]
[Holes in the rocks formed by the flowing of the tidal water]
[The lonely egret hunts it's dinner at low tide]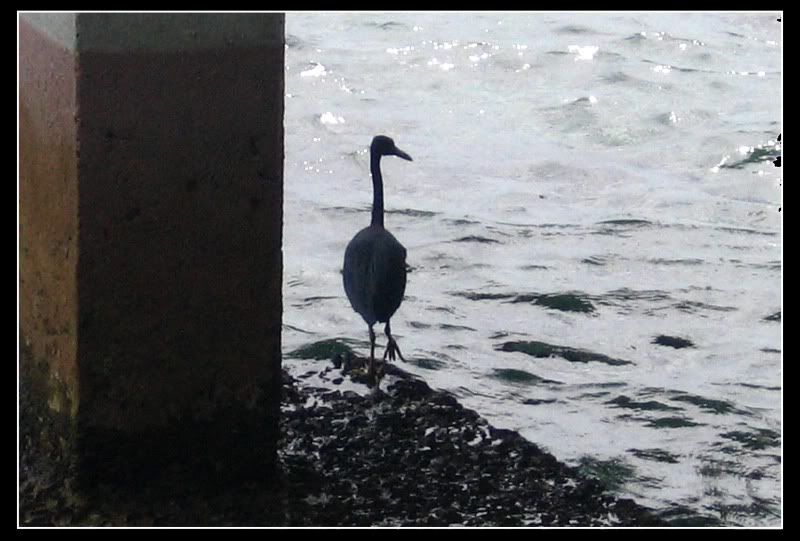 [Low tide under the cabanas...high tide will reach the level of the white paint]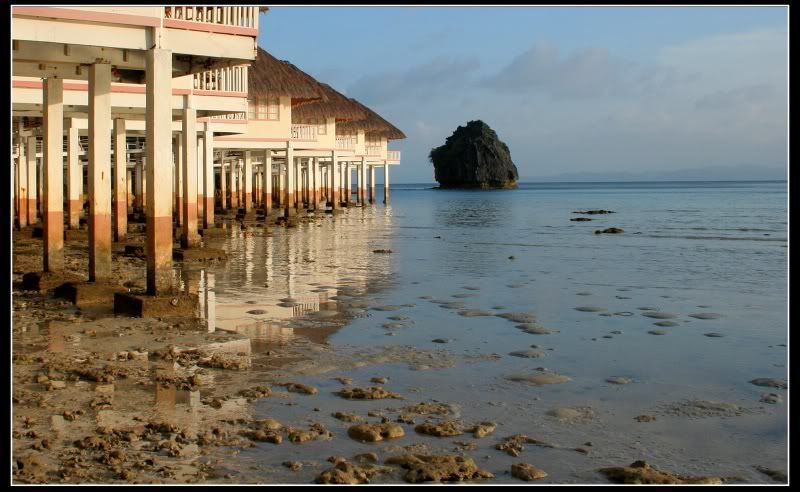 By now it was a little after 10:00am, which was kind of amazing to us that it was so early in the day, but we had been up for seven busy and exciting hours already. We wanted to change clothes as quickly as possible and find something to do until lunch. We were both really hungry at this point. Tim was also very sore from our last Tae Kwon Do class and so he scheduled a massage, which he received for an hour in an airy outdoor pavilion overlooking the beach. I took my book and put on sunblock and headed towards a hammock hung between two coconut trees to read. I fell asleep for awhile and when I woke up, I was pretty burned. We were so close to the equator that the sun just laughed at my sunblock.
[Tim's Note: In the U.S., your typical Rite Aid-Banana Boat brand-cocoa-flavored sunscreen is- what...25, 30, maybe 45 SPF? Before we left we went to SM in Makati and bought several tubes of waterproof, sweatproof, all day 50+ SPF sunblock. But as Kendra said, our futile attempts to protect our pasty white U.S. East Coast skin were instantly laughed at by the blazing sun directly overhead]. I realized I would be a tomato before we left.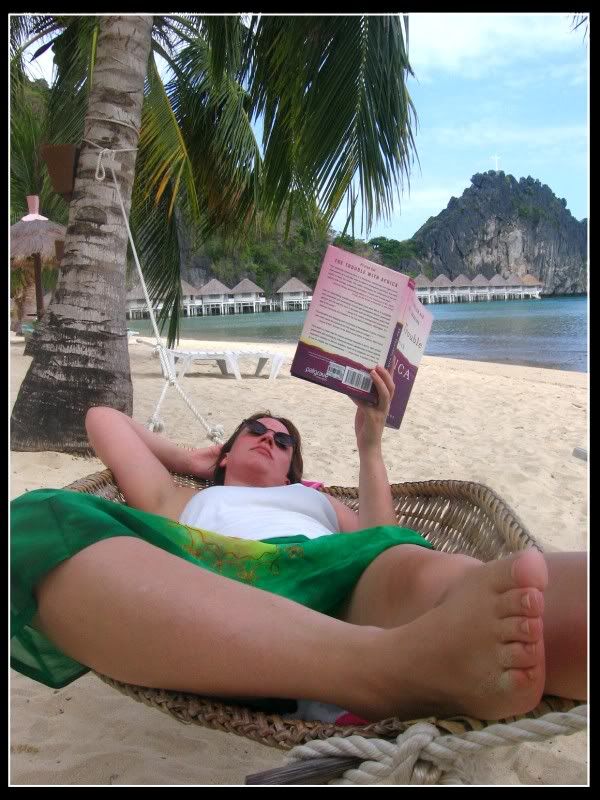 After I woke up, I went to find Tim (who had never returned to me after inquiring at the front desk about his massage, because as soon as he asked for one, he was ushered off to the pavilion, so I didn't really know where he was). I could see Tim laying on the massage table and sat on one of the tables to read my book and wait for him.
Lunch Adventure
Lunch opened at noon. This paragraph will be another account of Kendra being frustrated at her lack of food options, so if you are tired of reading about that, skip ahead. Basically, the long and short of this situation is that Tim had arranged ahead of time with the travel agent that I was a vegetarian and he wanted to make sure I would have enough food options. He was actually told by the travel agent that special food would be prepared for me, so we were happy about this.
During our trips to Dominican Republic and other places, I don't have a lot of options and end up just eating rice and whatever I can scrounge from the salad bar. Although this can be painful, I don't mind doing it for places that are all-inclusive and super cheap, because my expectations aren't that high to begin with. However, this place was pretty close to American resort prices and was not all-inclusive, and so I wanted to be able to eat some good food.
As luck would have it, somehow the arrangements for my food were never made and all that was on the buffet that was vegetarian was white rice and bread. I was hungry, tired, sunburnt, and frustrated. My disappointment must have been very apparent (down side of having large eyes and a very expressive face), because when Tim got up to tell the kitchen staff that he had previously arranged for available vegetarian food, we got surrounded by about 5 people who were pretty frantic and very upset that I was disappointed already.
They did their best to get down what I wanted to eat and scrambled to make some type of salad for me. I tried my best to thank them profusely for the food they made me (carrot and mushroom sculpture thing), but I'm afraid this initial experience gave me the reputation for the rest of our visit that I was somewhat demanding and hard to please. People were very friendly to me but seemed to have a going in position that I would be difficult, which was unfortunate. After lunch we had a drink at one of the bars and watched the ocean.
We saw some of the girls from the staff (I am referring to them as girls because I think they probably were – many of the staff seemed pretty young – definitely under 20 and probably closer to 17-18) trying to chop a coconut with a plastic kitchen knife. They were not able to, and in a demoralizing move, one of the men came over and held the knife with one hand and chopped it in half with one strike. This was a little humorous because there had been 4 of the girls working on the coconut before.
Swimming in the Ocean
Once our food settled we put our swim suits on, more sunblock, and went for a swim in the ocean. It was a little rocky by the beach but soon settled into beautiful soft sand. The rocks were easy to avoid, giving the glass-like clarity of the water which was also extremely warm. We swam out to a little floating dock about 50 yards from shore and did dives (Kendra) and cannonballs (Tim) off of it.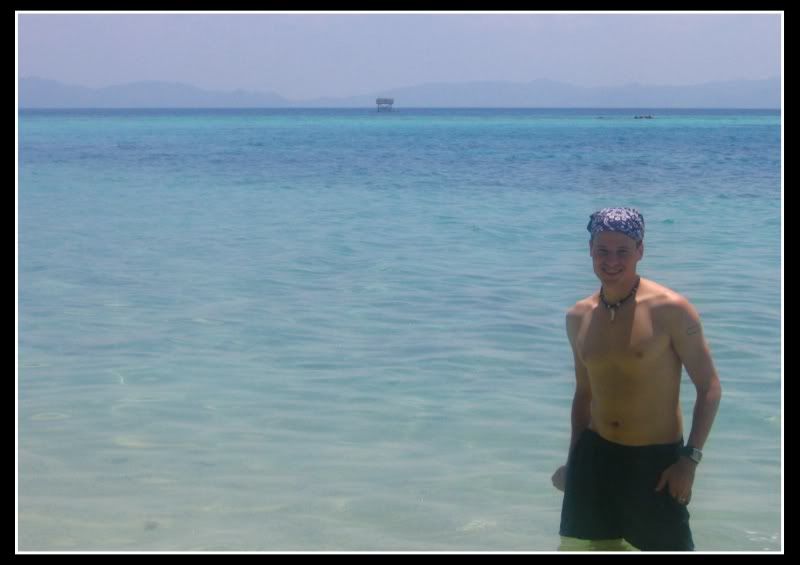 This was noteworthy because I learned something new about Tim, which I always like when it happens because he has been a part of my life for about 15 years now. I had always assumed that Tim was a really strong swimmer because of his time at camp. In reality, he does not really like to swim in deep water and hates diving, because he doesn't like to go in the water head first. He was really nervous about swimming to the dock. I told him that we didn't have to, but when he agreed to go out, before we left, I swam next to him and wanted to make sure I was strong enough to swim with him and assist him if he got too tired. I was able to. The importance of this will become clear later, because Tim was able to complete two pretty intense snorkeling trips – something that he was afraid to do previously, although I wasn't sure why. I am proud of him for overcoming this! (I'm sure the lure of good photo opportunities helped) ;-)
After our swim, (and additional sunburn), we walked around the island a little and saw some of the animals on the island. Right out in the open are ducks, mousedeer, red squirrels, lovebirds, tons of bunnies, and an insane (yet colorful) parrot. Tim teased the parrot every time he passed it and talked to it. At one time the parrot tried to eat his big camera and he toned down the teasing after that! Tim was teasing the parrot which was squawking back, and when Tim went to take the picture of the parrot it leashed out through his cages sides and bit his lens hood! Tim tossed the camera to me for its own protection and started lecturing the bird and I took a picture of that. It was really funny – especially when we saw the pictures that resulted from that encounter!
[Nice bird!...Pretty Bird!...Polly wanna cracker?]


[Nope! He wants a piece of my camera...and he's coming through the cage to get it!]
[CHOMP! Good thing for lens hoods!! No damage done!]
Sunset Viewing
At around 6:00pm we headed out for "Dusk on the Beach". This consisted of bamboo mats laid out on the beach with beautiful Japanese lanterns on the sand, light snacks and a person taking drink orders, and an acoustic guitar player singing American and British soft classic rock music and Filipino love songs. I loved it. It was very peaceful and we watched the sun set over the islands and the water and sipped wine on the beach.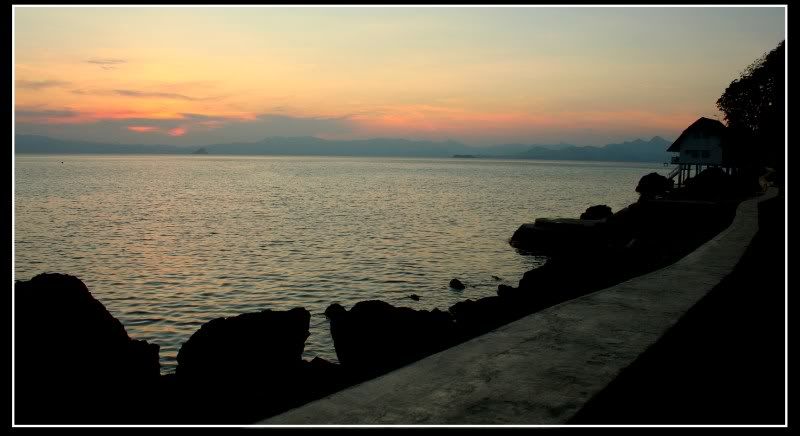 Dinner on the Beach
At 7:30pm it was time for dinner. Each evening, the dinner was held on a different location of the island, which made it very nice. This evening it was on the beach. Little tables were set up with tableclothes and wonderful food at the location. It was completely dark by this point except for the candles and some soft lighting. It really was amazing the labor going into completely recreating the dining area at various unlikely locations around the island. You would see people carting wheelbarrows full of supplies to the location or delivering it with the boats for the setup.
Unlike lunch, there were plenty of vegetarian options at dinner, and we both ate plenty of food. Tim ate several seafood dishes including a lobster. We ordered a bottle of wine and watched the water. Occasionally, bats would sweep down over us and the trees during dinner.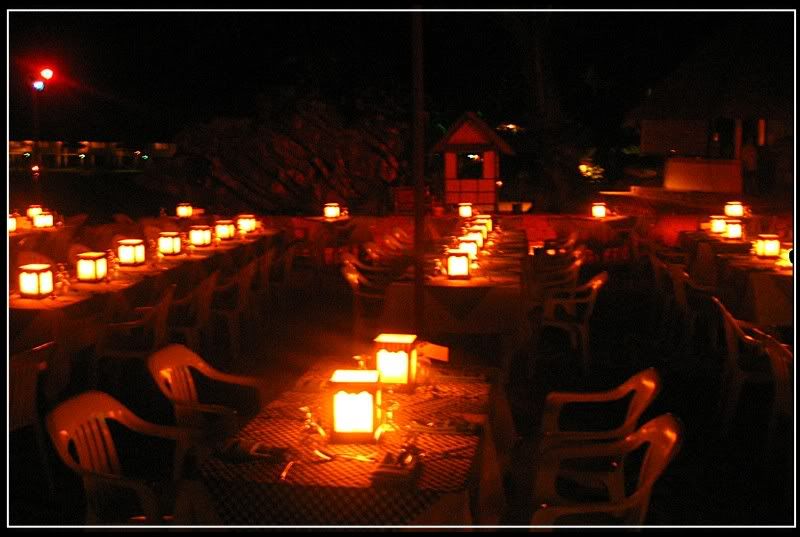 After dinner, there was evening entertainment – the "Pride of the Filipino People" songs and dances. The entertainment was performed by certain staff members (including our activities director, Rose) we had seen throughout the day, and they were very good. One of the dances was very cute and simulated the interaction between the fish and the fisherman. Another was performed by the men and was a dance where several half-coconut shells were strapped to their bodies and they held other coconuts in their hands which they used to create a rhythmic percussion pattern by hitting them in different ways.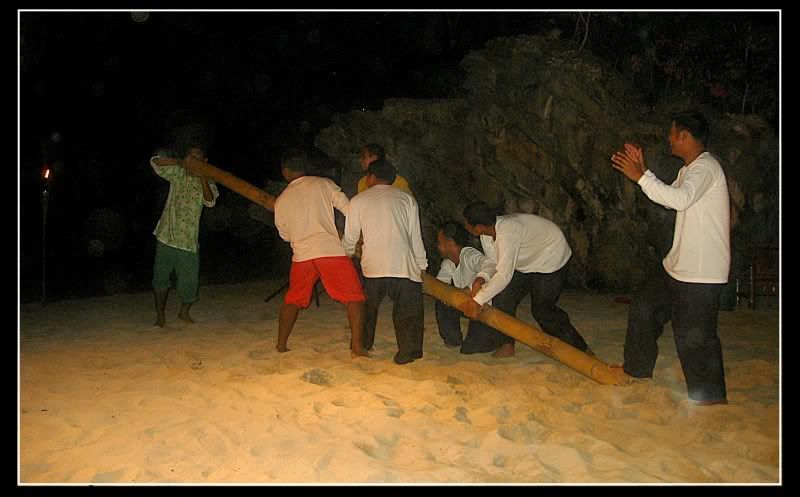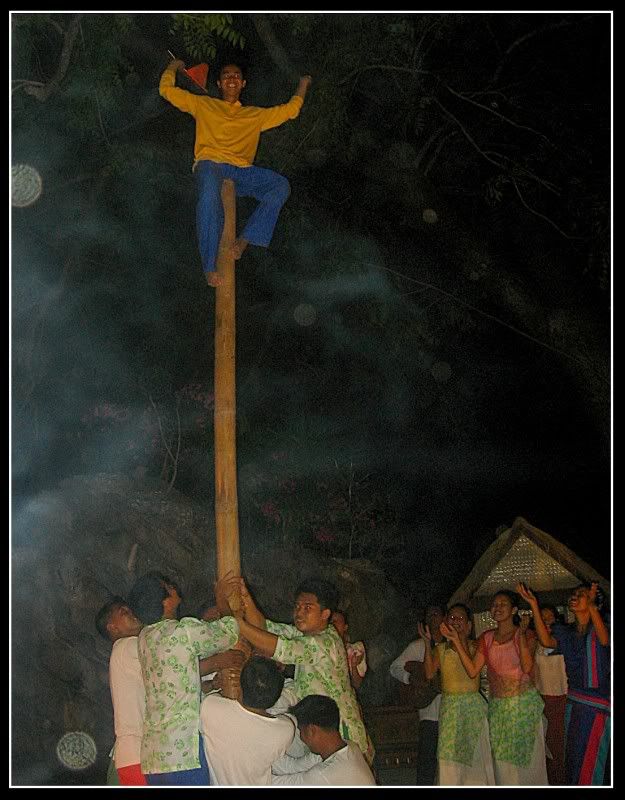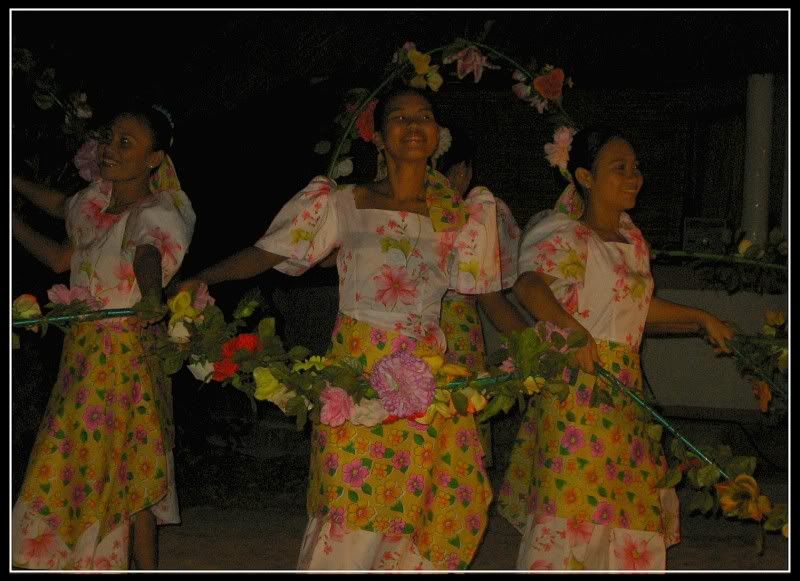 Bed Time
When we arrived back at our cabana, there was a cute grasshopper made out of leaves and a flower with a leaf that had "Good night and God bless you" written on it. We would have similar items at our room each night. We took turns showering and watched the fish for a little while longer. There was a green floodlight fixed under the cabanas to attract the fish and make them visible. This was our first sighting of the baby shark. It was a small shark – just about 2 feet, but it might as well have been the one from Jaws to all those little fish in the area. It was interesting to see them scatter when the shark came! We didn't see the shark when we were swimming or snorkelling, but it was really close to shore, so I am surprised we didn't see it. We also saw a fish that had a smaller white fish hitchhiking on it's back. Probably a symbiotic relationship.
One funny thing was that the lights dimmed in our cabin when one of us would turned the shower on. We fell asleep and set a "morning" call for 6:30am. Our sleep was fairly comfortable but crowded. The sheets on one of the beds had some type of stains all over them, so I went into Tim's bed. I didn't want to make any additional fuss since people already seemed to think I was high maintenance.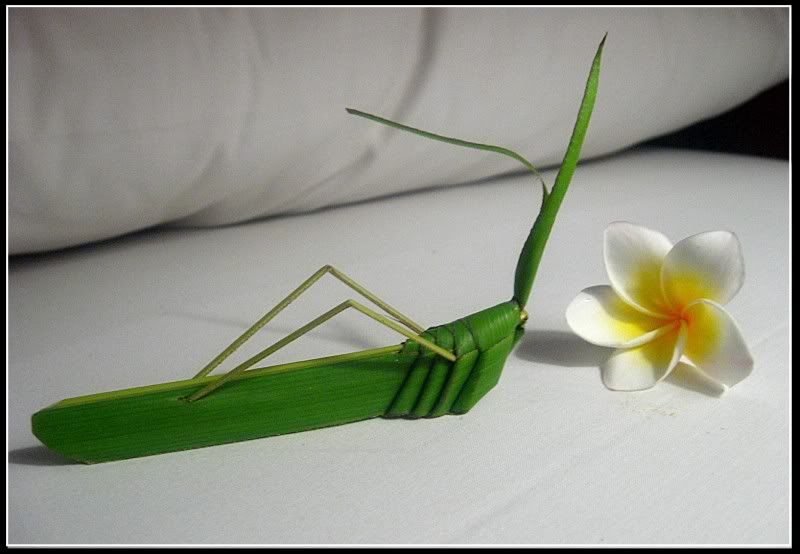 Links:

[Palawan Summary]


[1]
Palawan, Club Noah, Day 1 (Airport and Flight)
[2]
Palawan, Club Noah, Day 1 (Journey to the Resort)
[3]
Palawan, Club Noah, Day 1 (Activities)
[You are Here]
[4]
Palawan, Club Noah, Day 2 (Easter Sunday)
[5]
Palawan, Club Noah, Day 3 (Bottom Fishing and Trekking)
[6]
Palawan, Club Noah, Day 3 (Lunch and Cave Tour)
[7]
Palawan, Club Noah, Day 4 (Departure and Return Trip)