CLUB NOAH, PALAWAN – DAY 1 (Airport and Flight)
Dark and early Saturday morning we met our car and driver at 4:15am and headed for the domestic airport. The domestic airport is very different from the international one. We experienced some humorous things as a result before our vacation even started. Manila's Domestic Airport As soon as we were dropped off, we joined the cattle drive like push of people all trying to fit through the entrance at the same time.
At the door, security guards were viewing itineraries and passports and were attempting to point the men towards one line and the women and children to another. Neither Tim nor I understood what was being said, but we figured it out eventually. (Tim and another Caucasian man realized they were a little outnumbered in their line and inched their way past all the women and heaps of luggage back into their line). Security at the airport consisted of putting the luggage through a conveyor belt and then standing on top of a little box where you were patted down.
We went to the SE Air counter to get our boarding passes and check our luggage. We had to stand on a fairly public scale and get weighed so that they can record your weight and ensure they balance out the plane. I hate this aspect of being here. Not only can people see the scale and the weight, but then the guy shouts the number to another person who records on a piece of paper your weight. Although I don't think either of us like this (since even if you feel pretty good about your weight, you can ensure it will be at least 25 Kilos heavier than your average Filipino, and also because I am a little heavier than Tim is), I am trying to be OK about it. People expect foreigners to be larger people, and although I get the occasional rude comment (usually from other women), I guess there are bigger things to worry about.
We had to wear stickers with our airline on it and then went through another security-stand-on-the-box-and-get-patted-down thing, and then it was to the waiting area. We tried to get coffee, but, amazingly, at 5:00am, Delifrance had "DeCaf only, sir", and so we gave up on that and sat to watch the amusing kids running around. I also took a bathroom break, which is not really worth noting except to say that the bathroom had no toilet paper or soap (read: typical). I have gotten used to carrying these items with me most places that are not my apartment, work, or Glorietta anyway, so I was prepared. I point this out not to make fun of this country, but to say that it is amazing the public services we have in America that are just not present here. It would be reasonable to assume that there would predictably be toilet paper and soap at an airport, but no. However, this too is not a big deal as long as you know to bring your own, which many people seem to do or just skip them altogether.
Finally, we boarded the plan, guided by the airline employees, the females of which were dressed in micro-mini skirts, dark pantyhose, and 5-6 inch heels. The plane was very, very small. I fly a lot, but I was a little worried about getting on this plane. It was a propeller plane and had about 19 seats total. It had a lot of dips and drops. I tried not to think about it and read my book… …That is until we flew past the crowded and polluted city and came out over the water. From the airplane, we could see the most magnificent colors of water - Literally like liquid sapphires and emeralds. At home, on our HDTV, Tim frequently remarks that HD has colors that are better than real life. But after seeing this place, we realize that in remote areas, the colors really are that vibrant. It is really amazing. From the plane, we could see frequent splashes in the water, but they didn't look like waves. As we flew closer to the water, we realized they were dolphins and other large fish jumping out of the water. Honestly, it was really incredible to see… and we hadn't even landed yet.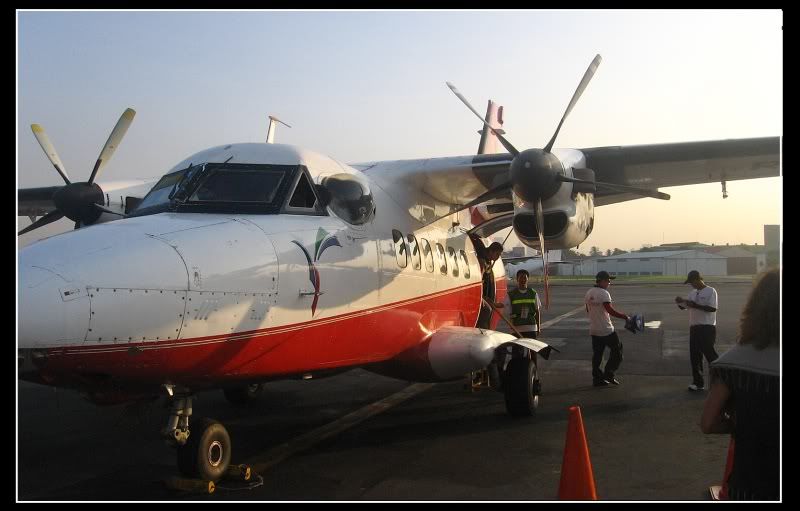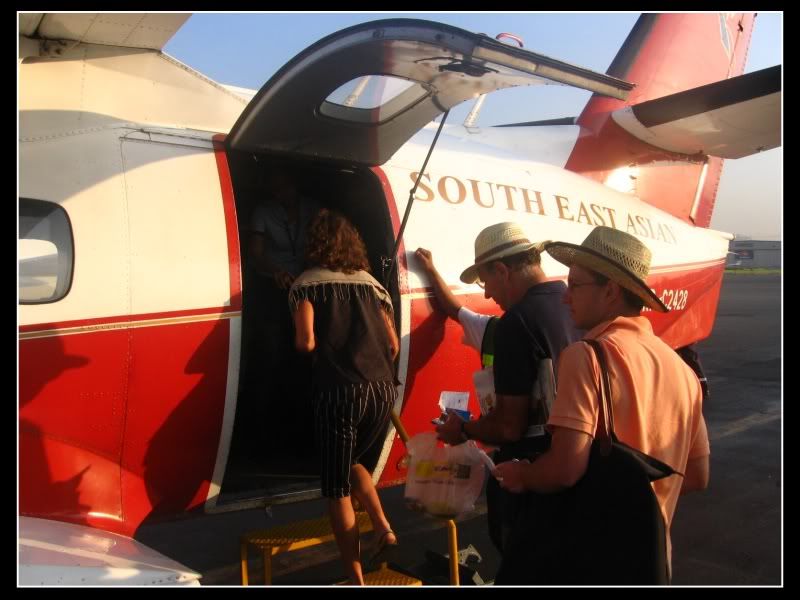 [The Land of a Thousand Lakes....wait, no, that's Minnesota and we're reeeaaaallllyy far from there]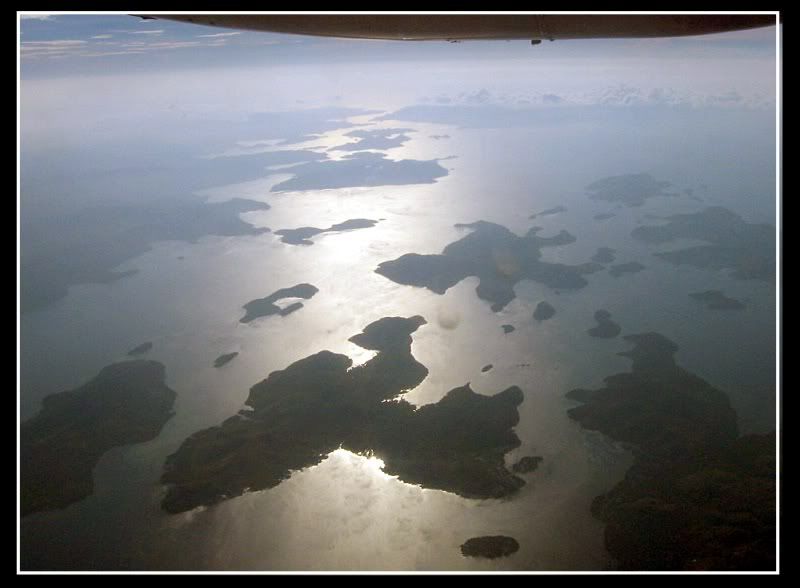 Links:

[Palawan Summery]


[1]
Palawan, Club Noah, Day 1 (Airport and Flight)
[You are Here]
[2]
Palawan, Club Noah, Day 1 (Journey to the Resort)
[3]
Palawan, Club Noah, Day 1 (Activities)
[4]
Palawan, Club Noah, Day 2 (Easter Sunday)
[5]
Palawan, Club Noah, Day 3 (Bottom Fishing and Trekking)
[6]
Palawan, Club Noah, Day 3 (Lunch and Cave Tour)
[7]
Palawan, Club Noah, Day 4 (Departure and Return Trip)