CLUB NOAH, PALAWAN – DAY 2 (Easter Sunday)
The phone rang at 6:30am – "Good morning, ma'am! This is your morning call!" – but I was already awake. I had chills from my sunburn (or was it the industrial strength airconditioner positioned right over our bed?) and was falling off the tiny, meant-for-one-person bed. Tim and I brushed our teeth and went out on the porch to follow the sound of singing and guitars. The staff had tied a bunch of kayaks together and had flags and were singing a goodbye song to a group of people departing the resort. After the departing boat was no longer visible, they stopped waving and headed back to shore, spotted us, and started waving at us. "Good morning!"
Tim and I went to breakfast where I had eggs and Tim had chocolate cereal and fruits. I was asked in triplicate what I wanted for lunch and breakfast. (This would prove to be the trend of services at the resort – either forgotten altogether or covered by three people Thankfully, it was more often covered by three people!) During breakfast we were watching birds dive bomb the small swimming pool outside of the dining area and eat bugs off the surface. It was amusing. Especially amusing was how the birds seemed to know when Tim was trying to take a picture of their antics and stopped diving into the pool whenever Tim had his camera up.
After breakfast I went to the gift shop to get some new flip flops. With all the walking we were doing, the ones I brought were really hurting my feet. They had little poky things on them that were killing my feet. I got some cute blue Club Noah sandals which worked much better.
Snorkeling Tour at Reef
We had signed up for a 9am snorkeling tour of a reef around an island about a 25 minute boat ride away. Tim and I were the only ones who had signed up, so it was just us, our guide, the boat driver, and 3 heavily armed security guards. The snorkeling was very beautiful! Tim did very well. The first time we snorkeled together, he had a lot of trouble with feeling claustrophobic and oncoming panic attacks, but it went much smoother this time. There were so many beautiful colors on the reef and interesting fish and plants and sponges on the sea floor that I had never seen before.
Also, the water was so clear! We saw two large sea turtles. The second one our guide dove down to take a picture of for us. After this, I wanted to try some free dives. The guide let me take off my life vest and I dove down to the bottom two times. It was a little hard on the ears, but really cool to be so close to the animals and plants.
[Tim's Note: The first time I ever snorkeled was in Saint Croix, and the experience was a extreme mix of amazing sights and terrifying feelings of near-death…as are a lot of life experiences now that I think about it…Anyway, I made it through then OK, but it was much better this time having Kendra near by, not so big waves on the surface and crystal clear water with a gleaming white sand beach in the distance. I'll deal with a little short lived terror in that situation!]
[One Fish, Two Fish, Red Fish, Blue Fish]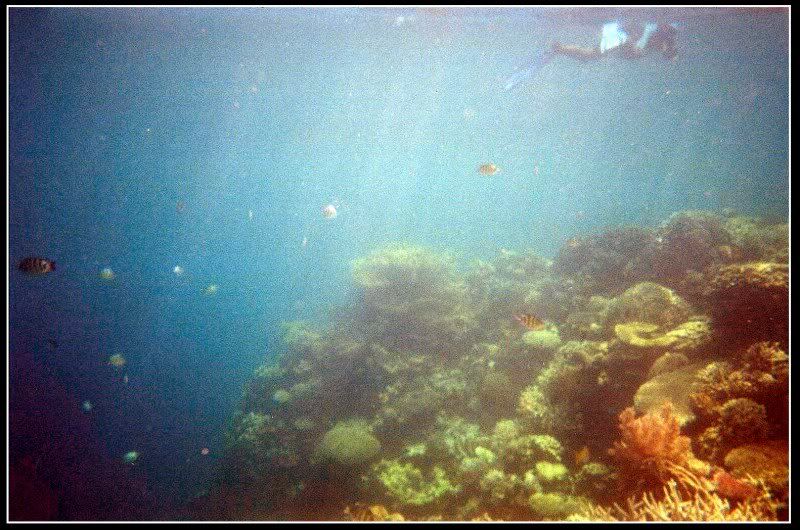 The 1 hour of snorkeling really took a lot out of us. After we returned to shore, we thanked the guide and driver and soldiers and headed to the pool bar for a drink and to relax. We ordered French fries, but after about 45 minutes of waiting, it was clear the waitress had forgotten. When Tim asked about the order, she literally gasped and sprinted back to the kitchen to get them. Shortly after this we had lunch. My special food for the day was pasta with squash and some scrambled eggs stuffed inside a tomato which was really good. I usually shared my special food with Tim because there was a lot of it, and he liked it too!
Attempted Eco-Tour
We took a brief nap and then got up to meet the guide for our Eco "Trekking" Tour that we had signed up for the day before. However, the guide did not show up. Later we found out that there had been a miscommunication and he was never informed about the tour. We met him the next day and he was really a great guy, so I believe that he just wasn't told.
This whole experience of how the staff reacted to the missing guide was a little bit of déjà vu to some of the experiences that I encounter with my co-workers. You can almost make a top ten list of "Ways to tell if something is wrong in the Philippines". First you see a large group of them huddled over one telephone, computer, corner, etc. Then you have a lot of whispering and speaking in Tagalong with an occasional English word thrown in there Then you have a number of random questions and friendly chit-chat. Many times you will be offered things like coffee, tea, bread, etc, while you continue waiting. Finally, when no one still admits something is wrong, you confront the situation generally by saying "What is wrong?", which usually makes everyone very nervous and finally they admit that there is an issue. In this case we just told them we will reschedule for the next day and it was OK.
Kayaking
Instead of the Eco-Tour, we went kayaking. We took the kayaks around some of the smaller islands that were near the resort and took many pictures of the caves and formations and cool things around there. Tim and I were not very unified in our dual-sea kayaking and I got frustrated and my attempts to steer us and row while Tim was primarily concerned about holding his camera and getting pictures. This is a tenuous balance we try to maintain. I support Tim's love of photography to the extend I can – both financially and time-wise – until it gets to the point where I can no longer see Tim's face because he is viewing the entire world through his camera and loses site of responsibilities such as rowing the kayak because he wants to take pictures. At this point we have our brief argument and he starts becoming my husband again instead of a photographer for a little while. So, the kayaking was fun and the scenery exquisite, but not very peaceful.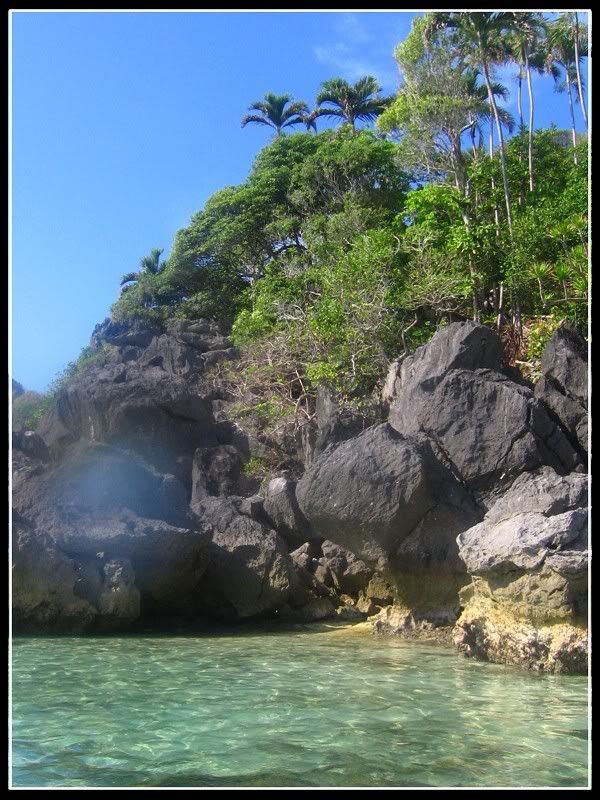 As we walked back from the water after beaching the kayak, we passed by a marine officer making little fish on a string from leaves. I liked them and the guy gave one to me which I still have and put it over our bed at our apartment.
Sunset Viewing
We grabbed our books and went to the pool bar again for drinks and to read. After this we headed to the main pier at 5:30pm for the sunset viewing. This time, the setting was not quite as tranquil, but it was a little more amusing. There was the same man there playing the guitar and singing as was there on our first night along with a guy playing a drum. There were also light snacks and staff to take drink orders. However, in addition, there were about 10 very loud, talkative Korean and Chinese guests who had arrived earlier that day. Each of the men had enormous cameras and they were taking arguably more pictures than Tim. I bet on that deck alone there was about $15,000 US of camera equipment – all of it pointed at each other, the sun, the guitar player, the pier, etc. There was also an older Chinese couple there who saw Tim's camera and the man talked to Tim for awhile. He said he worked for Canon in China, but Tim suspected that he actually owned Canon in China. So, the sunset viewing came and went. We were partially amused and partially annoyed by all these new people. However, we both understood that no one was trying to be annoying. We had cultural differences and different objectives for being at the resort.
[Scuba Tanks at Sunset]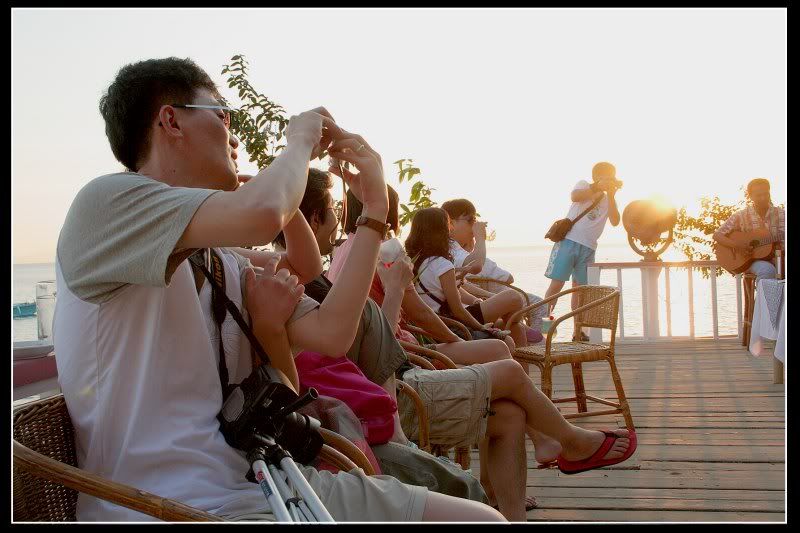 As more people came to the resort, the staff seemed more and more aware of the differences in how cultures mixed and made subtle attempts to keep people separated during activities, boat rides, and meals, because otherwise, people would have been pretty annoyed.

Dinner at Floating Restaurant
Dinner that night was at a location of the resort called "The Floating Restaurant". It was a large building on stilts at the end of the far pier on the west side of the island. Tim and I were seated at a table for two on the perimeter overlooking the water next to the table of the suspected Canon owners. There was some delay in finishing the dinner preparations, so several staff members came over to chat with us. Several staff members also came over and asked me to look at the buffet line to see if there was enough food for me, and there was. Again, I was trying to be very friendly and grateful for the extra service, but the way people were swarming around us, I could tell again that they thought I was unreasonable. The food was great. We had salad, rice, potatoes, fish for Tim, stir fry, mangos, and chocolate cake with wine. As we were eating, the staff (including our snorkel tour guide) sang songs again and did more dances. We had a very early activity planned for the next day, so we did not stay for the rest of the entertainment.
[
Nighttime at Club Noah.
The green lights were aimed at the water suface directly in front of the balconies of each cabin, attracting the fish and making them visiable in the pitch blackness of an island a million miles from civilization.]
Links:

[Palawan Summary]


[1]
Palawan, Club Noah, Day 1 (Airport and Flight)
[2]
Palawan, Club Noah, Day 1 (Journey to the Resort)
[3]
Palawan, Club Noah, Day 1 (Activities)
[4]
Palawan, Club Noah, Day 2 (Easter Sunday
[You are here]
[5]
Palawan, Club Noah, Day 3 (Bottom Fishing and Trekking)
[6]
Palawan, Club Noah, Day 3 (Lunch and Cave Tour)
[7]
Palawan, Club Noah, Day 4 (Departure and Return Trip)