CLUB NOAH, PALAWAN – SUMMARY
"Home" Sweet Home!

Tim and I have returned to Makati from one of our biggest adventures here yet! We went to Club Noah in Palawan, a very secluded island location about a 2 hour plane ride south of Manila and literally an entire world away.
In the end, the vacation was far from relaxing, but we experienced and saw a ton and consider ourselves very fortunate to have been able to see such rare and beautiful things.
We had what I will affectionately call an "Erin Swaney" vacation, named after one of our friends who organized
our second trip to the Dominican Republic
. We had gone to Punta Cana when I was nearly dead and nowhere near human from working way too many hours. I pretty much did nothing but wake up, eat breakfast, read at the water, fall asleep again, eat lunch, repeat cycle, and occasionally participate in a group activity organized by Erin.
I teased her during that trip for being so incredibly active and getting up at 5am for activities, etc. But… this is pretty much exactly what we did on this trip. Although I was hoping for at least one afternoon of napping and reading on the beach, I don't regret all of our activities. We are both very dark and feel a little sick from the sun and insect bites and sore from all the activities, but this was really an opportunity to see and experience things we might not have the opportunity to experience in the future.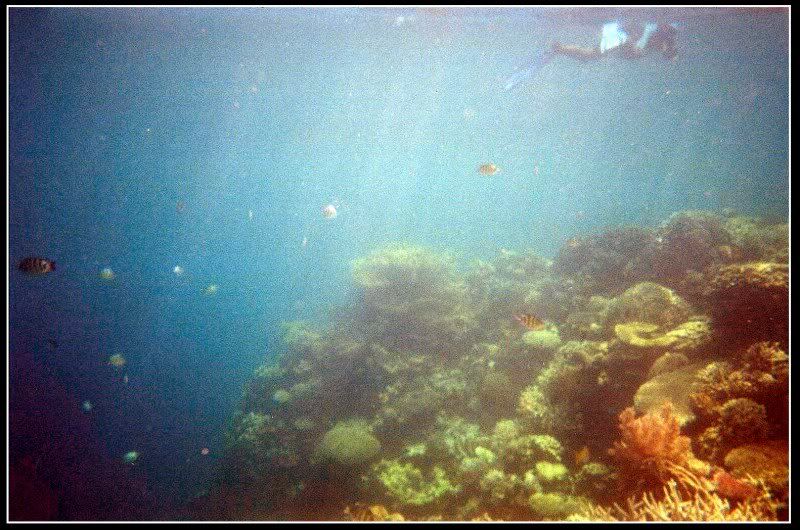 The resort was staffed by a large group of very efficient, hard working, and genuinely friendly staff and military personnel (all with very large automatic weapons, but more about that in our detailed accounts). Each staff member (except the soldiers) appeared to have no fewer than about 5 jobs each – a little like working at a summer camp. They were all very eager to please.
We did had several frustrating experiences with communication with the staff and lack of details on activities, but those situations were what I would consider the clash between typical American vs. typical Filipino (not to generalize too much) ways of dealing with conflict, mix ups, or special circumstances. We also will recount some humorous/annoying situations of our interactions with the other cultures and other guests at the resort. I have no idea how Tim is going to choose which pictures he will post from our vacation out of the total raw footage of 898 pictures and 14 videos he has (1.39 gigabytes of memory on 5 memory cards).
[Protesting note from Tim: I am still getting used to my new Canon 350D. Many of those photos are duplicates needed for multiple exposures and other trial/error adjustments!!!.]
He brought two cameras including his new one to the vacation and often walked around with both of them (including to some places I was pretty incensed about him bringing the big camera to, because it was very expensive and I didn't want it broken – but I guess you get better pictures as a result)! In addition to the ones available for posting now, we have two underwater cameras full of footage from our snorkeling excursions. I am not sure when those will be available, but we will post the highlights when they are.
Because of the length of the trip and our detailed narrative style (we brought along a notebook journal to write down descriptions of events as they happened and fresh in our minds) we are breaking up the entries into several blog posts and having links to all of them on each page. (If you don't follow the links, you'll have to read the posts in reverse chronological order).
Enjoy!!
[Gotta love that Canon!]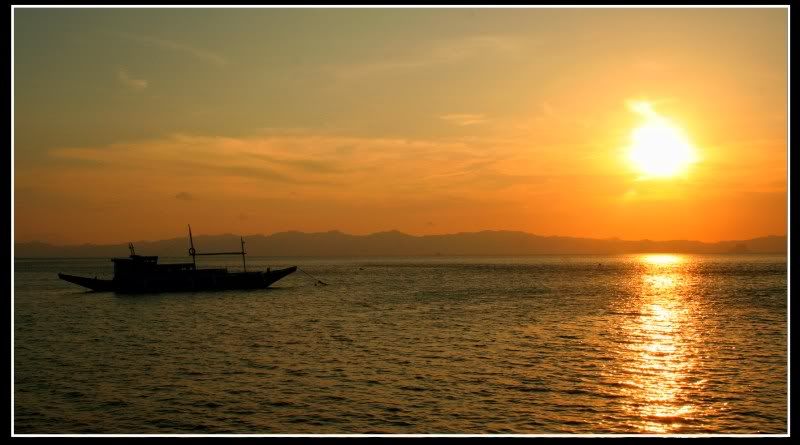 Links:
[1]
Palawan, Club Noah, Day 1 (Airport and Flight)
[2]
Palawan, Club Noah, Day 1 (Journey to the Resort)
[3]
Palawan, Club Noah, Day 1 (Activities)
[4]
Palawan, Club Noah, Day 2 (Easter Sunday)
[5]
Palawan, Club Noah, Day 3 (Bottom Fishing and Trekking)
[6]
Palawan, Club Noah, Day 3 (Lunch and Cave Tour)
[7]
Palawan, Club Noah, Day 4 (Departure and Return Trip)