Since Palawan
Because it took us so long to post the multiple Palawan posts, we were not able to provide some recent updates on what we have been up to. (And we're still waiting to get the cave pics back...stay tuned!)
This past Thursday, 4/20/2006, we had dinner with some other Accenture resources that are in the Philippines right now. Mike and Elisha have been here for almost a year. Ryan just recently arrived back in the country. We went to a place called Houssein's Persian Kabob off of Makati Ave. It was nice to meet some other expats and talk about our experiences here.
Today we went to the orphanage again to play with the girls. We brought with us my co-worker, Keysi, and hired a car and driver from Accenture, Ike, to take us there. This was the first time either of us have been there without Elizabeth, who had more of the connection. Of course the first things we were asked were "Where is Ate Elizabeth?", "Where is Kuya Justin?", and then from a girl with a shy, I-have-a-crush-on-him smile - "Where is Kuya Patrick?"
After it got too hot outside we went into the roof play area and played more games, including one of the favorites of the younger girls - the-load-onto-the-sliding-board-behind-Tim-and-all-fall-down-when-Tim-stands-up game.
Here's some clips of the girls:
We've got little Michelle
showing off her hula-hoop talents
(she's the one who speaks the least English, but is very expressive with her face.)
Then we've got
the Slide-Of-Death game.
And
some extreme swinging fun!
IMPORTANT NOTE:
For those of you who will undoubtedly bring up the glaringly obvious safety issues after viewing those last 2 clips, I should make it clear that it is nearly impossible for these girls to hurt themselves or each other. They are tougher than any U.S. born kid, and have learned to deal with a whole lot more in their lives than some minor rough-housing play (which they do-Alot!.) Also keep in mind that another favorite game is using discarded burlap sacks as a make-shift tobaggan to slide down a large dirt hill full of rocks, bricks and broken shards of glass - wearing plastic flip-flops (if anything at all) on their feet. (See Picture below).
Tough Kids
We would love some suggestions on games and entertainment we could have for next time that would be interesting to such a large age range (around 4-15). We only managed to keep them occupied for about 1.5 hours before all the older ones got bored.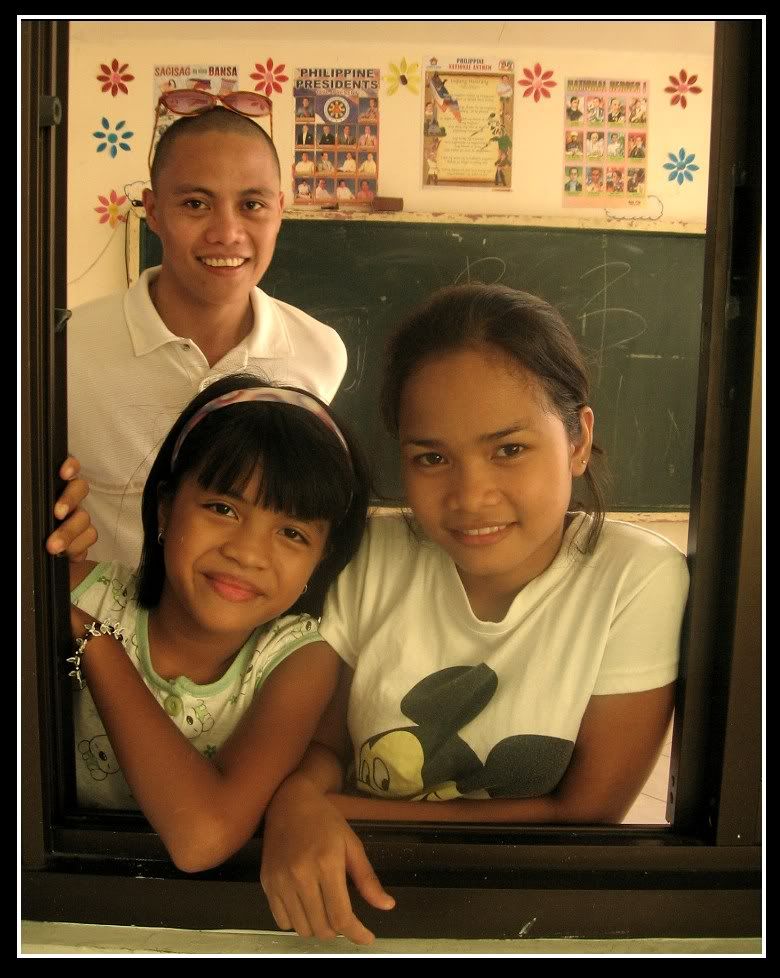 Other than that we were pretty lazy today. We are currently waiting for our pizza to arrive! This will be our 4th attempt at finding a pizza with some sort of recognizable taste and quality here in Manila. We'll let you know how it is and how it rates against our previous attempts (and failures!).
[Ending Note by Tim]:
In other News, the president of the Philippines had a vision over the Easter Holy Week and is now commuting all the execution sentances of all Filipinos on Death Row.
Here's an article about the situation
.
Qoute: "
for a punishment to attain its end, the evil which it inflicts has only to exceed the advantage derivable from the crime; in this excess of evil one should include the certainly of punishment and the loss of the good which the crime might have produced. All beyond this is superfluous and for that reason tyrannical
".
"
And also, as a long-time Today Show/NBC Nightly News fan (and former employee), I just have to say that Meredith Vieira (from "The View"-gag!) will be enough to drive me far, far away.
Campbell Brown and Natalie Morales both have more talent and intelligence in their little fingers. Ann Curie, though, ehhhh not so much.