Tae Kwon Chicken
Last night (Wednesday) Kendra and I had dinner at Pasha in the Greenbelt 3 Mall, along with Keysi and her friend Tenten. We sat at an outside table, overlooking the Geenbelt Park and the cathedral. It had been a really hot day (it's been in the mid to upper 90's for the last couple weeks), but a nice breeze was blowing across the park.
The food was excellent, consisting of a nice Mediterranean platter of hummus, tabuoli, eggplant and pita bread. I had a fantastic shitake mushroom soup served in a deliciously flaky pastry bowl before my roasted chicken entrée. Kendra was served a fantastic Bloody Mary, seemingly made with freshly pureed tomatoes- not from canned mix. We had a great time together with Tenten and Keysi and will definitely be back there for dinner again.
[Overlooking the Greenbelt]


In other news, our second Tae Kwon Do session went well yesterday morning. I was able to make through the entire hour with going white in the face, dropping to my knees and feeling queasy. This was most likely due to heeding our instructor's advice for me to actually eat something before I came down and started kicking and punching things.
We both really like the class- it's a lot more physical than the aikido course I took in college, Kendra's complaints are that the technique's of Tae Kwon Do are inherently much more natural to someone of our instructors size (slightly over 5 feet) and that it's hard to strike as quickly as someone with limbs half the length of yours. For this reason, the instructor often gives Kendra a hard time – "
more power!
", "
faster!
". Also, some of the exercises are notoriously difficult for women – such as the no-hands, elevated crunches we do and some of the movements which require a male body's center of gravity. However, it was still good to give it a shot and learn something new.
Today is Maundy Thursday. Back in the U.S., this would not mean a whole lot to us, other than that it is Easter season and the stores are full of stuffed-animal rabbits, egg painting supplies and tooth-decaying marshmallow chicks. Here in the Philippines it's a whole different story. I walked out of the front door of our building around 9am to the scene of a ghost town. No cars, no taxis, no jeepneys, no shoppers, no traffic police with whistles- nothing. Dead silence and nothing was moving. No businesses were open and the streets were clear.
[On any other day, I would be killed instantly standing in this spot...today, notthing but crickets]

I took a walk around the area to observe this bizarre unearthly calm that had descended on the normally loud, chaotic and vehicle-packed Makati streets. Several closed-up businesses still had their shotgun-armed security guards stationed outside their doors, but they had all resigned to sitting on chairs and reading newspapers. I wandered over to the jeepney depot area by Pasay road, where usually 15-20 smoke-belching jeepneys are lined up waiting in turn for passengers. Today there were three. Lacking any work, the drivers were very friendly and talkative and wanting to show off their heavily customized works of vehicular art to me. I learned today that although there's no way a Filipino-style jeepney would be street legal in the U.S., there are several that operate in Las Vegas. Who knew?
[Airbrush Art on a Jeepney]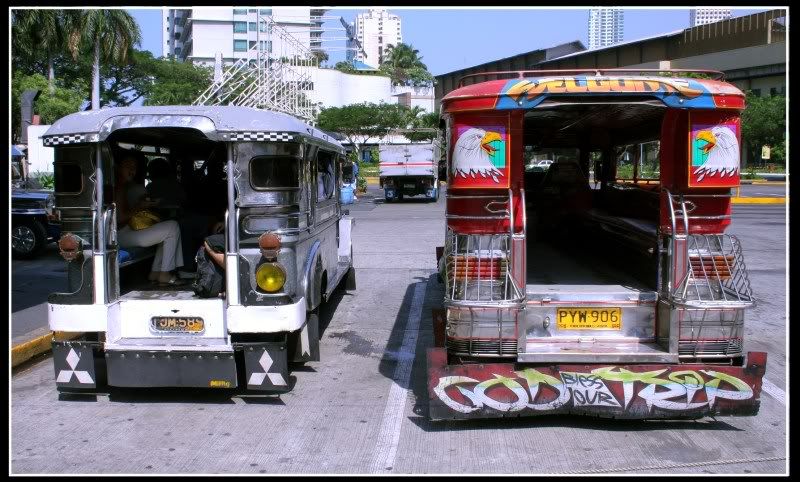 After talking with the jeepney drivers, I headed back in the direction of home. As it turns out, the city takes advantage of this vast exodus of humanity by doing all sorts of maintenance work that normally would be next to impossible. I saw guys washing down sidewalks, painting drainage grates, re-painting parking lines and concrete planters as well as this truck full of guys heading somewhere to work.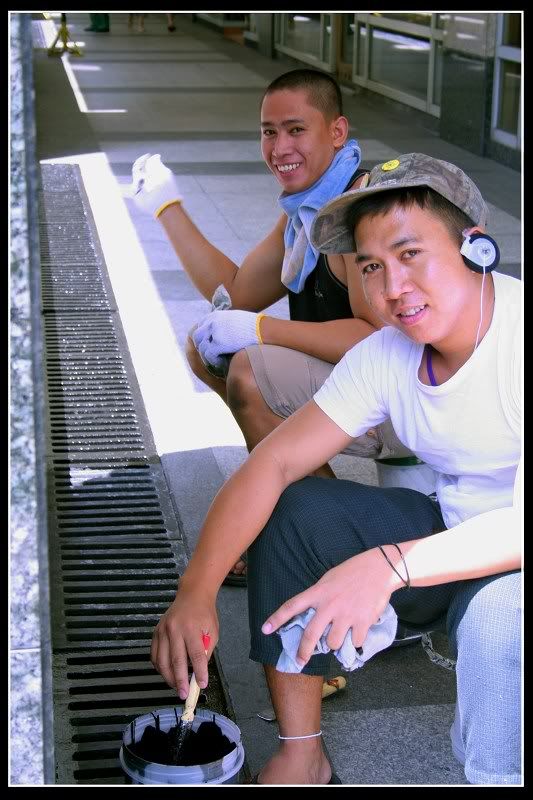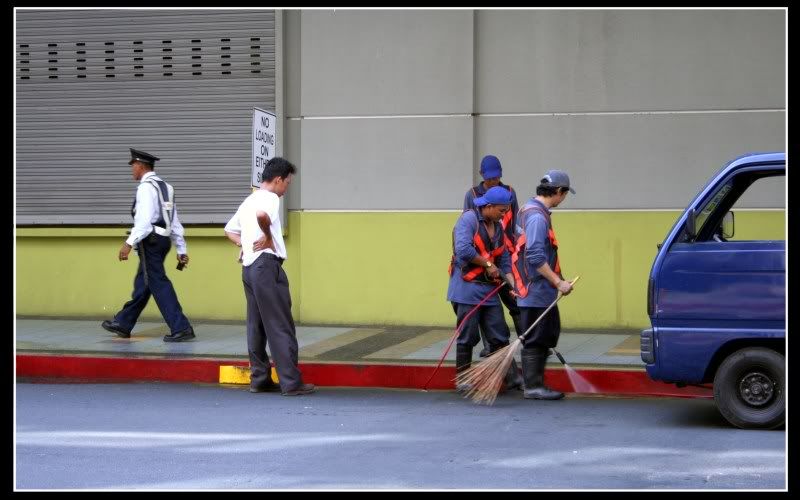 [Another benefit of the sudden absensce of thousands of exhaust-belching vehicles is a complete lack of smog. Normally, by mid-morning, a haze of smog would be blanketing the city. Today the view out our window is the clearest its ever been.]


Tonight we are having Chris (a partner with Accenture) and his wife Colleen over for dinner. They have both been tremendously helpful during our time here and we will be sad to see them leave to go back to the U.S. next week (after being here for 2 years now and haven given birth to one of their 2 children while in the Philippines). I was able to tour Binondo and Queapo with Colleen last month as well as visit the amazing American Women's Club Bazaar. We are very appreciative of their generosity, energy and willingness to share their knowledge of the area.
Kendra, of course, took it apon herself to create a feast. Being a vegetarian, it's tough enough to buy, clean, prepare, season, cook and serve chicken or fish even when you've got Whole Food's Boneless & Free Range right down the street. In a foreign country with sketchy-at-best food prep standards, however, this situation goes to new and extreme levels. I brought home two packages of chicken breast from SM yesterday. Today, after smelling the contents and seeing the amount of blood, skin, bones, necks and other random body parts included in the packaging, Kendra donned rubber gloves, a mask (complete with peppermint oils) and a sharp kitchen knife and valiantly trimmed out the nastiness and came away with a dozen edible sections for our dinner. Much props to her for dealing with what she won't even eat!! We'll let you know how the final result was...it's in the oven as we speak!