Homesick for Philly
"68 degrees, breezy with sunny skies! A gorgeous day here in Center City Philadelphia!! Back to you, Katie"
Those words hit hard. Proving the fact that we are really far from home and wish we could be there. Tommorow in Makati it will be 92 degrees (106 with the humidity- if that was in Philly, the shelters would be taking in homeless people and the Red Cross would be checking up on the elderly. Here, it's just another damn hot day in the tropics and we'll all be wearing long pants.)
Al Roker was in Philly today, doing the weather segments for the
Today Show
from the NBC 10 studios (shouts out to Camille and Gary on the news desk!) as well as from the steps of the Philadelphia Museum of Art (don't call it The Art Museum- they get really annoyed!).
Anyway, seeing the city skyline down the Benjamin Franklin Parkway and watching Al munch down on a $100 Steven Starr philly cheesesteak made us both miss being back in the U.S.
The extreme heat and polution is getting to Kendra, so she's not feeling too well. Work is tough, as usual, and I haven't had the best of weeks. Just some little everyday things that seem to take so much more time and effort and get so unneccesarily complicated. For instance, we needed to cancel a hotel reservation for an out-of-town trip that we had planned to make. The process of getting it cancelled, receiving the refund check and getting the cash into our hands was about up to the complication level of applying for and recieving Zoning Board approval for a strip club on
Elfreth's Alley
.
And how about finding a cardboard box? In Philly, a cardboard box is only a dumpster dive away. A cleaner variety is at the grocery store and if want strength and durability hit up the UPS store. A test of patience and will is trying doing that in a foreign country where you don't know the language (don't let the tour books fool you- English is the "Official Language of Business" here just as much as it is in Lancaster City in Pennsylvania..."
¿Hay aquí alguien que hable inglés?
"
We've also been having some issues with arbitrary charges coming from our car company. (Not that I wish to ride in an automobile here).
So, yeah, we miss Philly.
This was our farewell post
before we left of all our most beloved places in our neighborhood. And here's a few shots taken from high up in the 1600 Market St. building.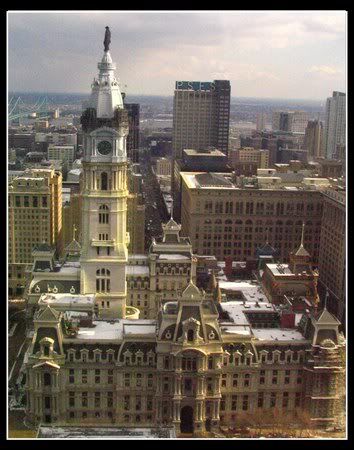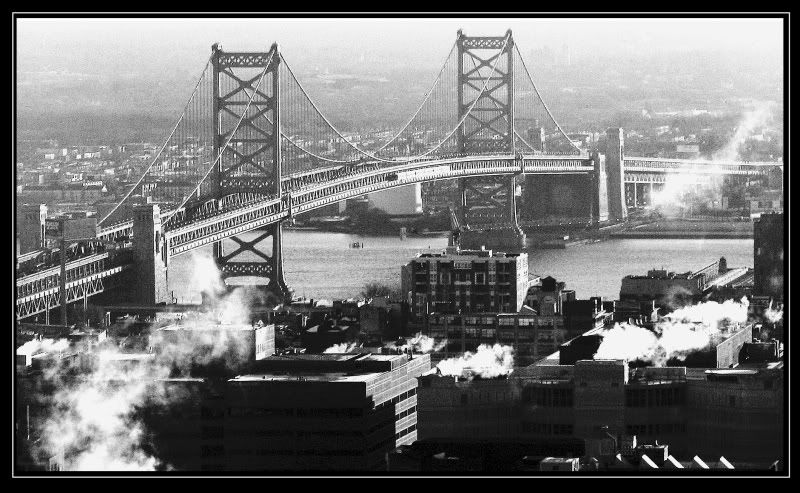 And the good citizens of the City of Brothery Love coming out in force to support John Kerry in 2004