Hong Kong Day 1 (Arrival, Exploring Kowloon and Night Tour)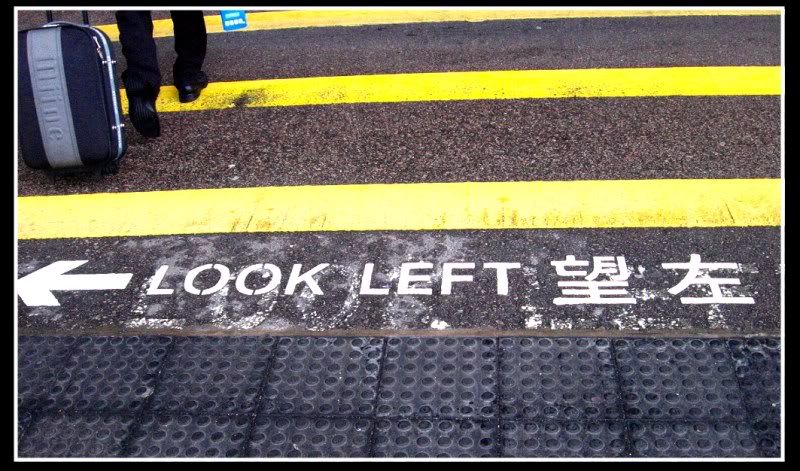 [For Hong Kong-ers, this safety reminder is neccesary around the airport area. Traffic here isn't nearly as crazy as other parts of the SE Asian world, but forget where you are, and you'll have a double decker bus bearing down on you from the "wrong" side of the road.]
Our flight was scheduled to leave Manila late morning on Saturday, 5/13. Since the Ninoy Aquino International Airport can be hit or miss as far as lines, staffing, and security checkpoints, etc., we left early to get to the airport the recommended 3 hours in advance for an international flight. We had multiple lines and security checks, but we ended up getting through all of them pretty quickly and so we had a lot of time to spend at the airport. One amusing security section involved us stepping onto a raised wooden block for a full-body pat down, performed by Filipinos who we already tower over, we had to bend down for them to reach our shoulders.

This was OK though, since we were somewhat lucky to be at the airport at all, since the power had gone out in our building in Makati several times during the night. Fortunately, our apartment is next to the circuit breakers in the hall, so when the power is lost (this happens more frequently than you might think), there is a really loud clicking sound which wakes me up. I never really know what the sound is, but it wakes me up enough to tell Tim that there is something outside the door and he tells me the power must have went out and then came back on (plus, all the digital clocks are now blinking "12:00" and the room has gotten eriely silent from the absecnce of the air conditioning.)

Anyway, enough of that. It is only relevant because something must have been going on in the entire city, because the airport also kept losing power. In between the power going on and off we got some coffee and sandwiches at one of the stands that was open and sat down to wait out the time until our flight could leave. Due to the power going out it was very warm in the airport, so I went to get myself a fan. I decided to splurge on a beautiful lace one because I didn't like the other plastic and less expensive ones in the gift shop.


I would say that our overall demeanor was tired and resigned. We didn't know what to expect in Hong Kong – whether it would be a place that we would adjust to well or whether it would bring more frustrations. So, we were just kind of thinking and waiting and reading our books.

Eventually it was time to board the flight which was done with the usual lack of order, (there is an attempt to board by row number, but that gets thrown out almost immediatly when the entire gate area stands up and rushes the door)... which frustrates no one in the waiting area except for the Americans! It was OK, though, we got on the airplane and had room for our baggage and all was well. Overall, the airline (Cathay Pacific,) was a really good one, and the rest of the flight was mostly uneventful. We didn't really even get overly upset at the kids who kicked our chairs the entire way to Hong Kong, although it was annoying.

I never know what the etiquette is for children who are sitting right next to their parents kicking your chair. In my mind, I would think the parents would notice and say something, and if they don't notice, am I supposed to turn around and ask the mother to please ask her kid to stop kicking my seat or ask the kid herself. Who knows? So, I end up saying nothing generally and just grinding my teeth to a pulp. (You can probably tell that I fly alot. Enough that having children kicking my seat is a frequent enough occurrence that I would think there should be an official etiquette on the matter).

When the flight landed, we gathered our baggage and braced ourselves for the inevitable push and near stampede to exit the plane. We exited into the Hong Kong International Airport, and I think my mind almost went into overload of happiness. The airport was large, pristine, well designed and sparsely populated. There were stations where you placed your hands underneath and hand sanitizer was sprayed out. I went to use the bathroom and the bathrooms were clean and equipped with all amenities (a toilet seat AND paper! How awesome!). I had the hugest smile on my face. I came out the bathroom and Tim noticed right away how happy I was.

We walked about a mile to the customs area and passed through there quickly. We visited the information desk to get some city maps and find out where an ATM was. We noticed so far that not nearly as many people seem to speak English as well in Hong Kong as they do in Manila, but the people still try their best to help you out and they have developed some really efficient ways to direct people and inform them without talking. It is really impressive. They seem to have researched really well to anticipate the types of help that people will need and have prepared signs, pamphlets, maps, and people stationed at strategic places who know enough English to direct people and answer the anticipated questions. We found our luggage (perfect timing- it was rounding the carousel corner just as we walked by) and succesfully withdrew some Hong Kong dollars in cash. A very large and colorful currency and the HKD is about 7.75 to the USD. Not nearly as easy to mentally calculate as the Philippines 1:50 (approximatly).
[The HKD]


We had to take an elevator to get to the train in order to take the Airport Express into the Kowloon Station. When people boarded the elevator, they all moved to the back so that you didn't have to crawl over everyone or get smashed (another pleasant surprise!). The Airport Express train of Hong Kong's MTR system was amazing. There was a spacious area for the luggage and large, comfortable seats. There were LCDs on each seat and a large one in the front. There was a digital map displaying where the train was at all times, and instructions were also verbally spoken in both Chinese and English. The train was very quiet although it had quite a few people on it.

[Now this is what we call public transportation! A fierce competitor of DC's Metro system.]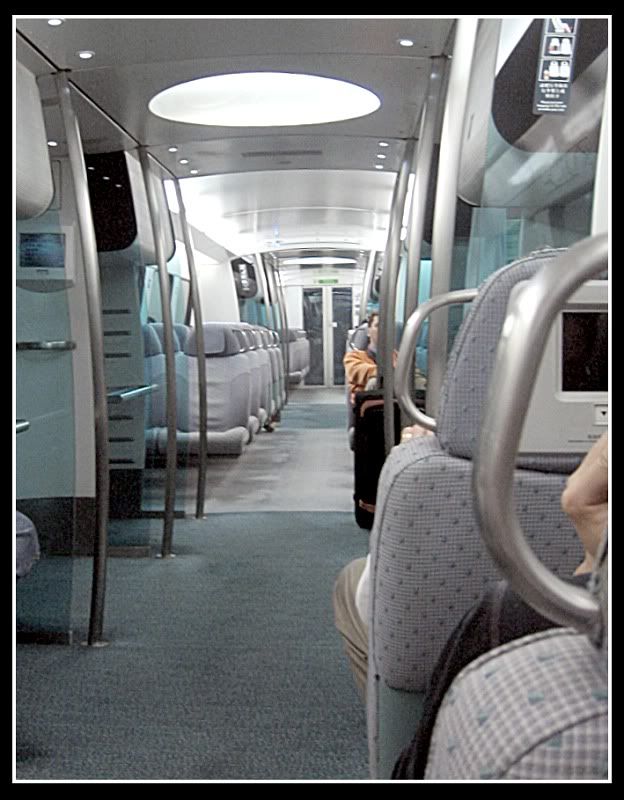 [The line of blue LEDs at the top is our train on it's way through 2 stations to Kowloon]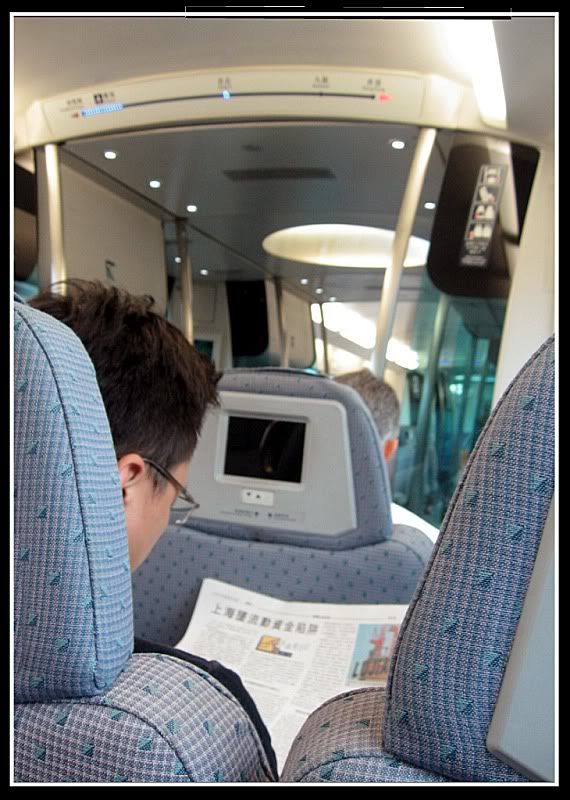 [Somebody's happy! You can see some of the massive apartment block towers across the bay in the distance. A most amazing skyline!]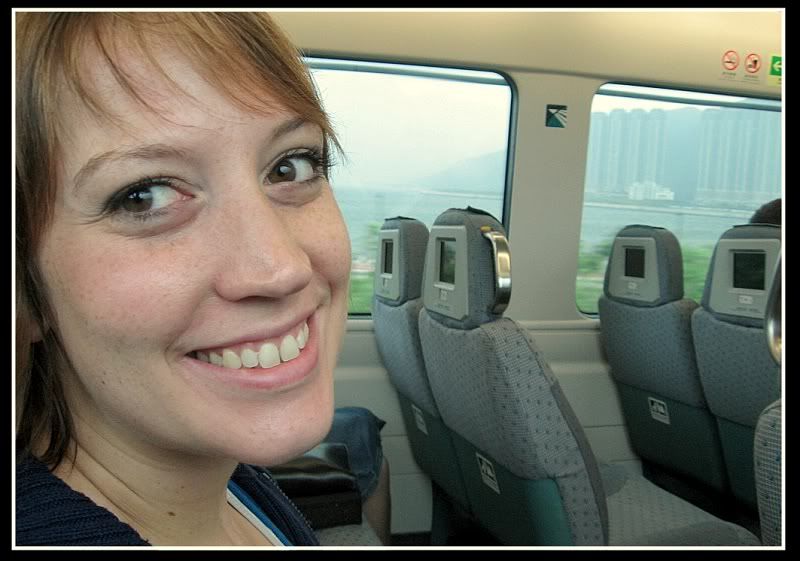 We were really surprised by the terrain of Hong Kong that we watched speed by the large (and clean!) train windows. It is a very mountainous country with plenty of green vegetation and water. It was really interesting and beautiful. We crossed under the bay and into the Kowloon Station and got off the MRT. We knew that we needed to find the K5 shuttle to our hotel, and it was extremely easy to find where to go and there was a sign stating how many minutes you needed to wait until the shuttle would get there. Say what you will, but I need that kind of stuff. I think I fell in love with the country right then. The shuttle arrived right on schedule and we loaded it with several other passengers.

The shuttle headed for the Tsim Sha Tsui section and stopped at a few other hotels before ours. It was extremely interesting to take in all the sights of the city as we drove there. The first thing you notice is that it is a city in transition. There are some old parts, some new – some beautiful, some run down, some tacky, some chique. In essence, it is a typical big and bustling city, full of energy and life. There are all types of people there, but we noticed the interesting hair cuts and dress style first (Manila is a very conservative town). Kind of a punk-80's (in the US) combination with some severe dye jobs, rat tails and spikes. Many other people were cute and attractive in an I-just-got-out-of-bed way. It was amusing.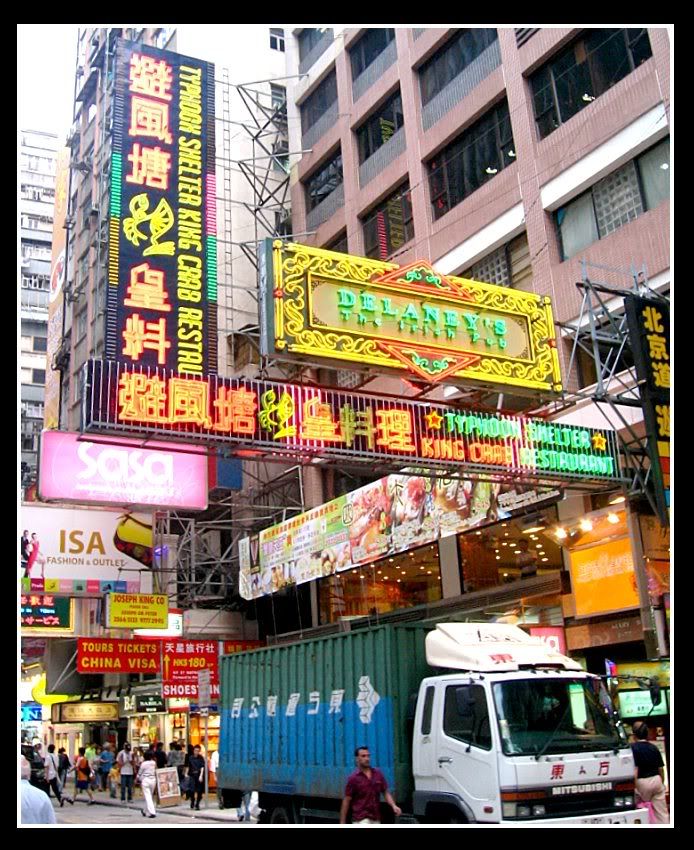 We also noticed that there were a ton of Americans and Australians. That was actually kind of odd for us. Even though we live in an area of Makati with a lot of Americans, there aren't near as many in the whole area as we saw in just one block in Hong Kong. The shuttle stopped at our hotel (We were told via LCD panel and a calming female voice in both Cantonese and English that we had arrived- sure beats the distorted and unintelligable handheld microphone stop announcements of Philly's SEPTA!) and we got out and went inside.

As we waited by the front desk (in a beautiful lobby area) to check into our room, there was an overhead infra-red device scanning us and taking our body temperature. We have seen these also installed at the airports and other locations in this area of the world. I understand that this started to occur during the SARS outbreak and it is being used again to prevent the possible spread of Avian flu. When it was our turn to check in, we handed over our passports and room reservation papers.
[
(Robot Voice)
"Scanning temperature...Evaluating bird flu risk...You are now cleared to enter. Thank you for visiting Hong Kong.]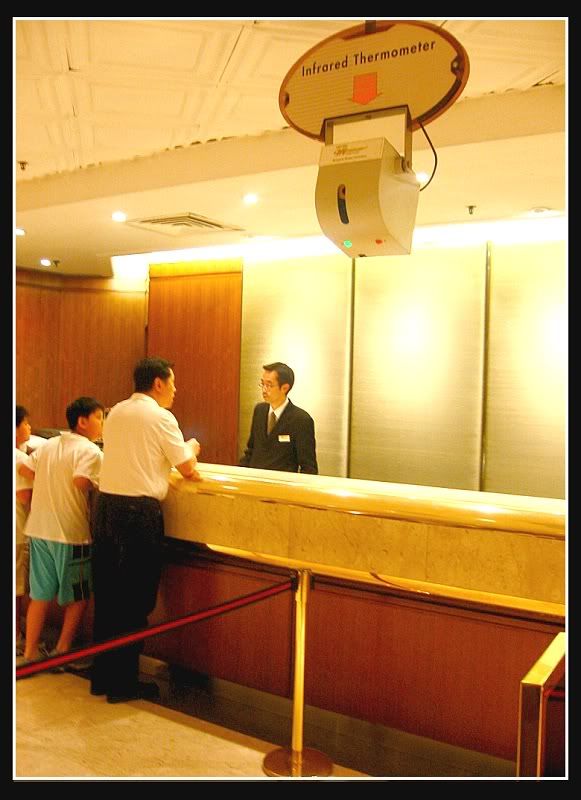 Last week, Tim went on-line and researched some possible tours of various areas around Hong Kong and scheduled one for later this evening and another for tommorow. The on-line payment went through fine, and we were told we would be given paper vouchers for the tour when we checked in and picked up at our hotel lobby in the morning. This all sounded great, but previous experience told us not to have high hopes in terms of logistics like this. We both honestly expected to be making at least 10 phone calls and maybe a taxi ride through the city before we actually received them, so we brought every possible piece of information we could regarding these tours. Nope – they were right there. Before we ever asked about them, the front desk person had them in our hands. Sweet!

The woman also helped us to get directions to the office in the Star Building we needed to visit that evening to book the night tour we wanted to go on and wrote down the name of the building in Chinese characters just in case we needed to ask someone for help and they didn't speak English. Very helpful. Didn't expect that, either.

Also, we were told by the hotel manager that our "Harbor View" room that we had booked was not yet ready because one of their residents had to be admitted to the hospital and had not yet checked out. He apologized profusely and asked if we would consider it fair to be upgraded to the Club Level (even though it did not have a view of anything at all (literally – the window was walled off) and get free minibar service (including waters and juices and some beers). We said that it was fine and headed up. Again, we were impressed with the manner in which the situation was handled- we could have easily been asked to wait around for several hours without an explanation at all. We unpacked a few items and headed out into the city to explore and find this Star Building.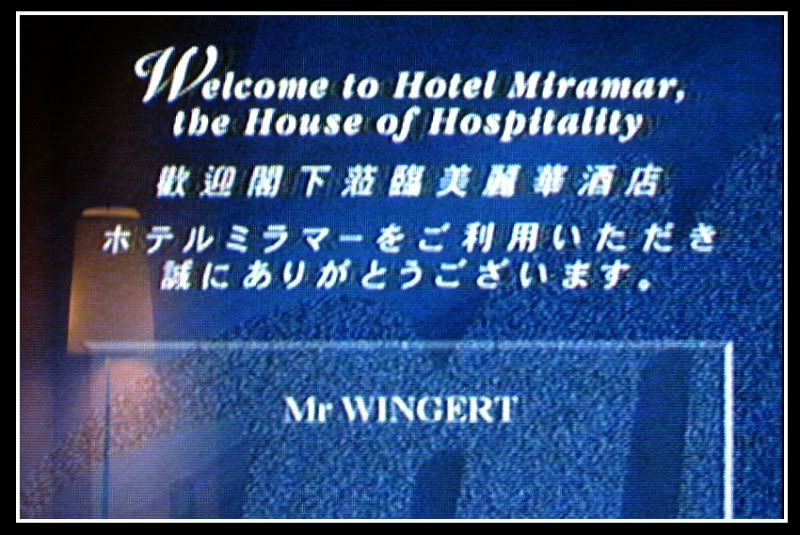 The areas of the city are not that big and it is very walkable. The sidewalks were crowded and occasionally pedestrian traffic disintigrated into Manila-style anarchy, but mostly it was orderly. As we walked we were also struck by the diversity of ethnicity on the streets. Much more like Philly than Manila in that aspect. Also, like Philly, there are guys on every street corner wanting to sell you watches, but much more aggresive here than in the States. At least I think they were selling watches because we couldn't really understand what they were saying.

We found the Star Building without much trouble, headed up to the 5th floor and booked our night tour for that evening. The tour staff was very friendly and helpful and we received our first of many little stickers to wear when we came to the pier that night. (felt a little like a 3rd grader on a school field trip!) This was another of the methods used by many businesses in the city to help account for the language barrier. We were given many stickers to wear so that we could be spotted by the tour guides and little cards with instructions written in both English and Chinese so that if we needed help we could show people what we needed.

[Tim's Foreign Hygiene Note: The button panels in the elevators of the Star Building were covered in plastic along with a note that stated that they were disinfected every hour. I have half a mind to think that a mild outbreak of SARS or bird flu might do some Western "modern" cities some good in that regard. Of course, then we end up with the Super-Bug strain of resistant bacteria that can't be killed.]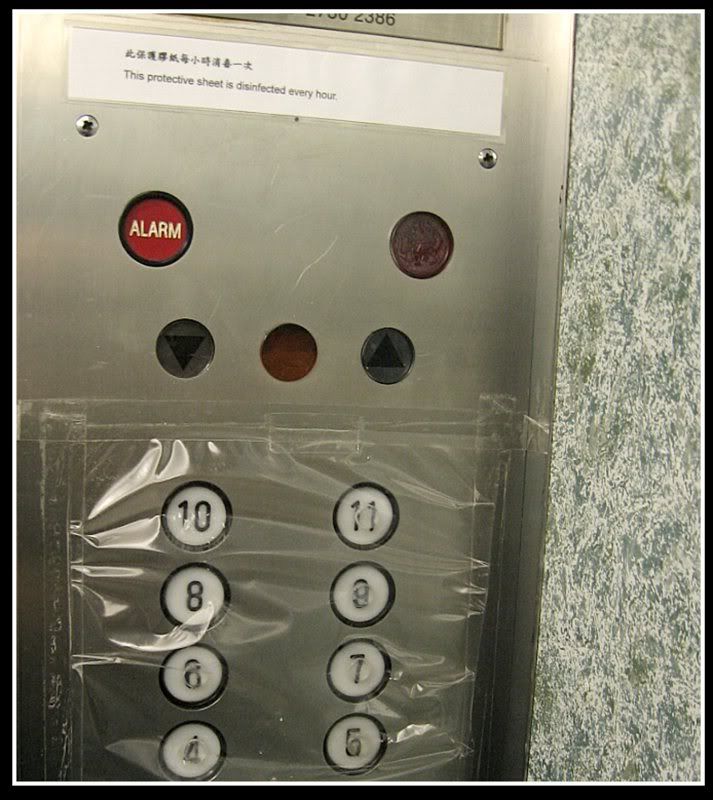 On the way back to the hotel we cut through some of the side streets to explore a little more. We thought we would grab a drink before going back to change for dinner. (Our tour wasn't to leave until 9:30pm that night and it was a boat cruise around the parts of the city). We saw a small sign outside one of the buildings advertising for a pub that looked interesting, so we went into the building to find it.
It wasn't obvious at all where it was located and there were many other stores and restaraunts around, so we went up a small set of stairs that looked to take you out the back part of the building. At the top of the stairs, a whole new area opened up infront of us. We emerged into a packed little alley called Ashley Ave. It looked alot like our Old City in Philly with many bars and ethnic eating establishments and a quaint feel to it. It reminded me of Church Street. We went into a place called Ashley 33 (we never actually found the place we were originally looking for!) for some drinks and realized that the bartender was Filipino. This was hilarious and we talked about what we have been doing in the Philippines and they gave us some tips of what we could do.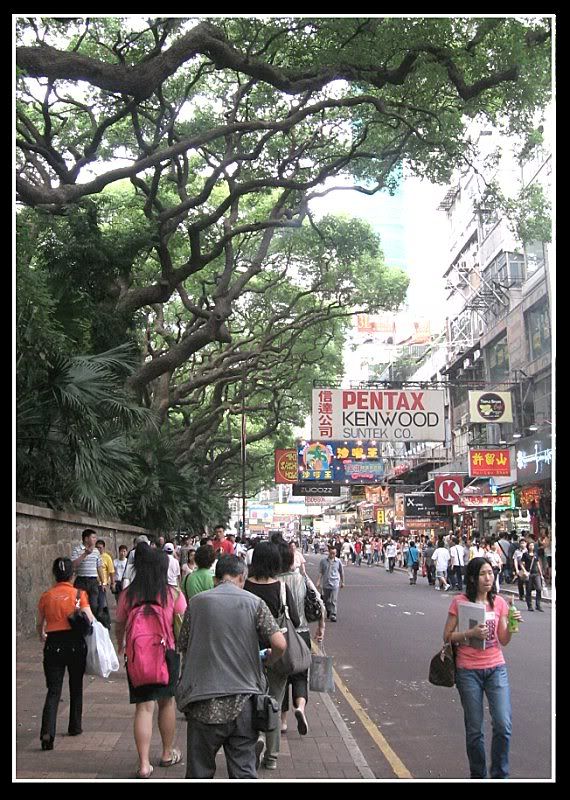 [Ashley Avenue...through a small door and up some stairs]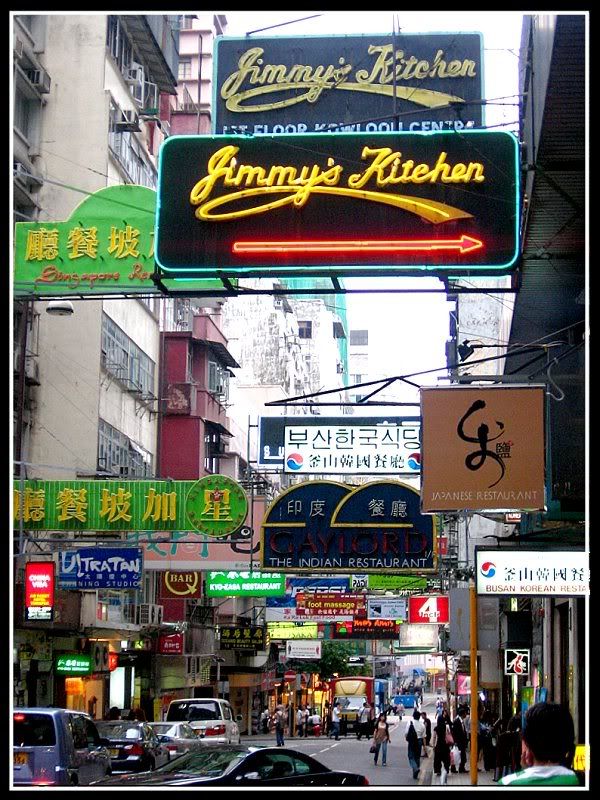 After a few rounds of drinks, (when in Hong Kong or any Chinese/Japanese place in the U.S. and need a good beer, go for the Tsing Tao, Asahi, Kirin or Sapporo) and some yummy garlic fries and a good bye to the friendly staff, we headed back for the hotel to change for dinner.
We passed by a few shops on the way home and got some SECRET gifts (you'll know when we give them to you!). At this point we realized that things were much more expensive in Hong Kong than in Manila and also realized that we didn't have a good baseline for how much handicrafts, clothing and jewelry-type items should cost here. So, our initial purchases were not very well bargained for and we paid a lot for them. We definitely got better at this as time went on. However, the difference in quality at the various places was pretty vast, so you also had to watch out for that when bargaining. We made one more stop on the way home to tour an Opal store, which was neat because it had alot of information about the stones and was almost a museum of sorts, but the Opals were very, very expensive.
[Kendra at one of the shops along the street]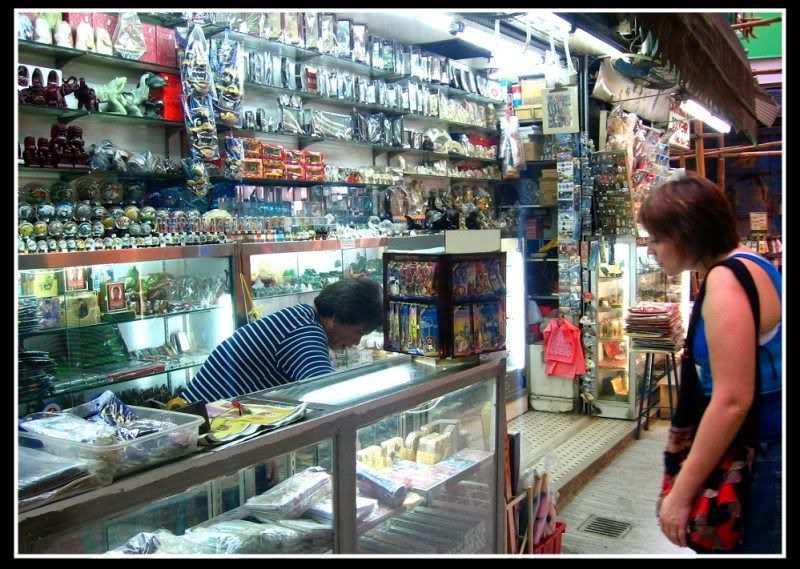 For dinner we decided to head back to Ashley Ave area and found Shi-O, a Japanese Restaurant. We had some excellent, excellent food, and the staff was great, asking us if we had enough to eat and preparing Kendra's favorite avacado maki rolls. We were seated by the window and had some interesting people watching. One of the most amusing was a little boy (about 6 years old) pacing back and forth and talking frantically on a cell phone while gesticulating in the air. The restaurant had a spectacularly lit wine room and a cool tank full of fish and some massive prawns crawling along the bottom.
[The Shi-O Japanese Restaurant in Hong Kong...5 stars from Tim & Kendra]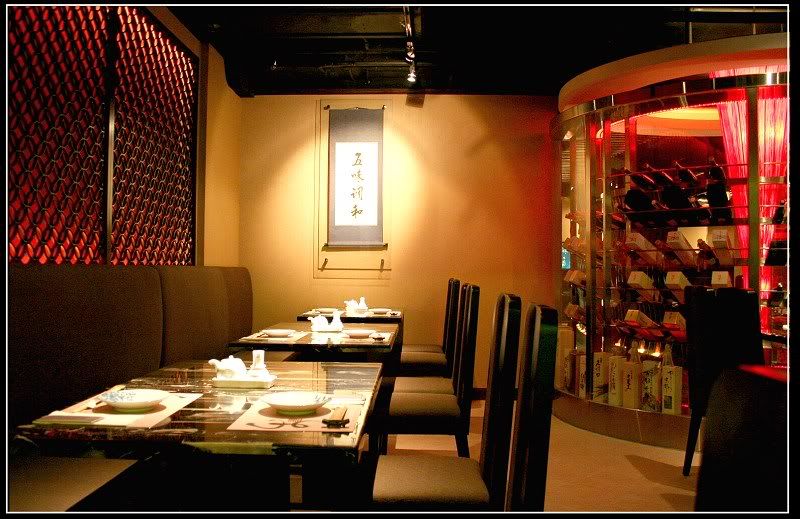 We left to find Pier # 3 for our night boat tour. The guys at the Star building had circled on our map where we would find it (it was near the Clock Tower), but we couldn't see exactly where it was. We knew that we were in the right area (we saw a Pier # 4 sign) but it took awhile to find the Pier # 3 because the sign was flipped around. We attempted to ask a few people for help, they tried to but even the police did not know enough English to understand what we were asking and were not familiar with the tour company or the stickers we were wearing. However, we found it eventually by checking the railing by the water and found the sign that was hanging on the other side.

While we were waiting we saw people pass by with ice cream. I decided to try again and asked one of the passersby where they had purchased it. The man did not understand me but his teenage son did and was very excited to help me out. The ice cream was in a "car" at the end of the road, so we got some change at a newstand since we only had large bills and got a chocolate drumstick for Tim and a vanilla cone for me.

[It's nice to see that our beloved "
Neon Genesis: Evangelion
" series still holds it's place with the more current Japanimation titles]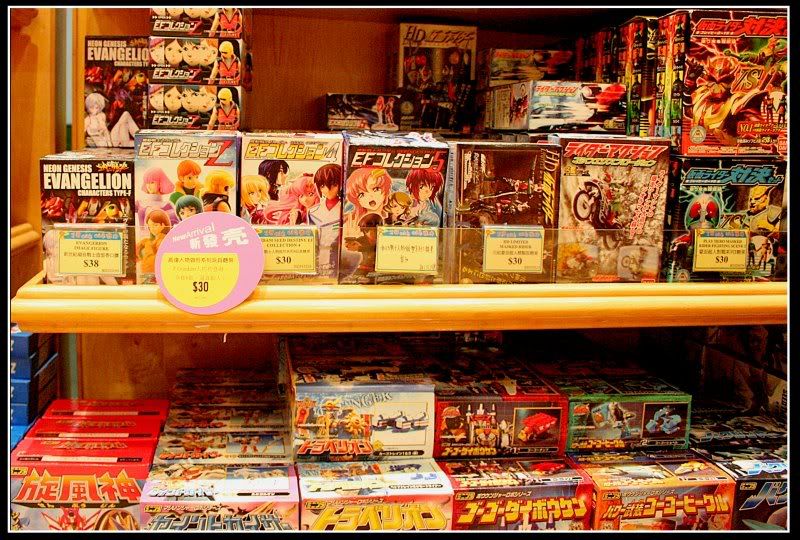 [The Happy Ice Cream "Car" Man]


As we were waiting to board the boat, we met another couple on the same tour. Their names were Diana and Jim from Australia and they were in their early sixties. They thought that Tim and I were on our honeymoon which was cute. We chatted with them about Hong Kong, Australia and the U.S. immigration issues (they said that most Australians think George W is a laughable joke). We boarded the boat for the tour, had some drinks from the open bar and watched the massive expanse of city lights on Hong Kong and scenery of the various surrounding islands. The boat was neat, and the wind out on the water made it very cold out on the frontmost section. The water was very rough, which made walking with drinks in hand quite difficult. But the view was awesome and it was great to be out on Victoria Harbor.

[Hong Kong Island at night]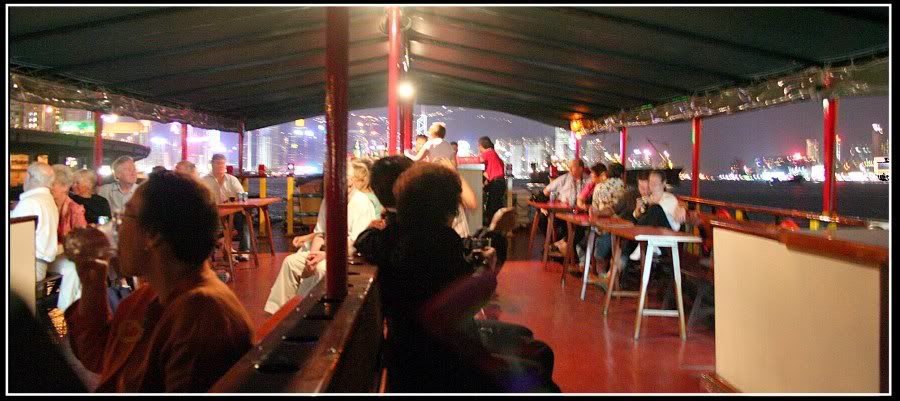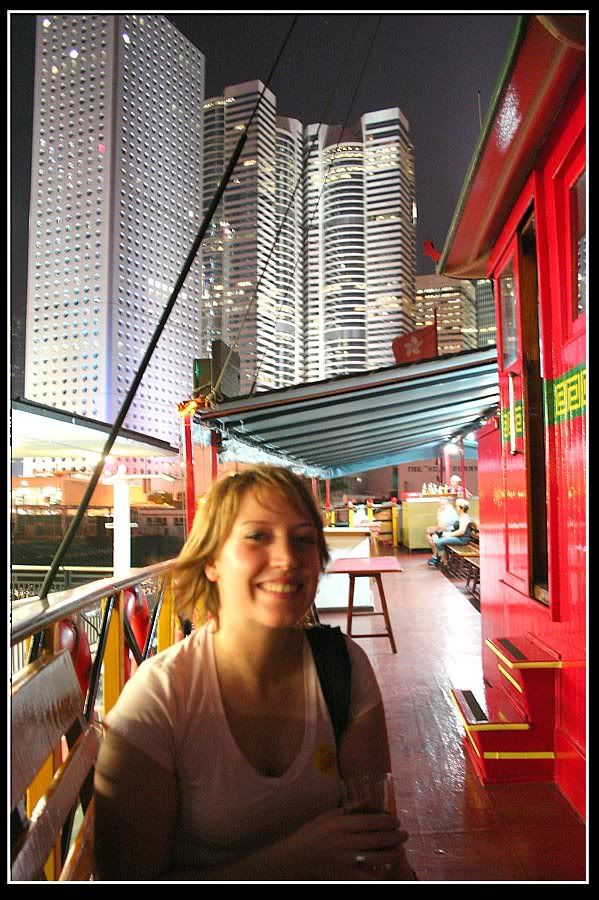 It was about 11:30PM when the tour ended.
On our walk home, we passed by another alley market. We bought some items there for much less when the original place (although the products here were not quite as high quality – you could tell). One of the things we bought here, though, was a dragon jacket for Tim. The lady kept telling Tim... it was "cool" because "Jackie Chan wears it". Very cute. "It is cool" was a very commonly used phrase used to try to sell items to foreigners. When we got back to the hotel, we were completely exhausted and headed for bed.
Hong Kong Summary
Hong Kong Day 1 - Arrival, Exploring Kowloon and Boat Tour
Hong Kong Day 2 – Hong Kong, Lantau Island Tour and Night Market
Hong Kong Day 3 – Hong Kong Disneyland!
Hong Kong Day 4 – More Disney!
Hong Kong Day 5 – Back to Manila (Escaping the typhoon!)