Hong Kong Day 2 (Lantau Island and Night Market)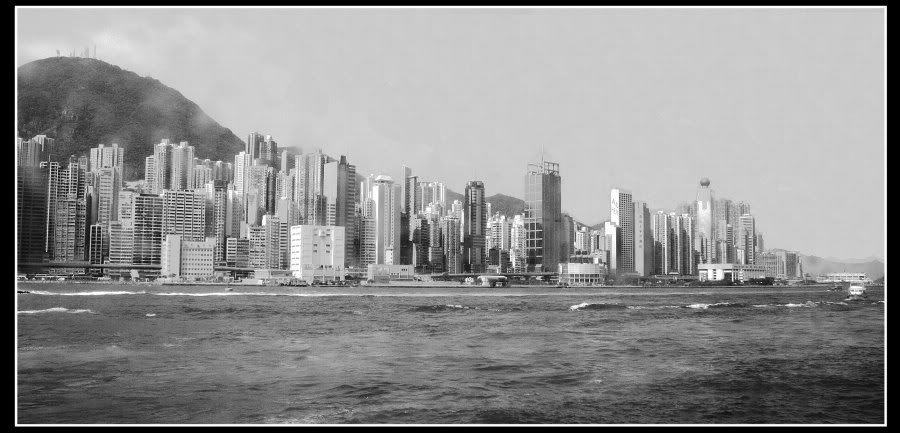 [Hong Kong Island]

We had scheduled a 6:00AM wake up call because we were supposed to meet our tour group for the
Lantau Island
at 8:25AM. I called down to order room service breakfast, because we didn't remember passing any breakfast places on our walks and we didn't have a lot of time to walk around to hunt one down that morning.
The room service menu didn't have any breakfast food so I just ordered the typical American breakfast of coffee, scrambled eggs, toast, and fruit, and started praying that it wouldn't cost an arm and a leg, since I was just making up my own menu. The kitchen called back a few minutes later to confirm our order (again, we could have easily waited an hour just to find out that they didn't know what "scrambled" meant...again, impressed).
The food arrived, it was great, and although it was expensive, it was not extraordinary for hotel room service. So, the day was off to a pretty good start. We went to the lobby to wait for our tour group and left our room service in the room to be picked up by house keeping. (Remember this important detail for later). Our tour guide was actually a little late to pick us up – by 15 minutes. In one day I became used to the on time functioning of Hong Kong that this was as much of a shock to me as when my bus is late to pick me up for work in Philadelphia. We weren't really too worried that it was late – just worried, I guess, that there had been some mix up and the people weren't coming at all.
They did arrive (of course as soon as I had left to use the bathroom), and we all got on the bus. We learned that all the various tours coordinate for pickups and drop offs at multiple hotels. A different bus picks up the guests from hotels in each major area and brings everyone to a central point where they rearrange the buses by tour type and then each tour departs on its own. This is quite a lot to coordinate and we were thouroughly impressed. Our bus headed across the bay to the Hong Kong pier and we were met by our tour guide, Casey, who briefed us on the schedule for the day. We had about 30 minutes until our ferry would depart so we walked around the area for a little bit and ran into some people with several large colorful dragon heads. They said were transporting the dragon heads to another island for a dragon boat festival, which we would learn more about later on our tour.
[Kendra talking to the dragon head guys]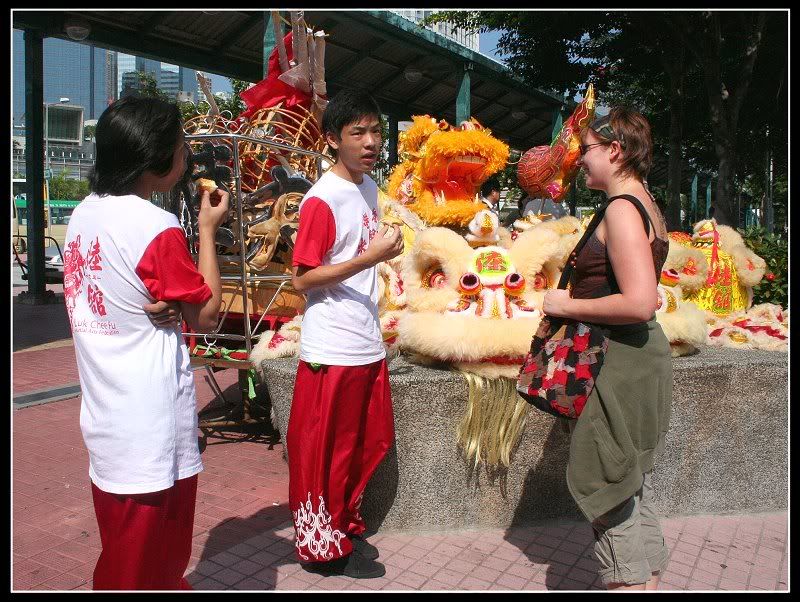 [Dragon Heads for the Dragon Boat Races]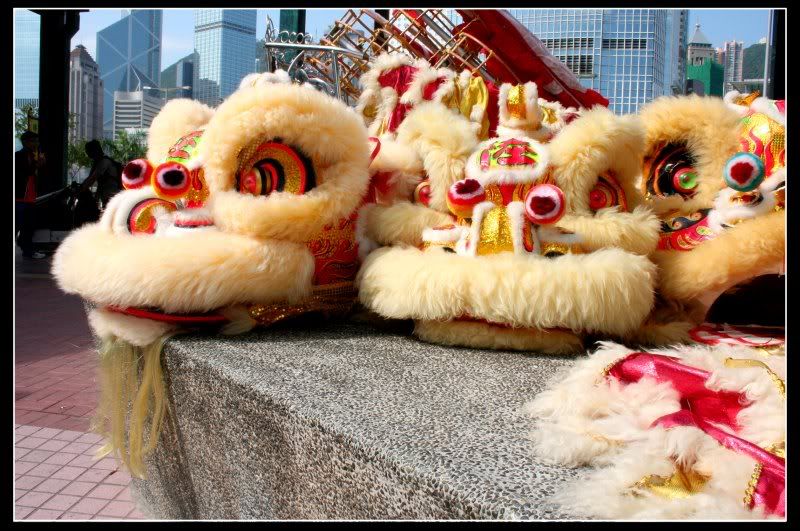 [Waiting on the Hong Kong Island Pier]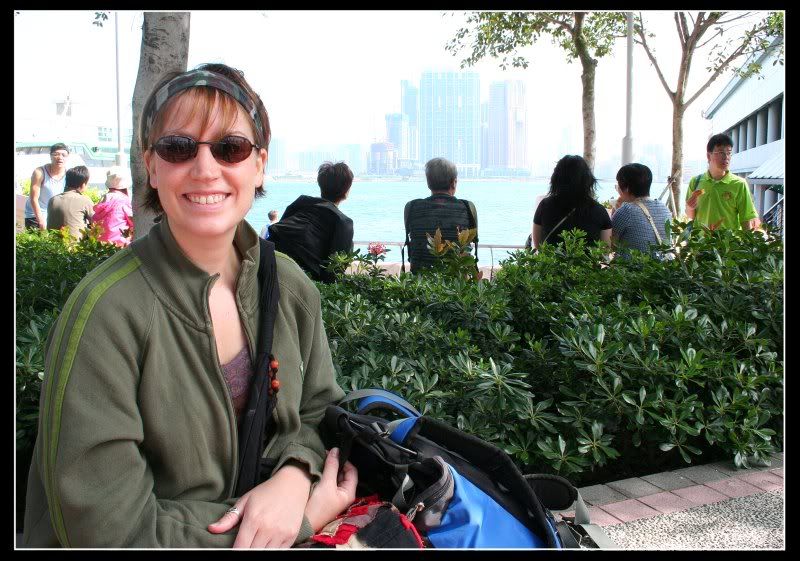 We boarded the ferry for Lantau Island. The ferry was really great – very comfortable seats and we went to the upper deck. I was still really tired from the long day before and the previous several weeks of more intense than usual work, so I fell asleep on the ferry. I was trying to cheer myself up, but I tend to be more annoyed than usual if too tired, and there were some very loud people on the ferry. When the ferry landed at Lantau Island about 30 minutesd later, we all boarded another bus and drove for awhile through a very mountainous and forested area. It was extremely beautiful. Casey told us that there were many snakes in the woods but that we should not worry because we would not see them today. Our tour guide was very funny to me – extremely soothing voice (which didn't help with my tiredness) and very dry sense of humor. He also had to translate everything into both English and two different dialects of Chinese – Mandarin and Cantonese – which I am sure wore him out!
[Old World meets New World on Victoria Harbor]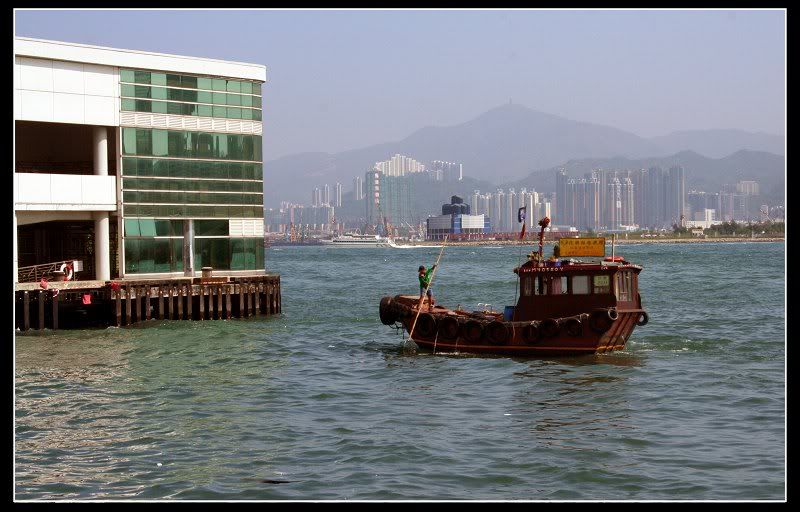 The first stop we came to was a beach. I'm not sure there was a major point to that stop on the tour – except that this was a location where many people come to go swimming and windsurfing because of the big waves and stiff winds. It was a pretty area, the ocean smelled nice and they had some little snack areas. Tim got a green tea drink and I got a vanilla ice cream and a coke to make my own version of a coke float. I was severely lacking in caffeine and energy and the float helped! I starting feeling a little more peppy after that. About 20 minutes later we boarded the bus again and headed back into the hilly woodsy road. We passed a number of small houses, alot of cows and a prison (one of three on this island) situated at the base of a steep hill.
[When looking for a suitable place to spend a life sentance, location is everything. I guess the cows on the hill are part of an Eco-friendly prison security system]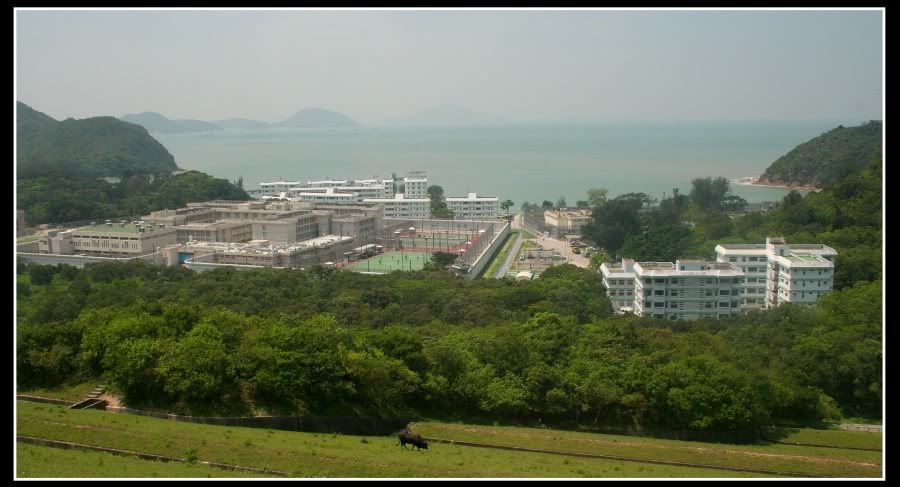 [Hello from a South China Sea beach!]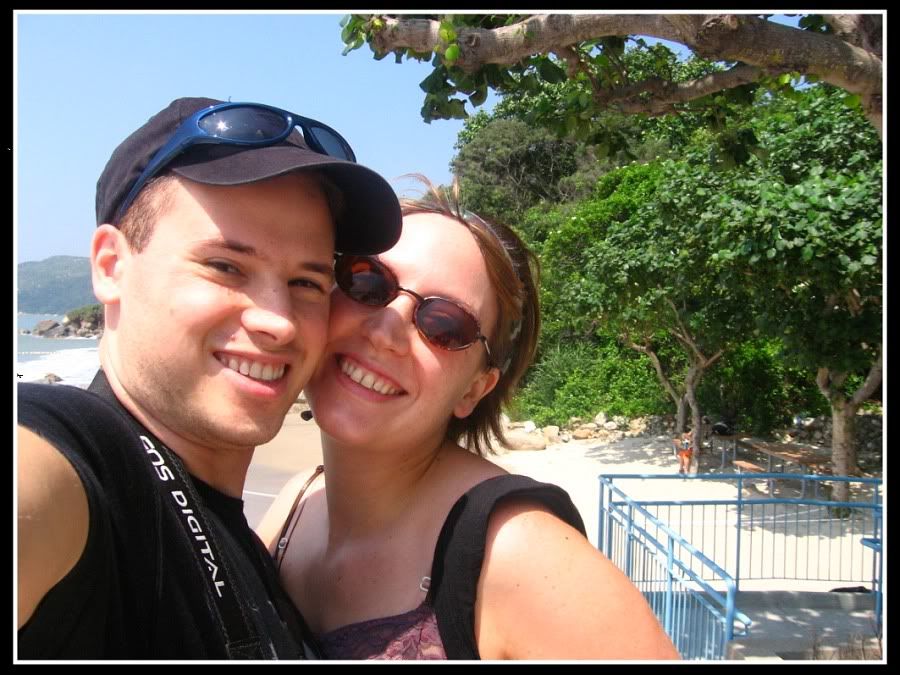 [Every business has it's shrine. This was a small Buddhist incense offering outside the snack shop on the beach]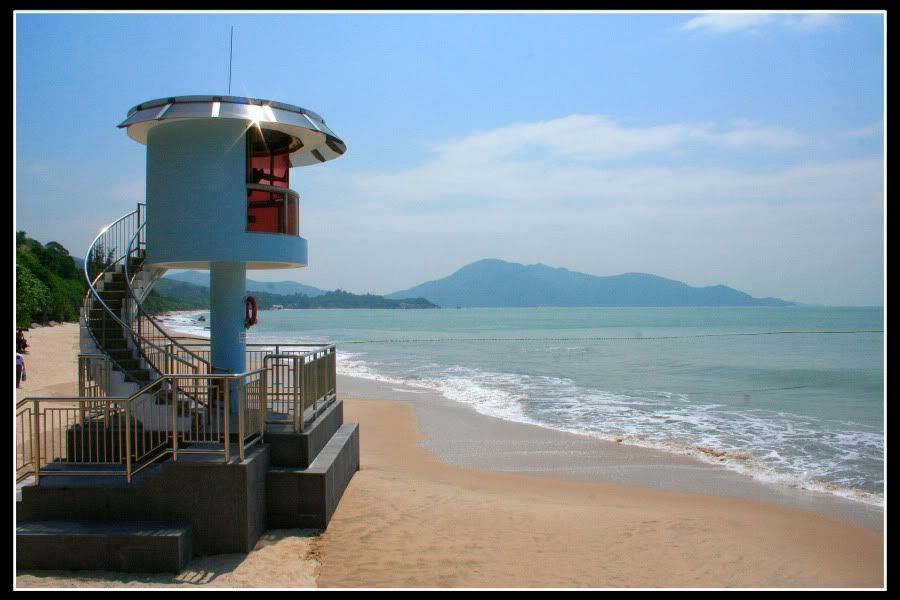 Our next stop on the tour was
Tai-O
, a traditional fishing village which would have been a major commerce hub a hundred years ago. Today, only a few of the original huts built over the water still exist but it still attracts people for it's famous shrimp paste and salted fish products. This was a really cool experience that is best told through Tim's pictures. There were many boats (of course) and some groups of people practicing for the dragon boat festival coming up in June. Every once in a while we would hear the men beating drums as the boats would race across the water.
[Big boats, Little boats...the guys in the colored shirts are practising for the Dragon Boat races in June]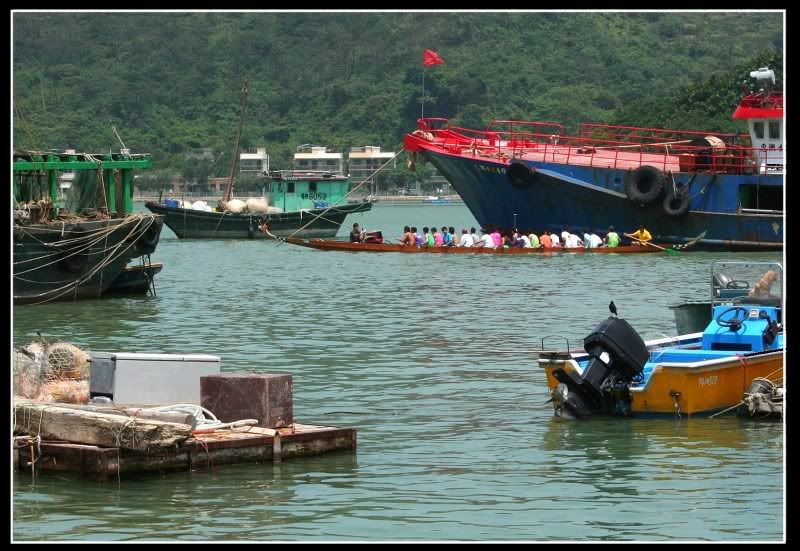 [Dried fish for sale- can you smell it?]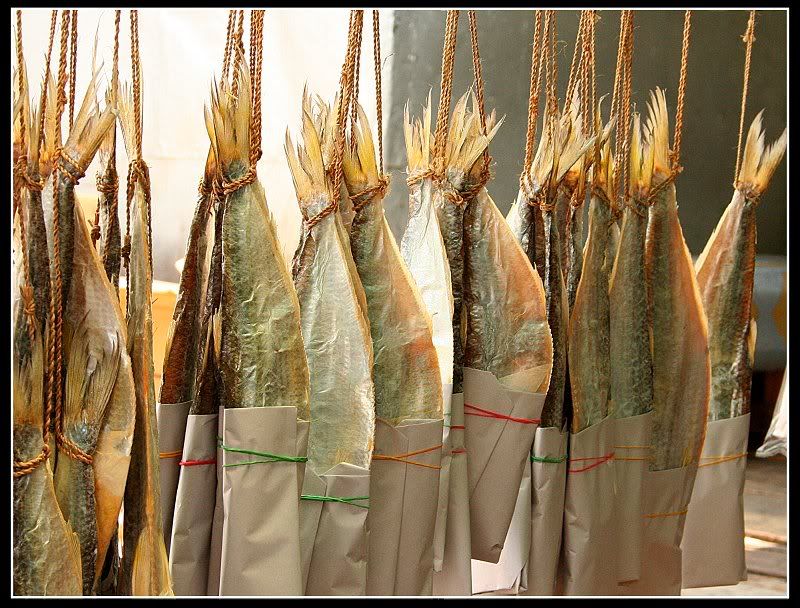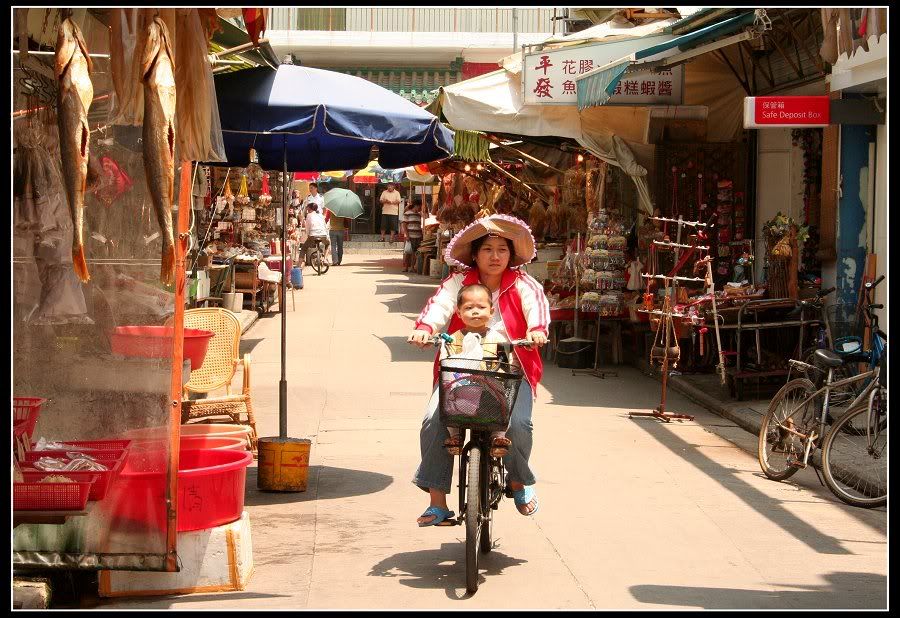 [This is- or, used to be- a shark. Now it's dried skin will probably be ground up and sold as an aphrodisiac]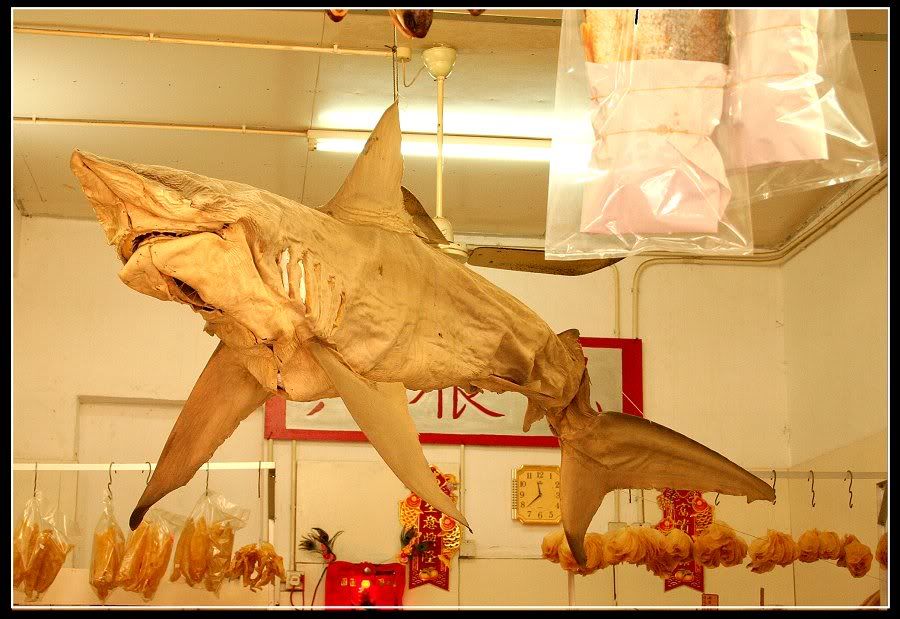 [Shopkeeper reading the morning news]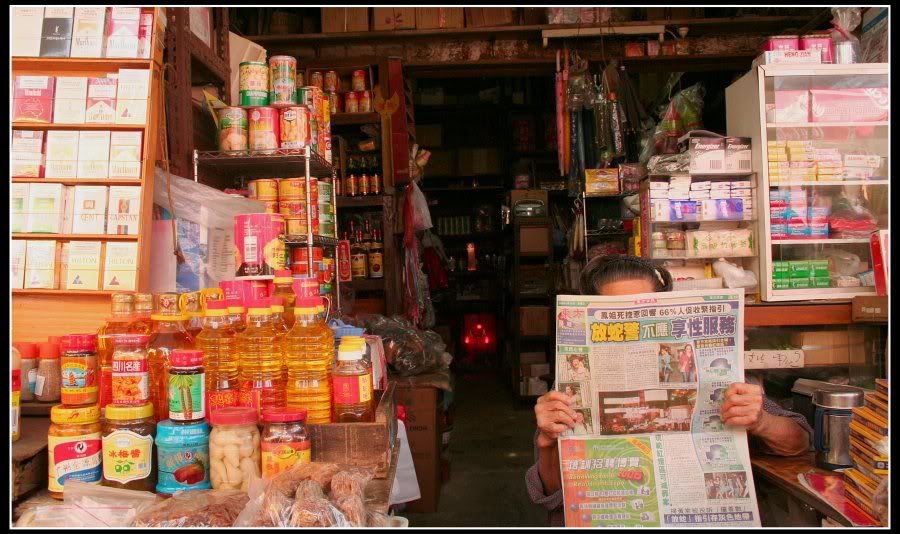 [Catch of the Day]
[Parts of the fish you never knew were edible]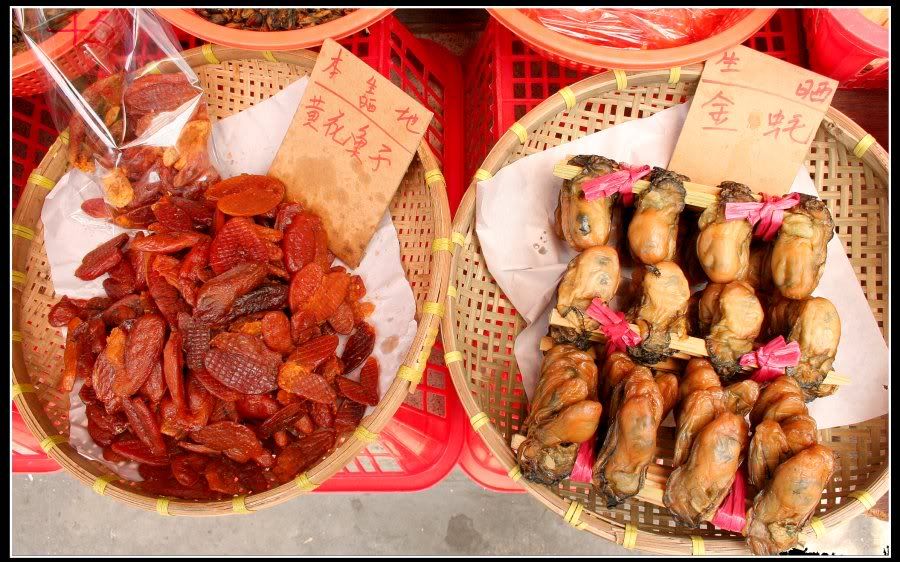 The streets were lined with shops that opened up into the streets selling all kinds of fruits, herbs, teas, arts, and souvenirs as well as the dried fish which you could smell everywhere. Casey pointed out a group of women and said "Not angry- just gossip!" and pointed out to us many of the individual items on the way. In one shop, the owner was hilarious and kept ordering Casey (in Chinese) to tell us about this and that item. He dutifully told us about each one.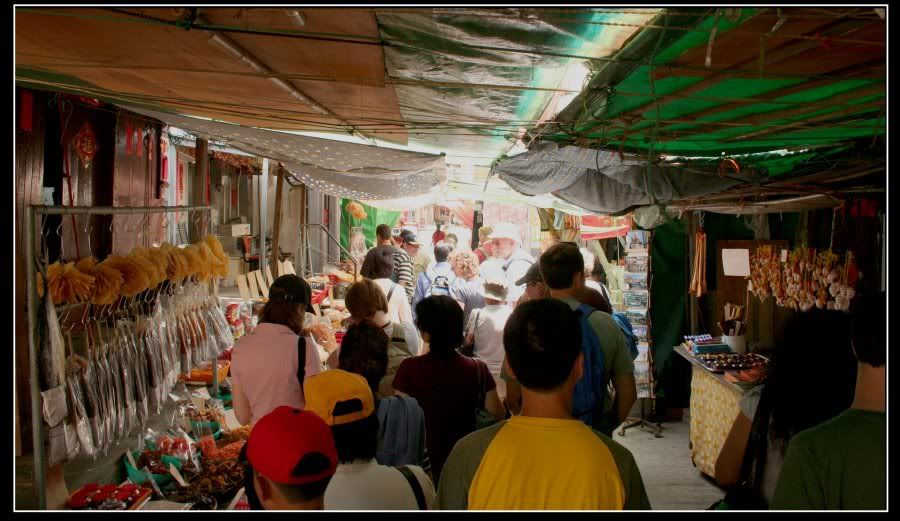 There were a number of ornately decorated Buddhist temples in the village and we were able to enter them and take some pictures and learn about some Buddhist religious practises. There was a lot of incense in the temples of all shapes and sizes. Some incense sticks were over an inch in diameter and painted elaborately with dragons and other designs. Others were about 6 feet long and coiled into spirals that hung from the ceilings.
[Inside the temple of the god of war]

Along the way we passed by a shop covered inside and out with Chinese charachters and beautiful artwork. Tim and I left the tour group and ducked inside to take a closer look. Once inside we met the man and wife who had created all the amazing artwork. After a long and tough decision, we purchased one of the paintings that we really loved. It will no doubt cost us more to frame it than the cost for the painting, but we are looking forward to hanging it in our house in Philly. The man pointed out that his personal seal was on it, which will be neat to have on the other side of the planet.
[This is the artist, getting down the piece we decided to buy]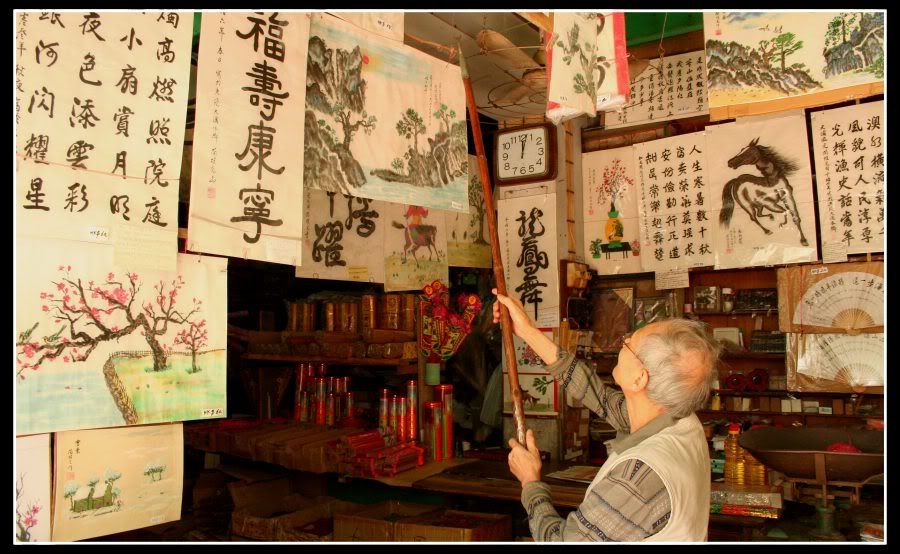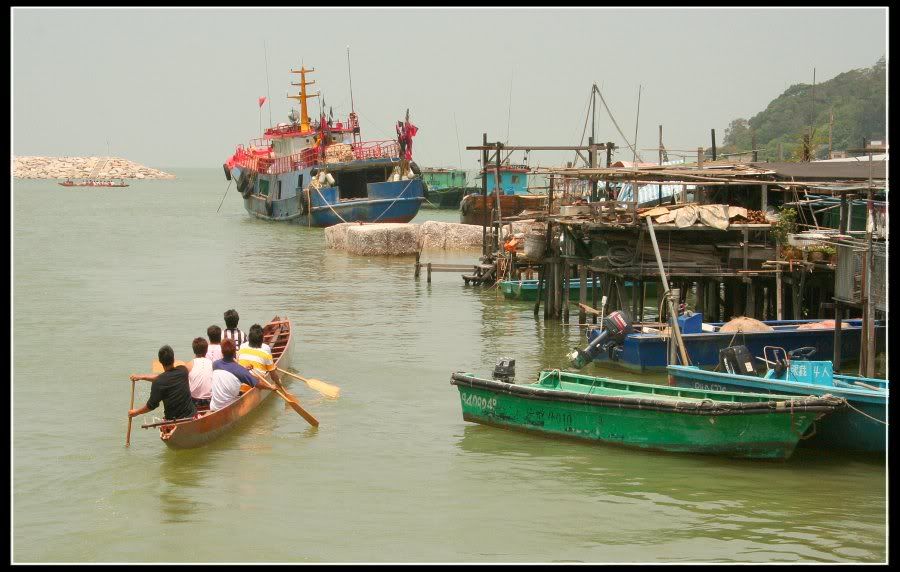 We left the fishing village and our next stop was the main attraction on the tour – the Po Lin Monastery and the
Tian Tian Buddha
. This was a huge Buddhist temple complex built in 1924 and features the largest outdoor seated Buddha made in bronze in the world. There are 260 steps from the temple to the base of the Buddha, and 6 large statues of
bodhisattavas
spaced out around the perimeter with some great views of the surrounding mountains and bays.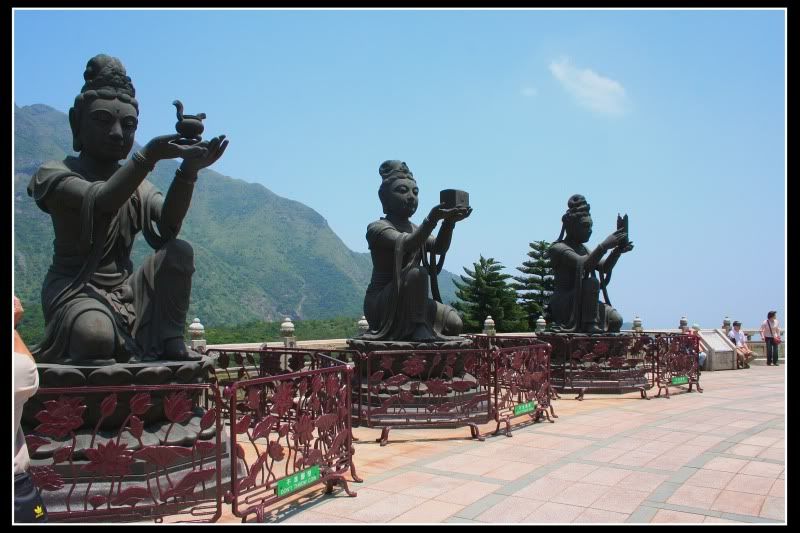 The entire place was full of brightly colored flowers and asian evergreen trees. I have forgotten quite a bit from my East Asian Religions course, but a lot came back as I saw the statues. The Buddha was of the Siddhartha style – not the fat happy Buddha that's seen more in pop culture.

[That's one big Buddha!]

The tour was really awesome. Inside the base, there was a museum with artwork depicting the teachings of Buddha and an amazing wood paneled mural and a huge bell. Cameras were not allowed inside, which is too bad, because I cannot adequately describe to you guys the beauty of the art work there and the artifacts. It was really gorgeous.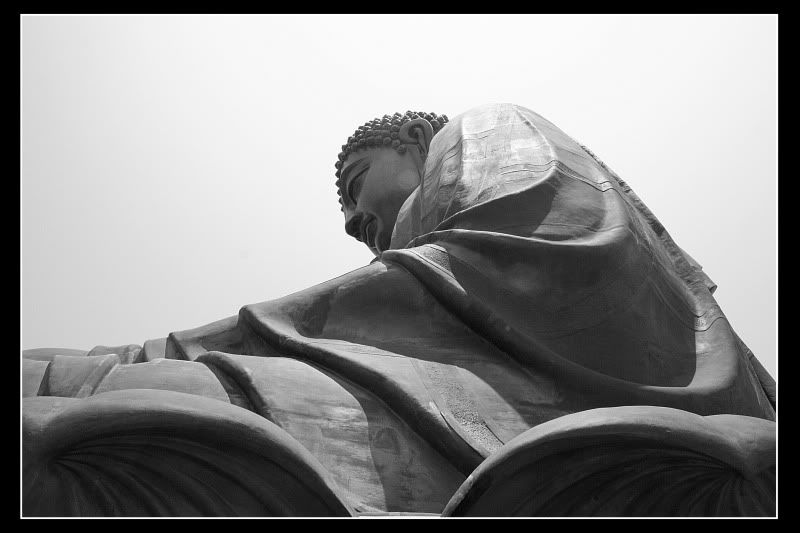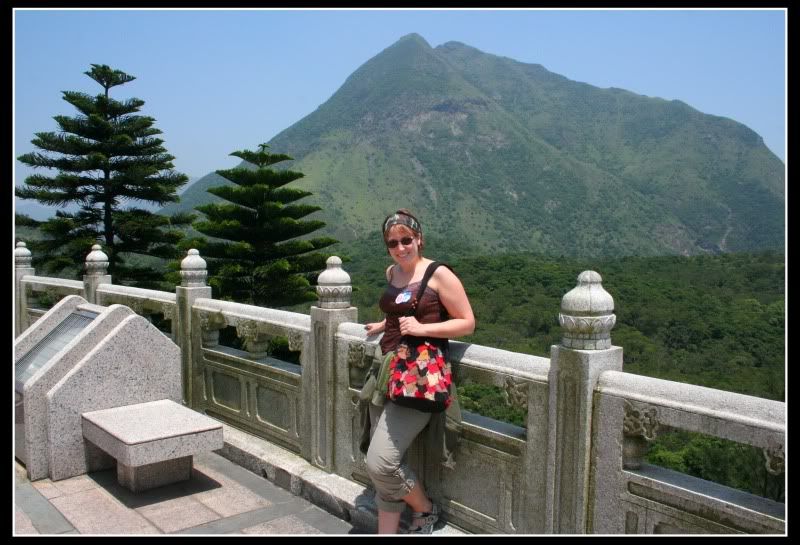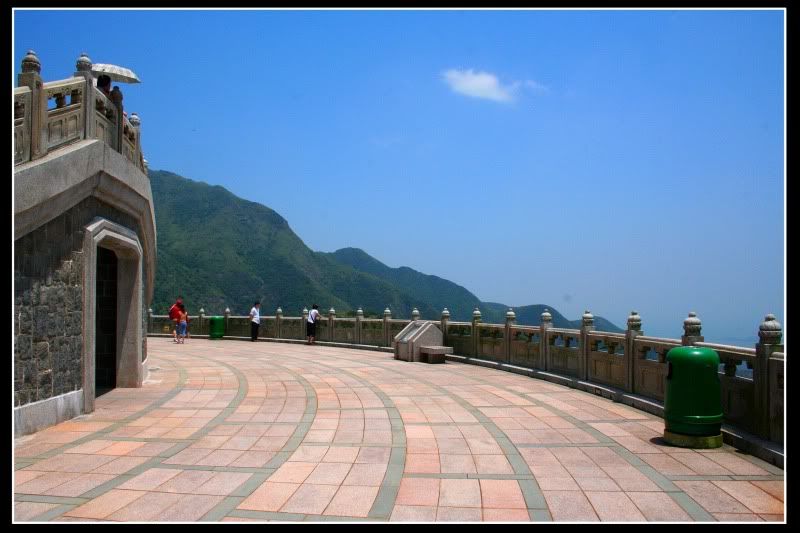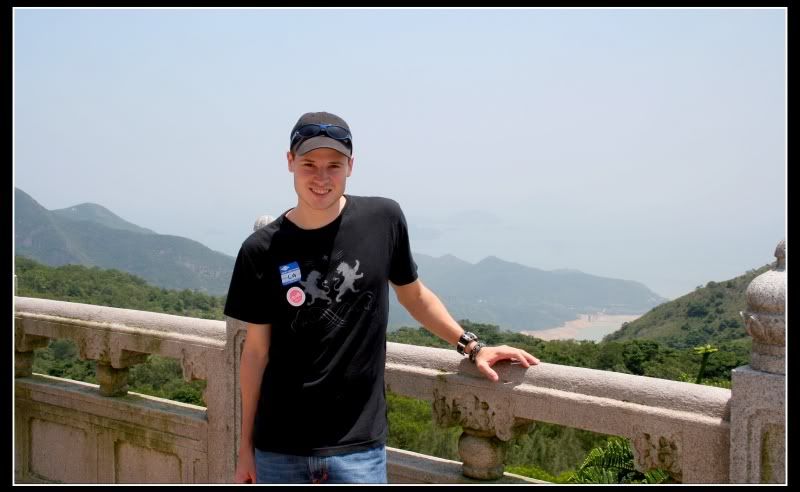 However, pictures were allowed of the outside, so you can see the large Buddha and the 6 ladies that surround him which I believe symbolize the 6 paths towards enlightenment. After a few minutes of admiring the views and the big Buddha towering over us, we piled back into the bus and down hill to the temple complex. Included in our tour was a lunch at the monestary. This is where the phrase "Thank God for Buddhists!" came from. Because the concept of rebirth is part of Buddhist philosophy,
many followers are vegetarian
(you wouldn't want to eat your ancestor who has come back in another life as a chicken).
The lunch at the monestary was the highlight of a great day. It was completely vegetarian and had several courses. We sat at a large table with a father and daughter from Oregon, another American couple from Michigan, and an English family whose daughter did not eat vegetables (oh well, more for us!). Everything was prepared excellently and cooked to perfection, without a trace of MSG, squid bits or chicken broth. It was a much needed fresh and healthy culinary experience for both of us! There were several stir-fry dishes of mushrooms, bamboo, corn, broccoli and beans as well as 2 tofu dishes and a dish made from mashed
taro plant
. There was also green tea, soup and a fried dough dessert. We chatted with those around our table; the father/daughter were especially really nice. He was a Northwest Airlines pilot and his daughter was a freshman in high school- both were very tired from exploring Hong Kong on foot the day before.
[Veggies!]

[Somebody's Happy!]
After lunch we wandered around the monastery and temples, taking pictures and watching people burn incense and complete their rituals. People would buy large handfuls of incense (about 20-30 sticks), light them in the fire, then wave them in the direction of the altar while saying prayers. After they were done, the incense was placed in wooden racks with holes for about 20 minutes before the women attending the temples would collect them and throw them into a huge metal pot full of thousands of smoldering incense sticks. Needless to say, the whole area was thick with smoke and smelled amazing. One of the neat things was seeing teenage tourists wearing t-shirts and iPods performing rituals next to much older men and women in robes and wooden prayer beads.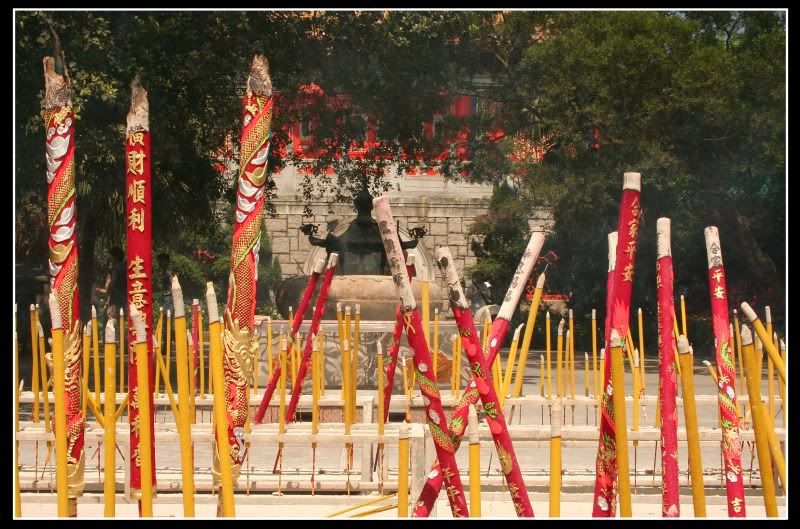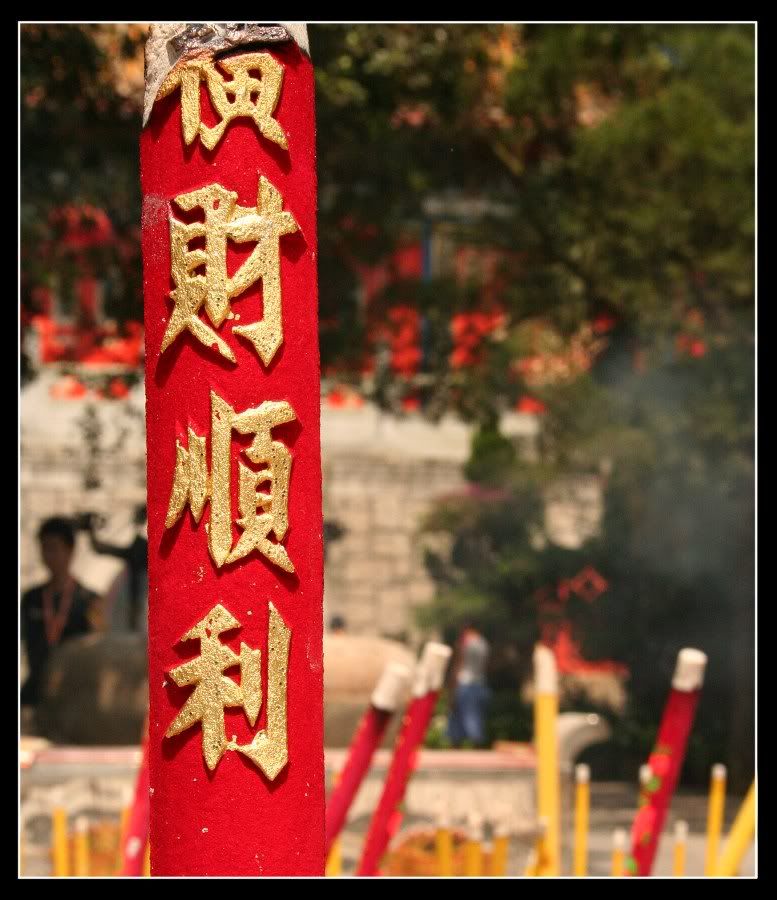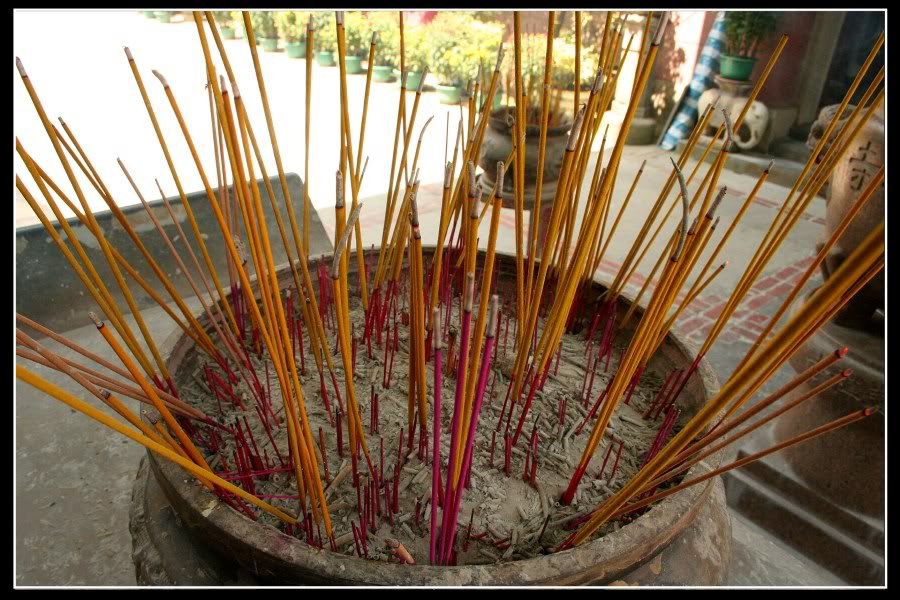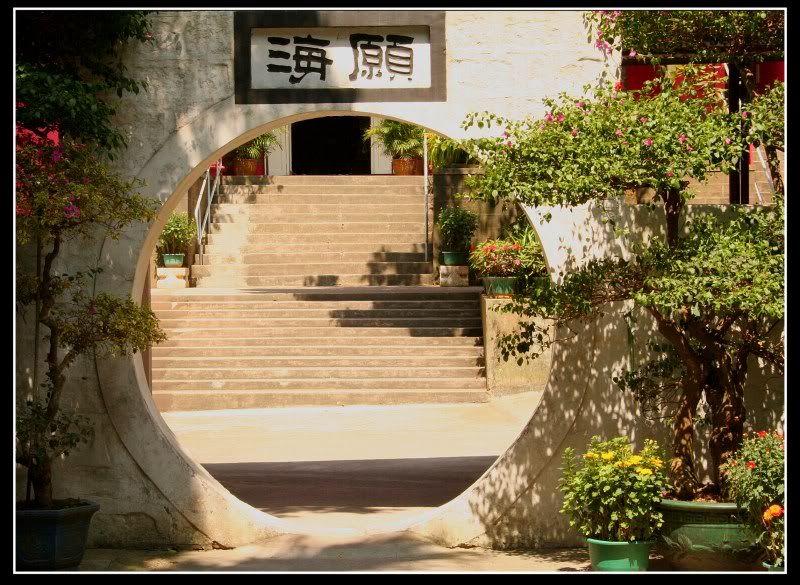 We also looked at some of the souvenirs they were selling. I wanted prayer beads, but they were selling them for a lot, so we decided to look for them later at the night market. Eventually it was time to head back to via our bus/ferry/bus route. We were dead tired and slept most of the way back. On the ferry section, it was really cool to see the harbor just filled with massive cargo ships, tug boats, cranes and barges doing their cargo business out at sea.
Because we had planned to go to the night market later and were still exhausted, we decided to take a nap when we got back to the hotel. We slept for a few hours and then got up to have dinner before tackling the night market. On our way out, I saw a cockroach in the bathroom floor. I was not pleased, but Tim said it was OK and so we left. We all have our phobias, and one of mine is certain insects. In particular, I hate centipedes, millipedes, and cockroaches. I have had a few situations growing up and in basement apartments where we have had too many bugs in the house and we had a flea infestation in our house growing up for an entire summer that focused on my basement bedroom. So, I have had some not great experiences with bugs. The most recent was the large cockroach infestation of one of my corporate apartments (in Harrisburg) that left me standing on the table screaming and crying in the phone to Tim (in Philadelphia) who, of course, could do nothing. So… we went to dinner.
We chose a restaurant from the
Lonely Planet
book called A Touch of Spice. (A quick word about the Lonely Planet organization- we've had great success with the Philippines book, but the Hong Kong one tends to ignore travelors on any sort of budget or who may want to find any familiar types of food.) Anyway, we located the place on a map, but much like Ashley Ave., you had to go up a set of stairs, follow a small sign, enter a building and take the elevator. Once the elevator doors opened, however, you were right in the middle of a fanastic subdued atmosphere with some great food and wonderful service. We really enjoy places like that- places we've never been to, have trouble finding, and love every moment of it.
After the dinner we were both very, very full. We walked over to Temple Street where the night market was. We heard this had many stalls of goods to bargain for and night performers and fortune tellers. The entire street was full of tables seperated by walls of canvas which went on for several blocks. Food vendors lined both sides of the street and thousands of people filed up and down the middle aisles. It definitely had a ton of stuff there for purchase. It was an odd combination of high quality silks and other art pieces as well as cheap and cheesy trinkets. Knock- off products like Rolexes and high end purses were also abundant. However, we did get some very nice gifts there and it was a fun experience to bargain this way.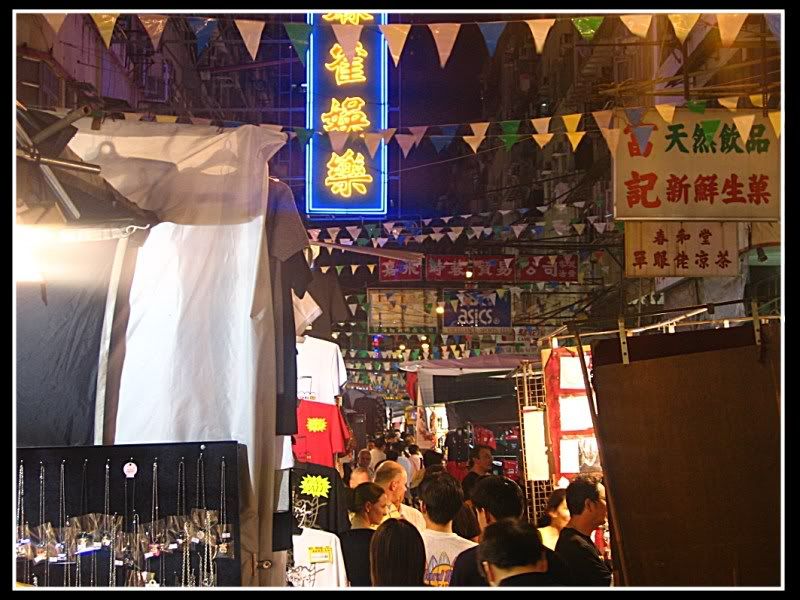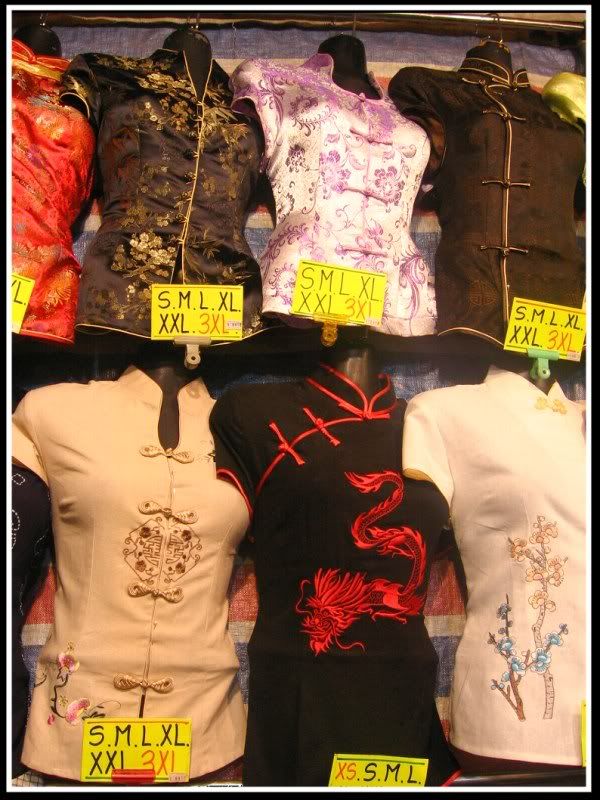 Due to the language barrier, the bargaining was done with a calculator. The shopkeepers would first type in their starting price of an item you were interested in, then hand you the calculator for you to enter your price, and back and forth. Some items we really drove a hard bargain for and were pleased, some we probably should have tried harder. I got several varieties of the Buddhist prayer beads, which I think are very pretty and will make good gifts for certain of our guy friends who could wear them well. We also got some necklaces, creative wooden incense holders, and most interestingly – opium pipes. We got two from two different vendors. One has Chinese carvings on it and the other is a wooden carved dragon that is very intricate. I am not making any arguments that they are authentic ancient antiques or anything, but they obviously have been previously used and it would be interesting to know their history.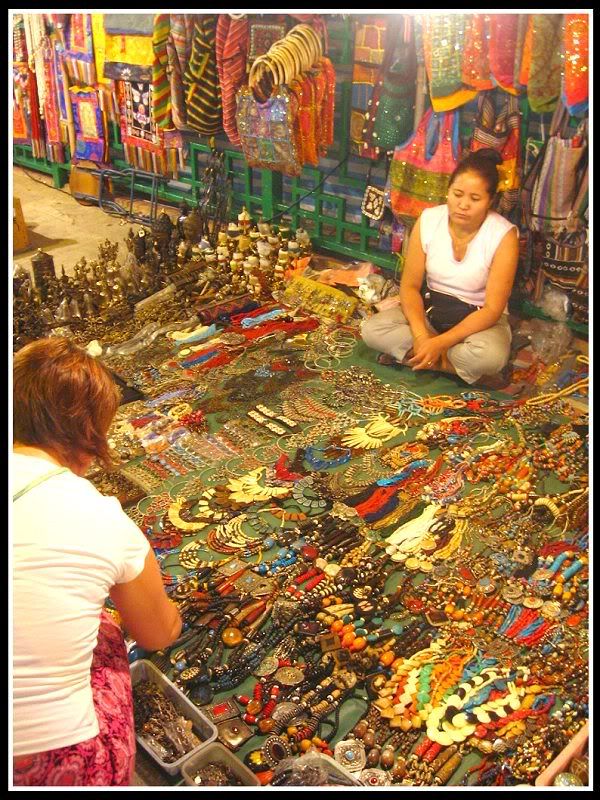 [There must have been a block and a half of wall-to-wall fortune teller stands. I guess if you got a reading you didn't like you can always get a dozen more]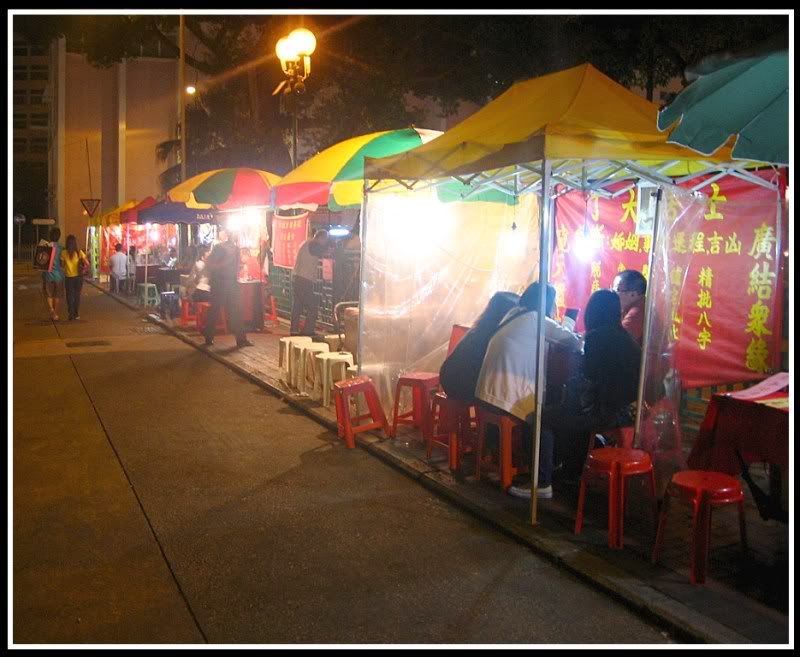 I washed the pipes in the hotel room bathtub when we got to Disney the following day because I wanted to make sure no residue of drugs were in them to cause our baggage to be suspect. They are really beautiful as art works. We will have a hard time deciding who to give them to, if anyone. We passed by a long line of fortune tellers and on to a seedier end of the sellers. We got a few things from them. Those items were the ones that had been used and had more of a history. We washed those items as well, since many of these were jsut spread out on blankets on the ground. After we had had enough of the night market, we headed back to the hotel. It was after midnight and we were exhausted.
We were just getting into bed, when I noticed that there were cockroaches all over our desk (where we had eaten breakfast). I was horrified! The hotel must have a cockroach issue if just having food set out for room service brings them out long after the food was gone. I was screaming and Tim was back in his position of moving all our stuff away from the area because I was not going near them. I called the front desk to see what could be done, and they didn't know what a cockroach was. ("You have animals, maam?") However, it was pretty clear that I was upset and wanted my room moved so they did that for us. The manager called back to try to understand again what the issue was. Tim said, "Tell them we have insects and bugs." That worked. So, we switched to another room further down the hall and saw no more cockroaches.

Hong Kong Summary
Hong Kong Day 1 - Arrival, Exploring Kowloon and Boat Tour
Hong Kong Day 2 – Hong Kong, Lantau Island Tour and Night Market
Hong Kong Day 3 – Hong Kong Disneyland!
Hong Kong Day 4 – More Disney!
Hong Kong Day 5 – Back to Manila (Escaping the typhoon!)