Hong Kong Day 3 (DisneyLand!)
(or, The Highest Concentration of Digital Cameras in the World)
Since we had had several very full days in a row, we decided to lay in bed a little longer after our 9am wakeup call. There were no more signs of any roaches in our new room which was a big relief. We took showers and started packing up our things. Of course, I was putting this ridiculously meticulous process of packing in place because I wanted to make sure that the gifts we had purchased here had plenty of padding and that we did not need to totally unpack and repack at our hotel in Disney. I was pretty proud of the packing job and was hoping that our luggage would not be searched at the airport because repacking it my way would have been like putting together a massive jigsaw puzzle. Tim did the final "dummy check" before we left as always- (AV tech habits never die!)
We went downstairs to checkout at around 11:30am or so and as soon as we exited the elevator, one of the bell boys was there waiting for our luggage to hold until we left for the MTR station. Great service, again! We kept our backpacks with us and walked around looking for a place to have brunch, since we had opted not to order room service this time. We had previously planned to spend all day Monday (today) and Tuesday at Disney, but we didn't want to rush there and then be exhausted, so we decided to take it easy until we could check into the Disney Hotel in the afternoon. In fact, we had been told by some other tourists we had chatted with at the Po Lin monestary that because the Disney park was not yet finished, one day would be plenty to see and experience the entire park.
We wandered for awhile trying to find a Pacific Best Coffee shop we remembered passing the night before, but we couldn't find it. Eventually, we decided to try out a random restaurant we saw on one of the side streets with a sign called "Light Vegetarian Food." It was a Buddhist restaurant, and even though no one really spoke English, we weren't as worried about what we were eating, because we knew everything was 100% vegetarian (no squid bits, MSG or chicken broth here!) . The interesting thing was when Tim tried to order a beer (which was listed on the menu- odd for a Buddhist place). Mass confusion ensued and eventually they just told him they didn't have any. So, we got water instead. The food was excellent, but we were so hopelessly out of place that it became a little uncomfortable. It was one of those restaurants with a very set and very loyal customer base- which turned out to be 100% Asian and nearly 100% above 50 years old. A neat place nonetheless.
On the way home we spotted the Pacific Best we had been looking for initially and ducked in for some coffees. We sat by the windows overlooking the sidewalk for a very interesting people-watching expereince and also used the internet café computers which were free to customers. Tim checked his emails and I took a photo of him on the computer.
At this point we decided to head back and pick up our suitcase and get to the Kowloon MTR station via either a public bus that we had watched drive by while in the coffee shop (with clearly marked destinations on the bus' digital screen) or by asking if there was a free shuttle to the station from the hotel like there was when we came into the city. It turns out that there was a shuttle service so we got our stuff together and went outside to wait. The bell boys at the front door were hilarious. They were unloading massive amounts of luggage from a small van that had pulled up and were making funny noises every time they lifted a suitcase. There were going "CHOOM!" "CHOOM!" and created a stack of suitcases and bags much taller than themselves on top of the luggage cart.
Eventually, the shuttle came and we boarded for Kowloon Station. According to the MTR map, we could get a train to Sunny Bay from there and then connect on a new train from Sunny Bay to Disney. We were able to purchase our tickets with the help of an amazingly easy-to-use graphicly-based ATM and the train to Sunny Bay came in just a few minutes.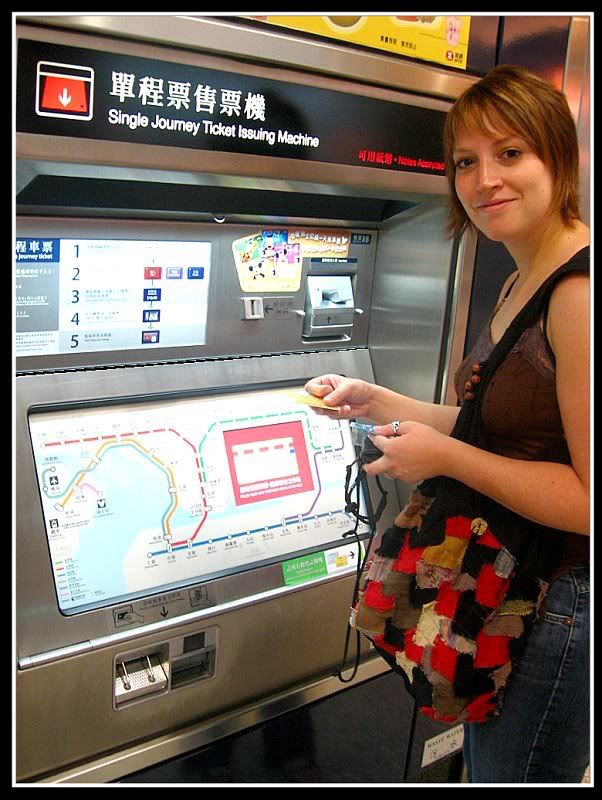 This train was also very clean and easy to ride on – even with all of our luggage. After about 25 minutes we arrived at Sunny Bay station and crossed the platform to wait for the Disney Train. We were excited to get to our hotel and see the park, but not quite as excited as a little 3-4 year old blonde boy who was running back and forth along the platform screaming for Mickey, jumping up and down, and looking for the train every second. This was pretty adorable. Even more adorable was when we noticed he was there with his already exhausted grandparents who were trying their best to keep the kid within in their sights.
In a few minutes the train came and I thought the little boy was going to fall over from excitement! And I was pretty excited too! The train had Mickey Mouse head shaped windows and the inside was plush blue couches made to look like a lounge in Hollywood. The corners of the train were display cases with little awards in it. There was a young blonde woman sitting across from us and traveling by herself on the train (not looking nearly as excited as us or the little boy!). We think she probably worked at Disney as Cinderella or Alice or something.
[Aboard the Disney train!]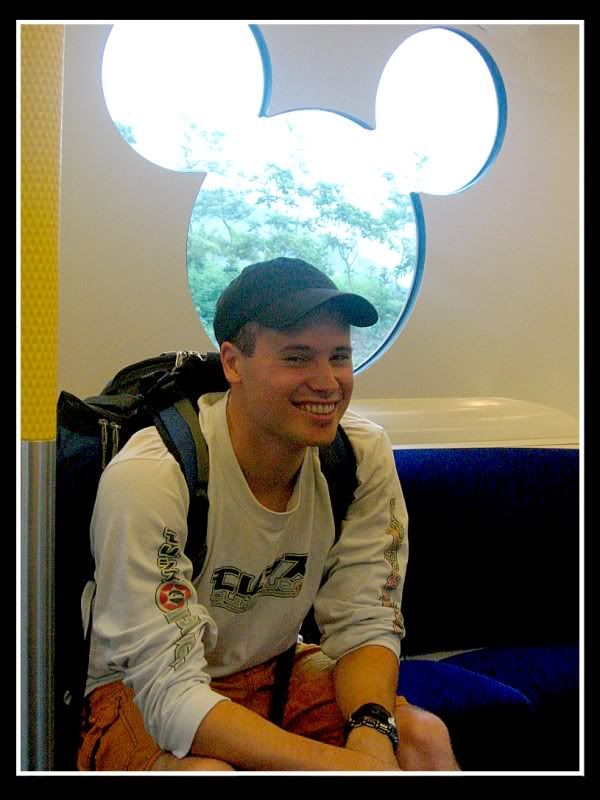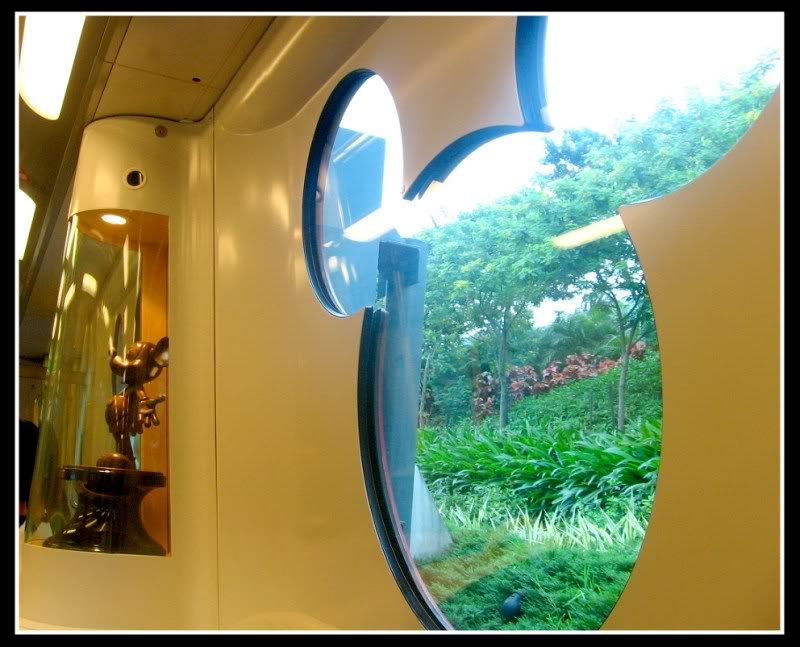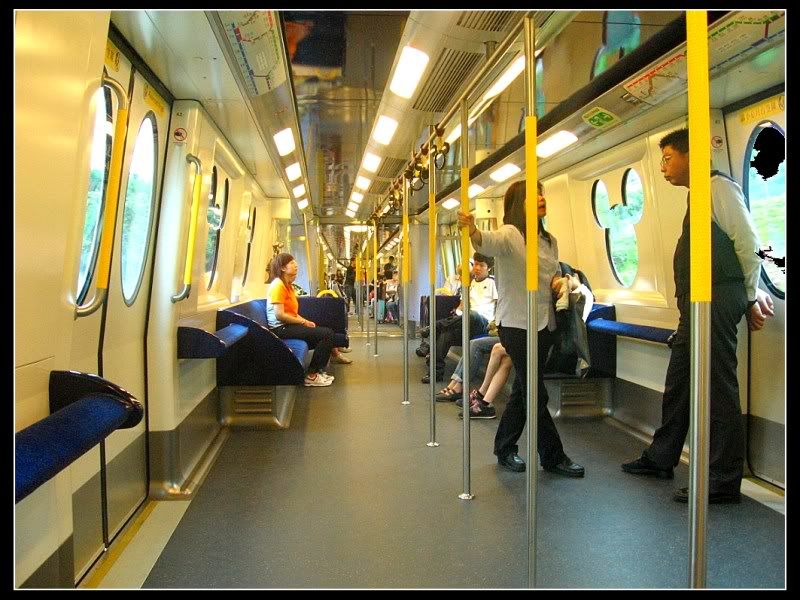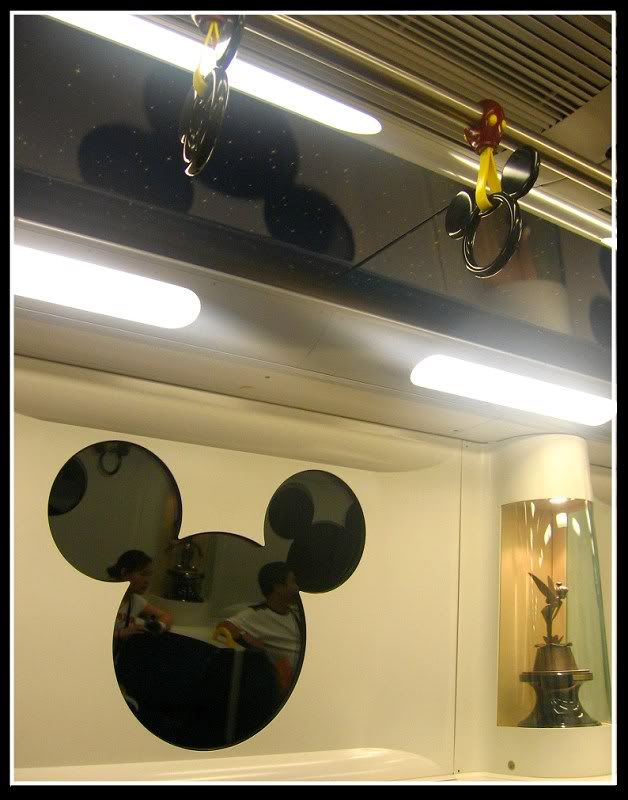 [Pulling into Disneyland Station]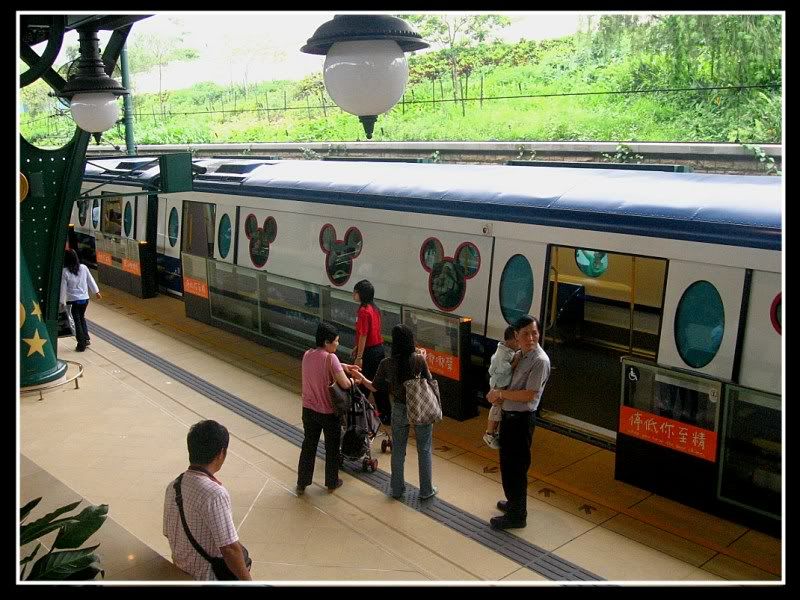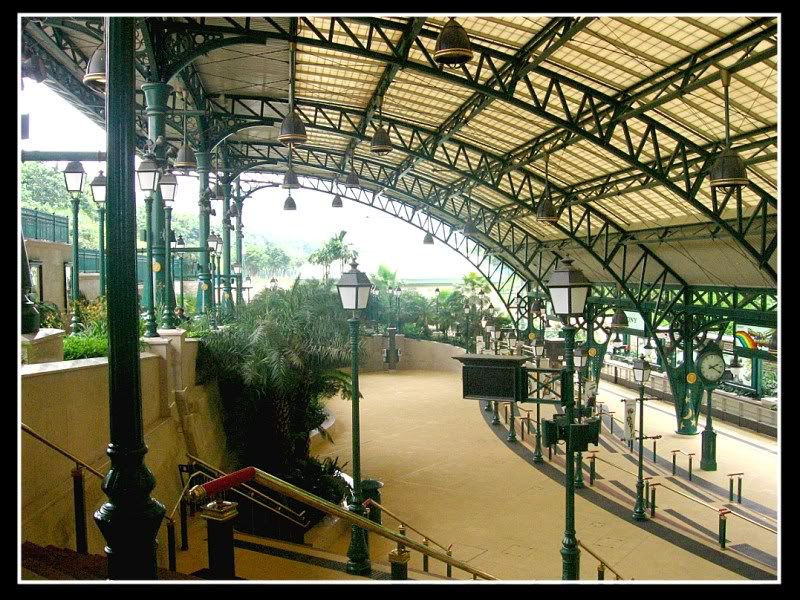 We got off of the train and into a beautiful station and walked up the stairs to the entrance of Disneyland. I was so very excited to see the big welcome arch and a fountain with a whale from Pinocchio that we could see in the distance. Tim is somewhat Disney-deprived, so I had to explain many of the stories to him so that he would understand the statues and signs and pictures. Tim brought up the good point that it might rain the next day (due to the approaching typhoon, which just killed several dozen people back in the Philippines) and it wasn't crowded at all, so we decided to go and check into our hotel first and see if we could come back for just the evening.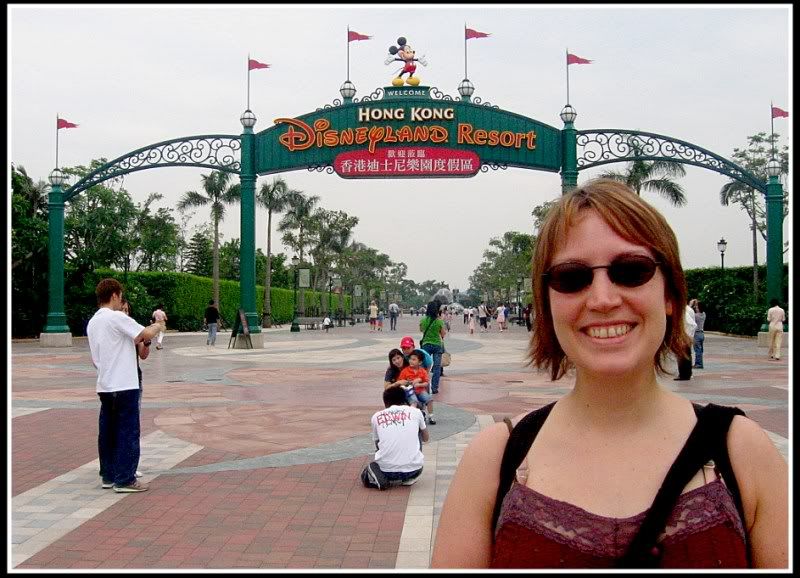 [Tim's Side Note on
"
What Disney Does or Does Not Mean To Me
".
]
When Kendra brought up the idea of visiting Disneyland during our stay in Hong Kong, I wasn't exactly thrilled to say the least. Not that I thought it was a bad place or anything, I just haven't had the experiences as a kid to instill the "I wanna go see Mickey!!" urge which seems to posses the hearts and minds of so many young children (my generation, before and after). I didn't grow up on daily TV shows, Saturday morning cartoons or animated movies (my family didn't even own a TV until I was about 17- and, see- I turned out just fine!). I've never seen Pinnochio, Sleeping Beauty, Bambi, Alice in Wonderland, Fantasia, Dumbo, Lady & The Tramp, The Fox & The Hound, The Aristocats, etc etc., which are what most of the Disney parks are geared toward.
I did, as a kid, see (and love!) The Jungle Book, Robin Hood and The Rescuers...sadly their representation at the theme parks worldwide is minimal, if any. Later in life, I did enjoy the summer camp staff/college freshman cult-like following of Alladin, Beauty and The Beast and The Lion King. And recently, I've liked Toy Story and have seen Finding Nemo on TV dozens of times (which is absolutly hysterical):
Deb
: What have we got?
Peach
: Root canal, and by the looks of those X-rays, it's not going to be pretty.
Bloat
: Dam and clamper installed?
Peach
: Yep.
[
Dentist drills and patient screams
]
Peach
: Now he's using the Schilder technique.
Bloat
: He's been favoring that one lately. He's using a Hedstrom file.
Gurgle
: That's not a Hedstrom file, that's a K-flex.
Bloat
: It has a teardrop cross section, clearly it's a HEDSTROM.
Gurgle
: No, it's a K-FLEX.
Bloat
: HEDSTROM.
Gurgle
: K-FLEX.
Bloat
: HEDSTROM.
So funny!!!
Anyway, I went into it all with an open mind (except for roller coasters, which is a whole different story). Back to the narration.
We went to the transportation area and were directed by about 10 different people to the bus staging area to take us to our hotel. We were the only ones on the very large and plush bus and we were all smiles. The hotel was about a 7 minute ride from the park, and along the way we saw several groups of women in wide, round hats taking care of the emmaculatly landscaped roadsides.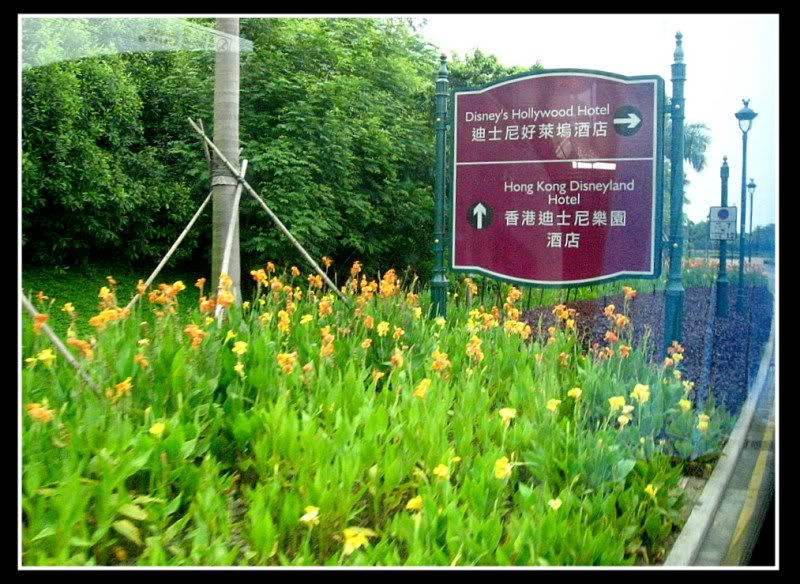 [Aboard the hotel shuttle]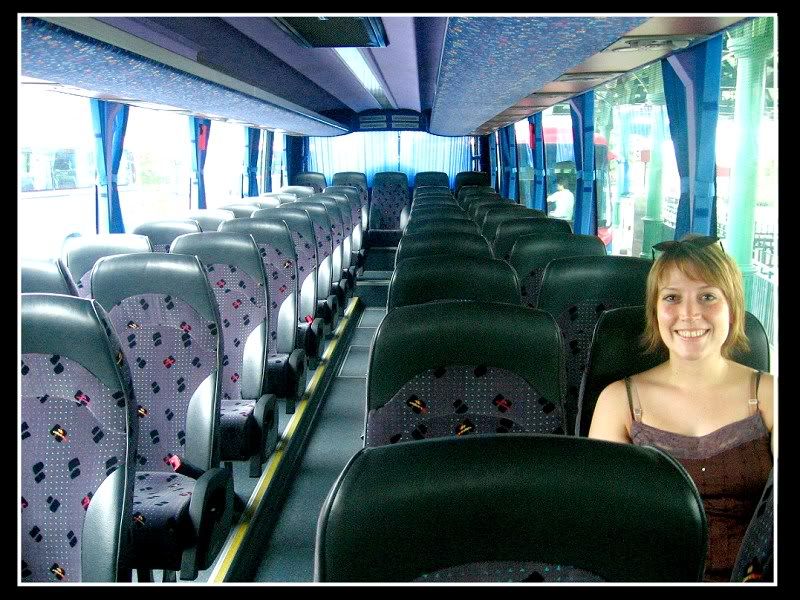 [From the hotel parking lot]
When the bus pulled up to the hotel, we were greeted by 4 men in white suits and top hats who took our luggage and showed us into the lobby area.
The hotel was just gorgeous. It looked a castle inside and out and was staffed to the hilt. When we checked in, we learned that our day pass to the park was good for two days as we were hotel guests, and so we decided to go later that day and the next. We first went up to our room and wanted to order something small to eat before heading out to the park. The room was beautiful. It had large windows with curtains overlooking the gardens and a large sitting area and beautiful bed and bathroom. I will let Tim place a picture of it. We also got a cute set of toiletries – all decorated as Disney, and the slippers were marked as gifts to us from the hotel. They were waffle-style slippers with a golden embroidered Mickey head on them. Very cute!
[To the Castle, er, Hotel!]

[Check-In "Can we see your passports, please?"]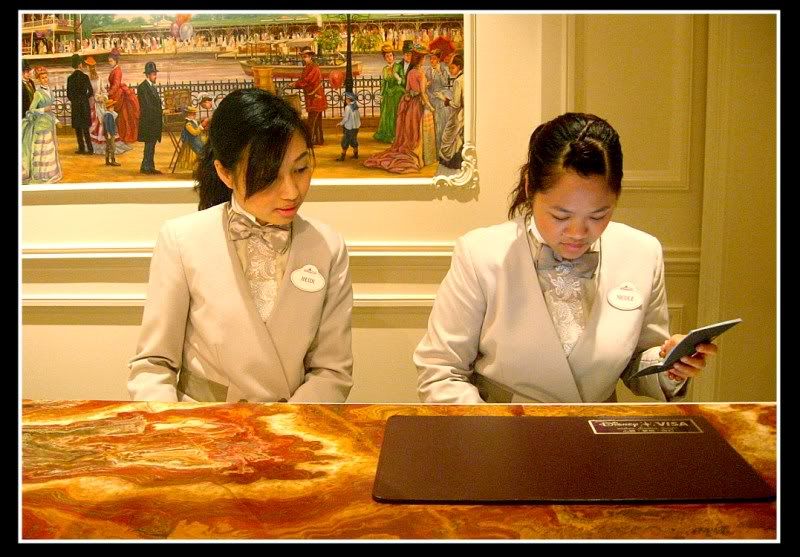 [Accomodations...check!]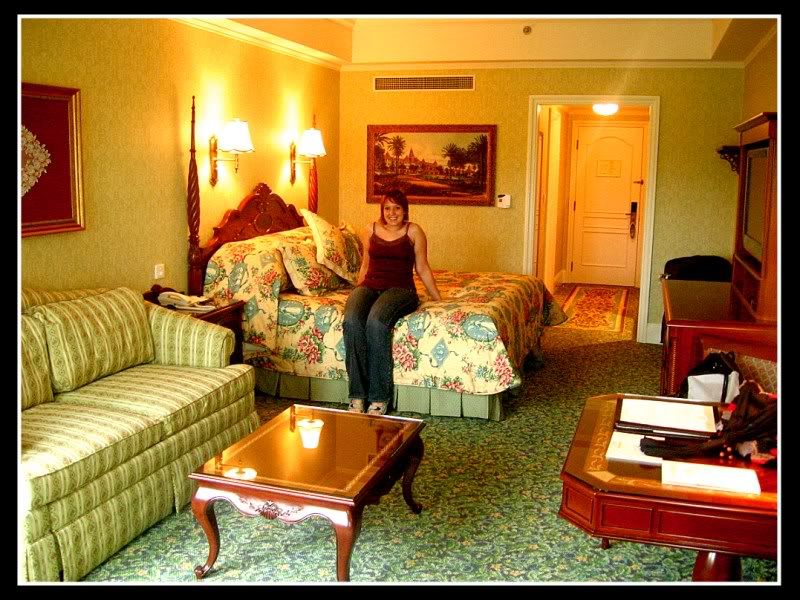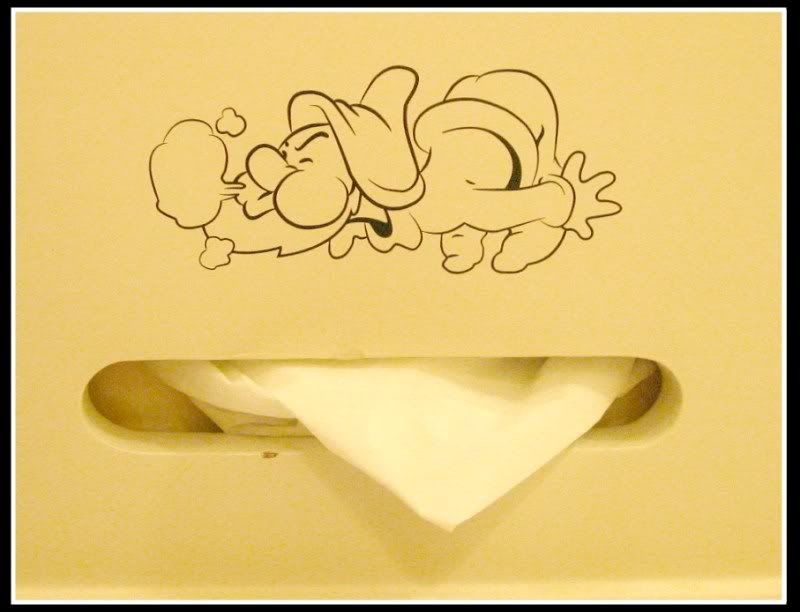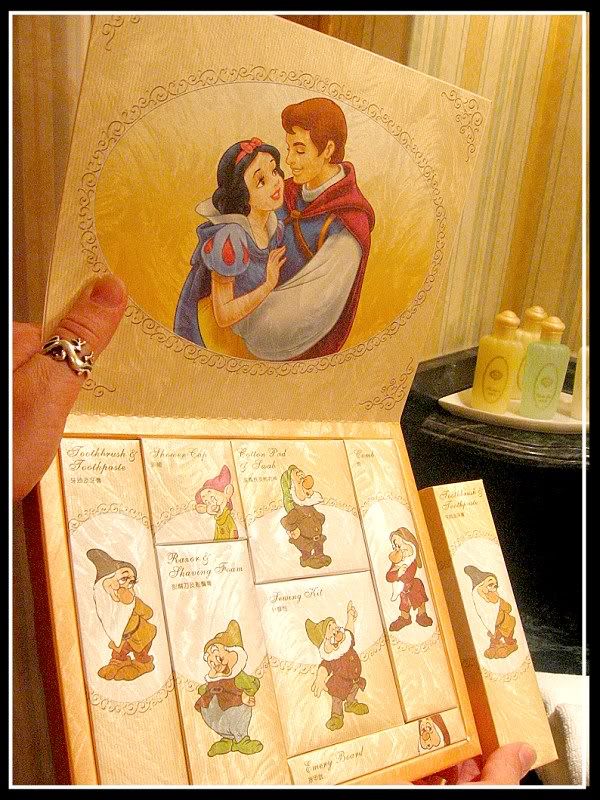 Tim ordered a veggie pasta dish for us to share and wine for me and a beer for him. The room service was brought in on a full table set with a full dinner setting. I was just finishing washing out my opium pipes in the bathtub from the night market when she brought in the food which was funny. Once we were done with our food we went outside to take the shuttle back to the park and arrived there at around 4:00pm.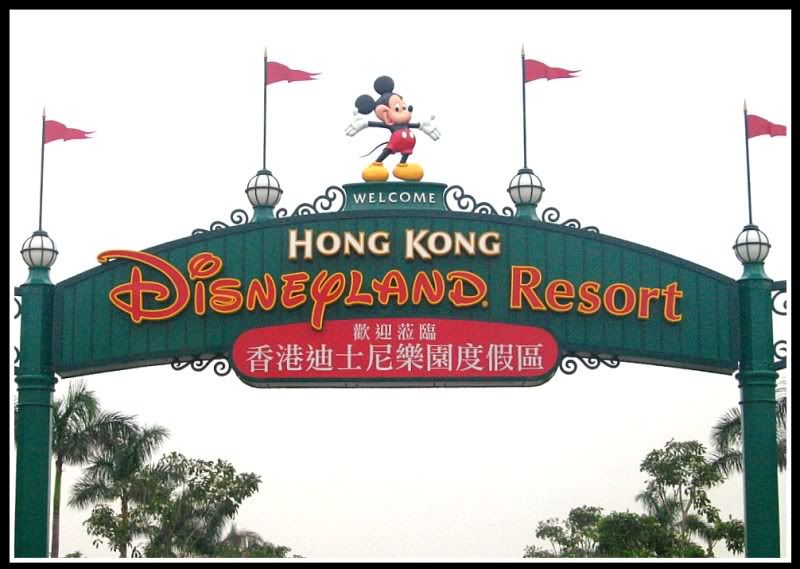 The walk through the entrance arch and past all the Disney signs towards the whale fountain was very cool! We were hearing the music in the background from the Disney movies and there were excited people all around us. After presenting our tickets and going through the turnstiles, we entered into the Main Street U.S.A. section which was made to look like a small town in the 50's. A small marching band was coming down the street. We could see the big castle in front of us and the other lands around us. The first thing we decided to do was to take the train that goes around the entire park just to get a feel for the whole place and rides there. It was very exciting. Tim's favorite part was when we entered the Tomorrowland world and there were the little 3-eyed aliens from Toy Story that popped up over the wall and one of them was taking pictures of us!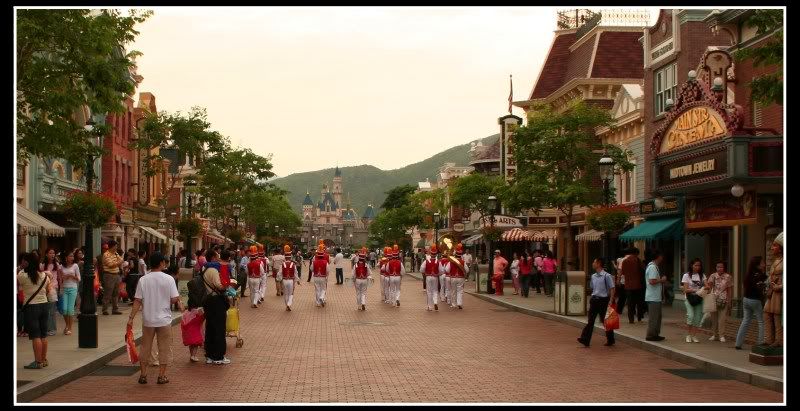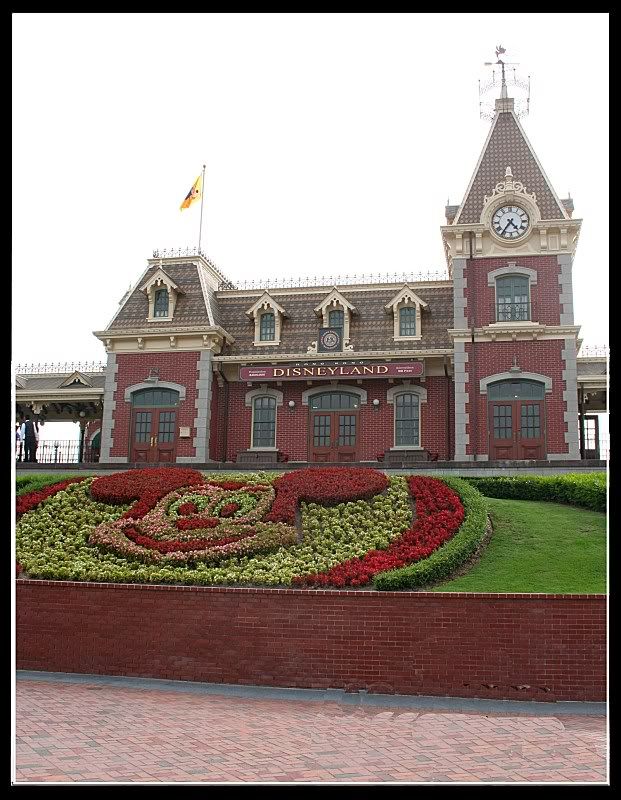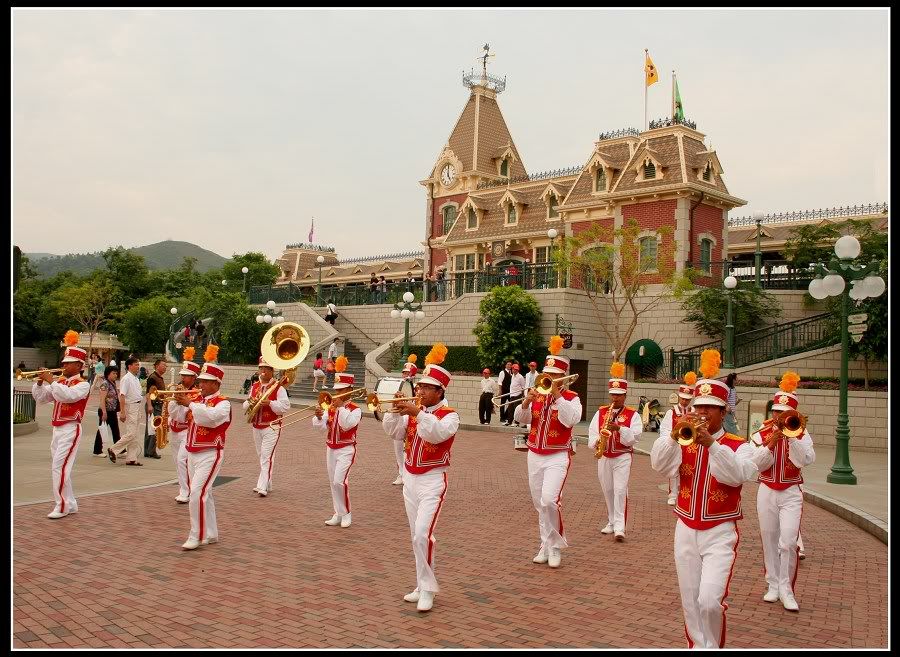 After the train, we headed to the Alice and Wonderland tea cups ride, which Tim would not ride with me. I made a pouty face as I sat alone in my teacup, but it was still a really fun ride.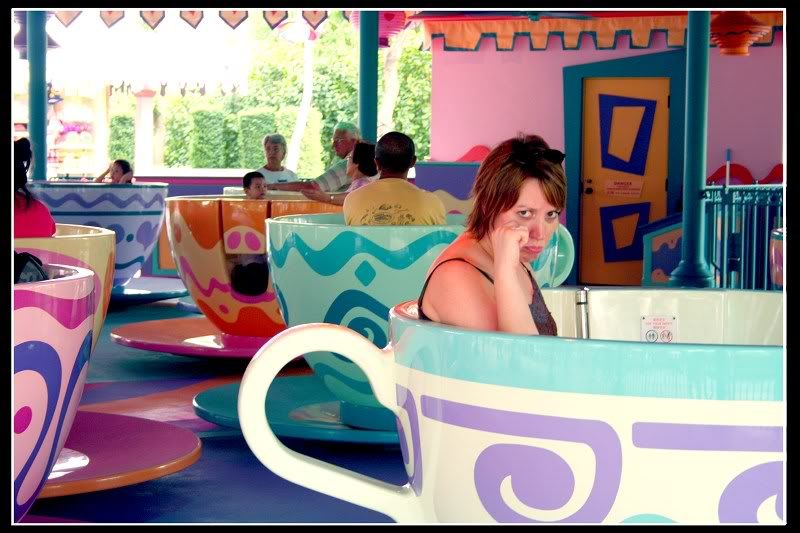 After this we went into an enchanted garden where all the various Disney characters were posing for pictures. We didn't want to stand in line yet to get the pictures at that time so we continued walking around. I was really excited to go on Space Mountain – a roller coaster in the dark – but Tim had already put the kabosh on that as far as he was concerned, so I didn't push him too hard. He waited in line with me, but didn't end up going on the ride, so I accompanied a small child whose mother also did not want to ride it.
[The passenger loading area inside Space Mountain]

I thought the ride was really awesome. To me it was like being in an Imax movie and I told this to Tim. There were no upside down parts and although it went a little fast and jerked you around at times, I really didn't think it was a bad roller coaster. It was all in the dark and there were stars and planets all around. When we got off the ride, I was really exited and told Tim that it was not bad and that this was like being in an Imax movie. So, Tim said that he wants to go on the ride and asked me more questions about it.
I was so excited that he wanted to go on the ride now! Yay!!! Well… as our story will show, one man's Imax movie is another man's Death Trap. I tried to narrate to Tim throughout the ride what to expect to make him feel more easy… until we were about 20 seconds into the ride. Tim started to full on panic. As upset as he was, I think I was more upset. I had not meant to mislead him. To me, the ride was really like an Imax movie in motion, but as soon as started to go a little faster and it was all dark, he was extremely upset. I had no idea what to do. I leaned over to put my arm around him and tried to let him know it would be over soon. By the time our picture was taken at the end of the ride, I was more scared then he was. That was the last adult ride we went on. We just stuck to kiddie rides and shows from there on out.
[Zoooom! Yeah, just like an Imax movie...an Imax movie where I almost died!]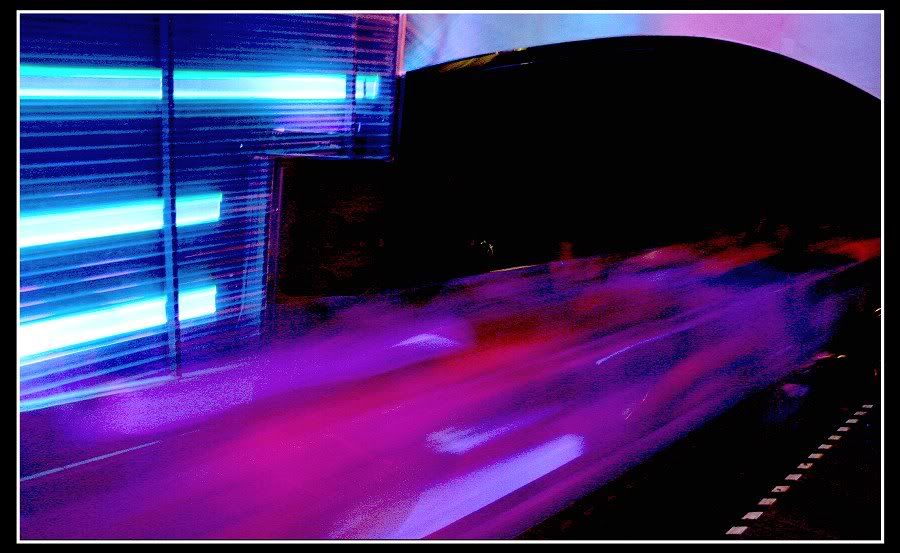 After we walked around a little more and let Tim recover, we went on the Buzz Lightyear ride where we rode in a moving car and shot our laser guns at targets in a cool blacklight-and-neon world and I promised not to spin the car at all. Tim got like 10x my score.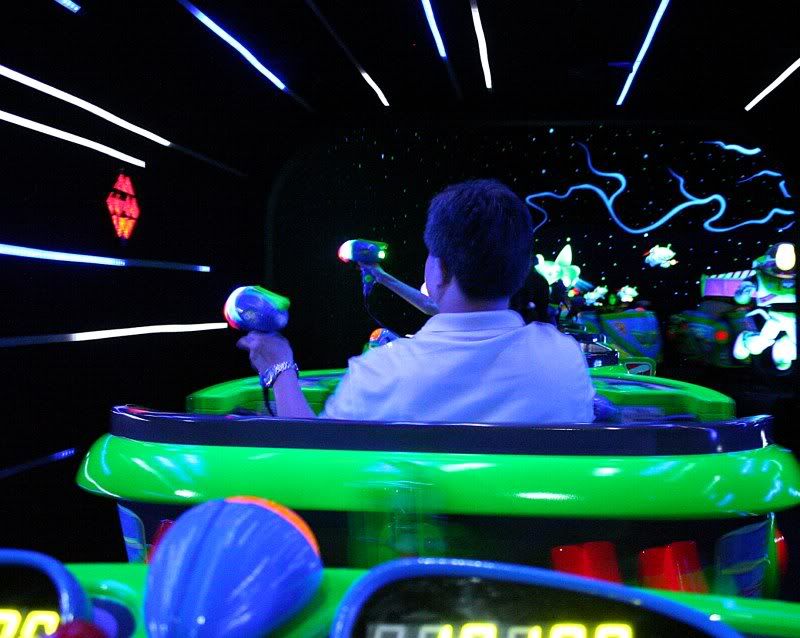 [To Infinity and Beyond! This is my victory pose after surviving a ride!]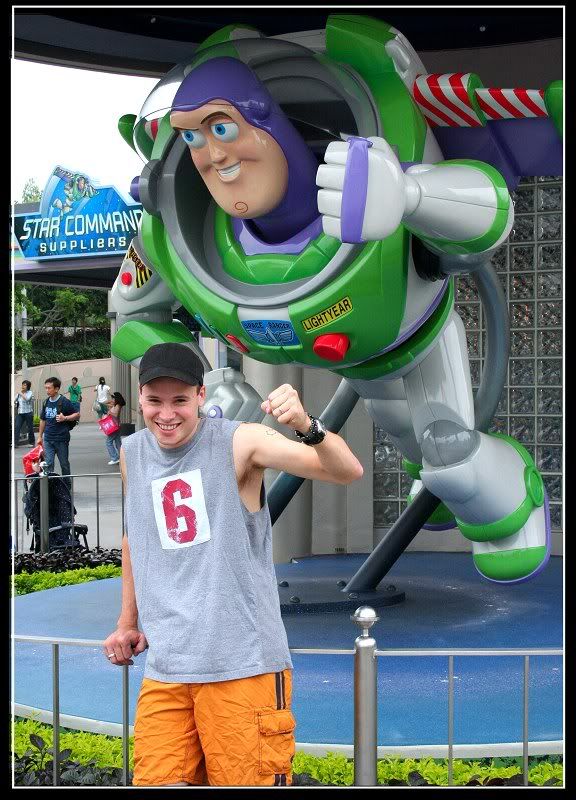 We also went on a really cute ride about Winnie the Pooh and the Blustery Day. Finally, we went to the Adventure Land and went on Tarzan's Tree House and the Jungle River Cruise where a very animated and funny guide led us through a narrated advenure on the man-made river. The River God got upset with us and blew fire at us and the baby elephant spit water at us from his trunk. It was pretty fun!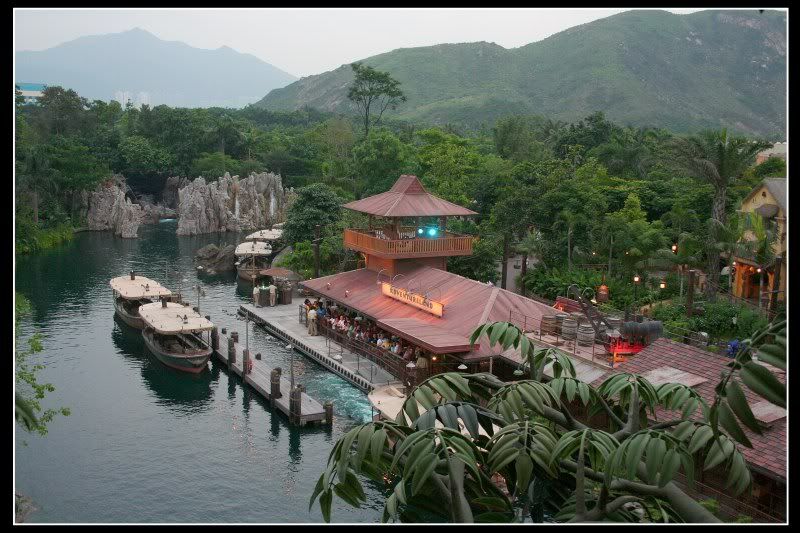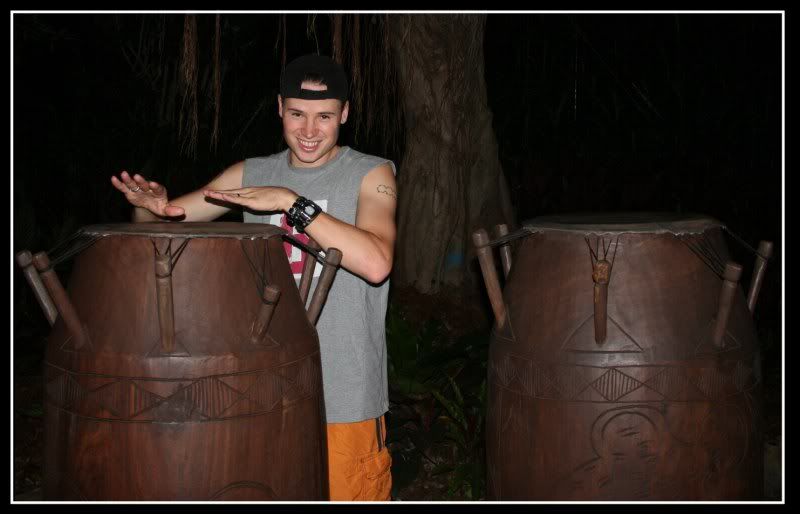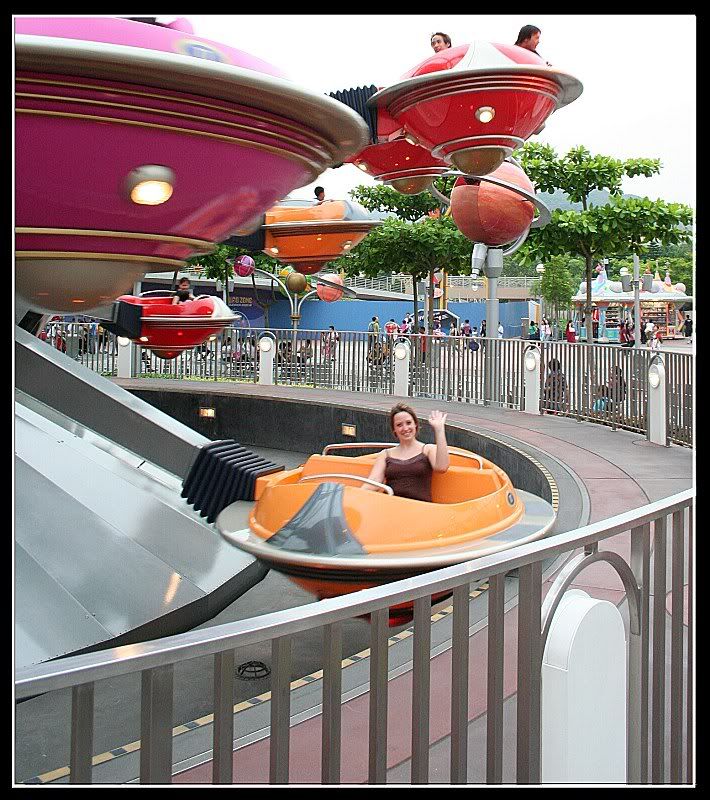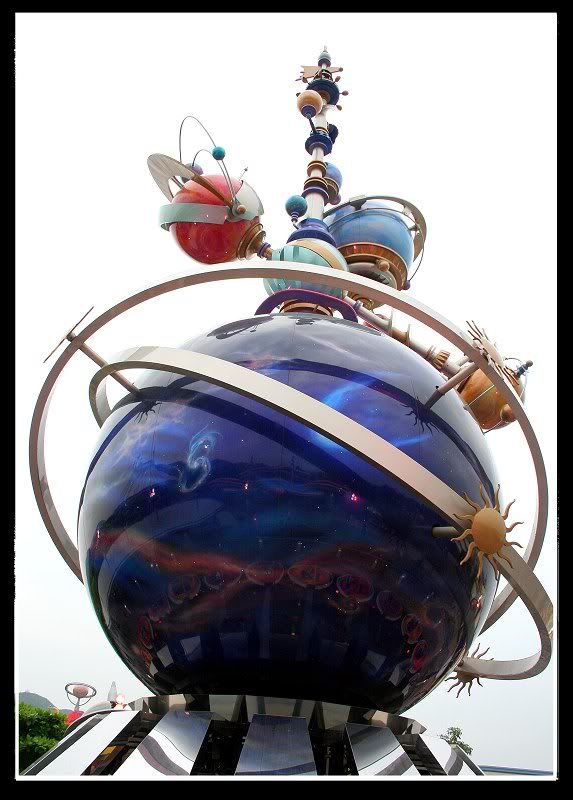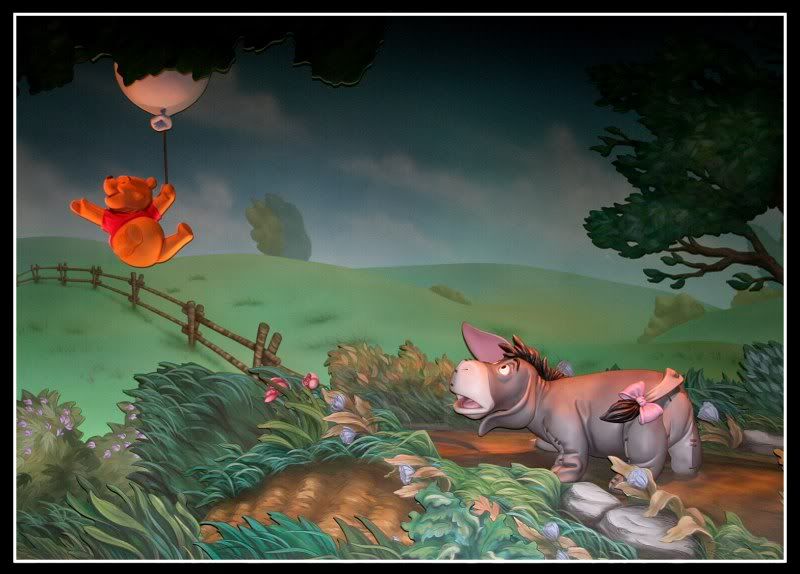 We ended the day by going to a few gift shops and looking for cute gifts and souvenirs to purchase before we left the following day. Darkness was starting to creep in over the mountains on our way out of the park and by the time we reached the outer gate, the fireworks show started up over the castle. We jumped up on a tall wall that no one else was on to watch the fireworks, which were really beautiful. After this we headed back to the hotel on the shuttle bus. It was such a wonderful time at the park. We both felt like little kids again and like we were in a magical land.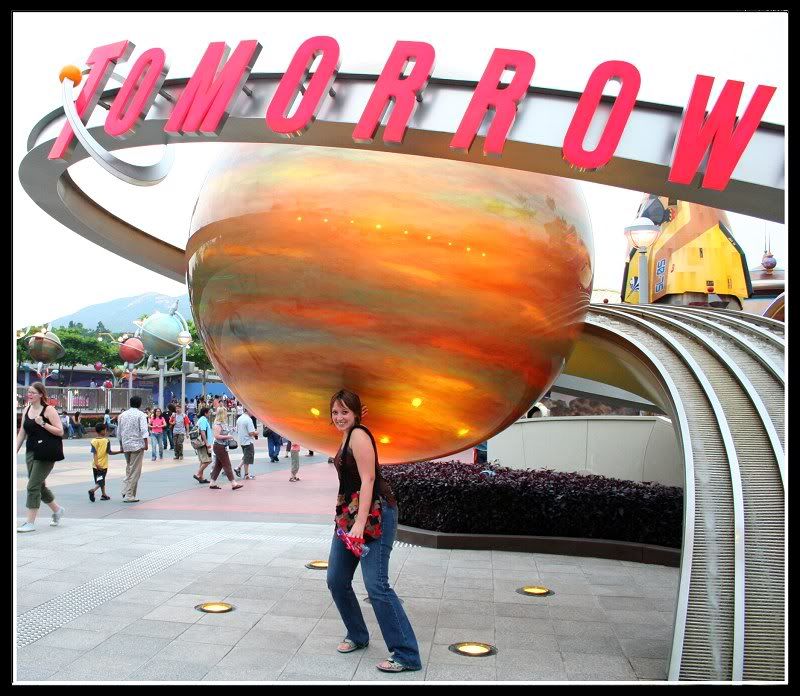 At the hotel, we changed clothes and decided to eat at the flagship restaurant of the hotel – the Crystal Lotus. The restaurant was beautiful, and the service was great! We had an amazing meal of smoked vegetable rolls with a very pungent spicy mustard sauce, a bean curd and mushroom entree and a mixed vegetable dish in a baked taro basket. Absolutely wonderful! We followed this up with Irish Coffees at the bar which was really awesome. The bar had a row of Absolute Vodka bottles lined up in front of an LCD display which was running a program which created flames coming up from the top of each bottle and every once in a while would blaze up into a big mushroom-cloud of fire. There were also LCD displays on the wall and floors of various fish swimming in it. There were some little kids trying to step on the fish which was really funny.
[The Crystal Lotus at the Hong Kong Disneyland Hotel...another 5 stars given out by Tim & Kendra. Those are LCD fish on the floor under the glass.]

[The bar at the Crystal Lotus. Style and elegance with wonderful service]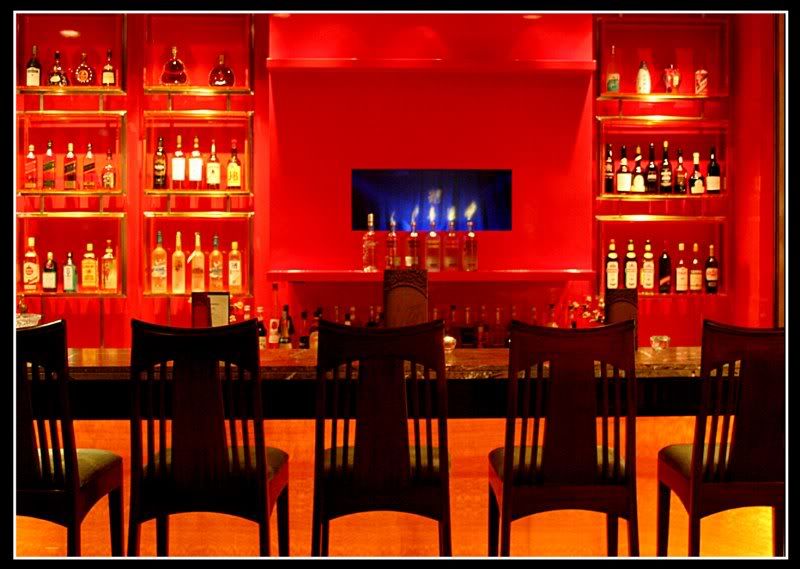 We went up to our room and got ready for bed. The news stated that there would be "squally showers" the next day, and we were hoping that this would not effect our last day at Disney! We fell asleep listening to Sesame St. in Cantonese.
Hong Kong Summary
Hong Kong Day 1 -
Arrival, Exploring Kowloon and Boat Tour
Hong Kong Day 2 –
Hong Kong, Lantau Island Tour and Night Market
Hong Kong Day 3 –
Hong Kong Disneyland!
Hong Kong Day 4 –
More Disney!
Hong Kong Day 5 –
Back to Manila (Escaping the typhoon!)