Hong Kong Day 4 (More Disney!)
8:00 am
: Phone rings
Sleepy Tim:
"
Hello?
"
(Voice of Mickey Mouse)
"
Hi! This is Mickey!. Guess what time it is? It's time to get ready for your magical day!
"
You can't really argue with Mickey Mouse, so up we got! The first decision to be made as we were getting dressed was where we will have breakfast. We decided to check out one of the buffets that was listed in the hotel information and see if we liked it. We were in the mood for eggs or something like that. The second realization was that I had not really packed enough clothes for this trip and had already worn quite a few of my outfits! So, even though the day promised "squally showers", I donned my bikini with my yellow beach pants and a pink tank top over it. Tim was laughing at me the entire time, wondering how I can take up 75% of the usable space in our luggage and still run out of clothes… oh well ! I told him he was being very not magical.
So, the unmagical one and I went downstairs to find the breakfast restaurant. The hostess told us that they have a buffet and that some of the Disney characters would also be coming around the tables to visit with the guests. This sold us and we also toured the buffet to see what was on it. I'm not sure if the term "buffet" was a good way to describe the situation. More like mountains of food from any meal from any culture all heaped on a 50 foot long winding table. Starting on one end, we found many types of fruit, deli meats, cheeses and mixed salads. Next to that were various cereals with every conceivable topping including jello, whipped cream and M&M's. Further down were cooked-to-order eggs, hot vegetables and Mickey Mouse shaped waffles and pancakes topped with chocolate sauces and syryp. In the middle was a great chickpea curry dish with fried flat bread. Down further were some Japanese foods such as miso soup and various Chinese dim sum dishes. There was also a small island in the middle with various types of bread, muffins and donuts. A well-balanced breakfast, indeed!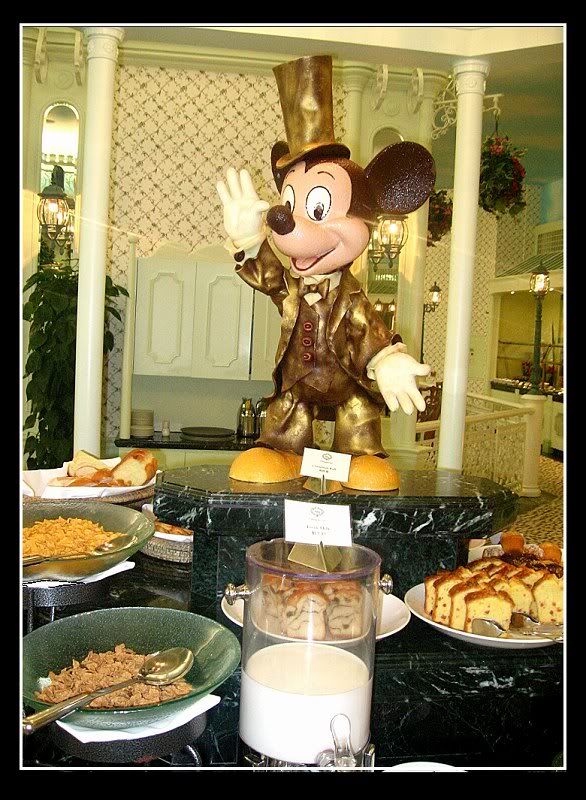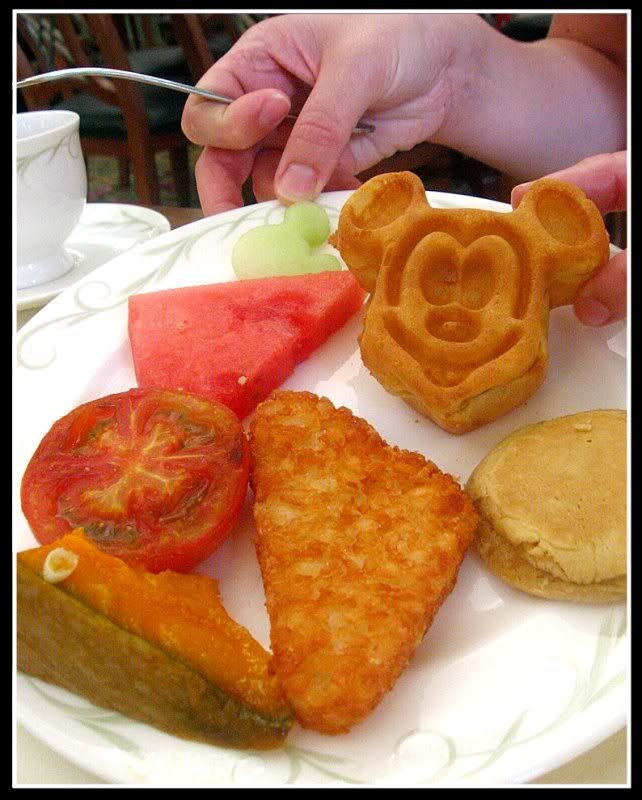 We got a lot of different types of the food, but I think Tim's favorite was his bowl of jello, fruit, cereal and chocolate sauce, which will come as a surprise to no body who knows him. We were seated at a large table overlooking the gardens and an elaborate maze of hedges from the Alice in Wonderland movie. Before long the characters started to come over and greet us. There was Mickey, Goofy, Pluto, and Daisy Duck! They were all really hilarious and we got some pictures with them. Mickey kept making motions like I was stealing his heart and giving me kisses on the cheek. Daisy was batting her eyelashes at Tim and making motions to say that Tim was very strong and was her hero. Goofy was trying to wipe Tim's tattoos off with a napkin and was making confused faces to the waitstaff about why they would not come off. It was all very cute!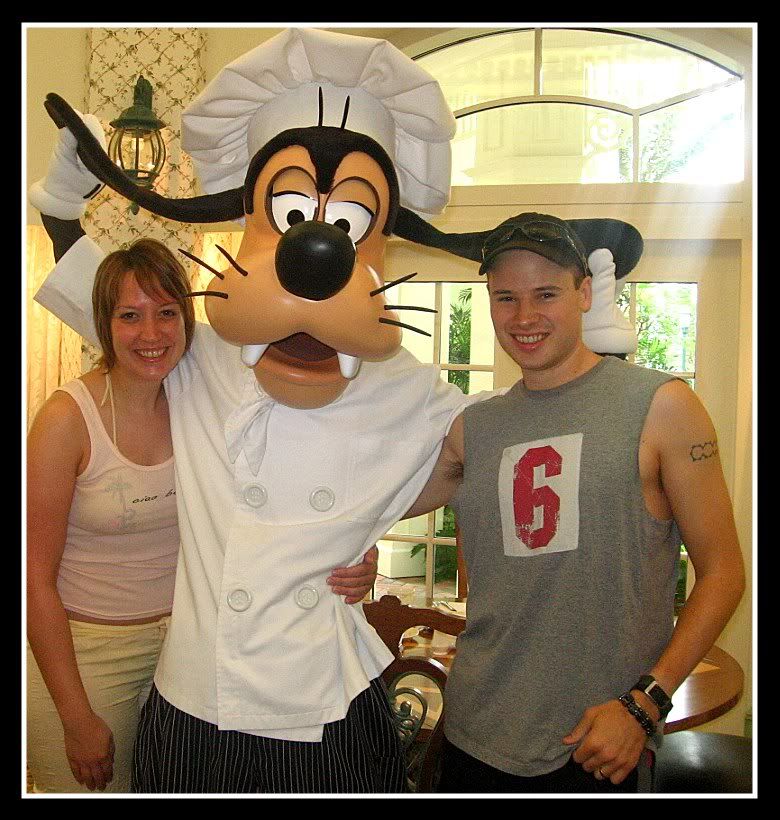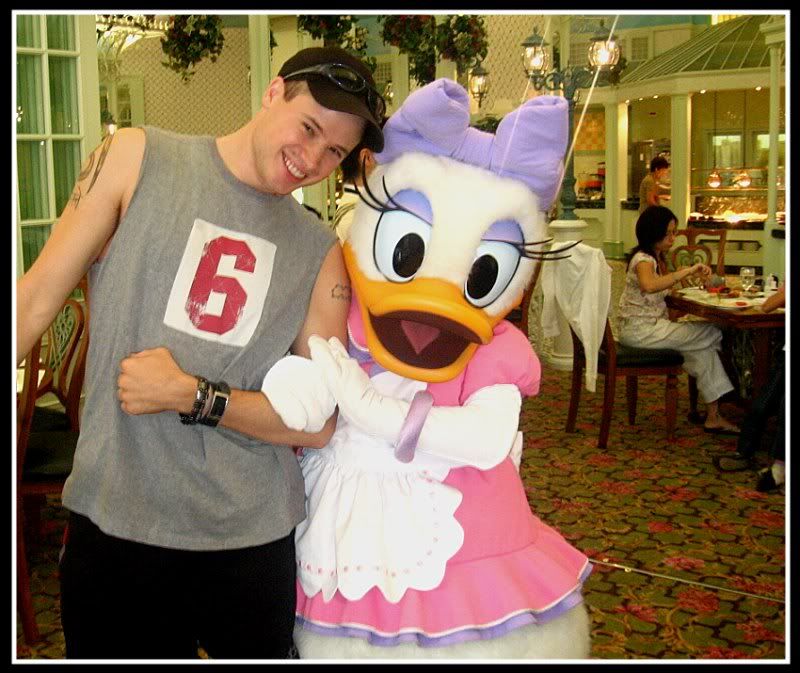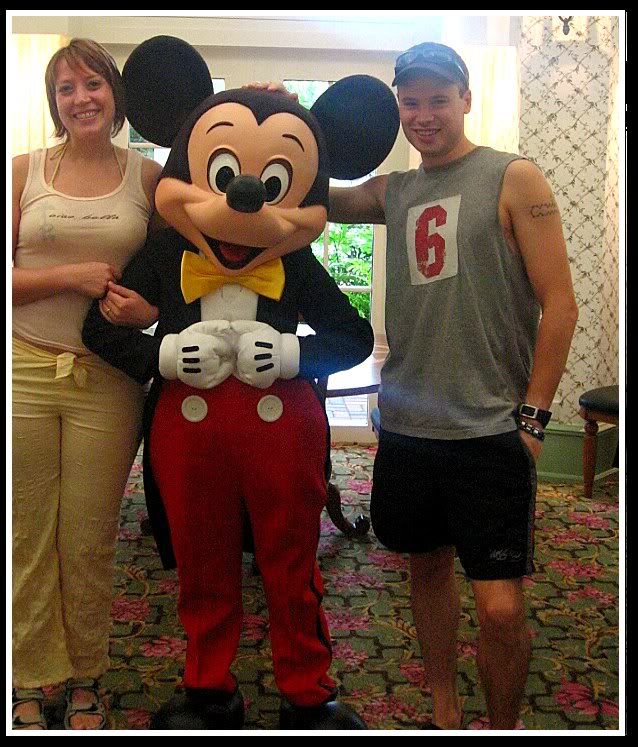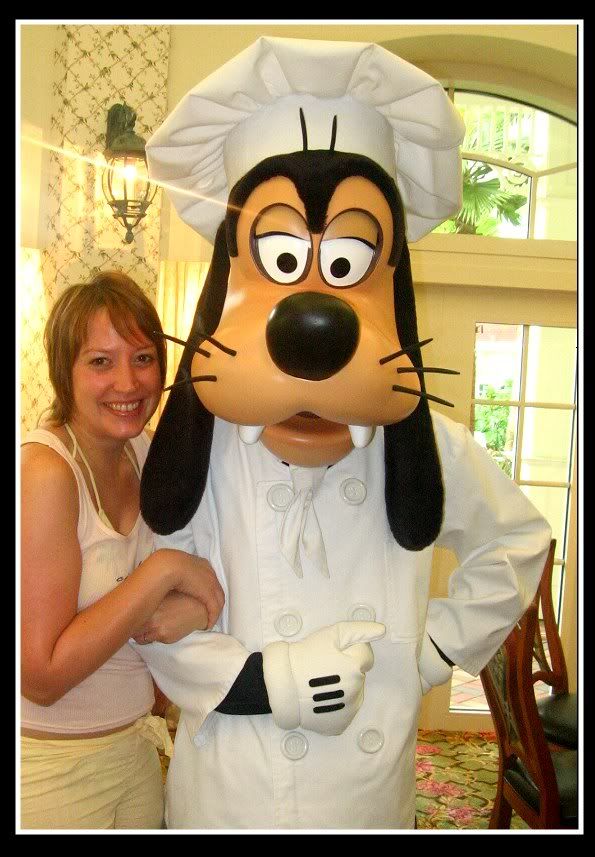 By the time we left, we were almost bursting with food so we decided to take a walk through the gardens first. We walked around in the maze made of hedges and around the perimeter of the hotel where we saw a kid's play area an an outdoor swimming pool with a water slide, which we definately would have tried out had the weather been a bit more summery. By the time we walked around to the shuttle to head back to the park, it was starting to sprinkle slightly and the sky was think with clouds, but still warm and humid.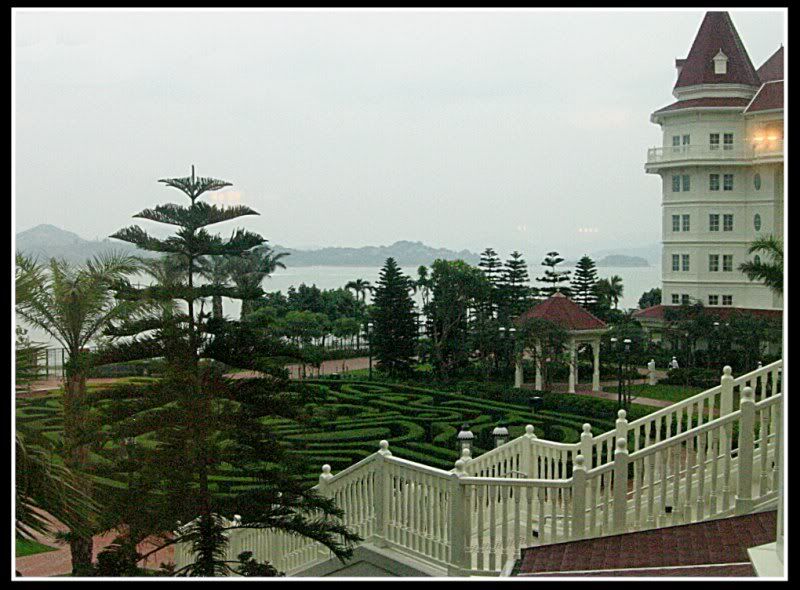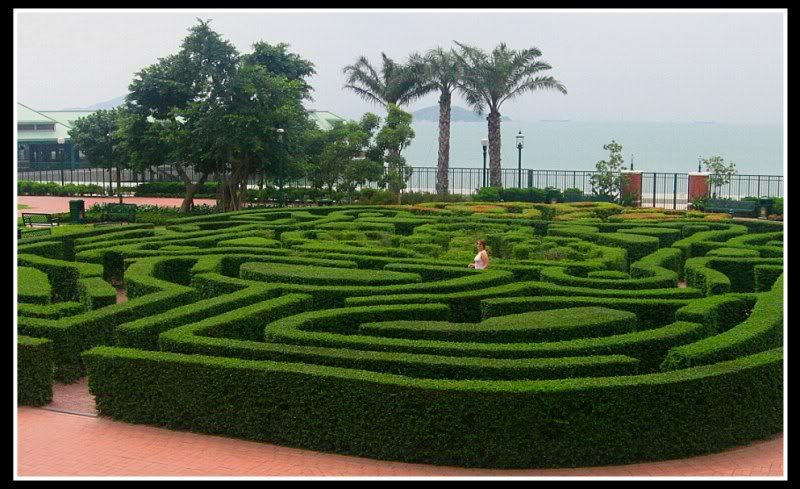 [Magic under construction]
We had decided that for this day we would focus on seeing all the shows offered at the park and doing more indoor activities due
a)
to the probable rain, and
b)
to Tim's adverse reaction to rides. We headed over to the Adventure land to see if we could get the FastPass for the Lion King show which looked really awesome. They told us that there was no need for FastPass and that we should just come back at 12:15PM. First, we stopped by one of the gift shops and got some cute magnetic tablets and a T-shirt for Tim which was very nice. We decided to head over to another section of the park to watch Mickey's PhilharMagic 3-D show that we had passed by the previous day. Contrary to the Space Mountain roller coaster, this was something that Tim was really excited about, but I wasn't so sure. But, nothing to lose! Might as well watch it!
They allowed a certain number of people into the waiting area for 10 minutes until the show was about to start and have us all some special glasses. We realized through our 2 days at the park that there were many types of people who do not consider it the least bit rude to shove other people to get ahead in line and also just blatantly cut in line. People would make comments at them, but they were completely nonplussed, seeming to find absolutely nothing wrong with that behavior. When we were ready to go into the theater, I had to grab as tightly to Tim as I could to avoid getting run over or getting separated by stampeding people. We were still able to find good seats in the theater and sat down to wait for the show to start!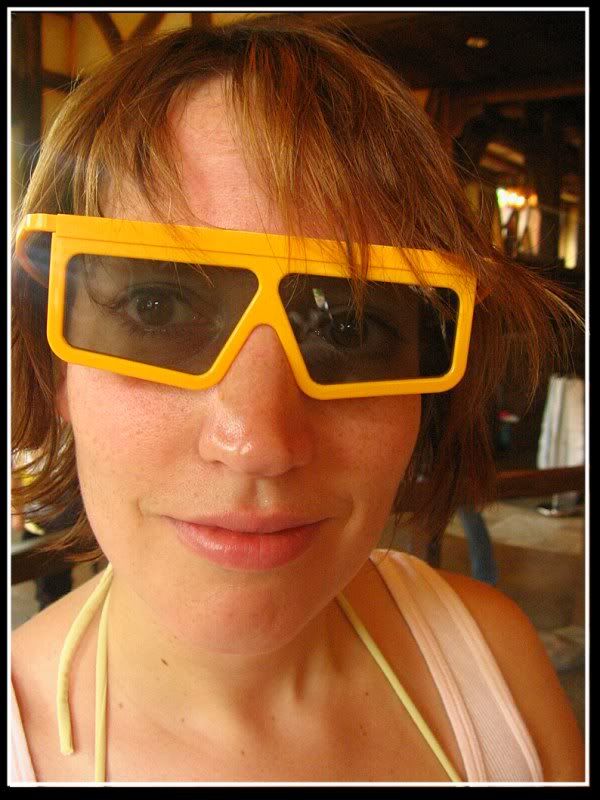 I had never watched a show like this before. It looked like your typical movie theater and started out as a normal-ish movie where Donald Duck was trying to conduct an orchestra and the instruments were not following orders and were just making a bunch of noise. Donald Duck became all upset and was banging his conductor's wand several times on the music stand. All of a sudden, his big hat (the hat from Sorcerer Mickey) flew off into a whirlwind along with all the instruments and Donald Duck. The show turned completely 3-D. A flute flew into air and came whirling towards us, almost hitting our heads and everyone in the audience jumped back and gasped.
The remainder of the show was Donald Duck running through several excerpts from other Disney movies complete with characters and music, and the whole time, he was trying to find his hat which kept jumping from scene to scene. In each excerpt from the Disney movie, items would fly out into the audience and interact with them. Everybody held out their left hands to allow Tinkerbell to land on it. Everyone put out their arms to Ariel when she came swimming toward them with outstretched arms. As the camera's point-of-view got swept by a wave, small water jets in the seats in front of us sprayed out water and we all got wet, and we could actually smell the pies that were being shown during the "Be Our Guest" song from Beauty and the Beast. We were almost run down by a flying magic carpet during Alladin and went swooping down from the clouds and racing thorugh an Arabian town. Eventually, Jasmine placed the hat back on Donald Duck's head and he returned through the whirlwind back to his orchestra where Mickey Mouse finally came out and conducted it properly. It was extremely cool!
After that it was time for the Lion King show to start in about 20 minutes, so we headed back in that direction. Like the PhilharMagic show, they allowed a certain number of people into a waiting area before allowing them to file into the theater. So, we waited 15 minutes in the corridor getting more and more annoyed at the same type of rude people we had experienced at the PhilharMagic. Finally we were allowed to enter and were both almost trampled by people who were literally running and shoving in order to get into the perfectly round amphitheater where virtually every seat was a good seat. SO AGGRAVATING!!.
We sat down in a seat near the front and were both pretty annoyed. The show also had a delay in starting (although they did announced that there was a delay). However, when the show finally did start, it was just amazing and we forgot all about our annoyance. The setup of the show was that the entire animal kingdom was going to put on a show for King Simba about his life. Four large floats came into the theater and spun around before being stationed in the corners of the theater to surround the show. One had the large grown-up lion Simba on a big platform surrounded by people dressed up like creatures. One of them had Poomba and Timon, One of the floats had big giraffes and other creatures and another had a large elephant. All of the creatures on the floats were with movable parts and they spoke. The other performers were people dressed up to represent animals such as birds, gazelles, zebras, other lions, etc. It was really awesome! There was some amazing acrobatics and stunts such as fire-jugglers. They acted out the story of the Lion King and sang the music. It was an incredibly moving and well done performance. You weren't allowed to use flash photography during the show or take video but Tim was able to take some photos to show you without the flash.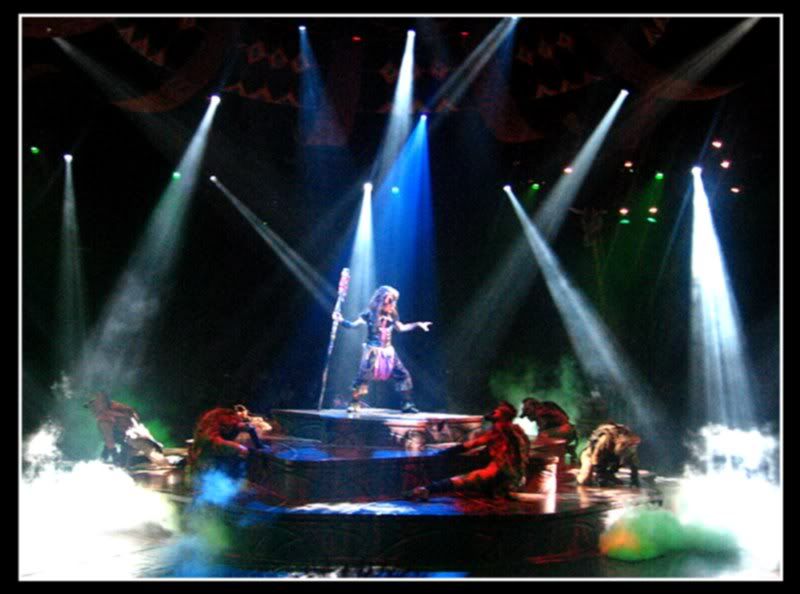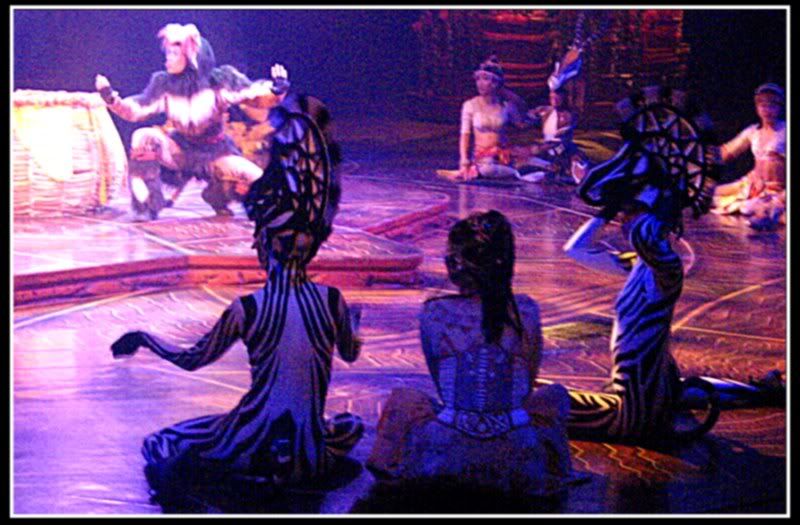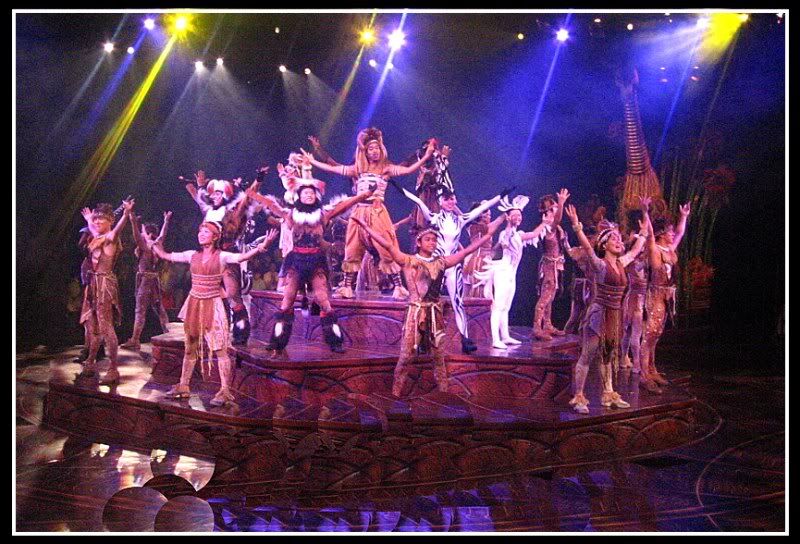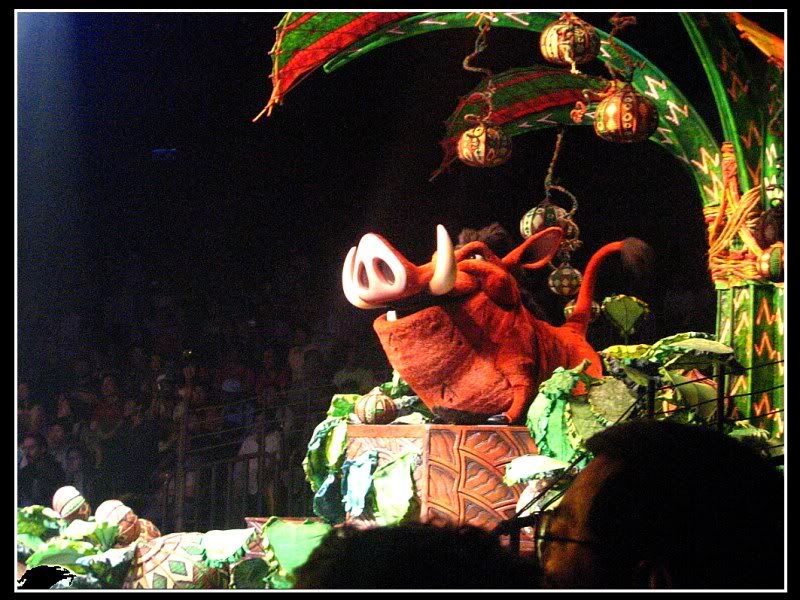 The final show we wanted to see was called The Golden Mickeys, which appeared to be a play in Oscar style of the various Disney characters and movies. The show was not ready to start letting people in for another 20 minutes, so we walked around the area a little bit and looked in another gift shop. I wanted some cotton candy, but although we could smell it, we couldn't find any. It was probably just as well, because it was still raining a little bit, which is not a great combination with cotton candy and we didn't have an umbrella. When we walked back, we were allowed to enter the line to wait for the show to enter, which was wrought with the same situation having people waiting in line and several people who didn't seem to know what a "line" was. This time, the woman behind us was getting very aggravated and started yelling at the people trying to push by her. It didn't do much good, but it made me smile at her.
Finally, we could go into the theater and we got pretty good seats again – along the aisle on the side section stage left. There were various songs acted out and performed in character from the Disney movies and it was really a great show! The characters also ran up and down the aisles at certain parts of the performance and Tarzan came by and got my shoulder! It was funny! (Although Tarzan was kind of scary looking. I am no longer used to seeing mammoth-sized Caucasian men who work out all day. Even though at home in Philly, a gym full of them is right down the street from our condo- that's going to be tough to get used to again).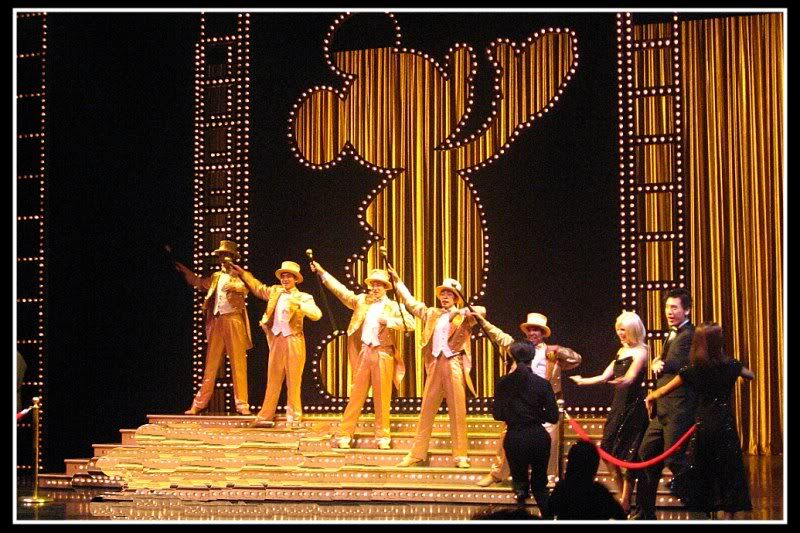 After the show, we thought it would be nice to watch the parade which was supposed to start in one hour, so we decided to have lunch at one of the cafes on Main Street which was along the parade route. We had a good lunch of but finished long before the parade started, so we walked up to the main gate to wait some more. Unfortunately, it was raining much harder by this time and the parade showed no signs of starting. We decided it was probably best to head back to the hotel.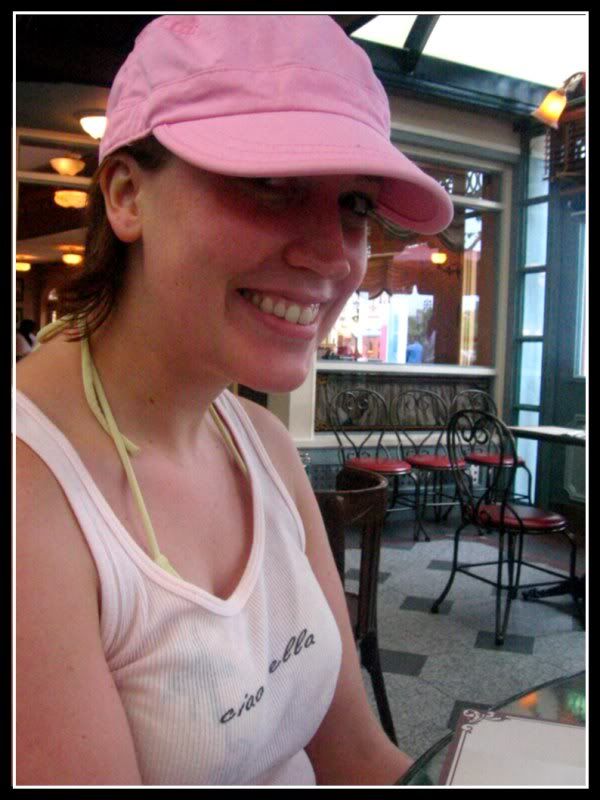 I was filled with sadness as we headed back past the entrance and down the street we had initially come through, passing the whale fountain and all the flags from the Disney movies. I was almost crying. I felt like the magical part of my life was over, and things would just go back to being difficult, complicated, and stressful. It was so very sad. Tim and I took a photo of ourselves near the exit banner being very sad.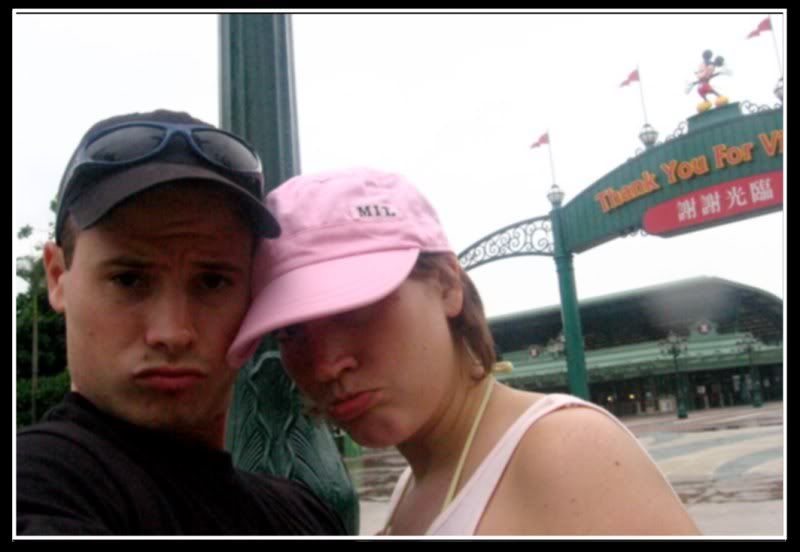 We headed for the bus to go back to the hotel, and tried not to be too sad. It was just hitting us that tomorrow we would have to leave for the airport and Manila. When we got back to the hotel, we decided to take a nap and catch some of the news to see what was going on with the typhoon. We woke up from our nap to dark skies, increasing rain and very high winds outside the window and decided to change clothes and get cleaned up for dinner, which we decided to have at the Crystal Lotus again. We had the same meal as the night before, except for instead of the tofu, they made us 2 special dishes of broccoli and
choy sum
. They were both SO delicious.
We finished our meal with Irish coffees again by the bar and again were a little bit sad. We knew that when the night ended, we would be on our last day of the vacation. After dinner we stopped by the hotel's business center to check on our flight status back to Manila, which turned out to be still on-time even with the typhoon. On the way back to our room, we stopped by the gift shop again for some final gifts for friends and family. We bought quite a lot of gifts there and then stopped by the Sorcerer's Lounge to order drinks and have them sent up to our rooms. We really did not want the night to end. We were very sad but also very sleepy. So, after our drinks we eventually we fell asleep to the sound of the wind and the rain and planned to do the rest of our packing in the morning. As a fitting end, when we turned on the TV as we were getting ready for bed, the Disney channel was showing
Robin Hood
, Tim's favorite, from 1973.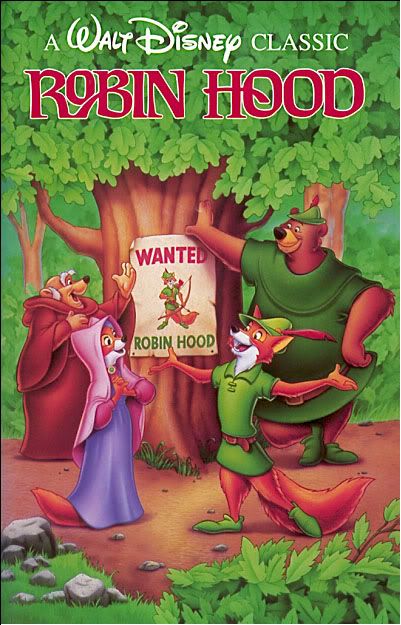 [Tim's Final Word about Disney]
: This was really a fun time! Even with not knowing all the stories and charachters, it was an absolute blast! The PhilharMagic show was amazingly cool and the Lion King show was top-notch! I loved the Buzz Lightyear ride and the Jungle River Cruise was really cute. As you've read, I'm not much of a roller-coaster guy (my brain tends to shut down, I stop breathing and I get a Cliff-Notes version of my life flashing for my enjoyment before my eyes), but it was a great time nonetheless!
And what was really interesting was the classy nature of the hotel. At alot of themed places, the theme becomes "
THE THEME
" and you'll be sick of it within an hour of arriving. On Valentine's Day in the Poconos, you'll be smothered with heart shapes, the color red and the word "Romance" till you want to puke. Here, Disney elements were certainly obvious, but done so in a way that was classy, humorous, interesting and fun.
I'd be willling now to try one in the U.S., but I really think that part of the "magic" here comes from the culture of efficiency and detailed, gracefully implemented service that we'd experienced previously around the city of Hong Kong and on Lantau Island. It'll be very hard to beat! This place is great!
Hong Kong Summary
Hong Kong Day 1 -
Arrival, Exploring Kowloon and Boat Tour
Hong Kong Day 2 –
Hong Kong, Lantau Island Tour and Night Market
Hong Kong Day 3 –
Hong Kong Disneyland!
Hong Kong Day 4 –
More Disney!
Hong Kong Day 5 –
Back to Manila (Escaping the typhoon!)