Hong Kong Day 5 (Back to Manila- the Home away from Home)
We had a wake up call set for 8:00AM again and this time it was Goofy with the wake up message! We showered and got dressed for breakfast and completed most of the packing. We had breakfast at the same buffet we were at on Tuesday, and the same characters were there and seemed to recognize us. They were very cute, and because the dining area was not as fully this time, we got the full attention of the characters!
After breakfast we walked around the grounds of the hotel a little more and Tim noticed that the outdoor pool had a really cool water slide built into the rocks. It was too bad the weather was so poor because Tim loves waterslides! We went back up to our room after a few final pictures of the hotel and finished packing. Although I was really hoping our return flight would be cancelled so that we could have an additional day at the hotel, we decided to go into the airport early just in case there were additional complications.
The staff helped us into a taxi and told the driver where we were going and our airline. Just in case we ran into additional trouble, they gave us a card stating in both English and Chinese– "Please take me to the International Airport – Cathay Pacific".
It was definitely strange for the driver to be on the opposite side of the front seat driving. Walking in the city was a little weird when you looked up at on comnig traffic and saw nobody in the driver's seat!
We looked out the windows at the scenery for a final time on the way to the airport and seeing the dark and stormy skies, we were still hoping we would see a cancelled flight when we got there. However, when we got to the airport, our flight was not cancelled and the airport was not very crowded at all, so we had quite a bit of time to kill (even considering our lengthy detainment and multiple questions about our visa status which lasted at least 40 minutes).
["Sure look's like a typhoon's gonna be rollin' in here"]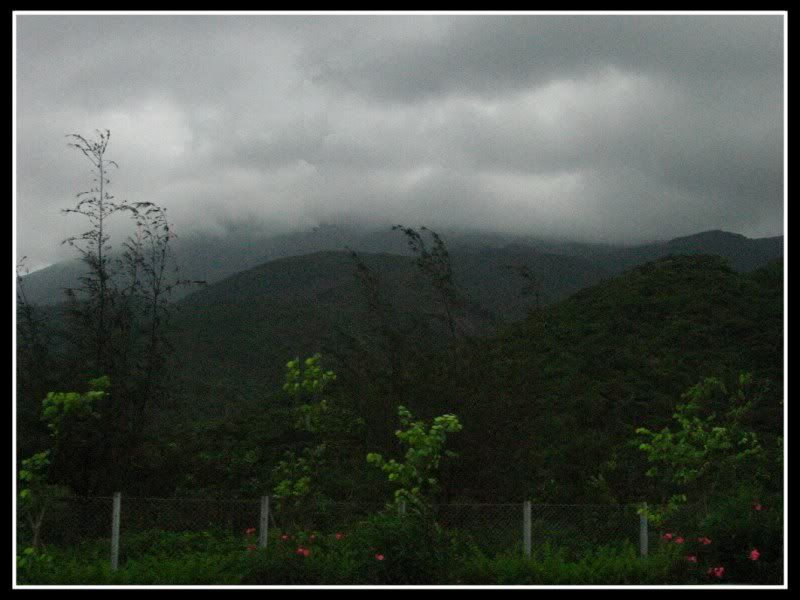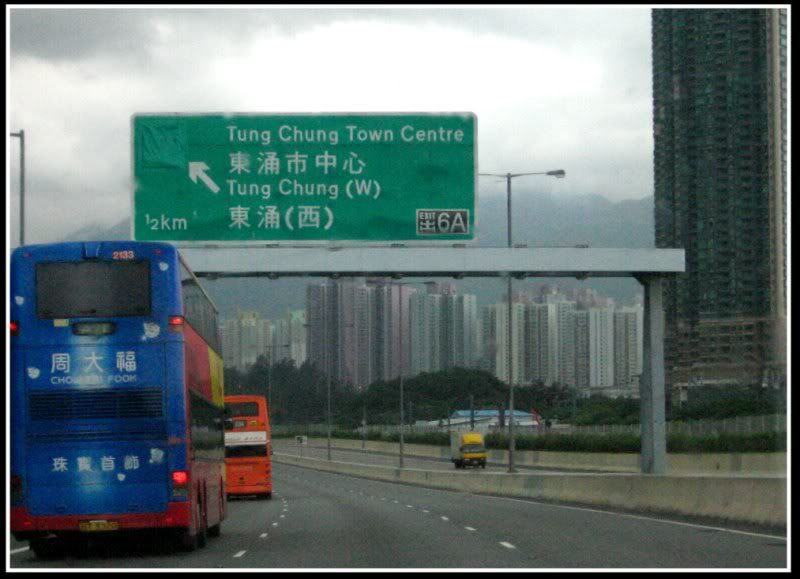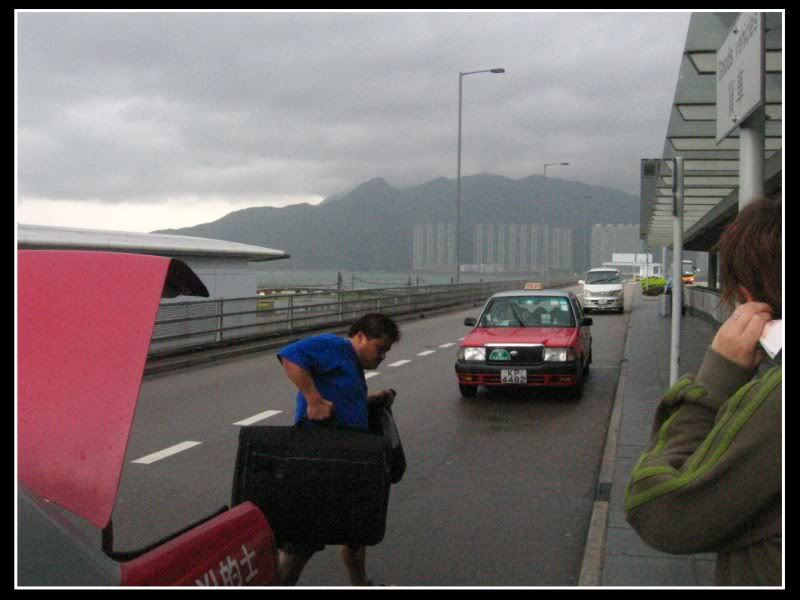 Killing time was no issue once we went through security, however. There were tons of stores, kiosks and eating places all through the terminal. We went into one of the more unique-looking shops and got some things for family. We were impressed at the sales people there- not pushy at all, but very helpful and informative about their products. We also had lunch at a pub there. I had my first veggie burger since the beginning of February. I was crying in the pub because I realized that we would have to leave soon. Tim tried to cheer me up. Eventually, it was time to board our flight. On the people mover on the way to our gate, Tim took a photo of us with "Smokey" – a stuffed Chinese dragon we got for my dad. We waited in line and boarded the plane and off we went!
The flight was somewhat turbulent, but it was OK. We received our luggage and went through immigration with no problems (thankfully!) and headed for the transportation desk to take us to the hotel. Our driver on the way home was very friendly, which helped. Maybe things won't be so bad for our remaining time here…
Hong Kong Day 1 -
Arrival, Exploring Kowloon and Boat Tour
Hong Kong Day 2 –
Hong Kong, Lantau Island Tour and Night Market
Hong Kong Day 3 –
Hong Kong Disneyland!
Hong Kong Day 4 –
More Disney!
Hong Kong Day 5 –
Back to Manila (Escaping the typhoon!)