Shopping for my newly acquired 20 children
After reading about our experiences with the girls at the orphanage, our friend and Accenture contractor, Chip, wired us a generous donation through PayPal to be used for clothes for the kids. This was a really cool gesture and means alot to both us and the girls in the home.
What this also means is that I (Tim) had the unique experience of buying large amounts of little girl clothing today. After breakfast, I crossed the street and headed into the SM Mall and the children's department. I started by looking for the types of things that we've seen them wear in our previous visits (not too hard, since we have dozens of pictures of them!). I found alot of really cool shirts, shorts, skirts and tanktops that I knew they would like.
I was having a good time, but was thoroughly confusing the staff on the sales floor. Like most businesses here in Manila, the store was wall to wall with sales people and each would greet me with "Good Morning, sir...what age?". My answer to this was "Well, anywhere from 3 to 15...and there's alot of them!". After about an hour and visiting various sections of the store, I had a substantial pile of pink, blue and white little girl garments with various cartoon and Sesame Street characters. I also picked up a half dozen well-constructed sandals (from our last visit and seeing them playing on the dirt pile, this was a neccesity!). It only felt weird when groups of over-zealous staff members started looking over my shoulder as I'm picking out robin-egg blue cotton shorts for girls!
Checked out, brought the loot home and spread it all out on the bed. A nice wardrobe indeed! We'll see the girls tommorow (Saturday) and they're going to love it! We'll be sure to hand it all over to the staff right away, because we know they don't share too well!! Right now, Kendra is making up some cards to use in a Pictionary-style game we'll try and play with them. Thanks also to everybody who sent us other group game ideas, and thanks again to Chip for his generosity and heart for little kids!!
[Here's Chip and his wife, Stefany. We're also brining a map of the U.S. to show the girls where Elizabeth, Chip and us live (D.C., Texas, and Philly, respectively]

[Alot of little girls are going to love Chip!]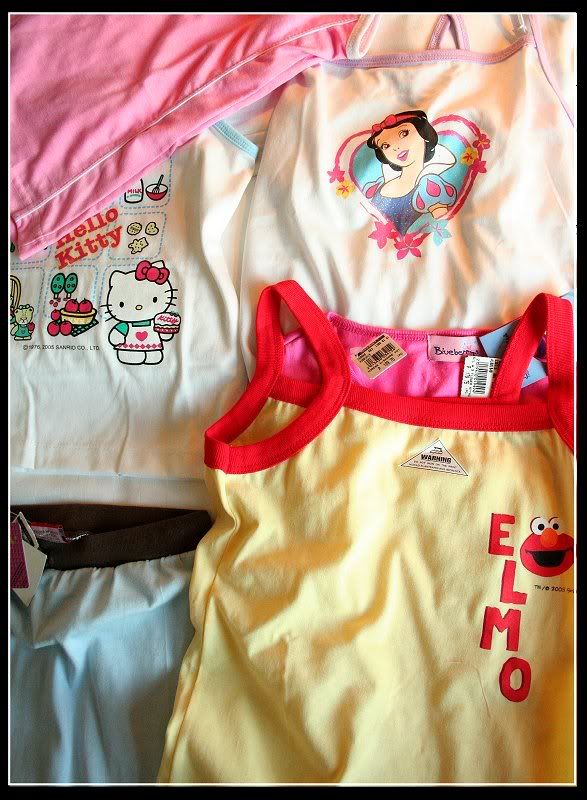 While we are there tommorow, we will ask the staff what other kinds of donations and supplies they can use, for those of you who also expressed interest in helping with the girls. We'll let you know!!
For more pics of the girls:
Kendra, Tim and Keysi
Tim, Elizabeth, Justin and Patrick


Elizabeth, Kendra, Tim and Justin