Baby Dedication and Barongs
[A dog who really wants to come out and play]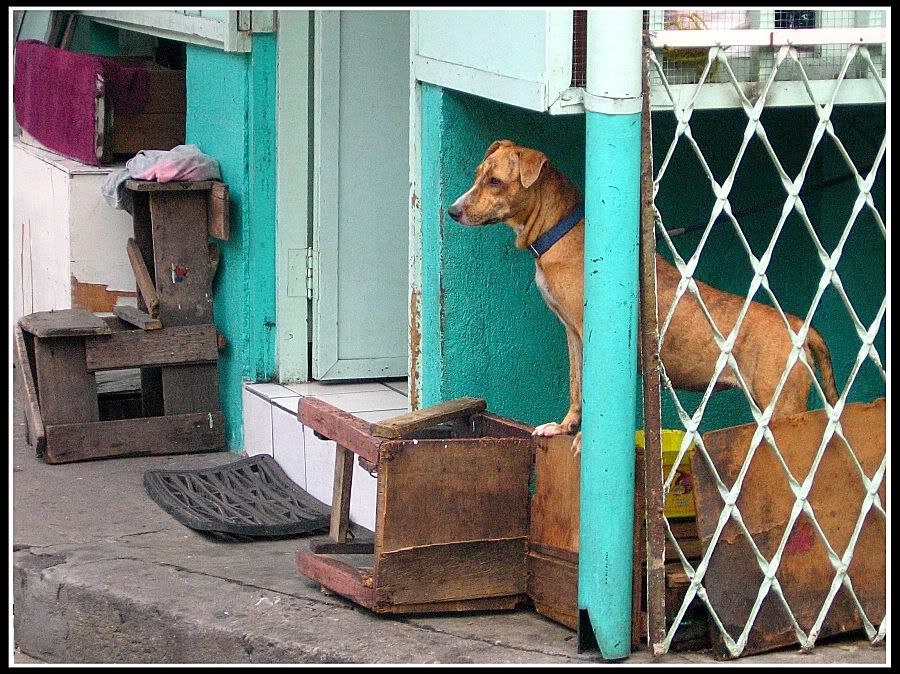 Today we were able to see the Repique's again. It has been quite a few months since our last visit, and it was genuinely really great to see them again. In addition to being a very loving and jovial family, they have one of the cutest little girls I think I will ever see. Crystel was her usual adorable self, and was even advertising it on her new dress sent to her by her Aunt Raquel and Uncle Jim from the U.S. She was also sporting the cutest pair of sneakers also from her aunt and uncle.
[Adorable]
As soon as we got into the car, she jumped onto Tim's lap and off we headed. We were going to Verna's cousin's house for the dedication of a baby for which George, her son, was the godfather. (Are you confused yet?)
We arrived at the destination after quite a long drive and passed a lot of interesting scenery on the way. Tim got a lot of good photos and I'll let them speak for themselves.
[Wooden bridge over a swamp]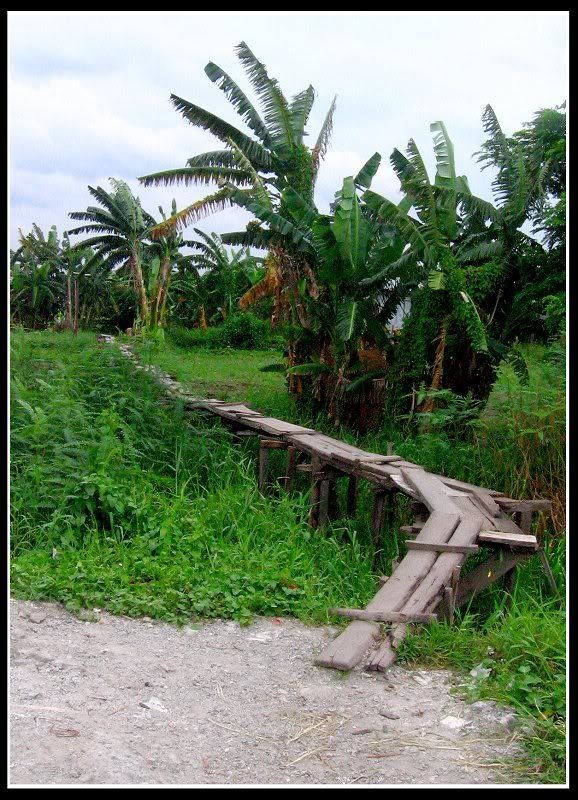 [Panorama of a village by a field]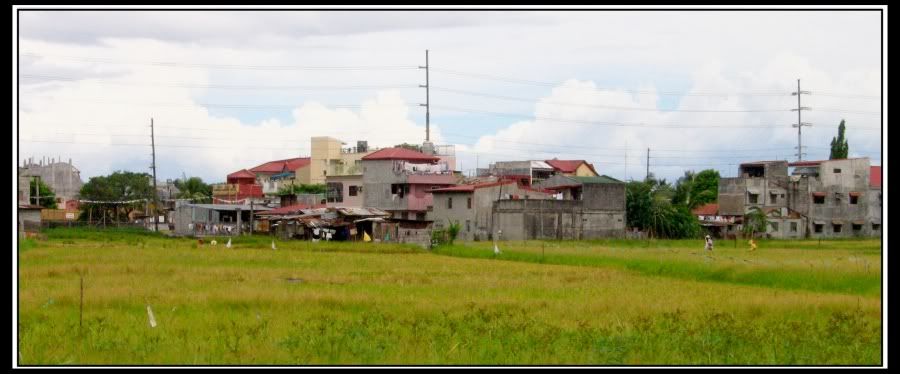 [Who says you have to buy a minivan once you have three kids?]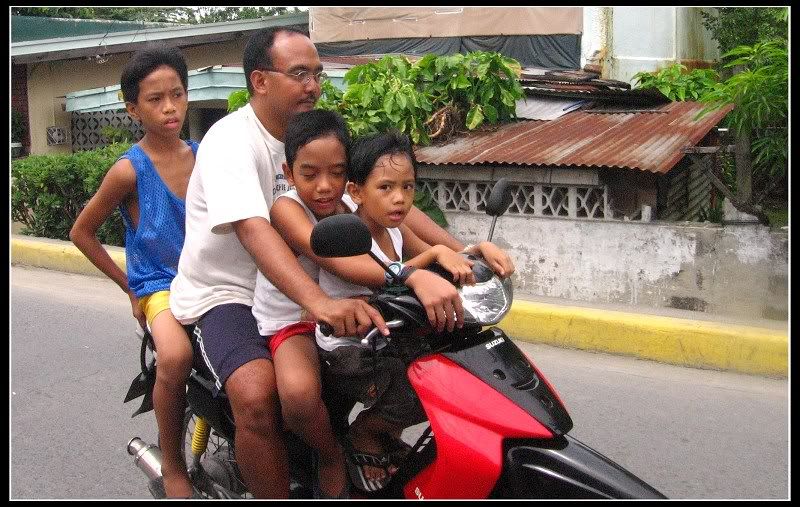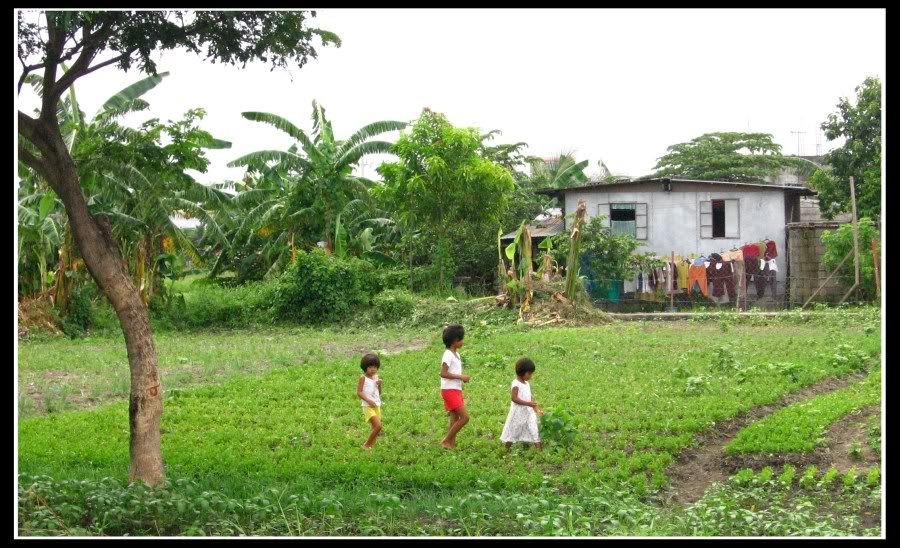 There was the usual enormous spread of food out when we arrived and people eating and smiling and greeting each other. They were playing rock songs from the 80's and 90's and George and I were singing along as usual. Before long, they brought us into the living room where they actually had a kareoke machine! George and I sang a few songs. (OK - George sang 10 songs very well, and I sang 2 poorly selected songs that were not exactly within my voice range).
[Posing with her new "Rubber Shoes".]

[George belting out the karaoke tunes]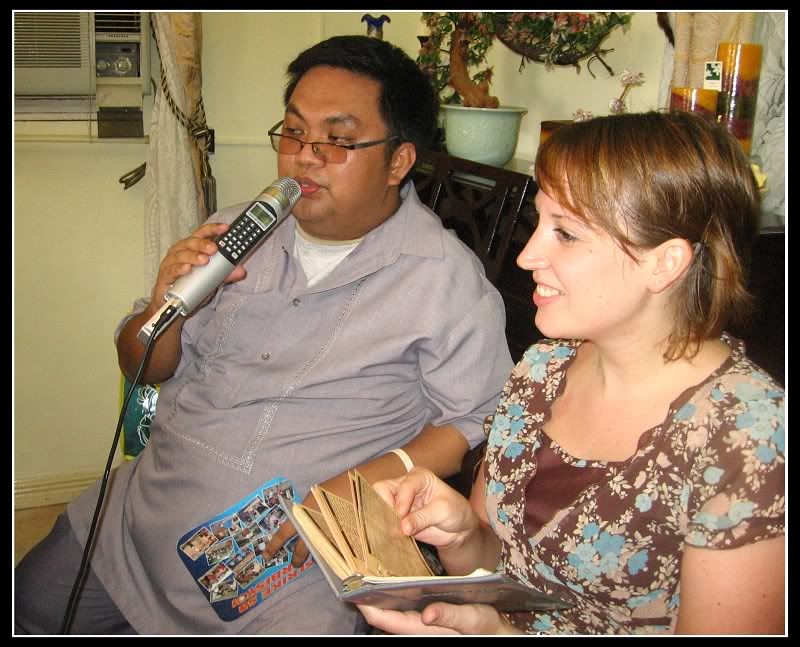 [George and his newly dedicated god-daughter]
[Bringing back memories of "Lord of the Flies"...
bon apetit
!!! ]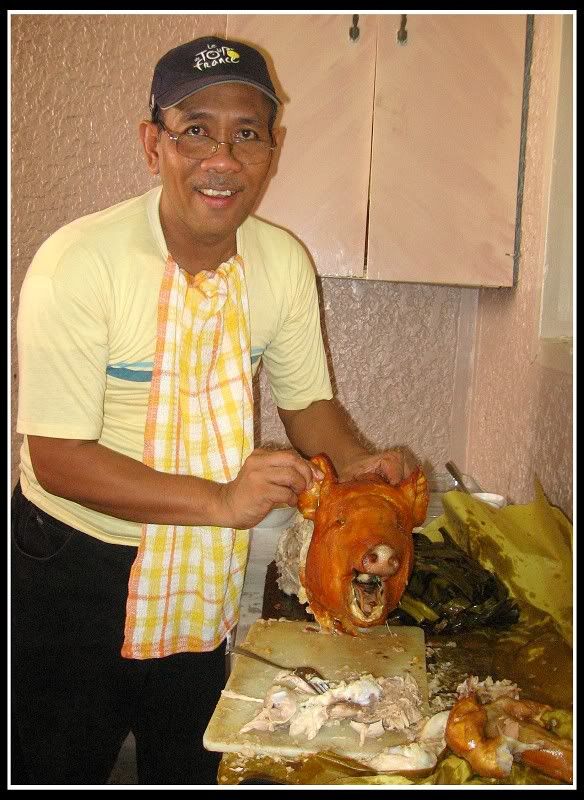 [Crystel and her Kuya :-) ]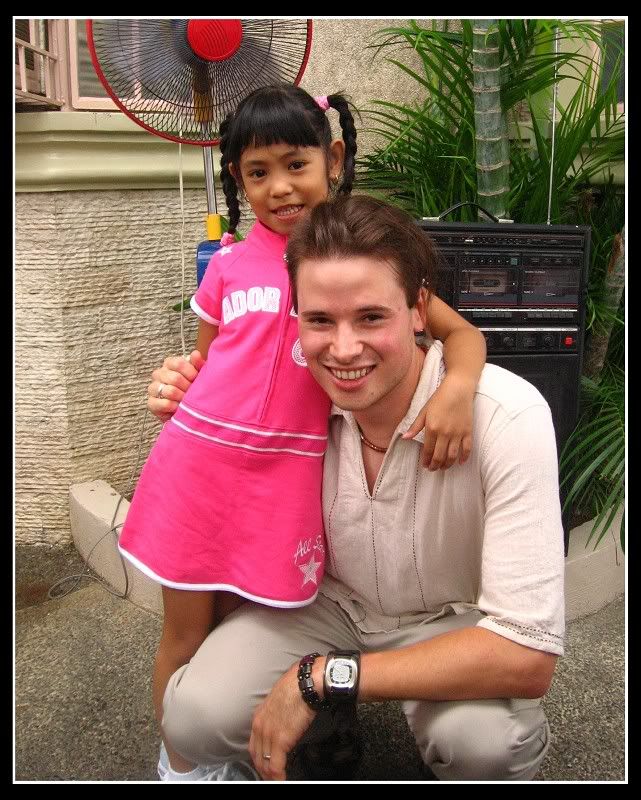 After a few photos of George with the goddaughter, some dialouge with some of the little girls who were very interested in who these white people were, and some dialouge with some very precious ladies who I think, again, thought that I had a medical problem preventing me from having children (I just usually smile at that, because I know they mean well), we headed for the car.
Maurice, the driver, had to do an 80-point turn after backing out of the driveway to exit onto the local road. The "driveway" to the home was a concrete slab, about 12 feet wide and elevated 3 feet above a marshy swamp with no curb. It was very impressive to say the least.
[Beyond the kid riding his bike into our van, is the concret slab we were driving on]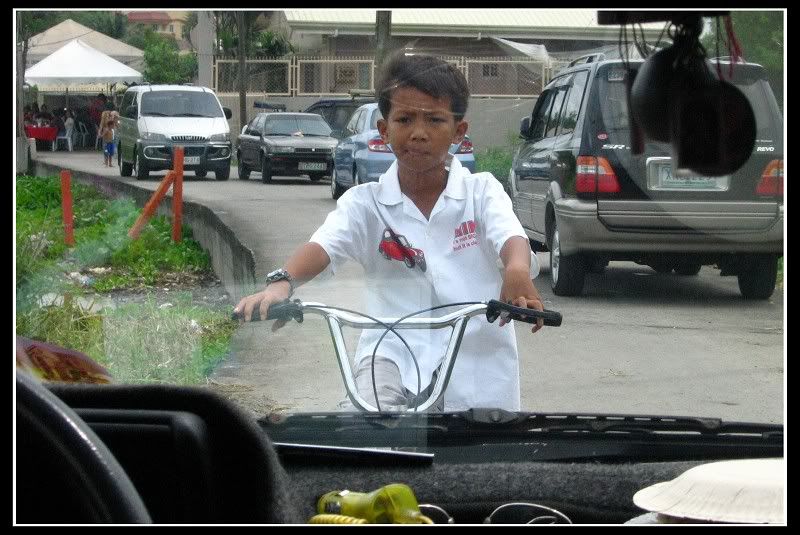 [Vanesa was kind enough to bring us out a drink before we headed home... very creative to say the least. Sort of gives a whole new meaning to 'a plastic baggie full of coke...' ]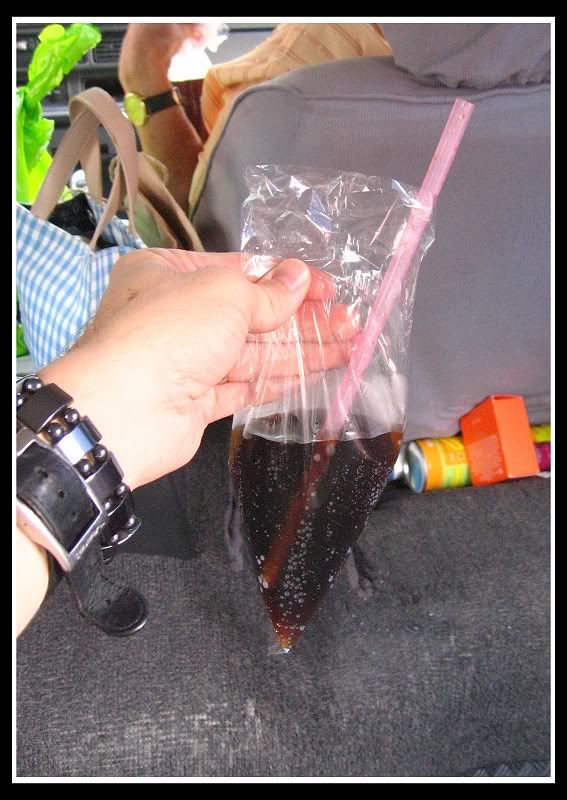 On the way home, Crystel crawled onto Tim's lap again and fell asleep. Verna handed me a large bag full of stuff for Raquel, Jim, my parents, and Tim and I. It was very precious. She had purchased a
barong
for each of us. I especially really liked the male ones; they are really handsome. The female barongs are very beautifully embroidered, and although I am sure that few people have ever seen me in something quite so flowery and frilly, I am really happy I have it as a remembrance of the Philippines and the Repique family,
Now Tim and I are at home and he is making something for us to eat. We will plan to have a relaxing evening at home and then tomorrow it is back to work!