Philadelphia, Family, Chicago, and Old Friends
Chicago is really a great city. It is big and clean and full of great things to see and do. 99% of the times I've been here I have been here for work, so I don't actually get to see many of those places, but I try to catch a few here and there.
Before I go on, you may be wondering why I am in Chicago in the first place. The answer to that is the same as the answer to why we have not created any blog postings for a week.
The evening of June 20, Tim and I took off from Manila to return to the US. Most of our family and friends knew we were coming back except for Tim's parents. We were coming back for a surprise party which was planned for their 40th anniversary before we had taken the Manila assignment. In order to make the surprise even more of a surprise, we decided to not let his parents even know we were back in the country. It definitely seemed to be a total surprise... more about that later.
We landed in Philly early morning on Wednesday, June 21st. It was SO GOOD to see Philly again. We were just so happy to be home. We got our luggage home (including our one casualty of a busted up suitcase) and excitedly lugged it all up the elevator. We got some teasing comments from our concierge who had not seen us for 5 months.
We opened the door to our unit and were smiling so much. There are so many little things about your house that make it your house. Some of the funny things that we noticed more now are how large our oven/stove is, that our counter tops in Philly are higher (probably about 5-6 inches higher), that Tim and I love artsy clocks and really do have a ton of them, and that we were very happy to be home. My uncle had also installed a HUGE ceiling fan for us while we were gone, so for all of you who have been bothered by those wired hanging from that hole in our ceiling, that problem has been remedied :-)
My mom had been keeping an eye on the house and so it was of course cleaner than it has ever been. I think I am a good house keeper, but my mom can get almost anything sparkling. Tim was very impressed by our clean stove. One could wonder why our house needed cleaned 5 times when we left it clean, but that is just my mom :-)
Although we were tired, we had a lot of work we had to finish before the party. We started by unpacking and putting things away and organizing our many gifts we had purchased for people. We were going to try to stay awake all day (I had taken this day as PTO) and then sleep at normal time that night.
We organized our things the best we could and later that afternoon, my parents came up with our car, which they had gotten from Gene and Darlene on a ruse. We had chinese food with my parents and I showed my mom the many scarves and gifts we had picked out.
They left after a few hours, and Tim and I cleaned things up a little and then laid down to try to get some sleep. We really would not sleep well for 3-4 nights, but we did get a little sleep.
Thursday, I had to work and Tim set about making sure he had all the photos set for his parents party. But we did start the day off with a walk to starbucks and around our neighborhood to see what had changed. Several things did change but most of it was the same.
Friday we started with the dreaded major dental work. Before we left for Manila, the dentist located several problem areas which we decided to get fixed. Note to all our blog readers: Novacaine and Jet Lag are a terrible combination. I was in pain, shaky, sick to my stomach, and twice as tired.
But, the show must go on, and off we were after the dentist to Elizabethtown to see my sister and mom. My sister is a hair dresser, and she trimmed my hair and colored it. She did her usual great job. Mostly, it was great to see her again. Jen is a squealer, and we were really afraid that Tim's parents would know we were in town, attracted by the sounds of Jen squealling. (Tim's parents also live in Elizabethtown - a fact which will become more poignant shortly).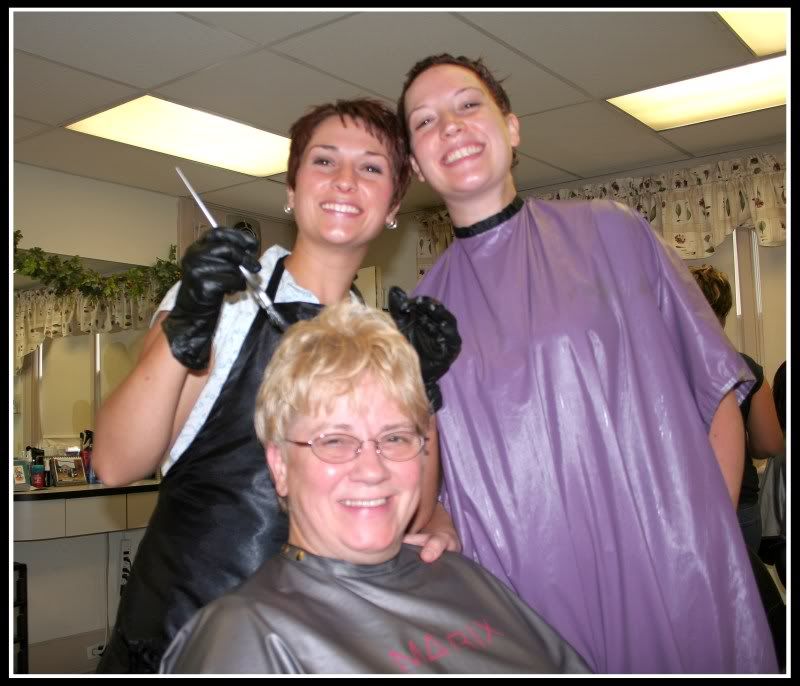 After the festivities with the hair and eating some very late lunch, we needed to head over to see my sister's new house and get ready for dinner. We were planning to meet my dad and Jen's husband, Jason, at T.J. Rockwell's. On the way to Jen's new house, we turned onto the street Gene and Darlene live on. Tim and I immediately realized we were going to drive right past their house and were a little nervous about this. Our nervousness quickly turned to panic when we looked up and jogging right into the car on Tim's side was Gene!!! Oh no! Oh no! It turns out he did not see us, but this was very strange and caused us to be worried for a day until we saw him at the party!
Dinner that night was very nice. It was great to see the family again and spend time some talking. Tim and I were incredibly beat though. These long flights can make you feel so exhausted that you feel literally sick to your stomach.
[Kendra and Momo at T.J. Rockwell's]

[Jen and Jason at T.J. Rockwell's]

After dinner, Tim and I headed to the Harrisburg airport to pick up Aunt Marilyn who had flown in for the party. It was great to see her as always! (Aunt Marilyn is Darlene's older sister).
That evening we returned to mom and dad's and we got to see our little Elora again! Yay!!! She is so precious. I think this first night she was a little mad at us, but in the next days she would warm up and be her normal snuggly self.
We tried to sleep, but did not really succeed at all.
We woke up bright and early Saturday morning. My mom cooked us a nice breakfast, and then we headed off to Palmyra to see Sara and start getting set up for the party. It was a really great time seeing Sara and her friend Sam again. Also, it is always a great experience to work together on something like the party. We had helped Sara as much as we could with invitations and the photos before leaving, but once we were in Manila, Sara had been handling all of the logistics and I had set all the response cards to come to her, so she had her hands full. We were glad to be back where we could help again and transform the fellowship hall into a beautiful place.
After several trips to pick up more items, discussions over room set up and A/V setup, we headed back to Sara's to get changed and ready for the big evening and were all very excited!
The party turned out to be such a huge success. There were a little over 80 people there and everyone seemed to have a great time. When Gene and Darlene were brought into the room initially, Sara was at the podium and brought them up to the front of the room. They were shocked then. She then said Tim and Kendra have sent along for you some gifts and there is a special person to deliver them. Out walked Aunt Marilyn, and then they were more suprised. Then, Sara was explaining to the audience that Tim and I were in the Philippines for 5 months and Gene and Darlene started opening the gifts, and then Tim and I walked out! And then there was the maximum amount of surprise.
[Gene and Darlene cutting the cake...at about the very same spot they were back in 1966!!]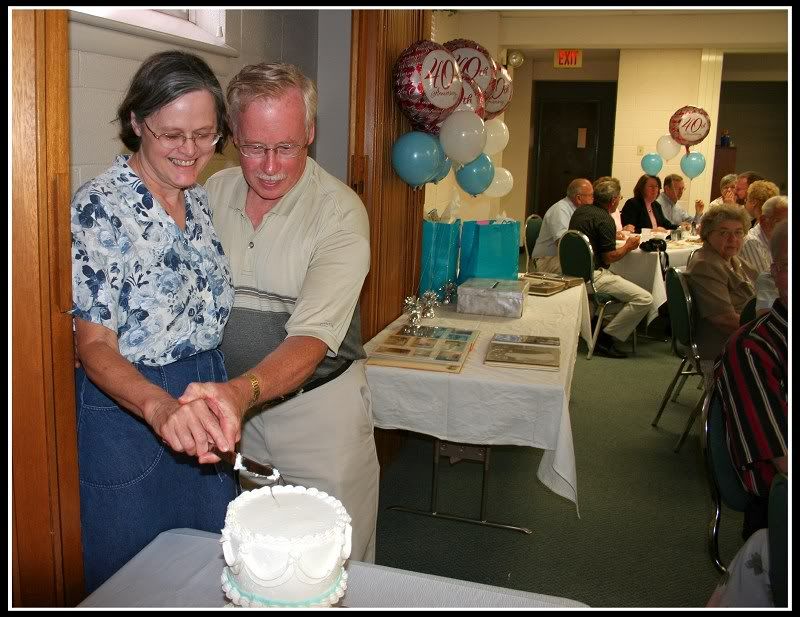 [And there it is...40 years and so many memories ago!! Thanks to everyone who came to the party and made it a huge surprise and a happy success!! Thanks to Sara and Sam for the planning and setup and Congratulations to Mom and Dad!!]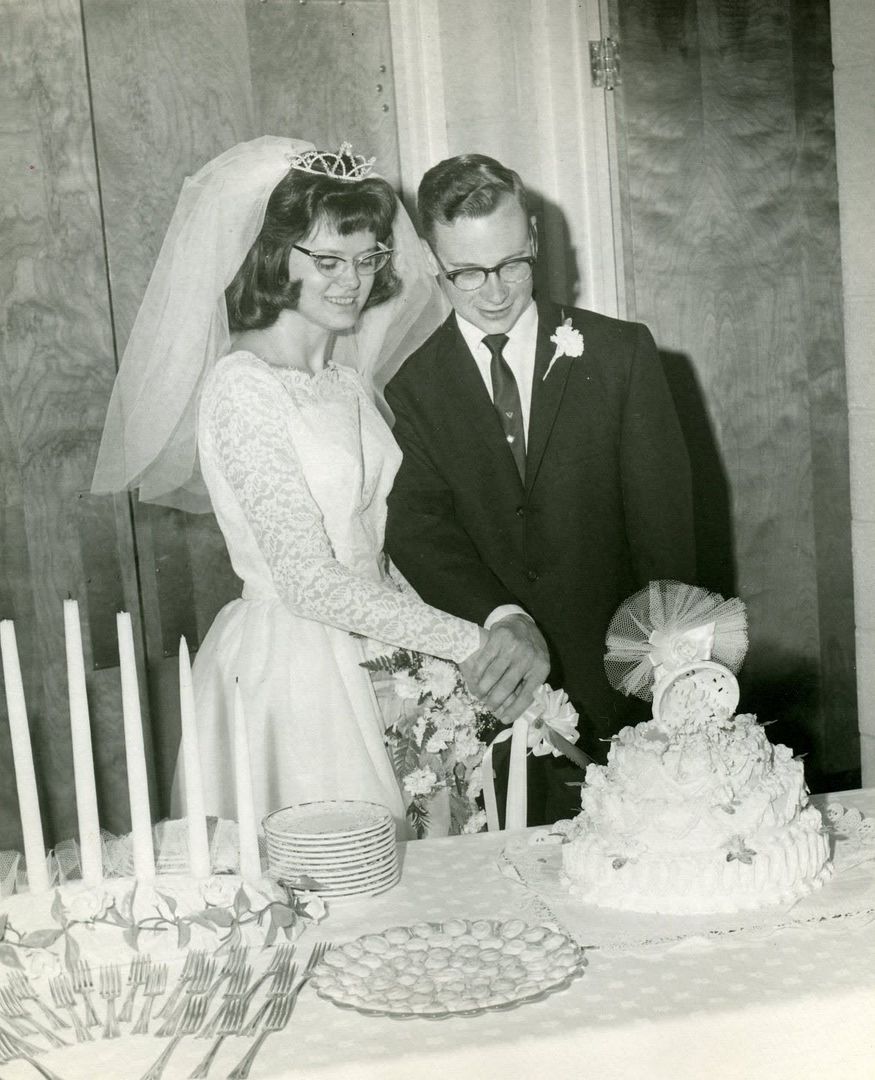 We spent most of Sunday with Tim's family, including a great lunch that Aunt Marilyn took all of us to at Flaver's in Elizabethtown.
Sunday afternoon we went to visit my Dad's parents, Mo and Fo. It was great to see them again, and we got some rare photos taken of all of us together. Fo is still in the Drum and Bugle core, which is so good for both of them, and they are both on a special diet with fruits and vegetables, and look great.
[Kendra with her grandparents]

[And adding Don, the son and Faye, the daugher-in-law]

[Father and Son in the backyard]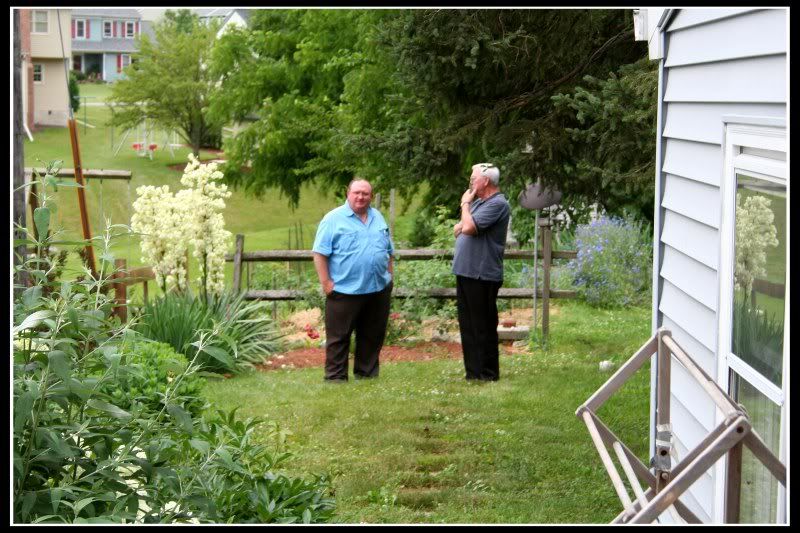 Sunday evening, against my body's advise (because I was falling over with exhaustion) we went to Jen and Jason's house for a great meal. Jen and Jason cooked up every type of grillable food there was, and Jason was a good bartender. Their new house is really awesome, and I'm very happy for them.
This week, I had to travel to Chicago for work. It has been good to see my co-workers again, and I even got to see some people from my previous projects that I have not seen in awhile - Jeff Harper, Rob Fuhrmann, Rob Friess, Abbie Terrill. It is great to be able to reconnect with all these people, although I fly back to Philly tonight, and I'm happy for that.
Tim has been getting some work in this week at IMS and has been kept very busy. Next week, he plans to take a day and visit his family again.
So, that is what is going on with us! We fly back to Manila for our final month at the end of next week.