Things of (Semi) Interest
[a friendly reminder from the Metro Manila Development Authority]


Today we are watching the Germany vs. Poland World Cup match. It's amusing to watch because both sides are full of complex, 3- syllable names that the announcer has to try and say really fast.
("Schweinsteiger has the ball...he passes to Mertesacker, but it's stolen by Gancarczyk...he shoots...glancing off of Baszczynski for the goal!!!")
Last night we tried out a new place for sushi take-out. The pace was called "Zen" and it's over by the Shangri-La hotel. Pretty decent sushi, no avacado maki, but a few good tofu selections, edamame (a Kendra staple) and vegetable tempura.
There was really cool sunset tonight. I took a shot out of our window- I don't own a tripod yet, so the focus isn't so sharp at low light, but it shows off the colors.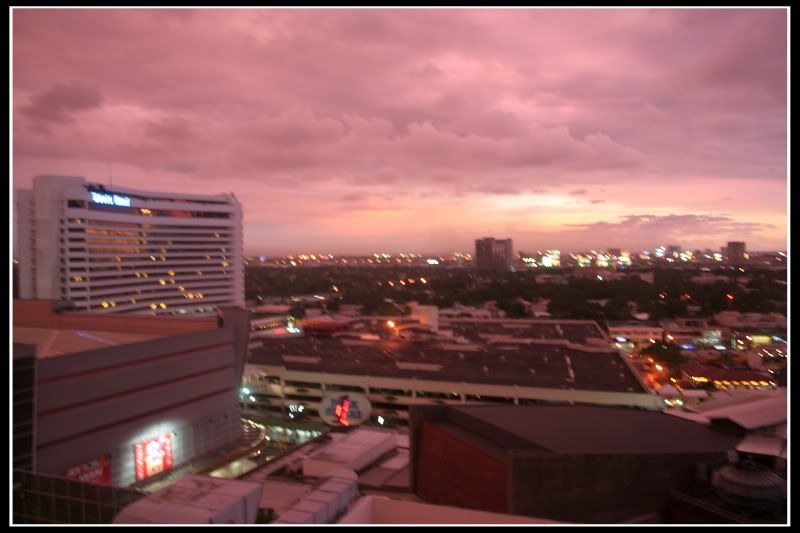 The Plastic Bike. This is a highly mobile, plastic store on wheels. Chairs, brooms, buckets, hangers- all on one tricycle. You just have to find him!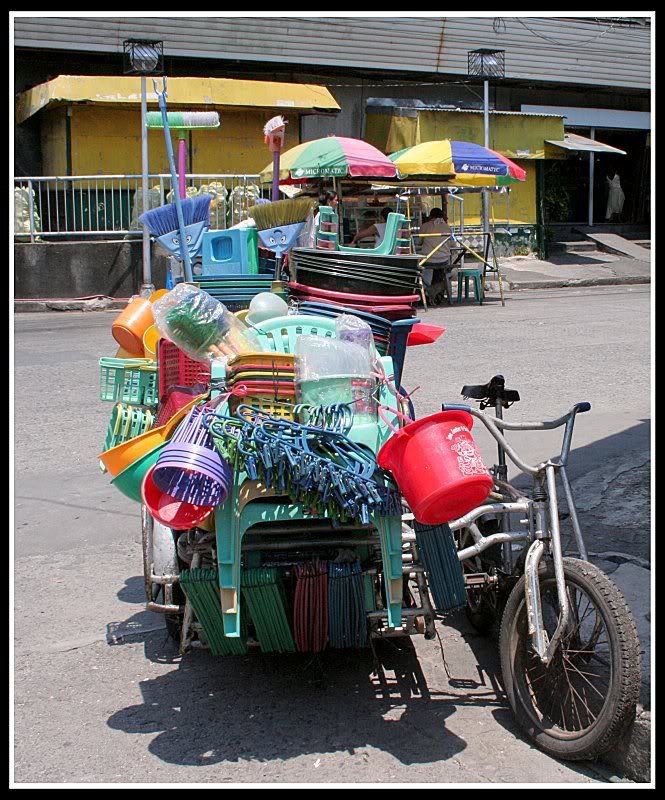 Kendra has discovered her new "Top One" store here in Makati. ("Top One"= "Favorite" in Filipino slang) It's called "People are People" and has a similar style to some of the boutique shops in
Old City, Philadelphia
(sort of like Lost & Found, Molletta and G*Mart, but at about 3/4ths of U.S. prices). She's been telling me that I would like their style there, but I hadn't visited yet. Last week, she had been checking out a particularly funky t-shirt design (for me) that was on a manneqin in the store window. Yesterday when she passed by, the shirt was no longer out in the window, so she went in, inqured about it, and found it on the sale rack for a third of the original price (and in a size Large- amazing!). Way to go! (Even with the cost savings, I'm glad we only have 2 months left, or we'll need yet
another
suitcase on our return!!!)
[Bamboo is often used for scaffolding materials at construction sites- and for these guys it doubles as a fine place for a siesta]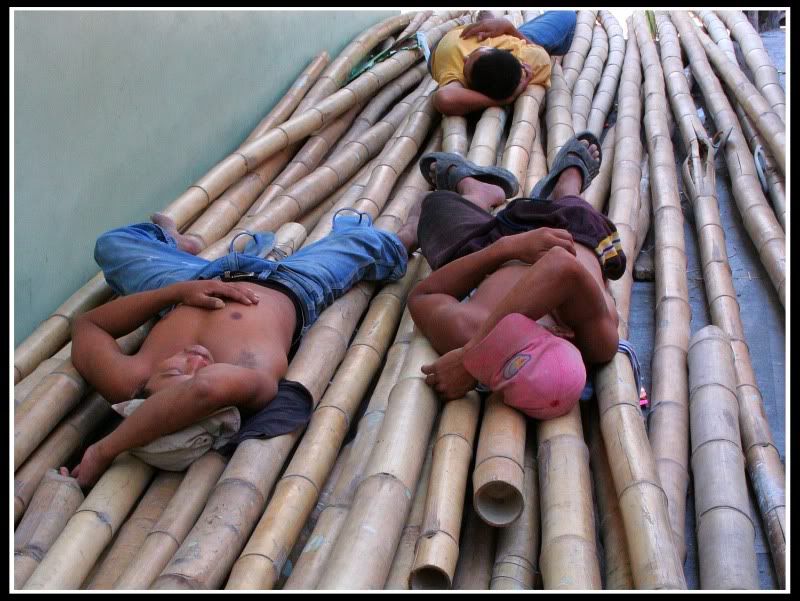 [A Sidewalk Stove]
One more thing. The mohawk is on it's way out. The hairstyle that's been my signature look for the past 8 (yikes!) years has recieved it's pink slip. By the time you all see me again, I'll have a new style going on. Don't know quite what it will be yet, but I've been growing out the sides for about 2 months now (which makes for a really odd look...I've been hiding under hats recently) and am ready for a change of appearance to start up our post-Manila chapter of our lives. Here's to my sophmore year YCP college roommate Doug for giving me my initial Bic Razor job back in 1997!
I'm not sure where I'll finally do the chop..maybe during our 2 weeks in Australia on our way back, or maybe I'll go to the great people over at
East End Salon
once we get back to Philly in August. I certainly won't do it here..as much as people love to help, they seem very timid to take my sides down to the skin like I like. Last time I went to a place advertised as "The Best in Men's European Hair Style", the guy didn't own a working electric clippers and when he finally got one from across the street he took off an entire half millimeter of length. I didn't argue and just paid my $3.50. I grew that back just walking out of the shop.
[Safe Crossings! Outside the Greenbelt Mall in Makati]