The Trip Back to Health
On Friday, due to either air-borne or food-borne nastiness, Kendra didn't feel so good, didn't sleep well and had a lot of pain in various places. Yesterday she felt worse. So I went into physical-health-recovery mode. This meant a quick trip to the Healthy Options section of Rustan's grocery store for medicinal de-tox tea, V-8 juice, rice cakes, vegetable soup-base cubes and several cans of ginger ale (these were all foreign import brands, so the bill was larger than normal, but you can't find this stuff at SM). We took the mattress off the bed and relocated it to the floor of the living room, where she spent the day under blankets and watching movies (started off with
The Last Samurai
, moved into
The Aviator
and finished off with
Crouching Tiger, Hidden Dragon
).
Here's a memorable quote from
The Aviator
:
Howard Hughes
: Does that look clean to you?
Ava Gardner
: Nothing's clean, Howard. But we do our best, right?
The rest, the food, the entertainment and multiple generous applications of this crazy fun "Sanitary Green Balm" that I bought in a Chinese drug store in Binondo seemed to help. The indications for use on the label are as follows:
"cold, headache,
rheumatism
, toothache, gas pains, swelling pains, inflamed joints, sprains, bruises, stings,
pruritis
,
uritcaria
and other similar conditions"
. Pretty much it's good for whatever ails ya' (short of liver cancer or advanced stage alzheimers!!)
She got better as the day progressed, but didn't feel well enough to join me in for a good-bye BBQ for Accenture-ites Mike and Elisha. They were planning to head back to the U.S. sometime this summer, but their departure date got suddenly pushed up to next Friday about a week ago. Elisha is also several months pregnant, so they're glad to be getting back to reliable health care, too!
The 2 of them had gotten some stuff to do a BBQ out on the 6th floor patio area, but as Mike was throwing on the first of the burgers, the skies suddenly darkened, thunder rolled and great amounts of water descended from above (we call that
rain
everywhere else in the world...here it's an entirely different type of event. We can tell when it's storming even without looking out the windows- the force of it tends to disrupt the cable TV signal).
So, the party got moved indoors and the wonderful chefs at the Oakroom restaurant offered to cook it in their kitchen and we ate and had some great Australian beers in the game room.
[Watching a rainstorm overtake the afternoon sun from our (incredibly dirty) window]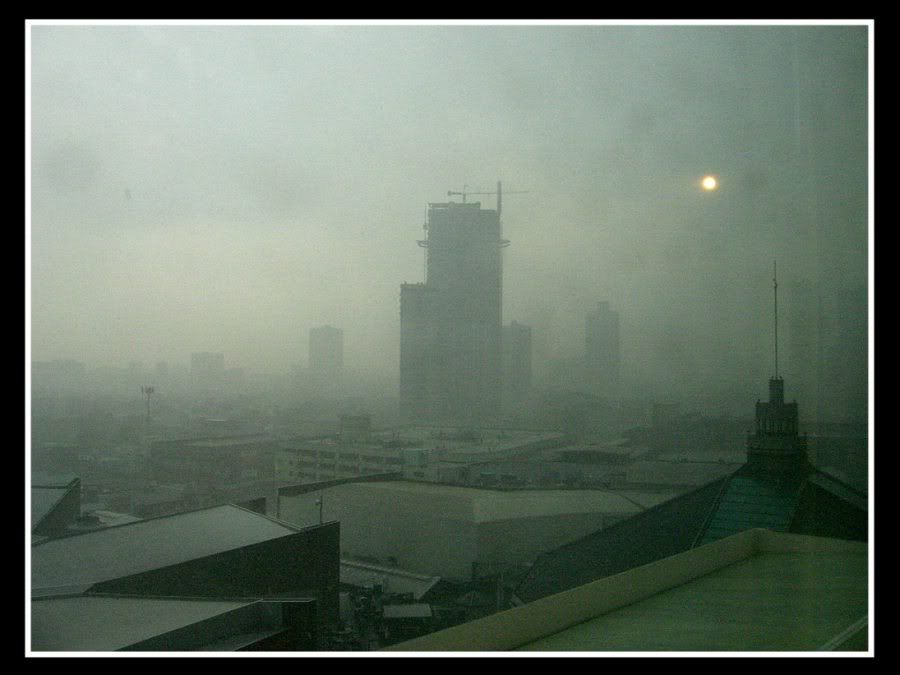 Afterwards, I went back upstairs, gave Kendra a dose of NyQuil and went to bed.