Last Visit with the Girls
On Saturday we woke up at around 9:00am and decided to get some shopping done for the girls, since later that afternoon we would be going to visit them for the last time and some generous folks back home had donated some additional money to be used for them. We walked over to SM soon after the mall opened (at 10 am) since we were also supposed to have lunch that day with Todd before he flew back to the US.
We have attempted to describe on several previous occasions about how overwhelming the staff can be at the shopping malls. At times you are surrounded by 5-6 eager staff members wanting to help you (some verbally asking, others just hovering over your shoulder). Normally, I take this OK -as just a normal part of shopping here. Saturday, though, I was agitated and needed my personal space pretty much as soon as I got out of bed. To make matters worse, I had not yet had my coffee or anything else to eat, and I'm definatly one of those "WARNING: Cranky When Hungry and Not Caffeinated" kind of women.
Well, as a result, our shopping was not very enjoyable and ended up becoming very rushed, because the minute I would go to look at one thing I would be surrounded- so close sometimes that I couldn't even get the item off the rack without hitting one of them. My comments of "Excuse me", "Just looking", or "I don't need help, thank you" were not working at all.
Despite it all, we were still able to pick out some nice school supplies and more clothes for the girls (including several rain coats), using money donated from some of Tim's co-workers and also using some remaining funds that Tim's parents had donated. I just wish that I would have been able to shop a little more comfortably and look at a little more of the items in peace. We did seem to have an (unintentional) running Disney theme for the clothes though.
We brought the stuff back to the apartment and got it together along with the water guns from a
previous visi
t (our plan was to leave them at the ABP house for the girls to play with next summer), some more games, crayons and paper for them, and some leftover cleaning supplies and toiletries for the house (About every other week for the last 5 months, our housekeepers restock us with shampoo, conditioner and bar soap which we don't use, so we stockpiled it all for the girls).
We then went to meet Todd at the People's Palace in Makati. We hadn't been there for months, but we really liked their food. It's a thai cuisine and they even have a separate vegetarian menu, which works just fine for me, and some good wines (thier Vietnamese spring rolls with peanut sauce are amazing!) We had a nice lunch. I'm sorry that Todd will be heading back to the US, since it is always nice to have fun people to hang out with us, who can relate to our experiences here. However, I'm sure we will see each other when we get back in the US, and maybe we will even work together on a future project.
Shortly after lunch our driver, Ike, came to pick us up for the 40-minute trip to Quezon City. The nice, clear morning turned ugly just as we arrived as the sky darkened and began dumping large amounts of rain down on us as we dashed for cover in the ABP House. The girls and staff were really excited to see us again- the intense bombardment turned from raindrops to hugs and suddenly our day got a whole lot better!
After unloading the van and trying to keep the girls from tearing into the bags of pillows, clothes and supplies we had brought, we took them to the living room and suggested to the girls that we make "Thank You" cards to the people who had donated money to get them gifts and things, which we could show when we returned to the U.S. They were very excited to do this, and we spent about 1.5 hours making some very colorful and creativly decorated cards, complete with Bible verses and lots of "Hi! My name is.....!".
[The girls- hard at work with the Crayons]


Of course pictures were being taken all throughout the card making, and we got to talk to the girls and visit with them as they worked. Another gift we had brought for them this time was a colorful bandana for each of the girls. Tim and I often wear a bandana during our visits due the heat and humidity, and the girls are always taking them off and playing with them, so we thought they would like having one of their own. We called them up one at a time and gave them a bandana, one of the pillows and a little note. The note was from Tim and I, saying that we really enjoyed our time with them and that we would always remember them. I had some of my co-workers translate it into Tagalog, which we included in the note:
Kami po ay labis na nagagalak sa bawat oras na ating pinagsaluhan habang kami ay narito. Maraming salamat po sa pag-bahagi ng iyong buhay sa amin at sa bawat hapon ng Sabado na kayo ay aming kasama.
Ingat po kayo palagi!
Kuya Tim and Ate Kendra
[Kendra giving Manilyn her bandana]

[You can tell the staff has been working with a large group of small girls for a while now- as soon as they were handed out, the pillows and bandanas were instantly tagged with the girl's name with a Sharpie!]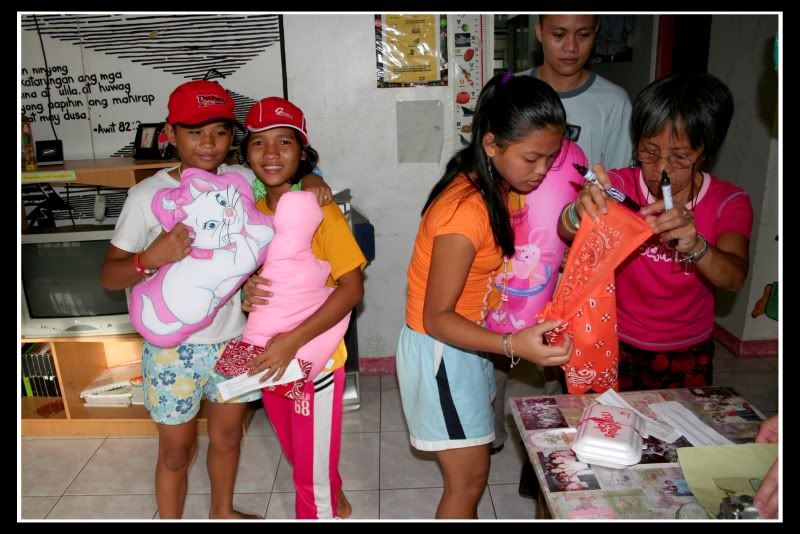 For the most part, they all really liked the gifts. There is always going to be those few kids in any group that likes what you gave the person next to them more than what they were given and some that will complain about the color, etc. Even these cute little 3rd world orphans are no exception to that rule. However, the whole thing went well, and everybody had a great time. We all posed for pictures with our bandanas on, and then went up to the roof court (it was still raining hard outside) to play with the girls before leaving.
[The Famous Girls of Ang Bahay Parola ("The Lighthouse"). Now with even more color!!]

We played for about another hour with jump ropes, PlayDo, tag, etc. and then it was time to go. Saying goodbye was very sad. Several of the girls have gotten in the habit of calling me "Mommy" which is both sweet and heart breaking. We were very honest with them that right now there is no plan for Tim and I to return to the Philippines- we really didn't know if they would comprehend that we were'nt coming back. They said to say "Hi!" to Ate Elizabeth, who has been back in D.C for several months. So, Ate, "Hi!".
[Who needs a gym when you've got 25 girls who all want to jump rope?]

[And, who needs a fitness center when you've got 25 girls who want to be picked up, swung around and chased across the playground?]

As we drove away, even our driver, Ike, was sad. He has a daughter in the province that he rarely sees and I think it reminds him of her when he drives us to visit the girls. Thanks to Ike for helping us out so many times by translating Tagalog and keeping us safe on the road!!
[Tim's Note]:
It was certainly pretty tough to say goodbye to the girls for the last time. Knowing the horrific backrounds of these kids makes it even more amazing when you see what energetic, fun-loving and beautiful girls they are becoming. Spending a few Saturday afternoons here in this dirty and destitute village a million miles from nowhere with 2 dozens little girls has been one of the most positive things about being here in this country.
They haven't got to the point of asking me if I will take them home (as they have with Kendra), but even so, it's hard not to let yourself get attached and wish you could do more. I guess I just want to hope that they will continue to be taken care of and put on a path that will lead them out of the destructive cycle of extreme poverty and neglect which has led them here. The staff at ABP and the
StreetChild Mission International
all seem quite able to help them with their physical, mental, emotional and spiritual needs. They've got good food, a bed and bath, schooling and a church environment to grow up in. Plus, they've got crazy characters like Elizabeth, Justin, Patrick and Kendra & I dropping by to give them a good laugh!
They should be just fine.
But, we'll miss them and wish them the absolute best. Thank God for pictures!
[Vangi -- Always with a smile and told me all about the neighborhood boys]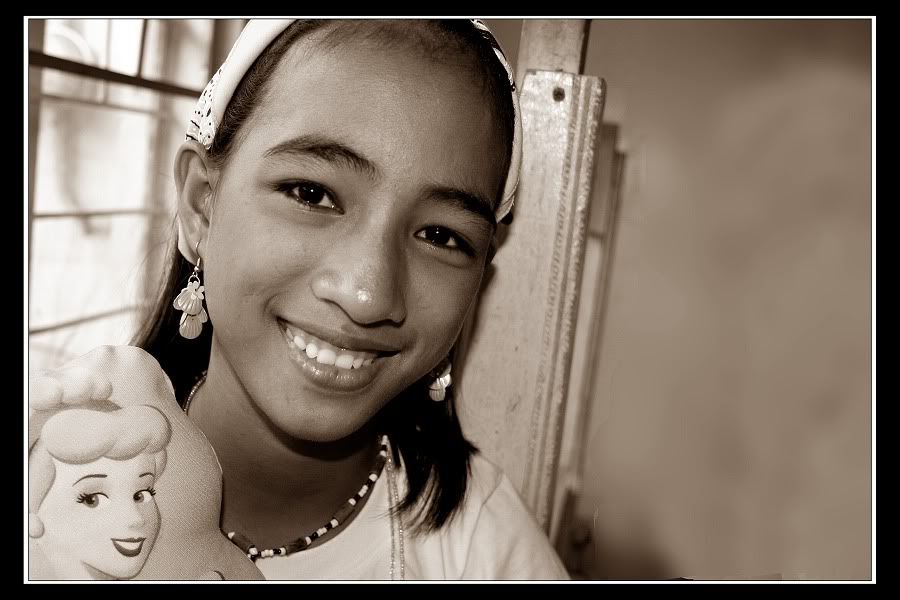 [Manilyn giving me some photography advice]

Michelle --playing jacks on the floor]

[Mirasol --Posing with her Tigger]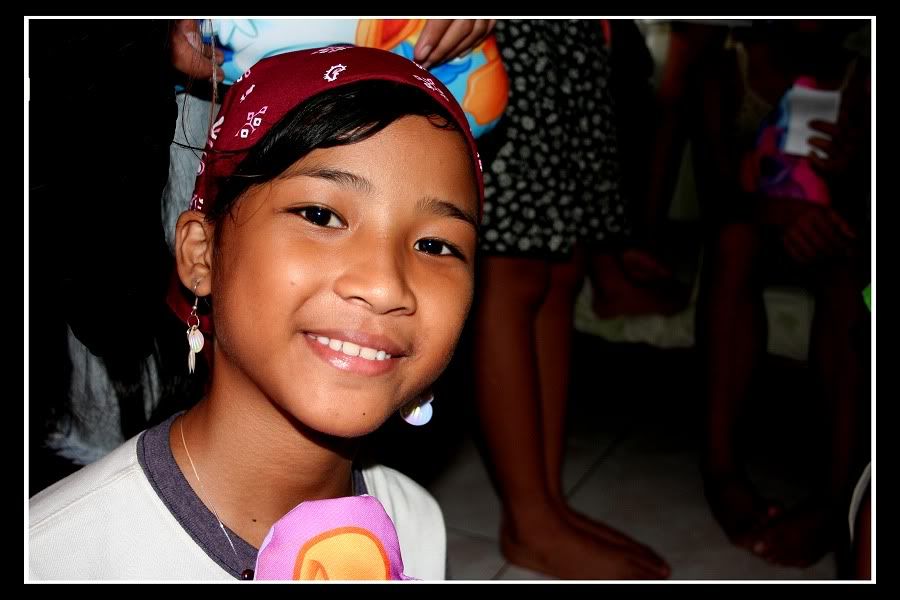 [Ike and I started posing for this shot with only 2 of the girls....then they just started piling on. Notice how Mickey Mouse is being used by one girl to take another girl's face out of the shot- Those kids!]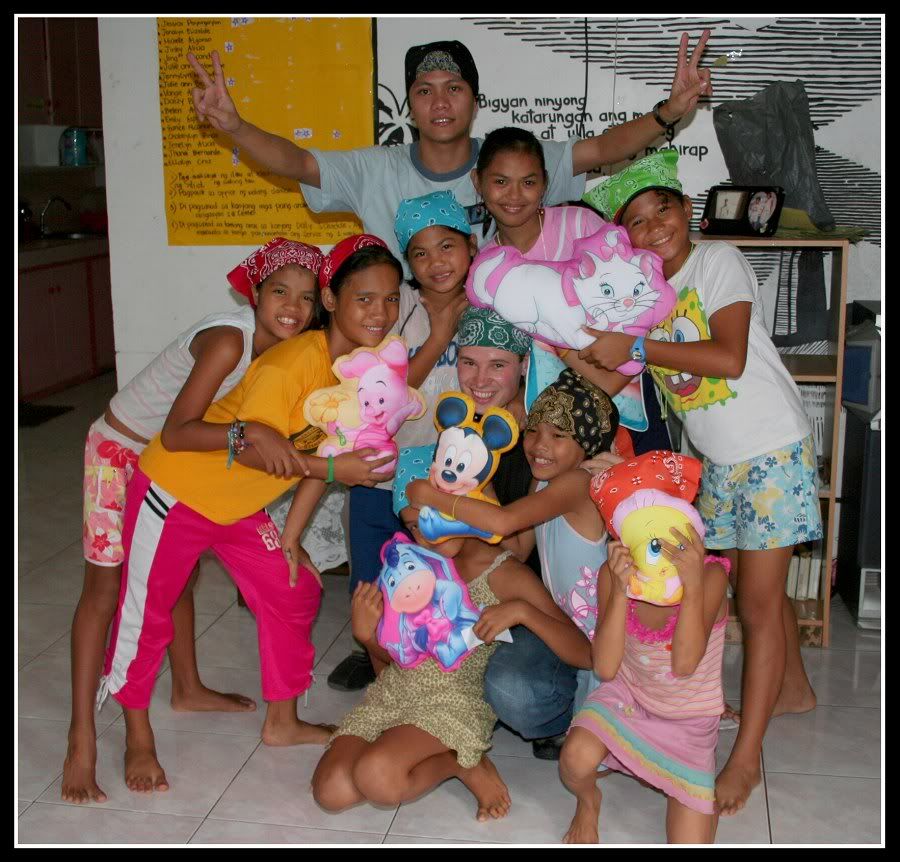 [Now they're being a bit more civil, posing with Kendra, Ike and I]