Top Ten....Number 7
Top Ten....Number Seven
Peculiar Twists on Familiar Items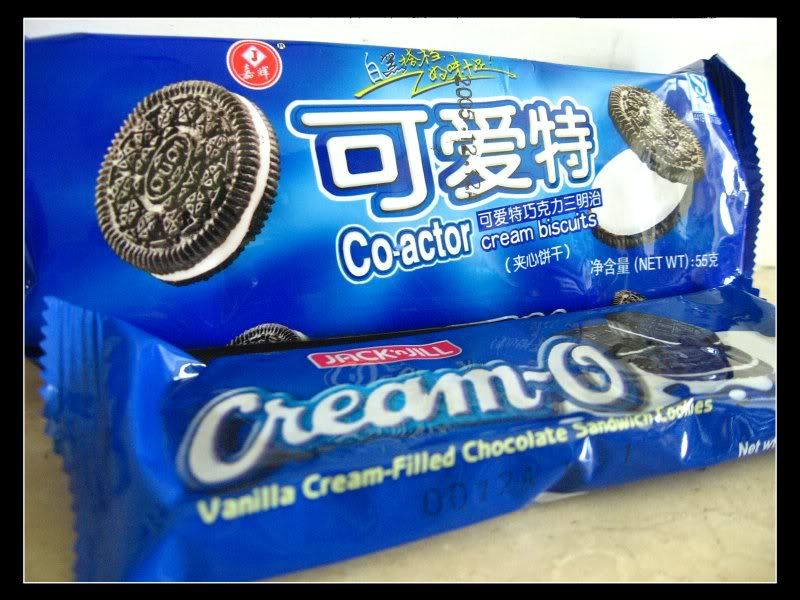 Let's be honest- grocery shopping here in the Philippines isn't the easiest thing in the world. From the aisles packed with crazy shopping cart drivers (and their children) to the endlessly long checkout lines with innevitable multiple price checks...from the reply of "Out of stock, sir" regarding
anything
to the overwhelming odor of
raw fish products
, the whole experience can be a bit stressful.
But what never fails to amuse/educate us is seeing familiar products with a bit of Filipino flavor thrown in, hilarious imitations of U.S. brands or just completely new and unexpected food products. For instance:
Creamy Cheese flavored Pringles
Canned Mystery Meats
(is this
North Meat
?)
Entire aisles of instant noodles
Ketchup flavored Pringles
100 varieties of Tang drink
Shitake Mushroom flavored Oatmeal
100 varieties of spaghetti sauce that all taste like ketchup
Massive bulk containers of soy sauce
"Fita" Ritz Cracker knock-offs
Coconut Jelly
"California" sushi rolls contaning mangos
Pizza Hut's SPAM-Lover's Pizza
Coffee Jelly drinks at Starbucks
Fried chicken at McDonalds
100 varieties of dried mangoes
McSpaghetti dishes at McDonalds
100 varieties of skin-whitening lotions
Refills for foil and plastic wrap
Cream-O Oreo knockoffs
"Spud's" Pringles knock-offs
Ube (sweet potato) flavored ice cream (or Ube flavored
anything
)
Corn flavored ice cream
A dozen varieties of bananas
Pizza flavored Pringles
Everything from shampoo to fabric softener sold in single-use sachet packets
Hot'n'Spicy Pringles
Frozen whole fish shrink-wrapped in plastic
100 different varieties of rice
Every variety of Cadbury's Chocolate
Canned meatloaf
Canned squid
100 varieties of canned corned beef
Rice at Burger King
Banana Ketchup
Lysol liquid concentrate
Knorr shrimp broth cubes
Red Bull Supreme
Coca-Cola Light
Prawn Crackers
Avacado flavored ice cream
1 pound bags of pure MSG
Golden Oreo's
Here's a grocery store flier.
--------------------------------------------------------
In other news, we've been busy going through all our things and separating what we will need for this last week in Manila from what we will need in Australia from what we will be shipping back to Philly. We're also making sure that we finish up all of the food in our cupboards and fridge before our last week hits and everybody will want to take us out to eat.
It's alot of planning! We need to bring (but not pack yet) 2 small duffel bags for our 5 day Australia outback tour. We'll have to pack those when we get to our B&B in Adelaide. We're still not sure what our Internet situation will be for our 2 weeks Down Under, but if we get into a location with wireless access, we'll be sure to post.
Also, consider this your official "Last Call" for any items Filipino. If there's any craving for cool chopsticks, wood carvings, jewelry, bags made from discarded juice packets or Louie Vitton/Gucci/Rolex/SpongeBob look-alikes let me know now, so I can go out this week while Kendra's at work.