Weekend Antics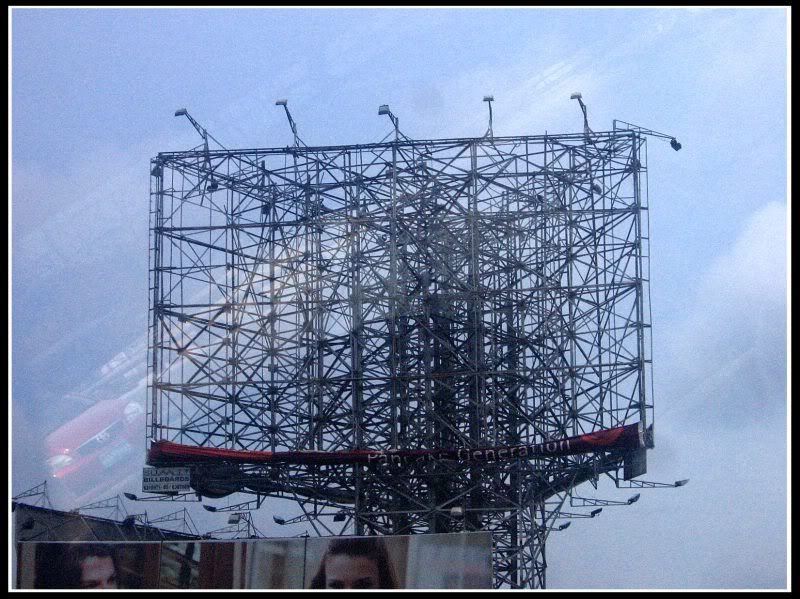 [
Storm Prep
: Billboards along
EDSA
rolled up and tied down before the rains come]
I met up with Kendra mid-morning on Friday outside the Stock Exchange building. I had left her without any pesos and she IM'ed me very upset that she couldn't go to Starbucks. So I ran over and we walked to get coffees together. Of course, the Starbucks people hadn't seen her in over two weeks and they all shouted "Hello, Miss Kendra!!" when they spotted her coming up the escalators.
Tim's New Starbucks Favorite:
A Tall (here a "Tall" is a medium as opposed to a "Grande" in the US ..if you put that much caffeine and sugar into a Filipino-sized body they'd explode!) Tall Soy Mocha- No Whip. The Soy milk brings out the chocolate flavor much better than hot water and the whipped cream just becomes excces and delays your arrival to the mocha. Good times!
Here's another
"Oopps..We Forgot to Post This Back When"
item: On our most recent flight to Manila, we had a quick layover in Nagoya, Japan, which has a fantasticly clean and well-designed layout, including a Starbucks. (The bathrooms have super-powered hand driers that could take off nail polish and a waste recycling system that's beyond anything I've ever seen) But what can one get at a Starbucks in Japan that you can't in the U.S.A?
BEER!!
That's right, I just had to get one of these cans of dark, yumminess as Kendra got a chai tea latte.
[Coffee and Beer, Friends Forever]

Another odd thing is a substance called SugarNext. It's a very fine, elongated grain of sweetness that dissolves instantly and (assuming from the non-English packaging) has a fraction of the calories of boring old sugar.
Later Friday evening, we met up again after work at the Greenbelt fountain and went to see our first theater movie here. We saw "Pirates of the Caribbean: Dead Man's Chest" with Johnny Depp, Orlando Bloom and that Knightley girl with the crazy teeth. It was fun to watch, but I thought it took forever for any substancial "plot" to form and then the motivation kept changing every 20 minutes (find the compass!, no, find the key!, now find the chest!, find 99 souls!, etc). But the tickets were cheap, the theater was air conditioned and clean, and only a few scattered cell phone interuptions. Plus, in the Philippines, you can bring whatever outside food you want into the movie with you. Sweet! Also, you can pick your seats from a screen showing which are taken and which are free.
Afterwards, we got sushi at a nearby restaraunt then went home. We had Ramer, our favorite driver, coming to pick us up the next morning to take us to a wake for the father of one of Kendra's co-workers (Racquel). The drive went quickly (only about 45 minutes) and we saw some really interesting sights along the way. It's always amazing to see the extreme change of lifestyle and human condition just a few miles outside of Makati.
After a few minutes of confusion (the person who gave us directions had never been to the place herself) we found the funeral home just as the skies opened up for another dose of rainy season excitement. Inside, we met Racquel's mother and paid our respects. Kendra was very sad that she has attended two of these during her time here - both for the fathers of co-workers younger than she is.
Afterwards, Ramer (ever the professional tour guide) took us to an area called Riverview with a lot of shopping and a store with The World's Largest Pair of Shoes (calling
Imelda Marcos!
). We didn't buy any shoes, but did get some yummy garlic peanuts (goes great with beer!) and a set of trick playing cards from a guy doing some cool magic at a kiosk in the mall.
[Nuts! All kinds of nuts!]

[Those are some big shoes to fill....]

[Kendra's in Shoe Heaven]

[So Many Shoes!]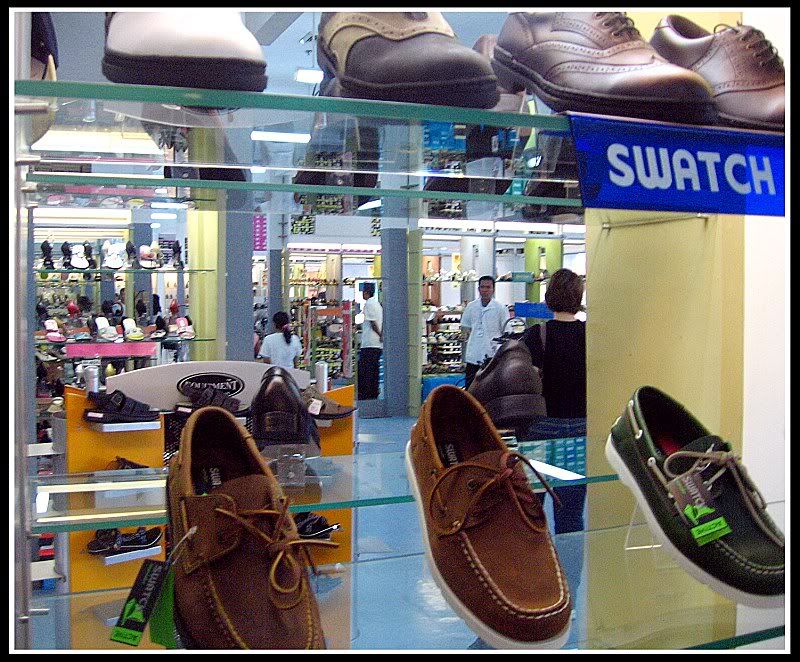 [The Magician]
On the way back home, we stopped by a place called
Tiendesitas, where we had been several months earlier with Sam and his girlfriend and gotten alot of neat gifts and jewelries. Our first time there, we h
ad no idea where we were in relation to our place in Makati, but we recognized the exterior as we wer
e driving by and decided to go back in and check it out a second time. We walked into a din of barking, finding out that a dog show was taking place and that the center section was filled with every variety of canine, being primped and preened before making their entrance onto the show floor.

We said "Hi" to some of the dogs and went to check out some of the shops.
[Big Bark...Little (if any) Bite]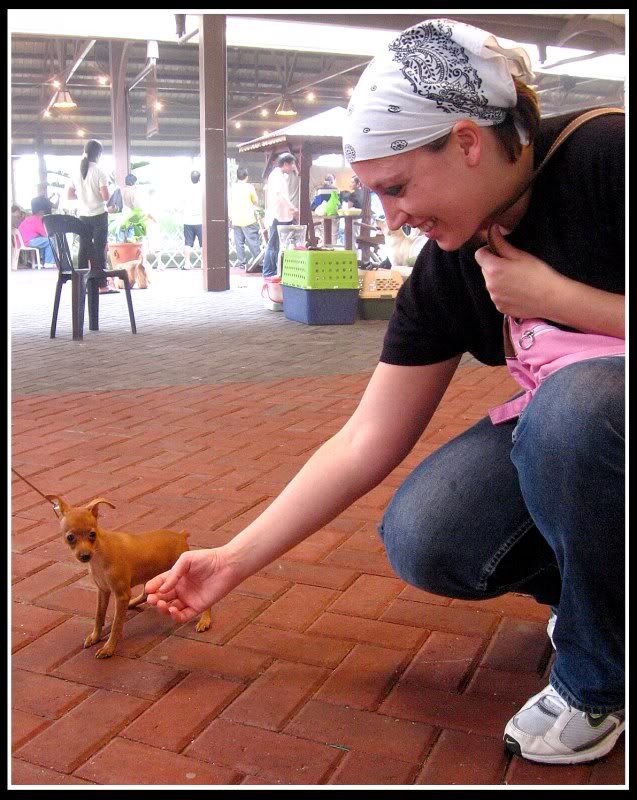 ["For you ma'aam, I give you 20% off regular price"]


After hitting the jewelry stores, I got a wonderful fresh yellow mango smoothie for 30 pesos and Kendra picked out some vegetables from a stand (including the first really red tomatoes we've seen here in months!). She's planning on making lasagna.