Aldgate Day 2 (Mt. Lofty/Cleleand Park)

[Throw another log....er...can of ethyl on the fire! Cold mornings are awesome- and it's not because of a high-powered hotel air conditioner unit, either!!]

Today we woke up at about 9:00am. We had a pretty good rest, which was a good thing or else we would have had a very rough day. We decided not to rush into the sightseeing, rather I started to get our breakfast ready while Tim went over to talk to Jonathan (one of our hosts).
It took a really long time for me to get moving because I was freezing! It felt so cold to me! I put on the scarf and hat (which I had purchsed yesterday in Stirling out of neccesity!!) and started the eggs and vegetables and bacon for Tim (which I had to touch… yuck!). They had supplied some really great smelling coffee grounds from a local coffee shop and we made that with a coffee press. I had never used one before so I just guessed at how to use it and it worked out well!
After breakfast I spent another 2 hours sorting our luggage into: (1) Things we will not need at any time during the trip, (2) Things we will need during our visits to the cities, and (3) Things we will need for our tour to the Outback (which starts tomorrow). This was sort of overwhelming, but with some amount of encouragement from Tim, I got it done. Our tour of the Outback has a one duffle bag per person limit for almost a week, and I think that is very unreasonable. Although Tim thinks that I am close to the most high maintenance person in the world, I think most women would find that difficult to do. I don't know how the weather will be or anything.
[Operation Repack in progress- as seen from above]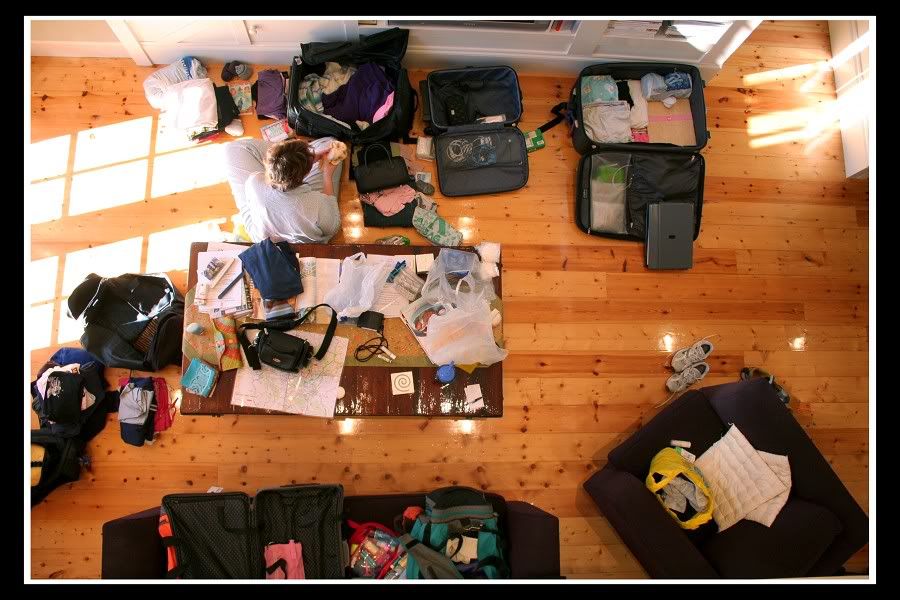 Mt. Lofty
, a nearby attraction with lots of hiking trails, gardens and scenic views. This saved us a lot of hassle and money. (Since Aldgate is a ways off the beaten path, each cab we take costs us around 50 AUD). We had also opted not to try any wrong-side-of-the-road driving. Tim did not want to attempt this feat for safety and sanity sake, and we would have had to go through some trauma just to get an International Driving Liscence, so it limited our mobility somewhat, but we're fortunate to be in a place with such friendly and helpful people.
[Pretty much the extent of Aldgate right here]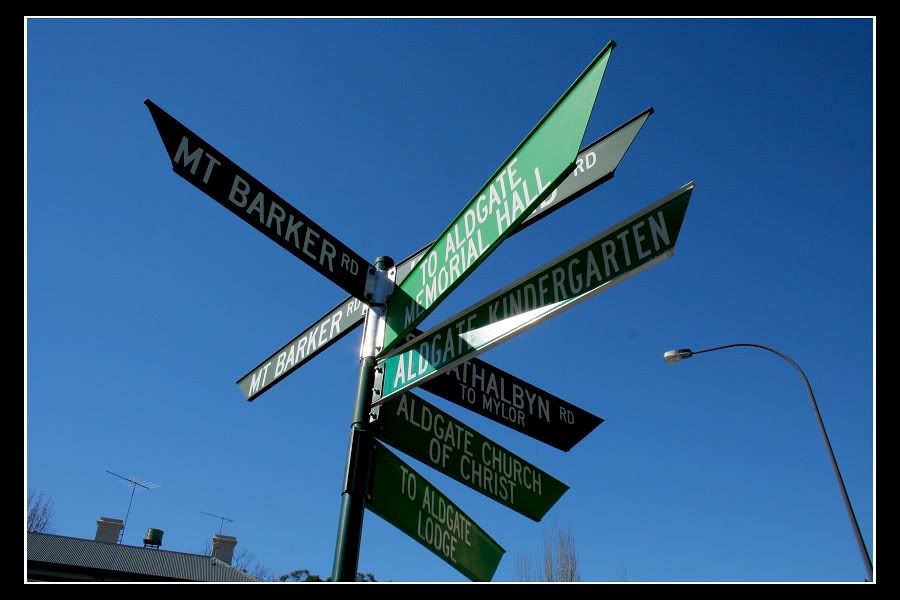 Jonathan took us of a little tour of the area in his very antique car (a green 1965 Ford Falcon), through some very hilly and curvy roads, by some really beautiful meadows, grasslands, fields and wineries. We also stopped at a really cool little lake with various types of ducks on it.
[My feathered friend.]

[Our ultra-cool ride for the day!!]
He dropped us off at the Mt. Lofty Summit and we had a lengthy discussion with the staff there about when the last bus would leave from there. (Our plan had been to take public transportation home, if possible, so as not to inconvenience Jonathan anymore). Since the last bus left there 2 hours from the current time, and we had just arrived, we did not think this would be possible. Jonathan graciously offered to come pick us up if we called him and then he left to pick up his daughter from school.
We had a great lunch at the summit. Tim had a Greek Salad and I had a Foccacia Bread sandwich containing pumpkin, spinach, and squash. It was a little bland, but at least it was clean, tasty, non-scary vegetables! We also had wine and Coopers again. After lunch, we talked to the very helpful man again behind the desk to get instructions on the various trails around the area. I wanted to go to the Cleland Nature Reserve to see Koala bears, but the man was extremely concerned we did not have enough time. (This area seems full of very helpful people that are very concerned that there isn't enough time for something, but who will spend 20 minutes explaining that there isn't enough time, seemingly to make sure there actually is not enough time).
Eventually, we extricated ourselves with a map from the man (who was very helpful and we appreciated him, even though he was a bit of a talker), and practically sprinted the 2 kilometers ("Two Kays" to the locals) to Cleland down the trail (all downhill pretty much).
[The mottled sunshing, dancing through the shadows on the trail to Cleland]


[The Australian Gum Tree]

We got there one hour before closing time, and the women at the place was also very concerned that we didn't have enough time and spent some time telling us that. But, after paying our admission, getting more explanation and a map, off we were.
We wanted to see the Koala bears first, but we passed by the Kangaroos on the way. Kangaroos were not like I expected. First of all, they don't see to move very well if they try to use their front hands. They almost seem disabled when they try such that we thought they were injured at first. But, when they lift their arms and hop, they move very quickly. Also, they look like a cross between a deer and a rabbit. They feel like rabbits and they express themselves with their ears and their teeth like rabbits. The kangaroos were at first not very friendly. Many of them were sleeping and the big male didn't seem to like us much. Eventually, they started approaching us and I fed them some of the food we had bought. The kangaroos were cute but not overly interesting to us at this point, so eventually we moved on.
After much searching we found the Koala bears. They were hiding in an enclosure behind some branches and we did not get a clear look at them which was disappointing. But, we did get to see them for awhile and Tim took pictures of them as best he could. All over the park scurrying around were these little things that looked to me like very large rats. I found out later from our host (when I offended him by calling them rats) that they are actually a
bilby
- which is an endanged and valued animal in Australia. Oops.
[This is about as interesting as koalas get.]

We looped back around the park after an unsuccessful search for the Tasmanian Devil and were headed off at a turn by a very curious looking and hesitant gray kangaroo. She was standing in the middle of the path and really staring us down. We approached slowly and I held out food to her. She started backing up and I suddenly saw a little head peeking out from her pouch! I little joey!
After this, we noticed the mothers who were carrying babies and then the kangaroos became very interesting to us. I noticed the mothers were very leery of us, but I wanted Tim to be able to get a good photo. I noticed a group of kangaroos that seemed to be a family of 3. After a lot of patience and hard work, I got the father to come eat some of the food out of my hand. After he came to me, then the mother would (as I assumed she would). Once the mother would eat from my hand, the small baby would put out his head and look at Tim.
[Good Kangaroo!!]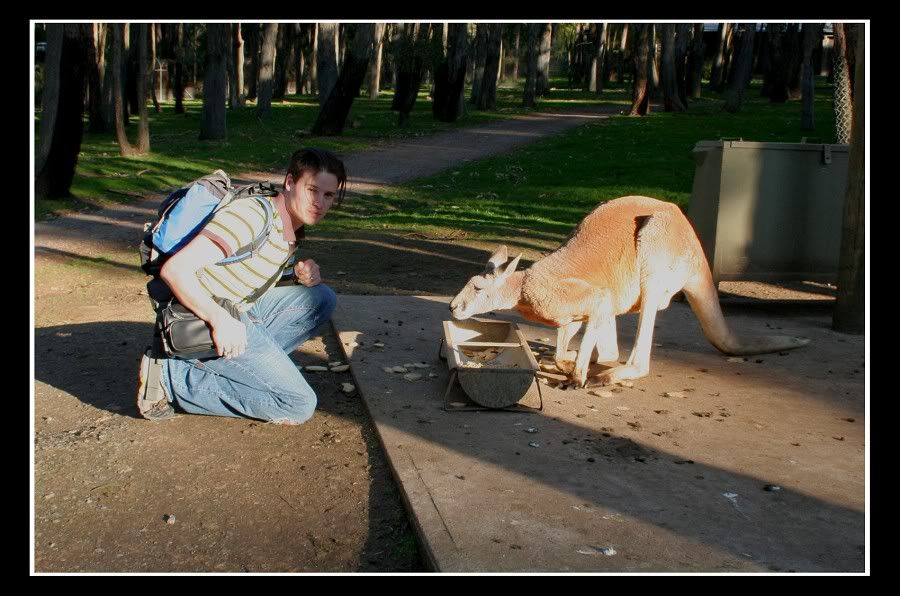 So, Tim was able to get very close and take photos. This was very cool! The fun lasted until the father decided to wrestle the rest of the bag of food out of my hand and eat the food and the bag!!!
[Baby Transport]

[This joey doesn't even bother leaving the pouch to get some crumbs off the ground]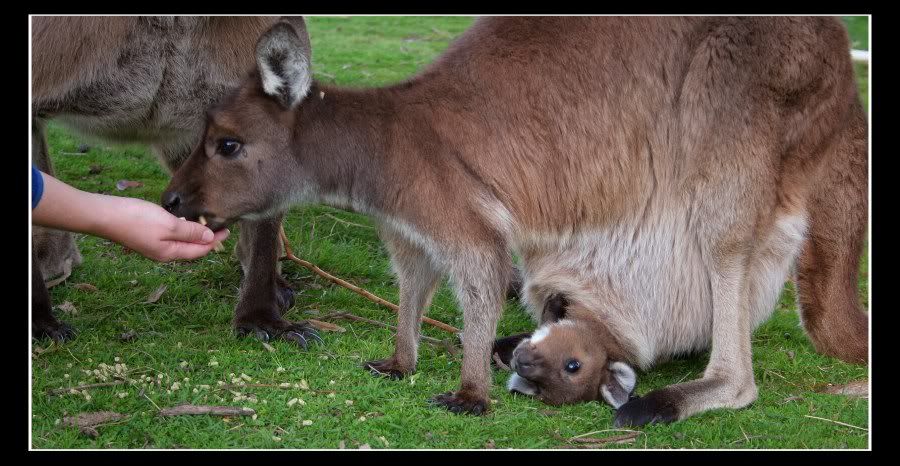 After this, the park was closing so we exited and Tim called Jonathan from a payphone. We were going to wait for him by the park, but I thought there might be a gate further up the road (ala Kenbrook) which he might not be able to get through after closing time. We flagged down a park ranger, and I asked him about it. Sure enough, 1.5 km up the road, the gate was locked. The park ranger offered us a ride to the entrance to wait for Jonathan there, and we accepted his offer. He said (in a nice way) that he was always bailing out foreigners who seemed to think they were in a big city and cabs drive by every 5 minutes. ;-)
[Sunset at Cleland Park]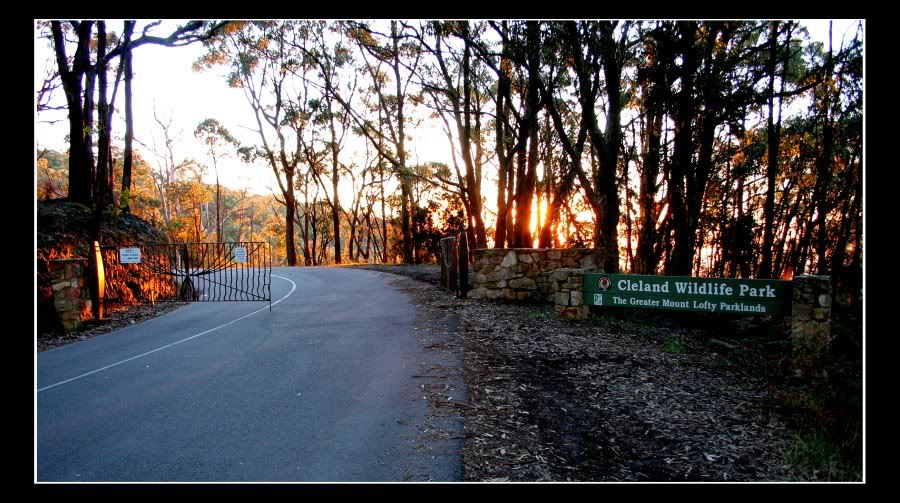 Jonathan arrived a few minuted later and we headed back down the hillside and through some more small towns. When we got back to our cottage, we decided to eat dinner at the Pump Hotel again. We had the same waiter who was really friendly to us. We ordered an appetizer of smoked salmon bruschetta, I ordered the vegetable stack again and Tim ordered VEAL. (Yes, I know).
After dinner, we went (across the street) to the Aldgate Café to check it out and get a drink. Again (out of pure habit), I tried to tip the bartender. She goes, "I am just getting you drinks. You don't have to tip me." And she did not accept it. She asked where we were from and we told her the US and explained the tipping practices there. Her humorous reply was, "I wouldn't go out much!" Finally, we were headed back home.
[The Aldgate Cafe]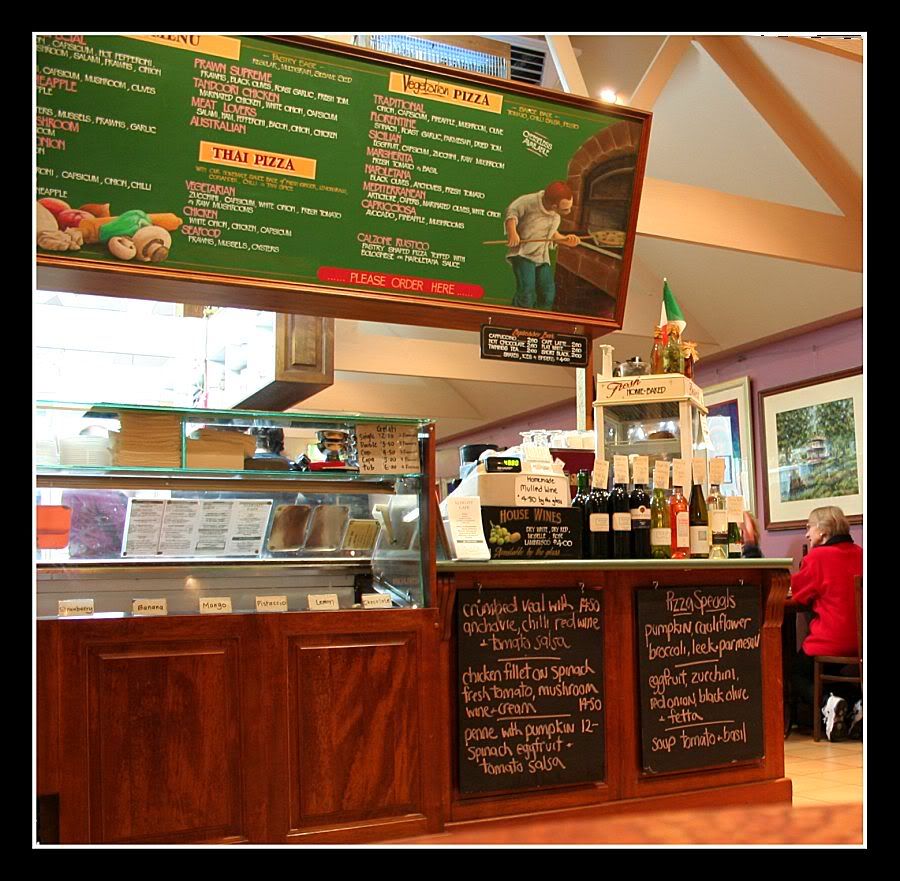 [Tim with his Coopers Pale Ale]

[...and Kendra's STILL cold!!]
I finished the organization of the luggage while Tim made us hot chocolate and got another bath ready (that was a temperature that he could take!). We had a relaxing bath and then headed up to bed. We have to be up at 5:00am tomorrow to catch our taxi back to Adelaide for the start of our next adventure so I'll close for now and let Tim take a look over this (if he is still awake). I'm sorry to be leaving this great little cottage, but we are excited for our Outback tour. More later!