Exploring Adelaide
We were very excited today to tour Adelaide City today. From the photos on the website and the descriptions in the Lonely Planet book, it seemed like a small but very nice city. I hoped to start the day at the Central Market and then tour the Haigh Chocolate Visitor's Center (think upscale Belgian chocolate tour like Hershey's Chocolate World). We then planned to have lunch at a cute little café and people watch.
Well… although our day still turned out to be a good day it was after many adjusted expectations and changes of plans. Our first mistake was that our one full day in Adelaide fell on a Sunday. When we were planning our itinerary, this didn't really seem like a big deal. In cities like Philadelphia and Makati, everything is mostly still open on Sunday except for government offices. Certainly restaurants and shopping are still open even if later in the morning. Well, here, the city shuts down almost completely in the downtown areas. No Central Market (which looked incredibly cool from behind the gates), no Haigh Chocolate tour, not much of anything. The city was more like downtown Harrisburg is on a Sunday (unless it has changed drastically in the last year).
This was very disappointing to us. We did wait awhile for the city loop bus to come around to see if any other sections of the city were open and we walked through Chinatown, which was also mostly closed except for some grocery stores.
We returned to Victoria Square and saw a sign for a tram that goes to the suburb of Glenelg. We remembered that Geoff had recommended going there and had also read about it in our Lonely Planet book, but we hadn't planned to go there. However, our options were pretty limited at this point.
[The Queen of England came to Adelaide once, and they made her this fountain in Victoria Square]

We waited for the next tram (of the San Francisco variety) and boarded for Glenelg, hoping that more would be open there. Tim looked very upset though. When we boarded the tram and encountered their confusing and inefficient system of selling tickets, Tim was looking even more upset, so I got the tickets and told him that I'm sure things would be open at this other town.
The ride was about 30 minutes with about 15 stops along the way, in mostly nice-looking suburban neighborhoods. As we got closer, we realized that this area was hopping! There were really cute cafes all over the place and nice restaurants and bars and shopping that was mostly open – especially on the main drag. We got off at the very last stop and we were on a beach! It was so strange to be on a beach in the winter time where seagulls, sand, the ocean, and evergreen trees were all there co-existing. The place was filled with every variety of people in every type of dress – from summer shorts and tank tops to full on winter gear. It was really crazy to witness.
We got off the tram and walked towards the water in a daze. The wind was strong coming off the water and you could smell the salt and the sand. A wooden pier was built out into the water, so we went out and looked at the surf and the waves- it was really refreshing.
[And odd assortment of nature]

We made our way back onto the main street and started looking for a place to get some coffee. We passed a whole range of shops, bars, pubs, surfing and skating shops, pizza places, Indian restaurants, and clothing boutiques.
[The bustling fun of the Glenelg shopping district]

Eventually we saw across the street an entire shop dedicated to the Haigh brand of chocolates and a coffee shop called Bracegirdle's House of Fine Chocolate- also very chocolate-oriented. I got a coffee, Tim got a mocha, and we took our things upstairs to a table. The place was decked out with really cool art work depicting chocolate and ice cream, so Tim took some photos.
I don't think we mentioned this before, but Tim's camera has been attracting a fair amount of attention here. He looks like a professional photographer with it (and of course my vote is that he is at least as good as one)! A family from Sydney introduced themselves and wanted to see his camera and was complimenting him on it. They usually think it is film rather than digital, and then they are very impressed when they can see the big LCD display, etc. We aren't sure if this type of camera is just not available here.
This also brings up a point that we've made before, but the people we meet in restaurants and on the street here are so friendly to us when they hear us speak and realize we are Americans (or Canadians – sometimes it is hard for them to tell). This makes it so much easier to adjust to the area and feel welcome. Geoff was telling us previously that after 9/11 tourism to Australia from America trickled to almost non-existent levels. Perhaps it makes them happy to see a young couple touring through Australia again or maybe they are just very friendly in general.
After the coffee, we wandered over to a large building that had a Dave & Busters-like arcade, a mini-golf course, and several huge water slides. We went there initially just to use the bathroom, but it was fun to watch all the people playing games and all of the kids running around and even using the water slide in the "dead of winter" as they refer to this time. I, personally, thought it was way to cold to be using the water slide, but they were having a good time anyway! I hope they did not catch pneumonia.
We had lunch later on at a seafood and Greek place called Scampi's, which was right on the boardwalk. As opposed to all of the other pubs and cafes along the main walk, this restaurant was not very crowded at all, probably because the prices were quite a bit higher than the other places. This seemed to be due in part to the sustainable fishing practicing they were advertising and also just because they were projecting a hoity-toity image. In either case, we ended up there because we could not understand the seating system of the other locations despite attempts of the bartender to explain it. The door he kept telling us to wait at did not seem to exist or be attended!
We had a table by the windows on the second floor and watched people below. The whole scene seemed very surreal- almost like a scene from the Truman Show- where the whole environment seems too perfect- almost manufactured. The afternoon sun created a seemingly artificial light and couples and small families (all with dogs on leashes) seemed to be passing by at regular intervals and we wouldn't have been too surprised if we found out that they were all on a repeating loop. Even the seagulls looked to be operating via a computer program. We spent a lot of time watching a little girl take off her hat, her mother replace it, the little girl throw off her hat again, etc. etc. We also spent a lot of time watching an Alaskan husky puppy dog try to beat up a full grown rotweiler. This was really amusing.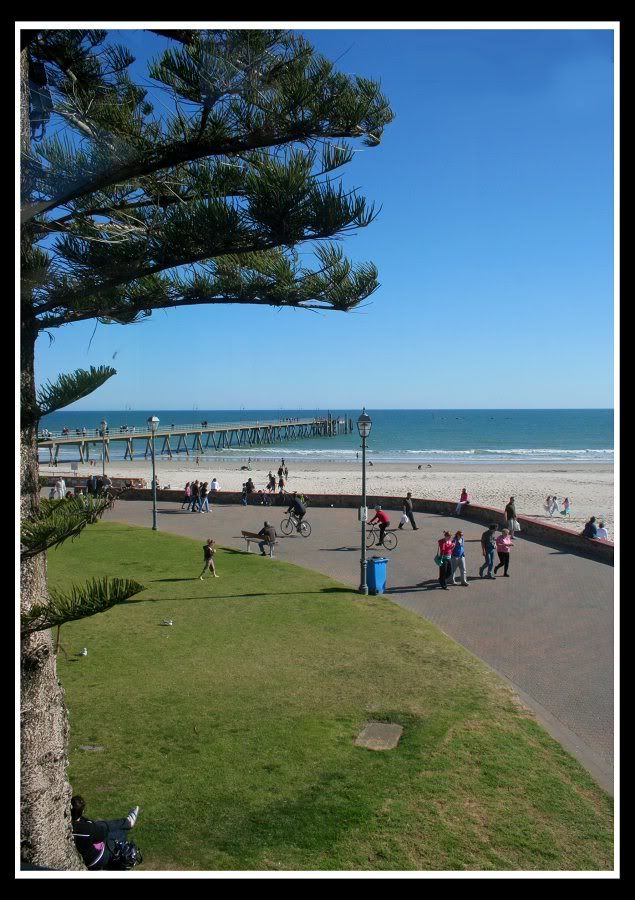 Since our lunch was a little pricier than planned and because we had passed a great looking market, we decided that we would buy some fruits and veggies and some good bread and just make some food in our room that night rather than going out. (We also weren't sure what would be open when we got back to the city). We stopped by a neat little market and bought a bag full of fruits, olives, cheese and bread. The very amusing cashier was telling us that she was having a bad day because it was the 13th. Tim said – "But it is not Friday." She said that she was having a bad day anyway. So, we tried to cheer her up and moved on.
[We were excited to be in a fruit and vegetable market once again!]

We got back just in time to see the tram parked in the station. We re-boarded the tram and a half hour later we were back in Adelaide. As we pulled into the station, we noticed an Italian restaurant (La Trattoria) that Geoff had mentioned was his favorite. We wanted to get a Thank You gift for him, so we walked over with the intent of purchasing a gift certificate for him, but, like everything else, it was closed. We made our way back to the hotel and got some plates and a sharp knife from the front desk (the hotel restaurant was closed, too). Kendra cut up the fruits and we sat out on the balcony and ate our dinner. It seemed like we were way up in a high-rise, even though we were only 4 stories up, because very few of the buildings in Adelaide are really high.
Later that evening, we called the Italian restaurant, found that they opened later in the evening, so we walked back down and picked up the gift certificate (or "voucher", as they call it here). The owner of the restaurant was obviously the patriarch of a large Italian family and he was very officious, but not in a rude way. He wrote out a voucher and signed it, saying "Everyone here knows my signature. You will not have a problem." With that we headed back to the hotel and mailed it off! I hope that Geoff receives it OK.
When we dropped off the letter and scheduled our cab for the next morning, we asked the attendant at our hotel if he could recommend a bar close by. He told us about a few nice bars close to our place that were open and mentioned the Belgian pub that Geoff had also told us about. We were able to find it without much issue and we downed a few beers and some fries before heading back to get packed back up for a quick flight to Melbourne early tomorrow morning.
I reconstructed our luggage once again to be more efficient while Tim worked on some of his photos to try to get more posts up there.