First Day in Melbourne
Well, today was certainly packed with activity! After completing packing and working on the blog late last night, we finally settled to bed with both the alarm and a wake up call set for 4:30am. Of course that time came much too early for either of us. We dragged ourselves out of bed and got ready to go and did a final check of the room. Our cab came more or less on time at 5:30am, and we settled our bill, packed up the taxi, and headed for the airport.
When we arrived at the airport, there was a long line for Qantas, but it was moving quickly. We were scheduled for the 7:45am flight, but when we got up to the counter, the woman told us that our original flight was already delayed due to maintenance, but that she could get us and our luggage on the 6:45am departing flight to Melbourne. So, we went that route, and made it through the process and security just in time for boarding. We even got seats together, so that went very well, and we were happy that the woman was so helpful and amazed that it was just under an hour from leaving the hotel to boarding the plane!
Tim slept most of the way for the approximately 2 hour flight. I was tired, but was again in the middle seat. Yuck.
When we arrived, we were able to find baggage claim and locate our luggage without any problems and loaded it up on the cart. Unlike the other places we have been, you have to pay for the luggage carts here (about 3 Australiajn dollars).
The shuttle services to the hotels were running into some problems this morning, so they recommended we take a cab. This costs about $50.00. (We are spending a small fortune on cabs to and from places here, since we can't drive). The cab driver continued on the now familiar trend of being completely unhelpful, not friendly, and unimpressive. At least he knew where the hotel was.
However, he did not help Tim with a single bag and was somewhat of a jerk, therefore, even though I generally do tip here despite the fact it is not a tipping country, I gave him zero tip. (Tim will tell you it takes a very rude person for me not to tip them). At least pretty much everyone else we have come across in our travels has been very nice, efficient, and helpful and we've paid them back for their efforts.
We arrived at our hotel at about 9:30am, so our room was not yet done. However, we were able to check our bags and relax in the very nice lobby area while we waited. Tim went to get some coffee at a shop down the street and I had them set us up with a wireless account so that we could work on the computer while we waited. Our hotel is right on a beautiful park with a huge assortment of trees of all types and it is very green. It made a very nice setting to sit and type for awhile.
Tim worked on some picture editing, and then at around noon we decided to walk up the street a few blocks to get some lunch. We went to a place (Zetost) that had tosts on Turkish bread as their specialty. They were very good.
When we got back to the hotel, our room was ready and the staff had already put our bags up there. They upgraded us to a Junior Suite due to the fact that I practically lived at a Hilton Hotel for over a year in lovely Ft. Wayne, Indiana, and still have status from it. (Things like this are one of the perks of consulting despite the hellish lifestyle). The suite was nice a spacious, with a couch, windows on two sides and a nice bathroom with powder room.
Since our flight was so early this morning, we were pretty tired, but we were also dealing with the fact that we had only 3 days in this city, which is much larger than Adelaide. It is comparable to the size of Center City Philadelphia (something like Front to 30th street area and maybe 1.5 miles wide). We decided to at least take the free city tram around the city loop so that we could hear about the different sections of the city and what was there. We also had a ton of brochures from the hotel.
On our way to the tram stop, we walked through the Fitzroy Gardens. There is a nice paved walkway through the very large trees and gardens. It is really amazing to see palm trees, evergreens, and eucalyptus trees all together in a row and sometimes growing into each other. It is hard to put your finger on the actual climate that would support all three of these, plus require hats and gloves but here we are!
Tim saw a very long pinecone on the ground as we were walking and went to pick it up. He nearly drew blood the thing was so sharp! He had me hold it for a picture. We saw that these long skinny pinecones were from a coniferous tree that also grew the short fat kind of pinecone we're used to seeing. Very strange. We also noticed that the trees had these thick plastic bands around them about 5-10 feet up from the ground. More about that later…
[The Really Long and Skinny Pinecone of Death]


Once we got on the free City Loop tram, we realized this would not be our main transportation for the next 3 days. It got super crowded and you couldn't really see the areas, but they had an audio commentary on the different parts of the city which gave us a general idea. We were able to figure out a bit how the trams worked and decided to buy day passes. They are much, much cheaper than cabs and they run pretty late here, so it is a good way to get around. I wouldn't say that the public transportation here is super self-explanatory or easy to follow, but it is doable with a combination of signs and maps. It is more like trying to use the Philly transportation – you have a combination of subways, buses, and trains and several overlapping maps. It definitely isn't like Washington D.C. where you just show up and it all makes perfect sense with a day pass and a very clear map.
[Melbourne's Tram World]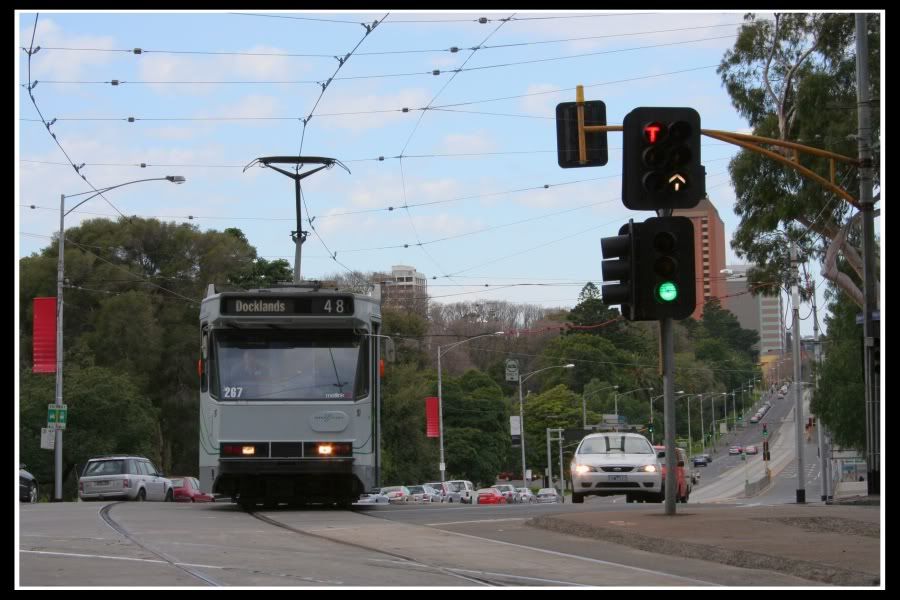 We were almost falling asleep on the bus, so when we finally completed the loop and got back to the hotel, we decided to take a nap for about an hour, and then go to have dinner at one of the restaurants near Fitzroy. We also booked IMAX tickets for the 8:00pm showing of Deep Sea 3D.
We were still very tired when our nap was over, but decided to drag ourselves out of bed and go find a restaurant.

As we left the hotel and began the process of figuring out which sequence of trams we needed to take, it began to rain. Not a very heavy rain, but it made the sky look very dramatic and we joined the rest of the pedestrian crowds in scurrying for cover under the overhangs and enclosed bus stations. We haven't seen rain since leaving Manila!

[LCD screens with real-time"Time Till Next Train" countdowns...Mass Transit done well]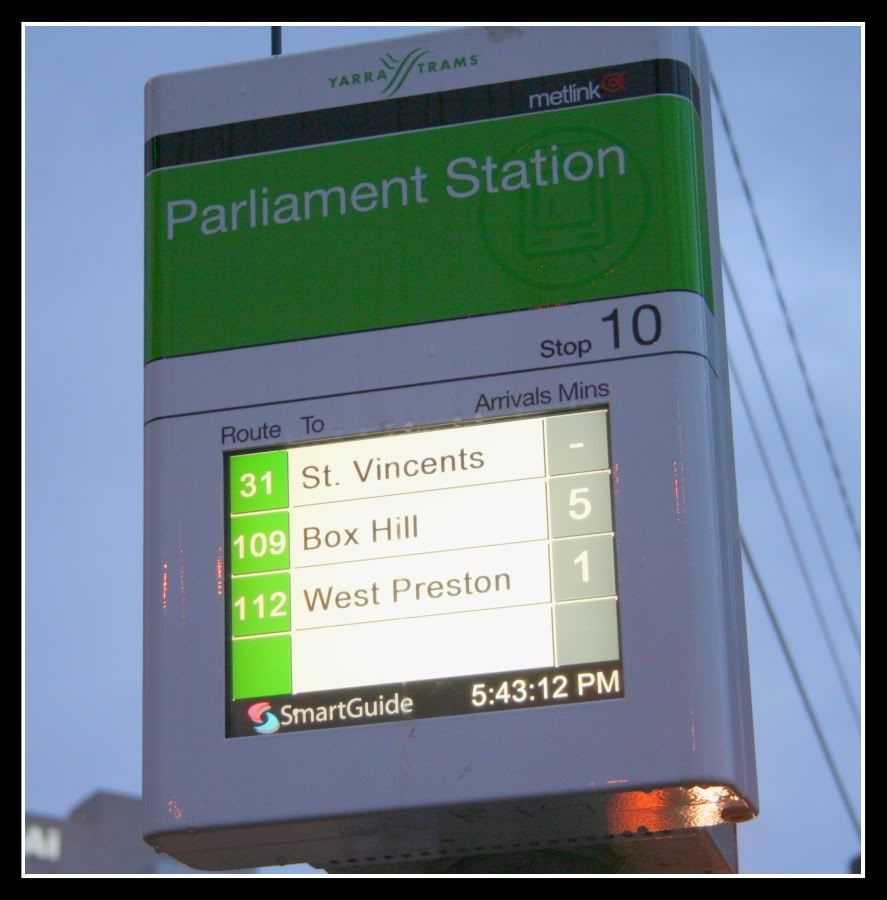 We were able to figure out the trams to the general area and then walked along Fitzroy for about 4-5 blocks. Tim finally realized that he had read the map wrong and that we would never find anything on Fitzroy St., we cut over to Brunswick St. where we immedaitly saw several cool-looking restaurants.
[Not much retail, but a cool-looking alley anyway]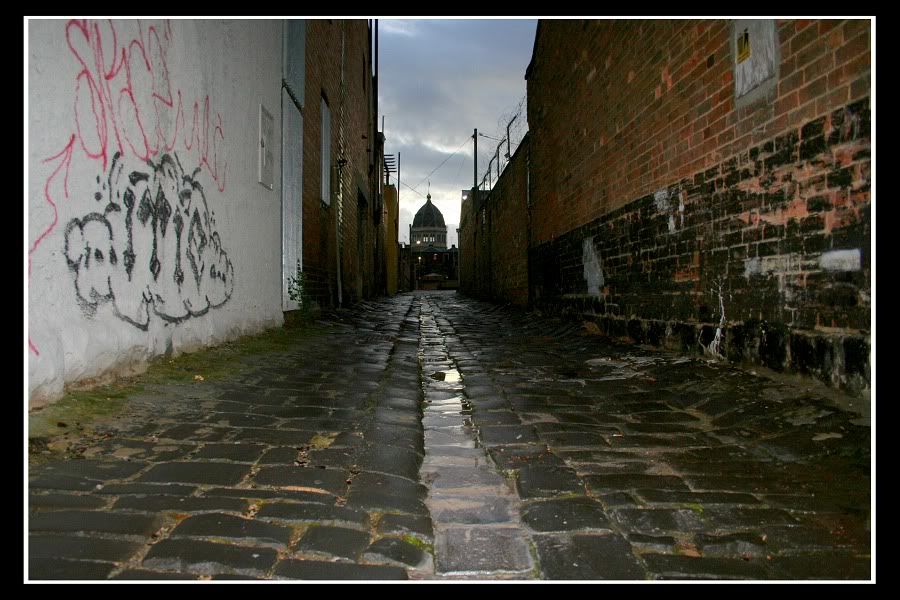 We eventually settled on the Blue Chilli which had a great selection of Asian/Indian/Thai inspired foods. I ordered a coconut/curry soup which was to die for! I wished I had just ordered two bowls of that and no entrée! I also ordered some garlic steamed veggies and rice. It was really great! Tim ordered chicken spring rolls and a spicy Indian noodle dish.

[Outside on Brunswick St.]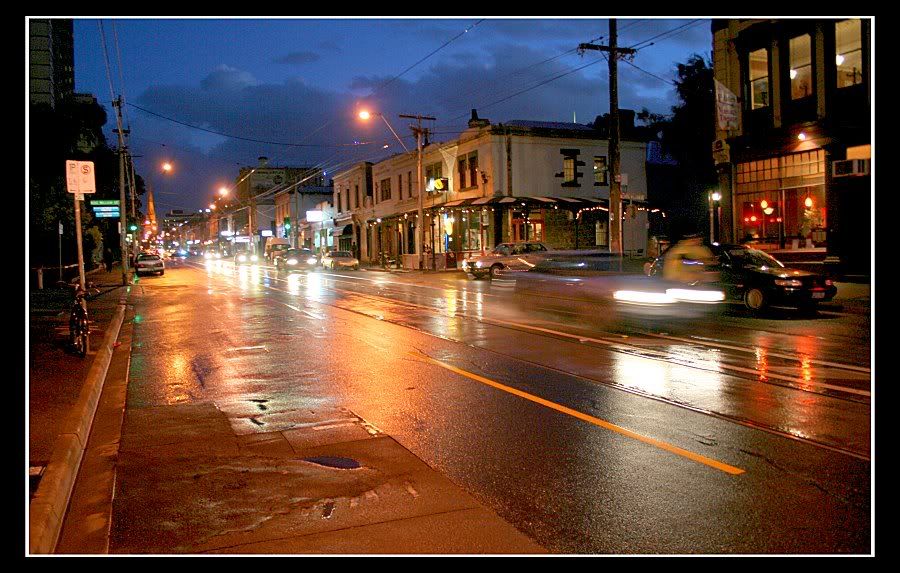 After our meal, we headed over for the IMAX which wasn't very far away, although it looked really far away on the map! It's a small city, but we're still used to the scale of Manila and Philly.

At first there were only about 4 people for the IMAX movie and this was pretty cool! But just as we were settling in for a great movie in 3D, an entire group of 50 of the World's Most Inconsiderate 12-14 year old children I have ever seen came flooding in making a ton of noise and showing complete disregard for anyone else (as is typical of this age group). We still enjoyed the movie, but it was a lot harder to with them throwing popcorn, yelling to each other, and making stupid comments about the animals and the fact that Johnny Depp was one of the narrators. They also did a good bit of crawling over the seats to change where they were sitting and standing up and moving around during the movie, obstructing the screen. They appeared to have been there as part of a school trip and there were only 2 adults there to manage that many kids. Very annoying.

After this not so great experience (which was also not cheap – IMAX movies here are $17.00 per ticket), we decided to get a tram down to the Yarra River to walk along the river and look at the shops and restaurants that were at Southgate.
[Walking by the Exhibition Hall]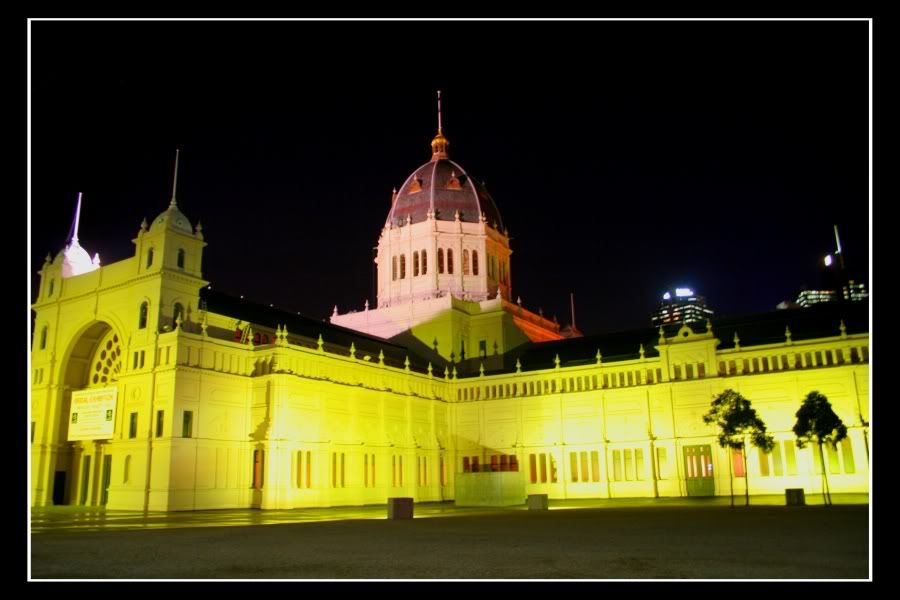 One our walk we cut through another park and noticed that there were more very tall trees and also noticed some things that resembled domestic cat-sized squirrels scurrying about everything. Oh! Whatever these things are much be the reason that those plastic bands are needed on the trees we saw in the Fitzroy Gardens- to keep them from climbing up the trunks.
Lets take a closer look and find out just what these things are! Of course,it was too dark to really get a good look, so Tim points his camera in their general direction and fires off a shot with the flash:
<
Oh My God, it's POSSESED!
Rather than scurry away like a normal wild animal, this thing lunged towards us. I quickly backed up, but Tim still had his eye on the camera viewfinder and only noticed the attacking creature when he squeezed off another shot and saw it illuminated by the flash.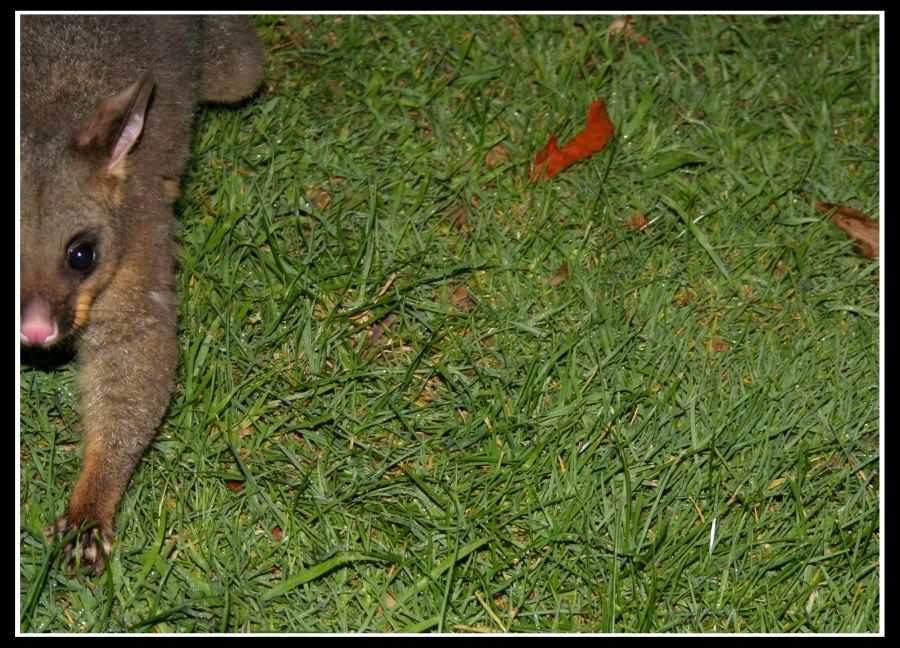 We have tried to find out what this was, and we think it is a bushy tailed possum.
Tim continued in his efforts to get a photo, using me as bait. As I tried to redirect one towards his camera, I suddenly looked down and one was inches from my foot pearing up at me. I screamed and jumped away. He later got another shot of one eating something it had just taken out of the garbage can in a tree that had a branch available lower than the plastic band.


Those things were terrible! I hope I don't have nightmares about them! Some cyclist rode by us as I was shrieking about the animals, and I'm sure to them it would be like somebody screaming at a squirrel in a Philly park. All the same - I'm sure the thing had rabies, and I needed to protect myself!

When we arrived at our destination, we saw that this was a really beautiful area. We walked along the river and Tim took a lot of pictures. It also looks like the shopping is really nice there and we found several shops I want to go back to tomorrow (since they were closed).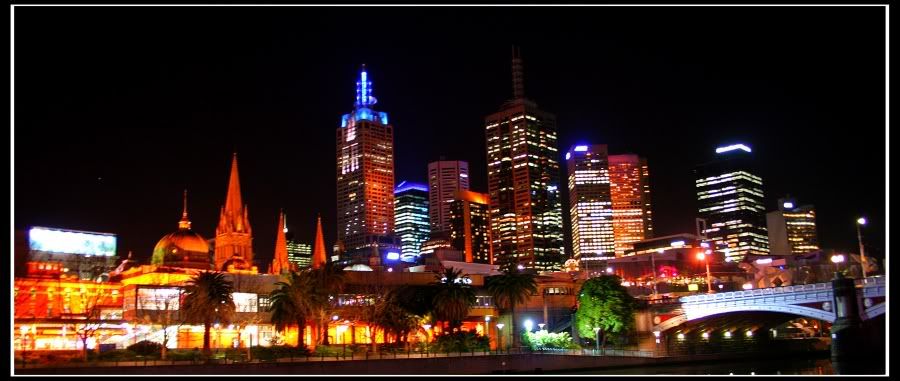 Some bars and restaurants were still open, however, and we stopped in for a drink at an Irish Pub where they had a man playing guitar and singing fun Irish songs. When we first entered, the bouncer told us they were closing early that night for renovations, but we still could get one drink. It was pretty hard to flag down a waitress, but once we did, we got served our drinks and then we could enjoy the music. They actually did not close in 10 minutes. They kept serving and about 20 minutes later a very loud and drunk group of ladies game rushing in and ordered shots and some of the guys came in and started doing Irish dances! Maybe Monday night is ladies' night here? Regardless, the music was great and it was a fun time.

We took the tram back to our hotel without much trouble. (Pretty much the hardest thing is to try to figure out which stops and which side of the road they will come to).

So, now I am just putting down my thoughts for today and then we will head to bed! Tomorrow we have some plans to go to the Queen Victoria Market, look at more shops, and we are considering going to the zoo.

More later!