Happy 29th Kendra!
I haven't had a huge birthday celebration for several years, and I didn't expect this year to be an exception to that. Boy was I completely wrong!!!
First, Tim's parents called my Manila cell phone early this morning to say "Happy Birthday" which was very touching. To avoid giving them a $300 phone bill, we talked for a minute and then we called them back on Skype and got to talk to them for a while longer.
After this, I got ready for work and arrived to a very cute e-card from my brother, Chris, and Lisa. It depicted two cartoon characters trying to race to me on a street to be the first to say happy birthday. It had really cute high pitched commentary, such as: "I got a cramp! -I got a cramp!" and "I'm going to beat you!". I also recieved e-mails from my Mom and my sister, which was nice.
Soon after, one of my team members arrived with a prize for me... AVOCADO MAKI !!! She had remembered an instance several months ago where I had tried to order this at a restaurant I had taken the team for lunch but was sad when they didn't have avocado (most sushi places here don't offer it, as we found out). So, she made me some!!! It was really delicious and I ate it for breakfast!! :-)
After this gifts started coming in - Baci chocolates from Keysi, wine from Ian, a Starbuck's Manila mug from Lottie, another of the same mug (now we have a set!) from Rax and Jhude, roses from Rax and Jhude, balloons from the JPMC team, balloons from Abby and Joven, a Precious Moments plate from Andy, and some very cute and meaningful cards...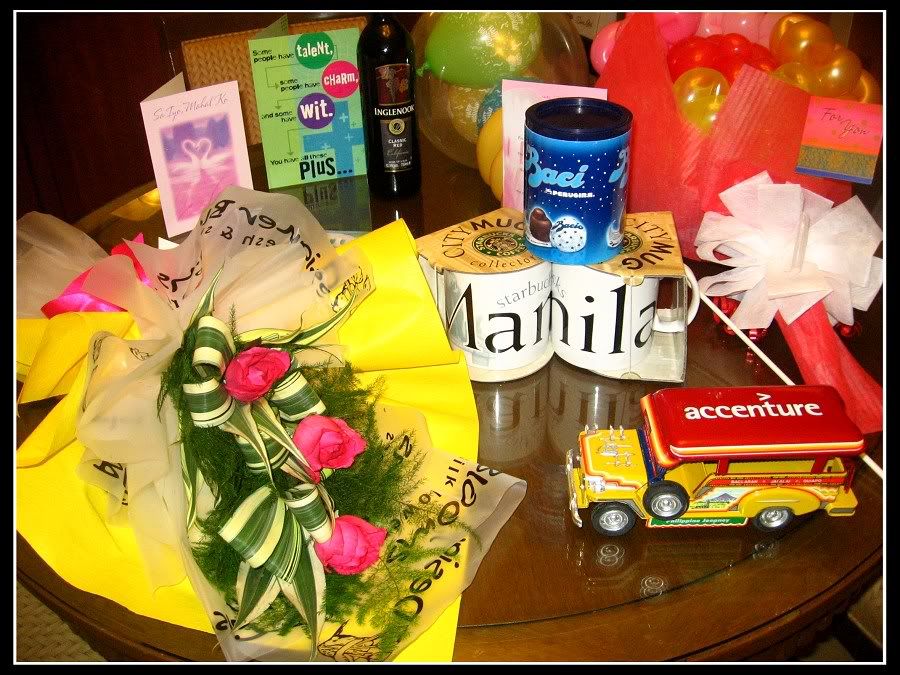 At this point I was pretty overwhelmed at the outpouring from the team. We all continued with our day more or less and then at 3:00pm I went to set out my
handa
. Tim had got for me I think every type of snack in the grocery store aisle and then I got some soda to go with it. We had all the teams for the Ariba practice come together for the snacks and I had a lot of very cute (albeit shy) "Happy Birthdays".
Soon after
handa
time, we had a team meeting from 5-6pm. As we exited the team meeting, the entire LFG and NCEN teams were gathered for a surprise birthday/going away party for me!!! Also, Tim was there! I really could not believe it!
As though this was not enough, they had the party catered and also had put together an awesome PowerPoint video for me with people from the team all talking to me. The messages were extremely touching and some are personal, so I will not post the video on the blog. But it was just incredibly touching. I have a copy of the video, and it will be a great remembrance of our time here in the Philippines.
For the catered food, they made sure the chef prepared several vegetarian dishes, which was also really thoughtful.
I still can't really believe it. Now that I have 2 more days of work left and then Saturday, it just doesn't seem real that we will leave. While it is true that some parts of being here have been hard, you can't leave all that behind and keep the people that you have grown to care so much about. That is the sad part. So, while we are both really happy to go on vacation and then get back to the life we were used to, we will miss the people here very much - as our
#4 on the Top Ten list points out.
As my going away gift, the team gave me an Accenture Jeepney, which I really like a lot!
If any of my teammates are reading this, thank you so much! You have touched my heart with your thoughtfulness and kindness. I will miss you so much... I really don't know how I will come to work on Friday knowing I will have to say good bye. Much love!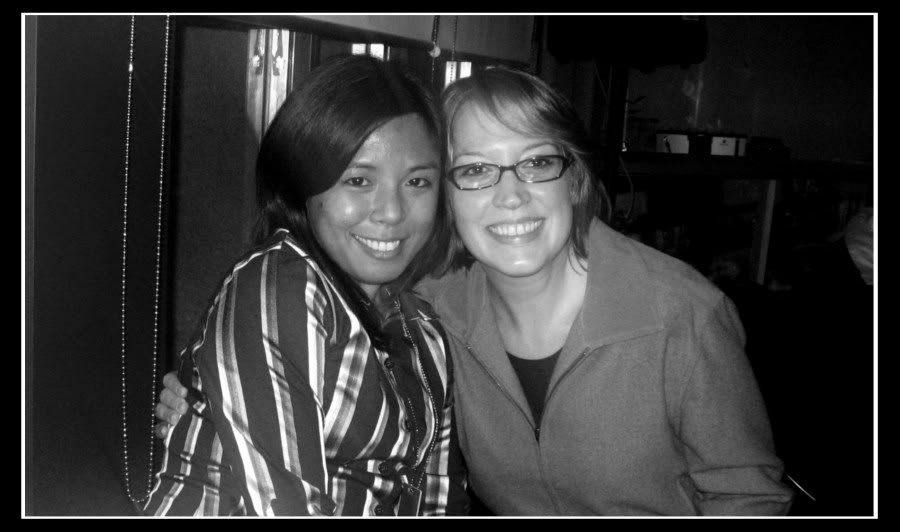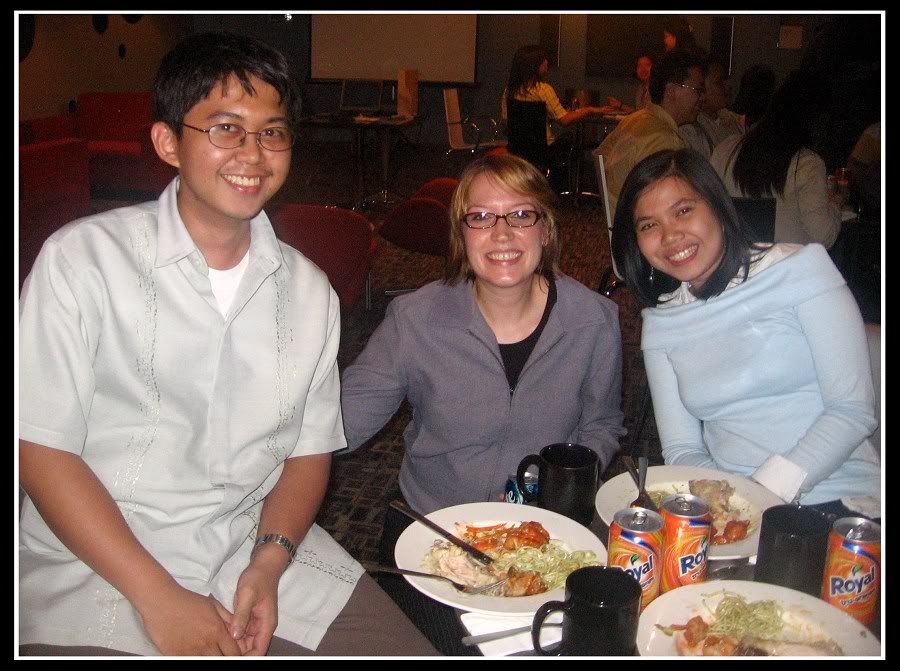 [Videographer extroirdinaire]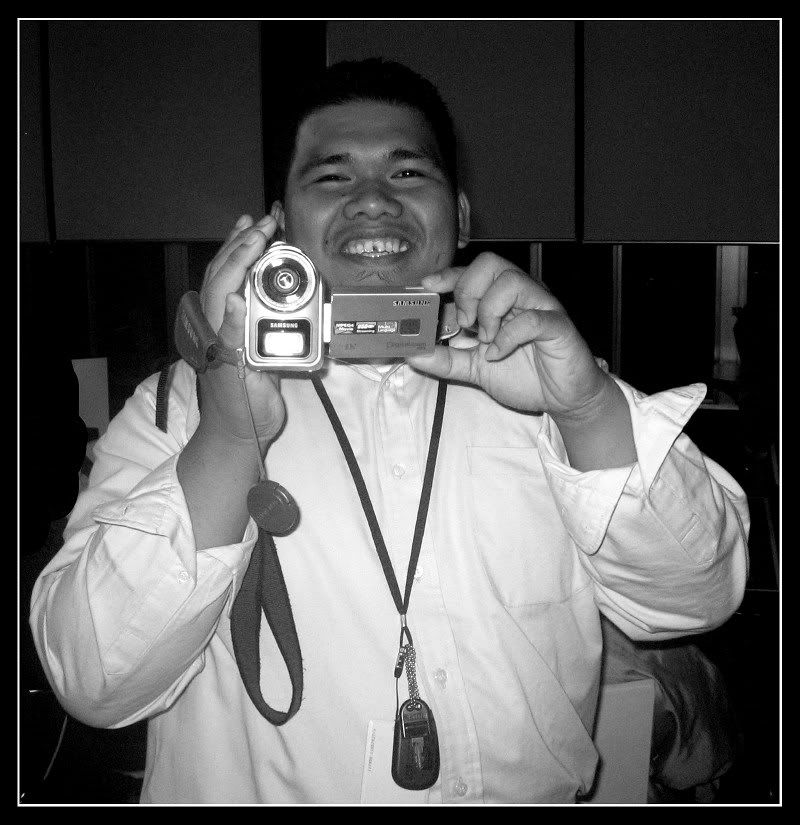 [Our superb catering staff!]