Last Day in the Outback
Today was the last day of out tour of the Flinder's Ranges and Outback tour, and as usual with Geoff, it was full of more surprises.
Tim and I woke up very early and met Geoff at 6:45am for a drive around to see more kangaroos, which are very active during the night and just before sunrise. In addition he wanted to show us a place outside the resort where the sun rises over the hills and lights up the red rocks of the Pound in a spectacular way.
[Wilpena Pound, the Moon and the dirt roads of the Outback]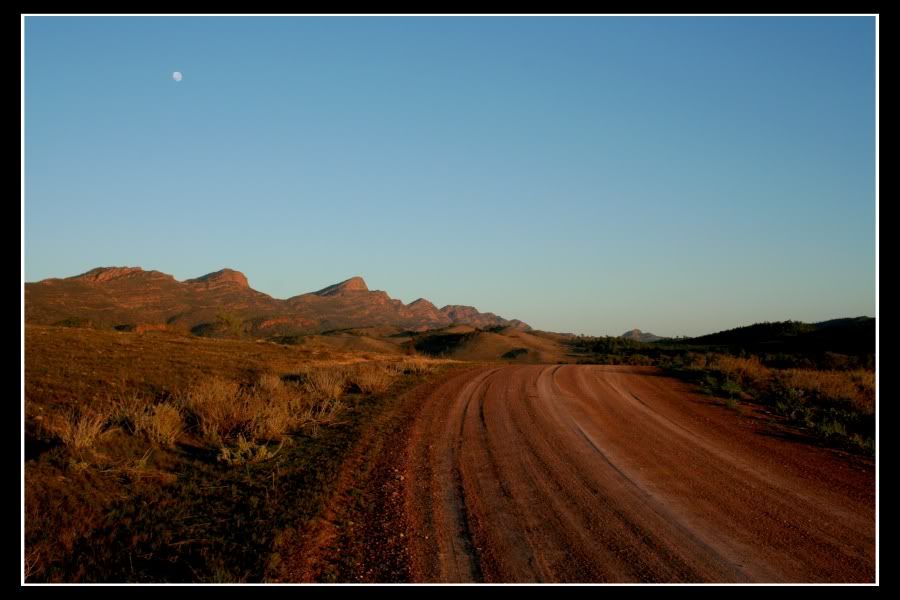 The drive, although very early, did not disappoint and we saw hundreds and hundreds of kangaroos, euros, and emus. We even saw two huge male kangaroos boxing each other. Geoff then parked and we walked up to the crest of a hill and watched the sun come up over the mountain ranges and light up the surrounding peaks of Wilpena Pound.
[Kangaroos out in mass]
[Me shooting Kangaroos and the sunrise from the truck]

[Tree Backlit...]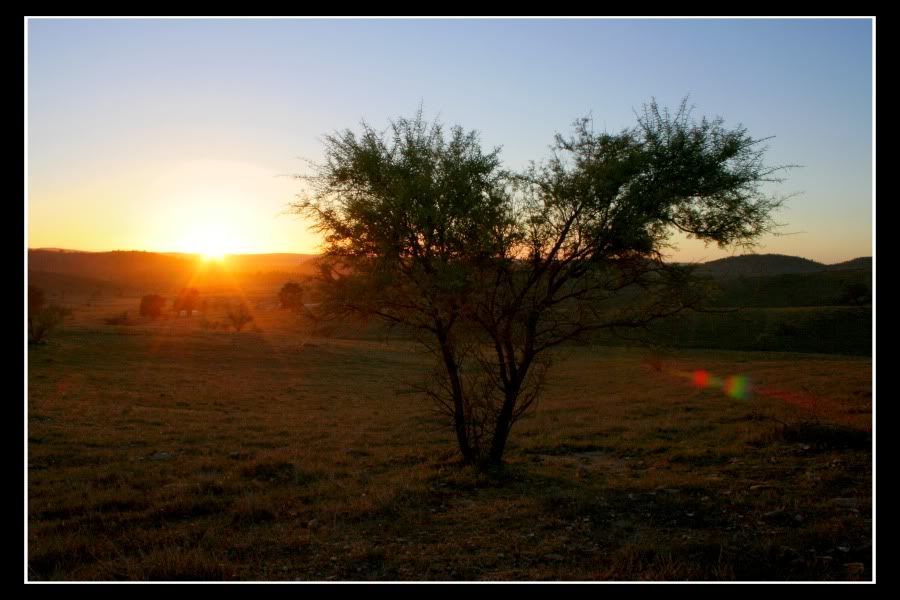 [Tree Frontlit...]


After the drive, we had breakfast, which was great as usual. We had eggs and mushrooms for me, tomatoes for Tim, and hashbrowns. We ended our time at Wilpena by packing up our bags and loading them into the car. We started to be very sad that our tour was ending, but at the same time, we were very tired and excited to move on to the next adventure of sightseeing in Adelaide city. The rest of the day ended up being very exciting though!
[A posing Kangaroo]

[A posing Kendra]

We stopped for a stretch and more fuel in Hawker (where we had stopped on
Day 1
). We then moved on to the small town of Quorn for morning tea. There was an old Steam Train that comes through this town, but it was not in operation when we stopped there, so we just toured the station and picked up some literature on it. The town had a very "Old Western" feel to it, complete with old bars and hotels, and a lollipop shop. Geoff told us that he had come through here a few months previously and that all the paved roads had all been covered with a layer of red dirt for some filming for a movie that they were doing.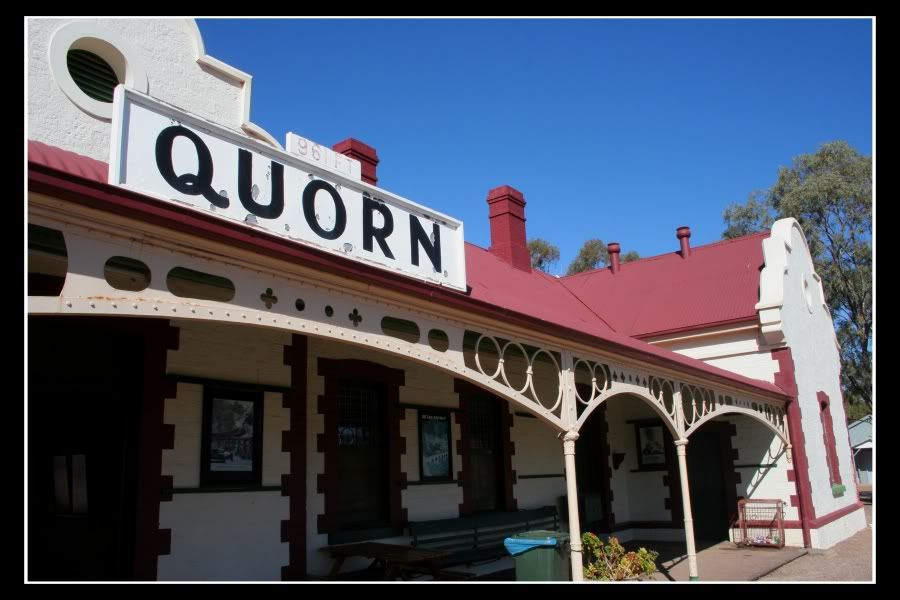 [A dusty Ford Falcon parked on a dusty road in Australia]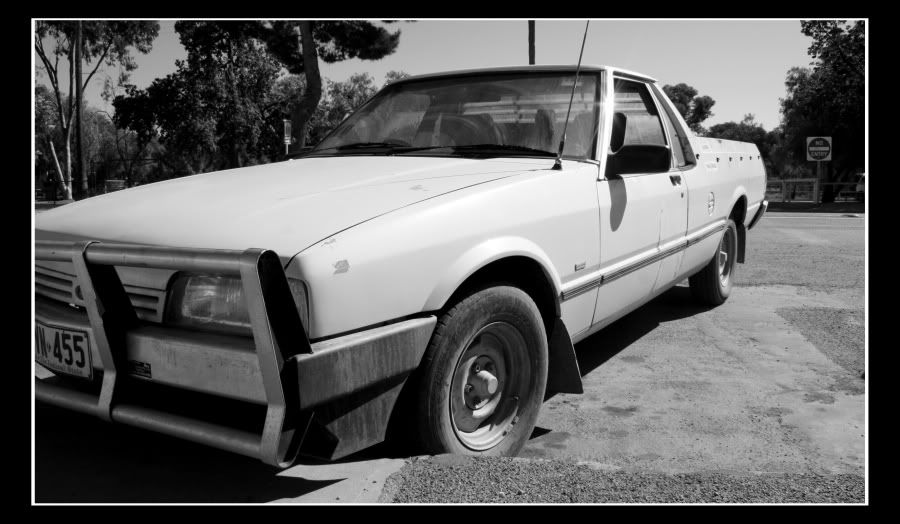 On our way to lunch, Geoff completely randomly looked across a the road and saw a bunch of cars parked near a "footie" field. He thought it would be fun to stop and let us take a look at the game for a while, but when he looked closer he saw that it actually was a sheep dog trial going on!
Basically this is when Kelpies have to herd sheep across a yard, through some obstacles and eventually into a pen to test their skills as a sheep dog. We stopped by and it was really amazing to watch! Some dogs were better than others, and the best ones were constantly putting their lives at risk to get the flock where they needed to be. They would dive between their legs and crawl under the feet of the sheep to get in front of them, or jump right on top of them and run across their backs!! Sometimes the sheep would get spooked and try to escape by leaping over the gates and fences. The men would be out in the field whistling and shouting commands to their dogs, trying to get them in front or behind certain sheep to drive them into the specific areas or pens.
[Doggie and sheep on the run]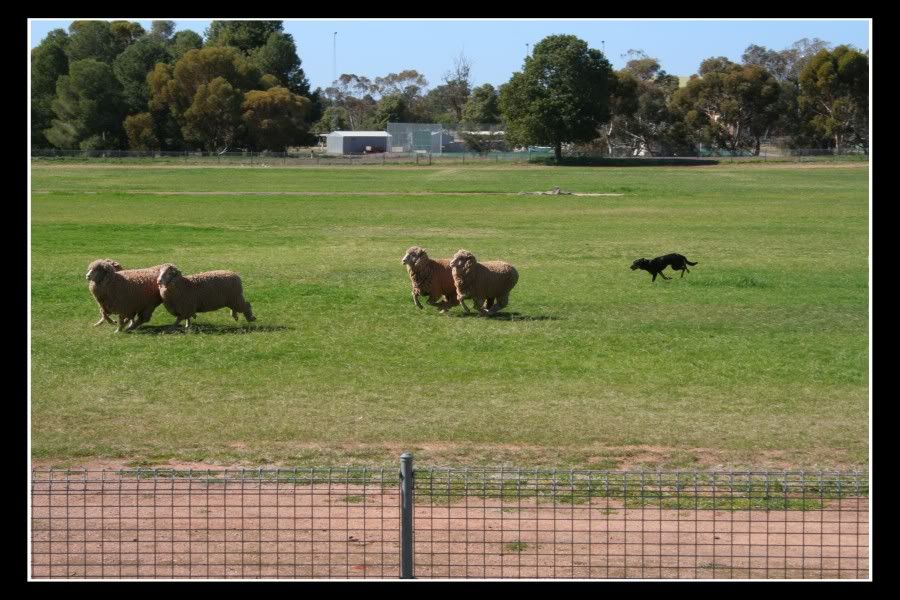 [Trying to clear 12 sheep in a single bound]

The whole event was set up as a contest, with the winner recieving a few hundred dollars. The rest of the town was out to watch and take part in a big BBQ that was gearing up. We got to talk to some of the locals and meet some of their other dogs and trucks full of puppiues- it was such a unique and interesting sight to see!
[Every dog in the place wanted to be in on the action. The man in the hat is giving us the crash course on how the whole event is run.]

[These little guys will be in next years competition]
The impromptu stop put us behind schedule a bit, but it was well worth it to see that event! We then stopped at Wheatley's Old Bakery in the very small town of Stone Hut for lunch and Tim had an emu pie and I had a Cornish Pastrie with vegetables (this is what the miners used to take down for lunch in the mines. The shop was really cool and it was under some renovations to make it a bigger (and with bathrooms!). They also had a small winery and we got to taste some Shiraz and an apple cider liqour. We picked up a bottle of the Shiraz for our hotel room later that evening.
[Trying to remember what different kinds of pies they have....]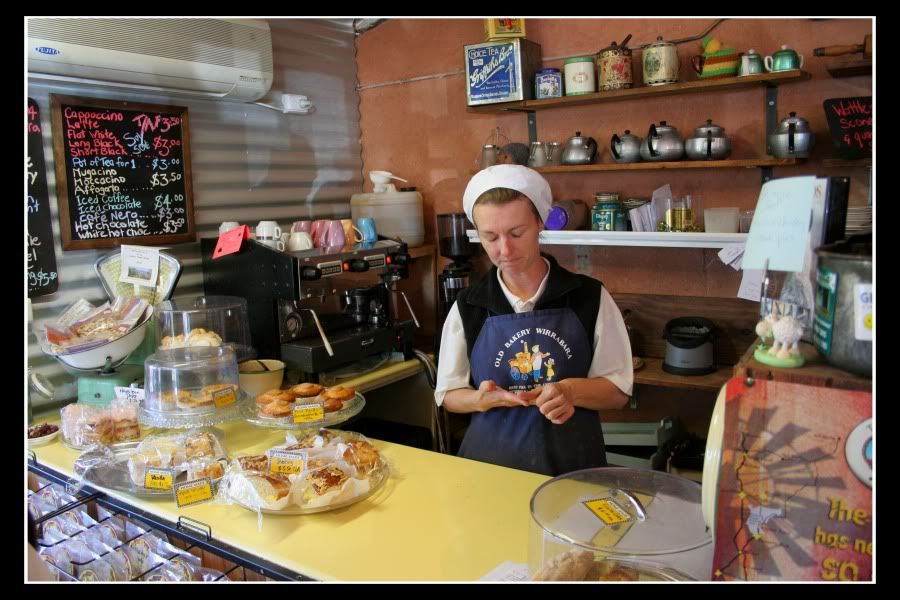 [...this many. (The emu was delicious!!)]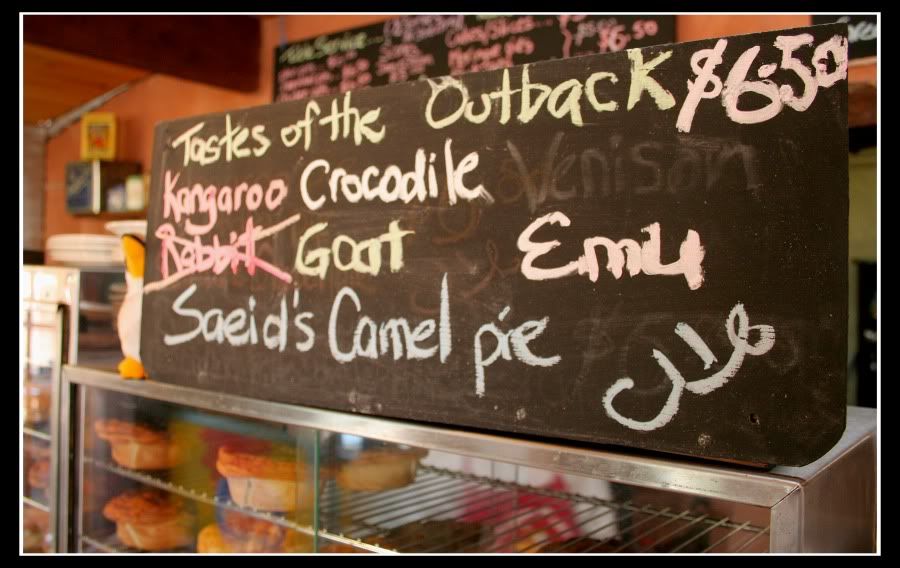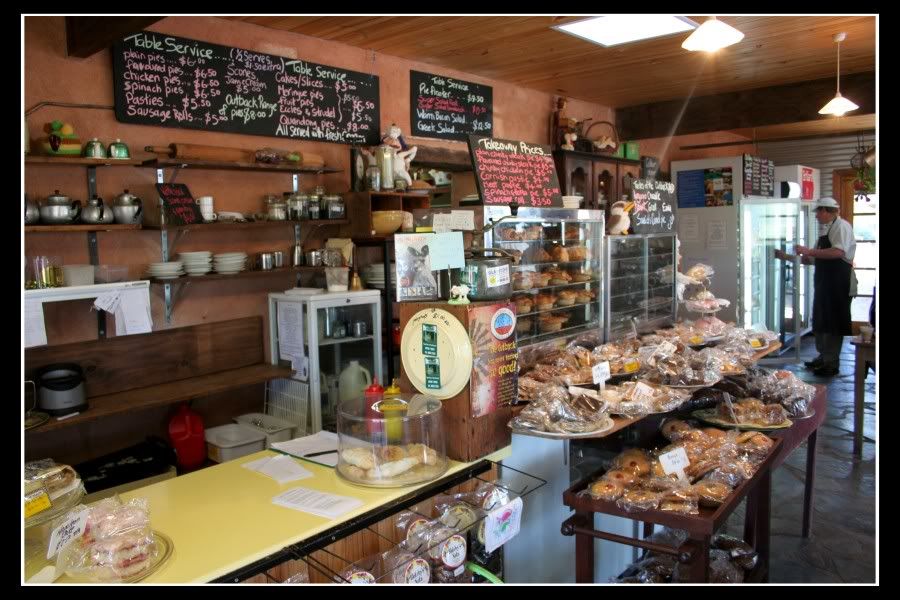 After lunch Geoff asked us if we wanted to take another detour from the agenda and stop in on a friend of his with a beautiful house in the country and a beautiful ranch grounds with flowers and horses. We said sure, and so we got to meet some great people who were about the age of our parents. They were really welcoming to us and served us tea and we had some entertaining conversation. This couple has had a very interesting life. They used to run a tourist resort in the Solomon Islands and he was in several wars including Vietnam, Iraq, and one of the African wars.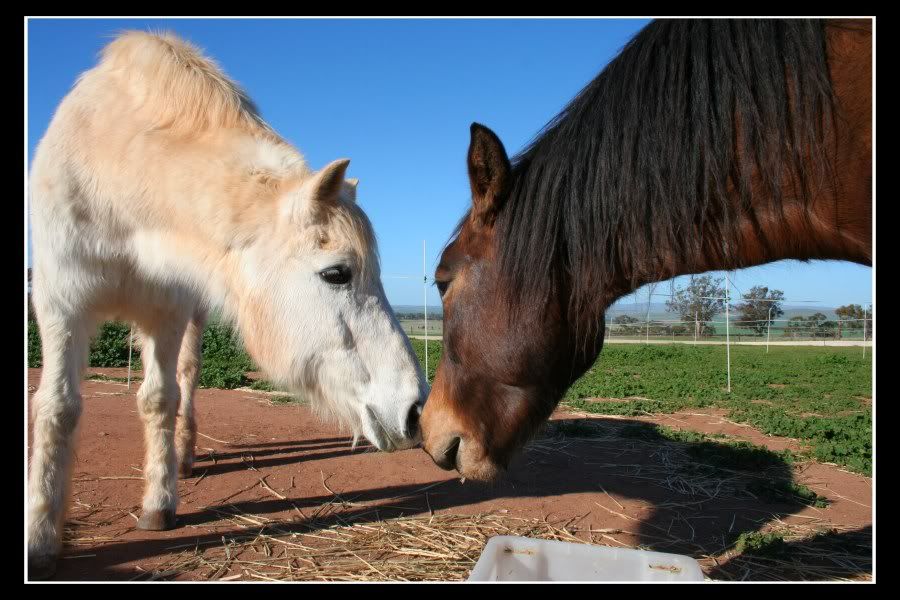 [Kendra's about to be licked by a big horse]

Finally, after meeting the horses, we headed home. We chatted with Geoff about the tour on the way home and let him know how great the tour was as well as write a note in a book he kept in his truck.
[Some colorful cars that we saw on our way home]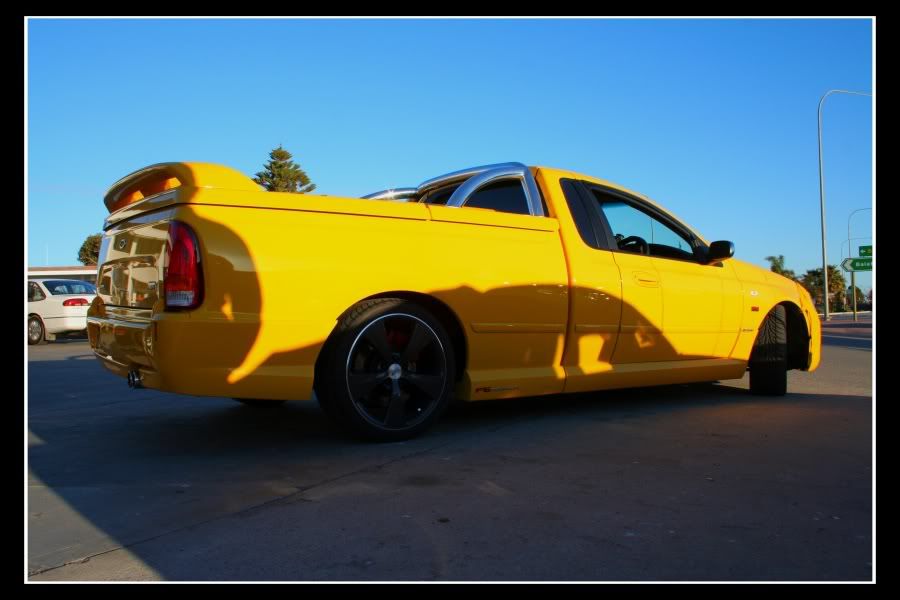 We exchanged addresses, etc. as we neared the city. He dropped us off a little after 6:00pm at our hotel and we hugged goodbye and headed inside.
The hotel had been storing our extra luggage for 5 days and the staff had already placed our baggage in our room, which was great. We checked in and went up to our beautiful room. The hotel is very nice and very new. Although we enjoyed our Outback tour very much, I am glad to be back in the city in more of a setting I am used to.
[The Majestic Roof Hotel in Adelaide, South Australia. With a lovely patio out on the 4th floor]

[Kendra loved the big bath (with doors out to the living room)]

We weren't able to explore much of the city tonight, but we did go to a nice little restaurant called Daniel's near the hotel.
Some general commentary on the general demographics here and style: Overall, the population seems to be on the young side. There are a lot of people with small children or younger singles. There is a very popular trend here right now for very extreme two-toned hair (white-blonde on black). The dress style is a bit 80's from the US and a bit European all mixed in. Stylistically, it is very similar to Hong Kong and there are a fair amount of Asians in the city. Other than that, it is very white. People seem to wear their hair in a messy, just woke up style, and the men mostly all have very spiked up hair or Mohawks accentuated by the two-toned colors. We will head to be shortly tonight and then explore more tomorrow!