Melbourne (Day 2)
Before continuing on with Day 2 of our adventure in Melbourne, I'll provide some commentary on the demographics of Melbourne as opposed to Southern Australia. What we have seen in this city so far is a lot more ethnic diversity - mostly in the form of Indians and Asians. However, the people seem a lot more assimilated with Australian accents and western dress. It is sometimes amusing to go to a Chinese shop and get greeted in a very cheery Australian voice!
So, back to the adventure...
Our first night in Melbourne was very cold in the room. I'm also not feeling great - something that actually started coming on yesterday, but got worse over night. Add to this the fact that despite the fact that we are loving our vacation in Australia, I am starting to just feel like I want to go home. I want to see our condo and our kitty again and make sure that everything at home is OK. I'm sure that is a fact that will not make sense to many people who have a lifelong dream to visit Australia. I'm sure I only felt that way because we had already been gone for 6 months.
Regardless, we decided to make the most of being in a new city and headed to the 7-11 down the street to get two Zone 1 Met Cards. This would allow us to travel unlimited on the tram and bus services within Zone 1 of the city.
We took the tram to the Queen Victoria Market, which we had read about in several brochures and looked very cool. It was advertised to be literally a market with fruits and vegetables and clothes and other goods. We planned to have breakfast in the area when we arrived and just have a relaxing morning.
As the tram approached the market, we saw a very quaint area with cobblestoned streets and brick buildings lining a covered sidewalk area. I saw Victoria Café, which looked very relaxing with outdoor seating. We decided to eat there and ordered great breakfasts. I ordered the Big Veggie Breakfast, substituting avacado instead of eggplant, and Tim ordered the Big Breakfast, consisting of a 10 inch long sausage link and bacon, fried eggs on toast, and a tall black coffee.
After a delicious breakfast and some conversation with the shop owners who were excited to have two Americans there, we went into the Market itself. The market had big vegetable stands and fruit stands, clothing of every type, souveniers, and independent shops. The prices were not very cheap, and certainly did not employ the type of bargaining we experienced in Hong Kong at the Temple St. Night Market, but the items were still cheaper than retail.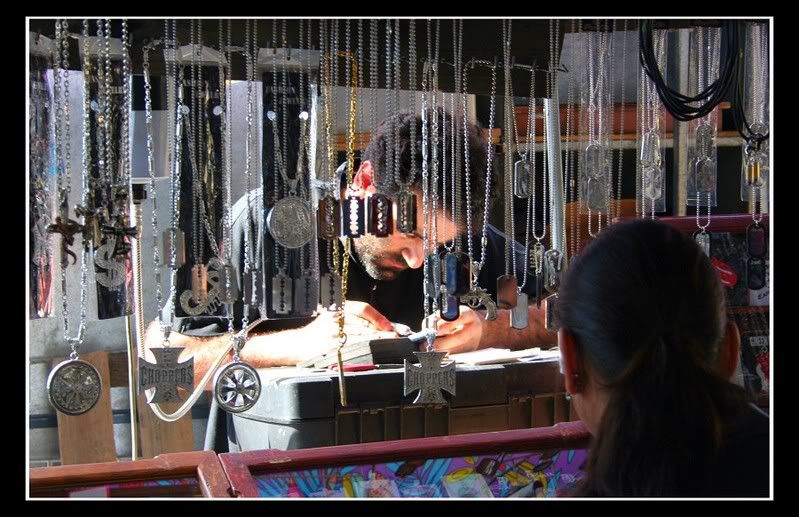 We didn't buy very many things, but we looked around for awhile. Our purchases included a thinsulate hat for me (which was bought out of necessity as it had started to get suddenly cold), a Rip Curl watch for Tim, a Gray sweater with eagle for Tim (which the saleswoman made Tim try on and told him he was like a model in the sweater), wool socks for Gene, Chinese tassles and good luck dragon and prosperity toad, a wide western style belt for my sister, and a kangaroo scrotum pouch for Moho from Tim's work.
The market is famous for "cheap jeans", but we did not see any jeans in the cheap category that would have been good for either of us. We did get a funny lesson on jean fit, though, from another vendor who was trying to use Tim as a model. Tim was looking at the relaxed fit jeans and received a lecture on how with his skinny legs, he needed to only wear the slim fit jeans or else it would not do him any good. She went on to say that for you (pointing to me) or I (pointing to herself), jeans with more room in the thighs are fine, but not for him (pointing to Tim). Tim was bewildered by the whole thing and just decided not to get any jeans.
After our shopping, we stopped at the Stork Hotel for a drink and french fries. This was a divey bar but cool. It was not very crowded. It had a few regulars at the bar, some backpackers on one of the other couches, and a few Europeans playing pool. Everywhere we have been here - including this divey bar - has good wine. Everywhere we go here also corrects us on our requests for ketchup. It is "to-MAH-toe" sauce.
We decided to take the Tram to South Gate and look at the shops again. School had apparently just let out and the mall was full of kids. Some of these kids were of the very rude and disrespectful variety, such as the stupid kids throwing entire cup fulls of soda off of the balcony in an attempt to hit people passing below. I needed to get money out in an area very near to where they were hurling items down. Before going over, I made eye contact with the main person, gave him a look that would have stopped time, and continued staring at him until he left. For the second time in this city, we made a firm decision to never have children, if there is even a small chance of them turning out like these idiots.
Although I was in an instant bad mood at the general state of humanity, we managed to get some souvenirs at the Body Map store before leaving. We got koalas for my sister and momo, and a collector's spoon for Darlene with a kangaroo on it which said "Australia".
The cold had gotten the best of me by this point and I was dragging. We headed back to hotel to rest and work on the blog more. I fell asleep for a few hours and felt a little more energized when I woke up.
We decided to head back to Brunswick Street again for dinner, since it seemed full of great restaurants like the Blue Chili from the night before. We walked through the woods to that area, but this time, there were no sightings of the frightening possum-creatures.
Rather than taking the tram, we walked the entire way up Brunswick Street and settled on the Blue Fin - a place much farther down the street than we had walked the night before. Our waitress was a very friendly and cute girl who looked like Lauren Reid (formerly Brubaker). I ordered salmon and veggies, and Tim got a hamburger about 8 inches in diameter. We were stuffed after dinner, which has become a very common situation during this vacation. We are making up for months of not being able to find that much food that we liked!
On the walk back to the hotel, we stopped at a loungey bar with dim lighting, red plush couches, and chandeliers called the Black Pearl. The decorating style was very much Victorian meets Gothic. The bartender was extremely friendly and interested in talking to us and finding out where we were from. He whipped up two great Irish coffees for us with homemade, hand shaken whipped cream on top.
We walked the whole way home. However, this time during our walk through the woods to the hotel, we encountered more scary possums. This time, they were not content to stare at us and creep up to our legs. This time they outright chased us! How horrifying!
Although the hotel lobby was hopping with many people at the bar, we headed up for bed. We had big plans for the next day of going to the Werribe Zoo.