Melbourne (Day 3)
By the time the morning arrives, my cold is full blown and feels more flu-like. Everything hurts, and I don't feel at all like getting out of bed. Sadly, though, this is our last full day in Australia, and we have some more things we want to do before we leave. Tim and I decide to just try to do as much as possible.
To add to the situation, the weather is very windy with winds that literally almost knock us both over. It threatens to rain at any moment.
For breakfast, we went to the Fairy tree and miniature tudor village donated by the queen of England to thank Australia for supplying food to England during food shortages. The little village was very cool, and we commented that our kitty, Elora, would probably really like it. It was approximately the size for which Elora would have looked like a large lion. At the café I had a big omelet and cappuccino, and Tim had a Big Breakfast meal. The food was extra slow in coming, so we were there for quite awhile. Tim actually went out while we were waiting to take his photos of the fairy tree and the village. I was able to see more details from the pictures than from actually being there, because my cold was making me impatient for being out in the wind.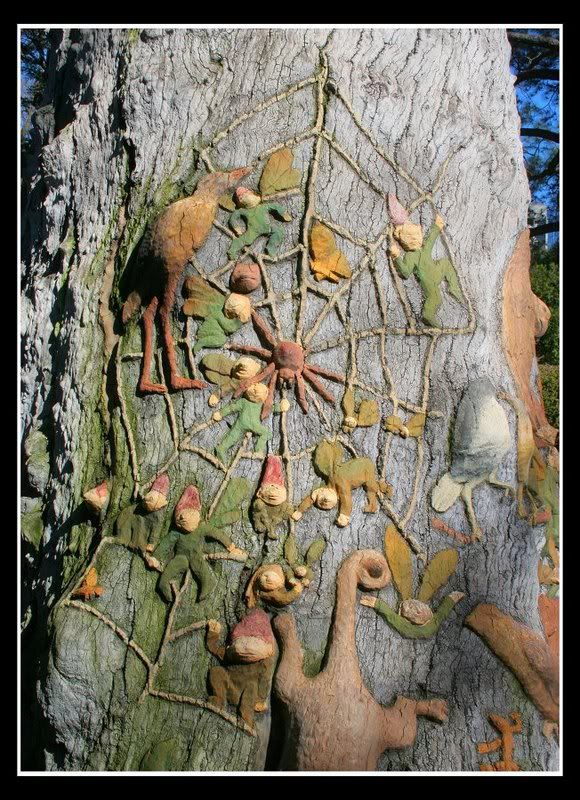 After breakfast we walked to the tram to get the 55 on William St. to the regular zoo. Our conversations with the hotel staff convinced us that it was going to be a huge hassle to get to the Werribe Zoo at a reasonable price, even though we would have preferred to go there since it is a free range zoo with little safari trips through the animals.
Several class trips were also trying to take public transportation to the zoo at the same time. The trams were very crowded and the vast majority of the kids were very poorly behaved. Since this is the third time we have mentioned this, you are probably getting the impression that this is usual behavior for the middle-school aged kids here. It may be the usual behavior of kids in this age group anywhere, but we probably don't notice at home. There really aren't very many kids where we live.
We got off the tram a stop early and so we had some amount of confusion in how to actually get into the zoo. We were walking around the outer perimeter of the enclosures, but couldn't find the entrance. We ended up entering through the back where the buses usually load in.
By and large, the Zoo was not very impressive to us. Many of the animals were hiding, and all the enclosed cages made it very difficult to get good pictures. In addition, the aforementioned class trips were teasing the animals that did dare to show their faces and hitting sticks against the cages. I am certain that had my sister been there, she would have given more than a few lectures.
Regardless, the lions, brown bear, baby Orangutan, and fur seals were very cool to see.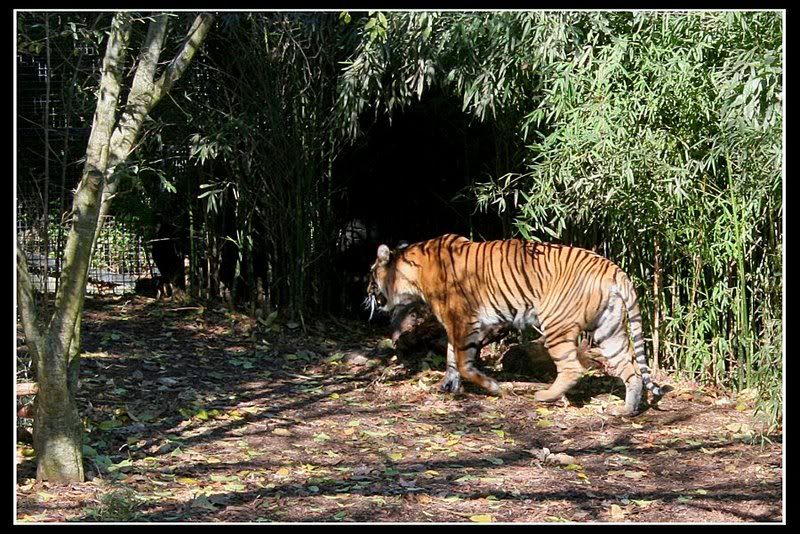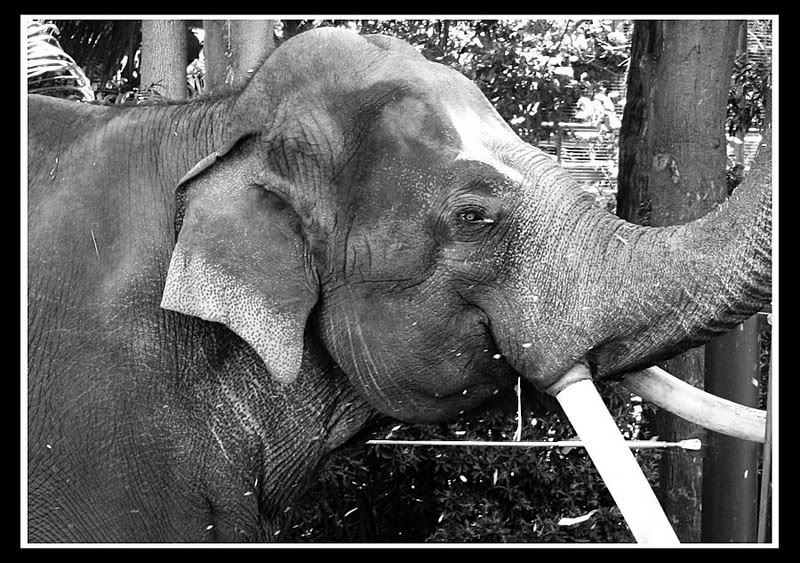 We stayed at the zoo for 2 hours and then got the tram back to the city. By now it was extremely windy and cold, and we wanted a good lunch. We took the tram back to Brunswick Street with the plan to go to the Blue Chili again for that great soup. A nice man on the tram recognized us as foreigners and asked us if we needed help. He helped make sure we were on the right tram. Most of the adults we have talked to here are incredibly sweet and gracious. So, either there is a recent wave of horrible children being born, or they just snap out of it when they grow up and become great human beings. I am not sure.
When we got to the Blue Chili and it was open but closed for eating in the period between lunch and supper, so they wouldn't serve us. I was very upset about this.
We walked farther up the street to a soup and sandwich deli. Tim got beef pie and did not like it. I got Pumpkin and Chickpea soup which was great although very peppery, and my nose was running a marathon in response.
At this point even though it was only late afternoon, I was feeling extremely sick, so we headed back to the hotel. The walk back from the tram station was very hard, but we made it. Sometimes, even if you know you only have a few blocks to go, it just seems like FOREVER.
Tim gave me Nyquil and I went to bed. Tim worked on the blog pictures for awhile.
This was our last night! Our last night would be spent packing, getting organized, and ordering transportation to the airport.