Out back Day 4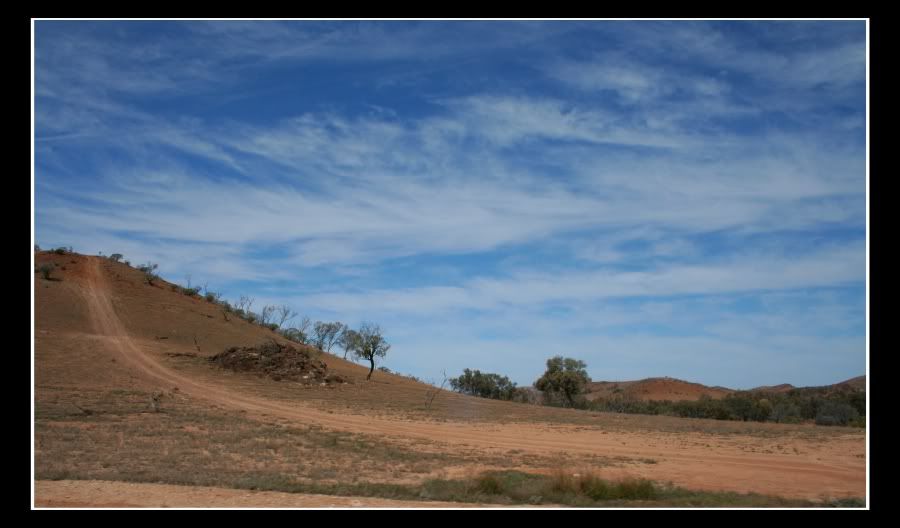 [Another dirt road, another hill, more red soil and more blue sky!]
Today was one of the best days of the tour so far, even though it had a fair amount of driving in it. We were able to sleep in a little bit at the resort before breakfast, the re-packing (again!), and getting back on the road. We slept in until around 7:00 and then got up to get ready and pack our things before heading over to breakfast at 8:00. The first thing we heard upon walking into the lodge was the news broadcasting the foiled terrorist plot to attack planes with the liquid explosives. It looks like carry-on items are under pretty strict regulations, espacially those coming from overseas. I really hope that all of this is straightened out before we try to leave Australia for the U.S, and I hope that everyone will be OK.
Once we all got an update on world events, we headed into the dining room. For breakfast we had cereal, toast, and coffee.
After breakfast we got a few souvenirs and took a walk through the small museum they had at the resort. Tim also took a last minute round of great photographs of the dining area and some areas of the outdoors – such as the great water collection system that they had set up. They have all over the Outback water collection facilities which collect rain water from the roofs of buildings and set them into reservoirs. They then use that water for drinking water, and it is really great tasting water.
[A metal roof, a few pipes, add some rainfall and you've got your water supply!]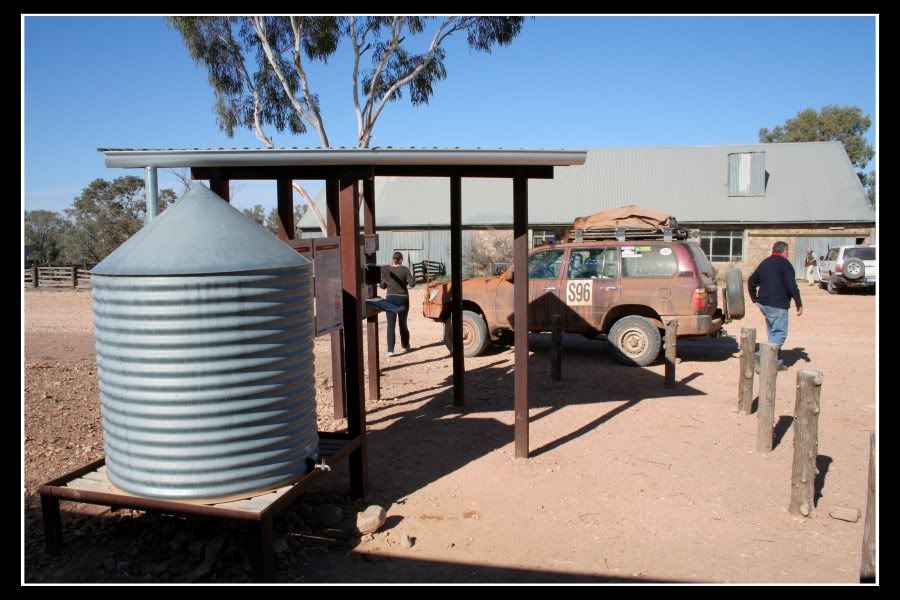 [The dining room at Arkaroola]

[The bar at Arkaroola]

[Have you seen any animals lately?]

We were on the road by 9:30am and headed off into the barren landscape again.
The surroundings were not terribly interesting and I was feeling pretty nauseous again with all the driving, but soon we stopped at a building which used to be an active sheep-sheering barn. Geoff took us inside and showed us some of the machinery and told us how they used to harvest wool back in the day. The whole places till smelled like sheep, even though it hadn't been occupied for years.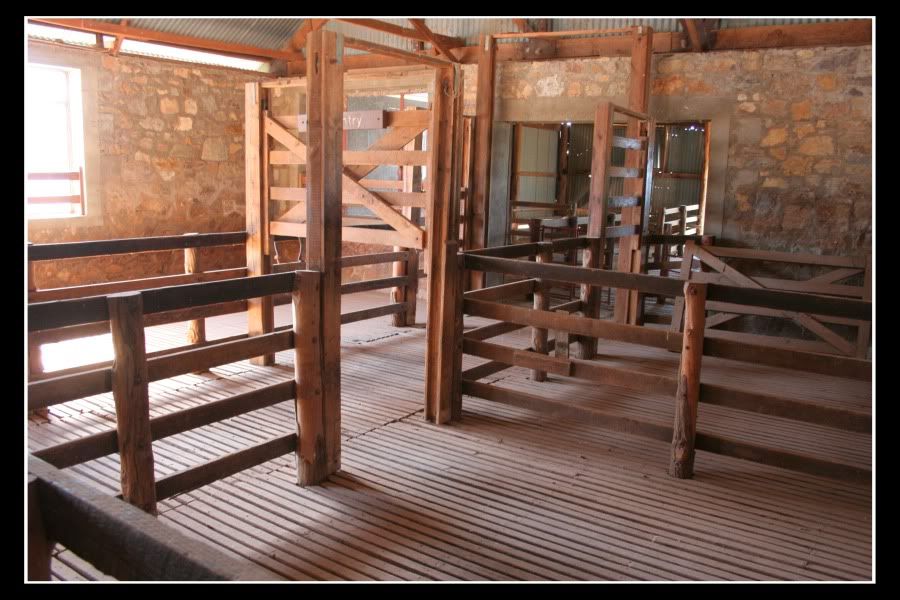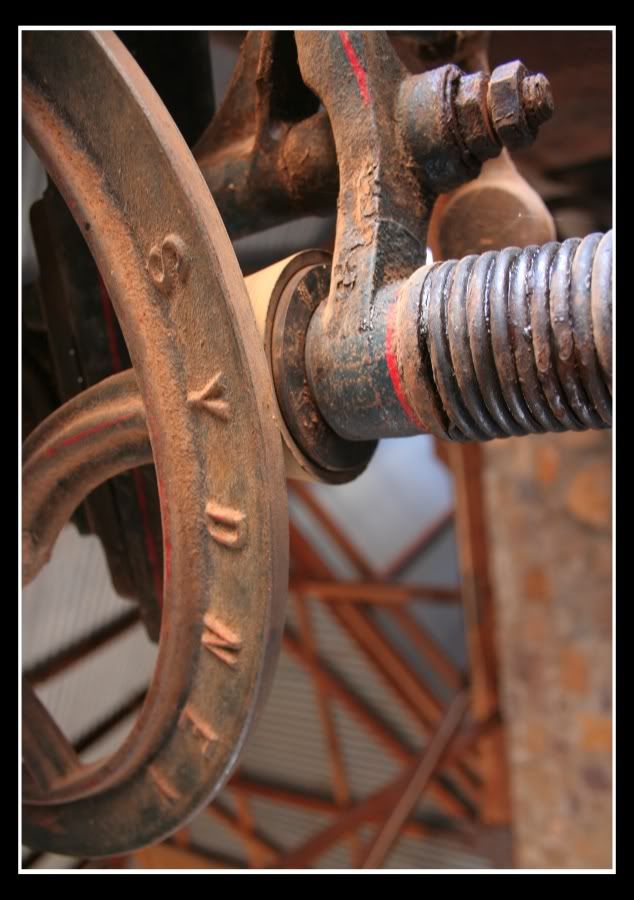 We stopped for morning tea at around 11:00am at a dry creek bed under the shade of massive gum trees. There were some little birds singing in one of the large trees that looked a lot like parakeets.
[Kendra's warming up with her hot tea]

[A few cattle checking out the tourists]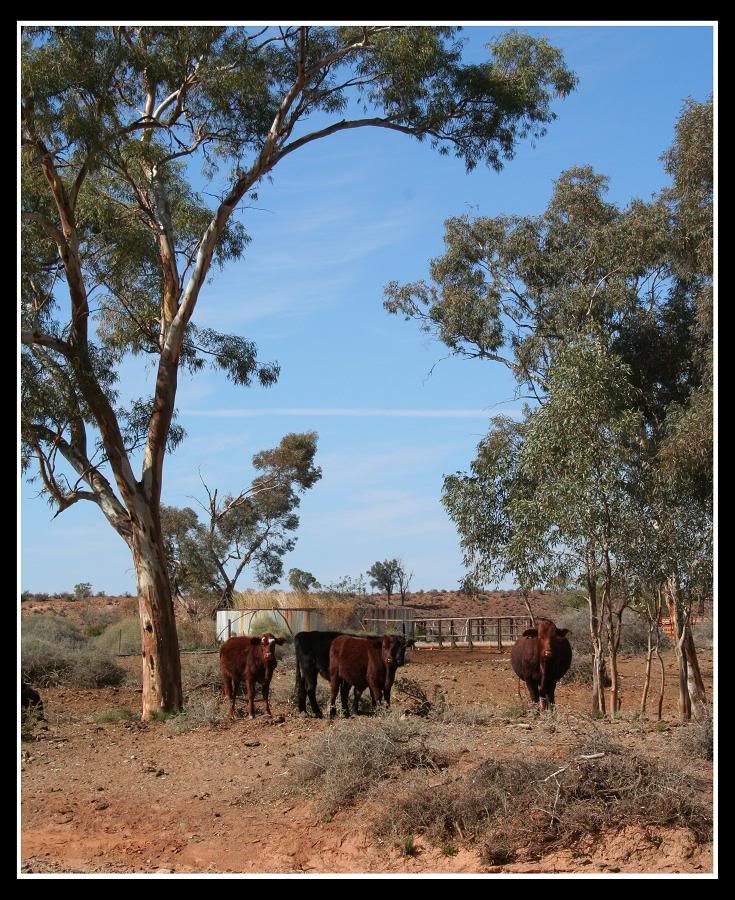 Also during this drive, we passed by several Tea Trees (or Melaluca Trees) which are the source of both Tea Tree Oil and Melaluca Oil, which my mom likes to use for many things.
As we drove, the terrain became more and more green and we saw more animals – cattle, sheep, kangaroos, and emus.
[Emus on the run]

For lunch we stopped at a completely adorable and quaint town of 18 people called Blinman. This town was similar to pictures we have seen from Scotland or the French Country side. It used to be a bustling copper mining town, but the mines have been closed for about a hundred years and now it was mostly just a hotel and a pub. The pub, like most every place we have stopped on during the tour, had completely excellent food. Tim got a burger (of massive size with an egg and bacon on it) and a Blinman Pale Ale and I got an Avacado and Cheese Sandwich and a Cooper Stout. It was awesome to eat fresh avocado again. I think Geoff is quite amused by our excitement over all the great food!
[North Blinman central]

[Inside the Blinman Hotel]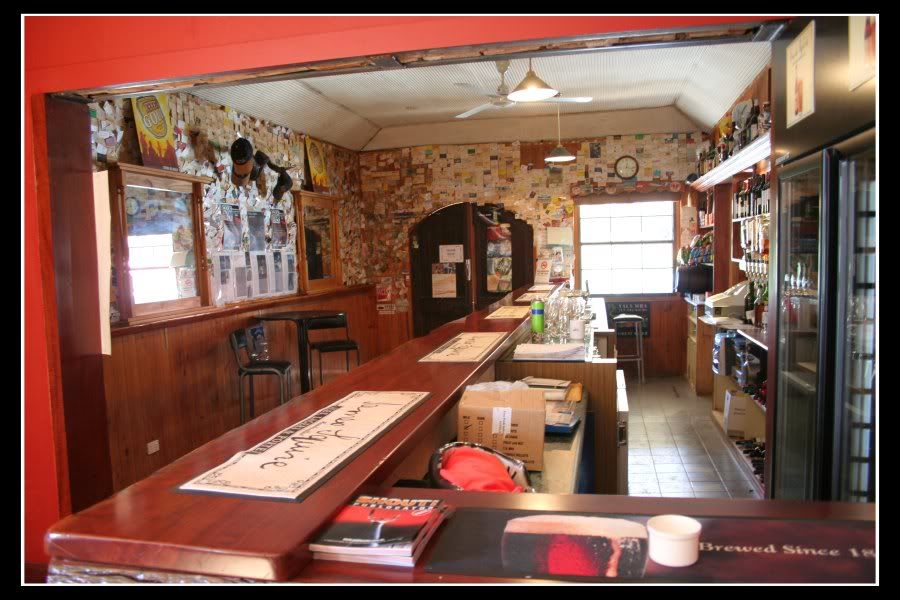 [The walls were covered in business cards and currency from all around the world]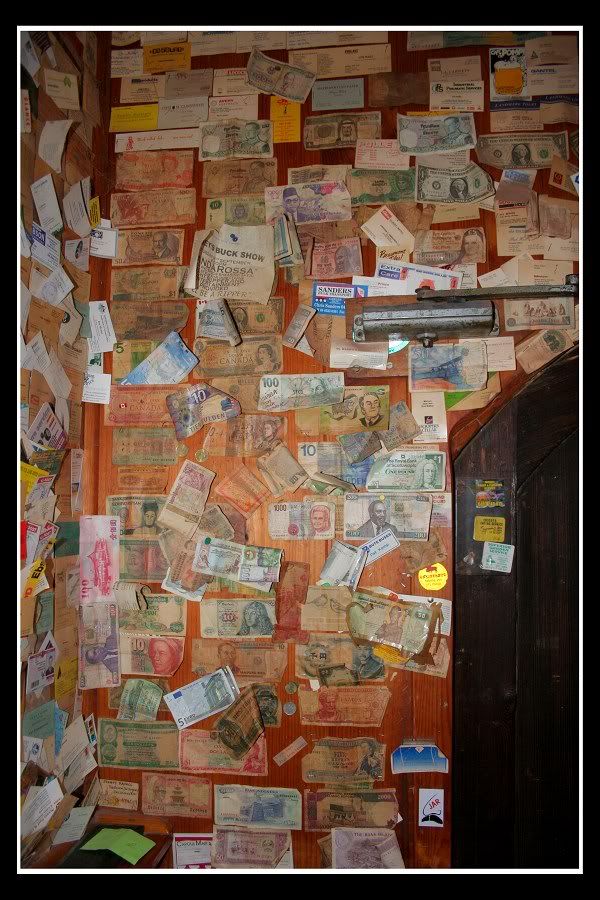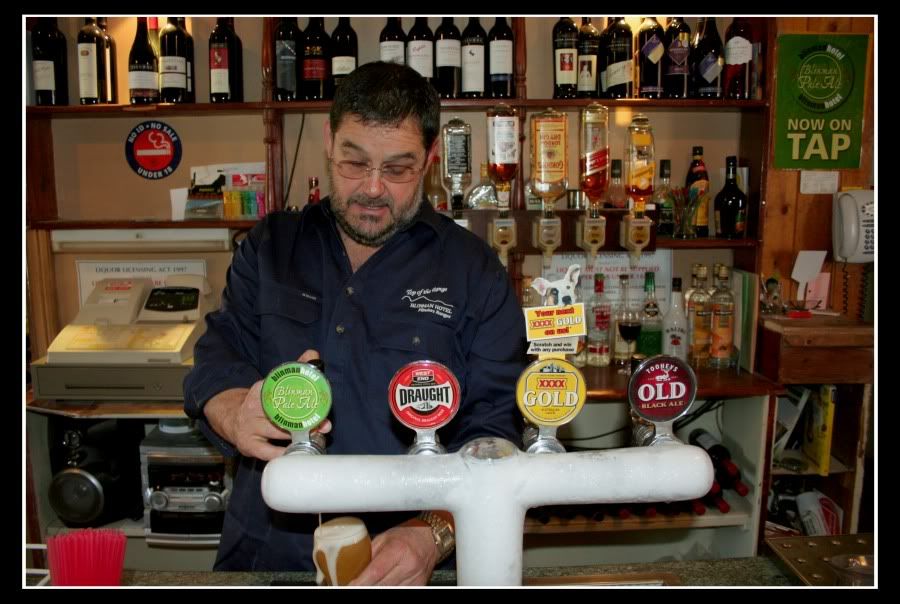 [The best hamburger I've ever had!!!]

[Saw this sitting on the shelf and had to get a picture of it..]

After lunch we toured the rest of the little town and enjoyed the fresh air and breezes. It was a warm winter afternoon. There was also a little Kelpie dog called Bundy to accompany us.
[Old chimneys from the long-gone mining town dotting the landscape]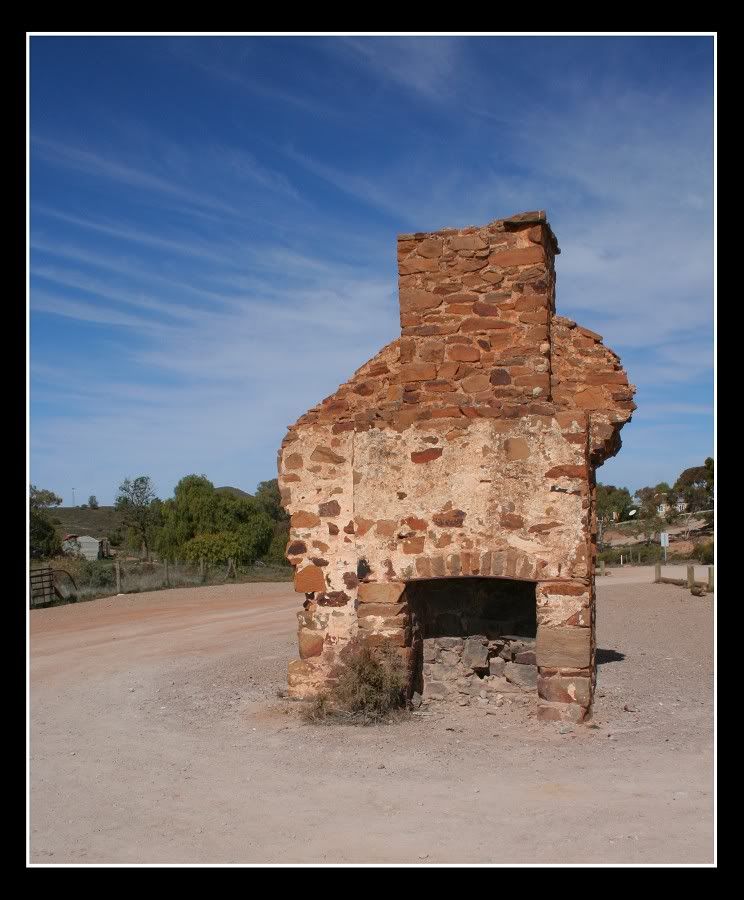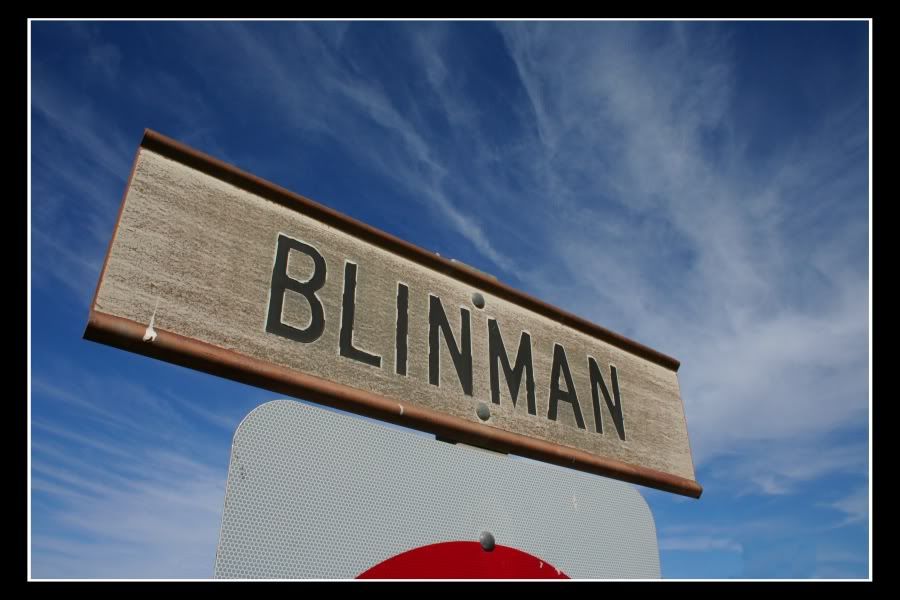 After a few minutes driving out of Blinman, Geoff stopped the truck and took us down a narrow, winding trail to a series of large rocks with a few Aboroginal drawings and carvings on them. They had been pretty severly diminished by the elements over time, but you could stillmake out some markings carved into the rock which signified campsites, waterholes and animals.
[This would have been a sacred site for the Aboriginal people]
After leaving Blinman it was about another one and a half hour drive until Wilpena. The Wilpena resort we stayed at was at the foot of the
Wilpena Pound
(basically a big crater surrounded by mountain/hills, created by shifting sedimentary rocks). It is really a gorgeous area filled with wildlife and vegetation. The resort itself is also very nice.
[Looking out towards the Wilpena pound]

Tim and I checked into our room and then headed into the little store area to look at what was in the grocery store and tourist center. Out of all the places we have stayed so far, this is the most modern with the most modern conveniences. It even has internet access and later in the night, we checked our email quickly and sent a quick email home to our families.
[A beautiful day in the neighborhood]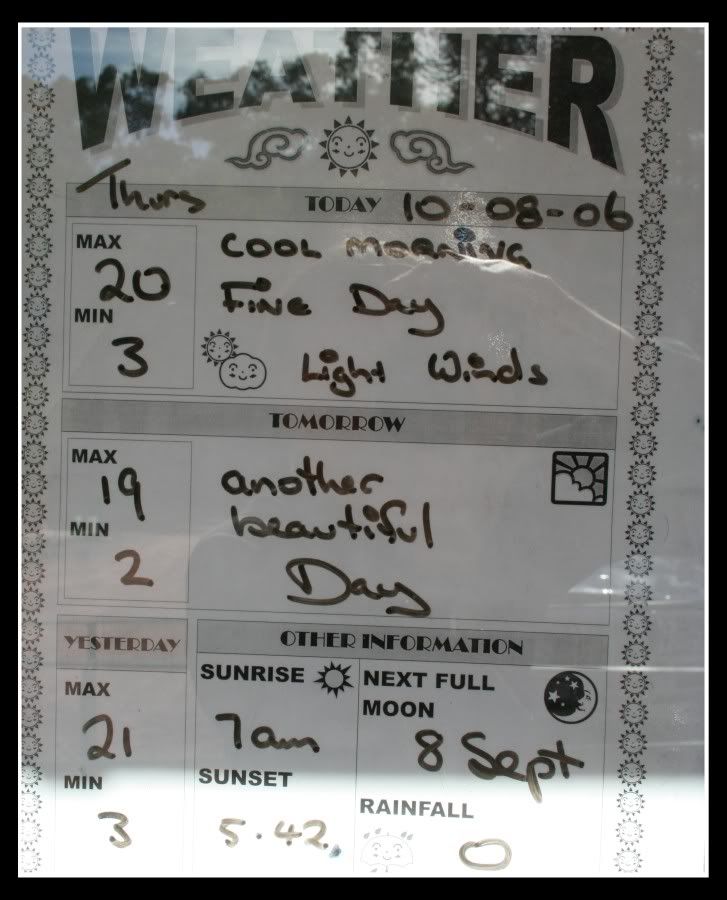 Before dinner, Tim and I took approximately a 5 km hike through the woods. It was a very nice walk – not too difficult. We passed several kangaroos and a goat on the way. It was amazing how cool the temperature was while we were in shadow and how warm in the sun. There was one kangaroo encounter in particular that was really memorable. There was a very large female kangaroo with one joey in her pouch and another larger one next to her. Tim started approaching them by crawling along a downed tree trunk. He was able to get pretty close to the animals and take some great pictures of them. Tim doesn't have a long zoom lens on his Canon 350D so he has to get very close to his subjects . Also, unfortunately, his small camera with the video function seems to have given up the ghost during this walk, so when we get back to the U.S., he will have two cameras to take into Canon to get fixed.
[Kanga and Joey (upside down with his legs sticking out)]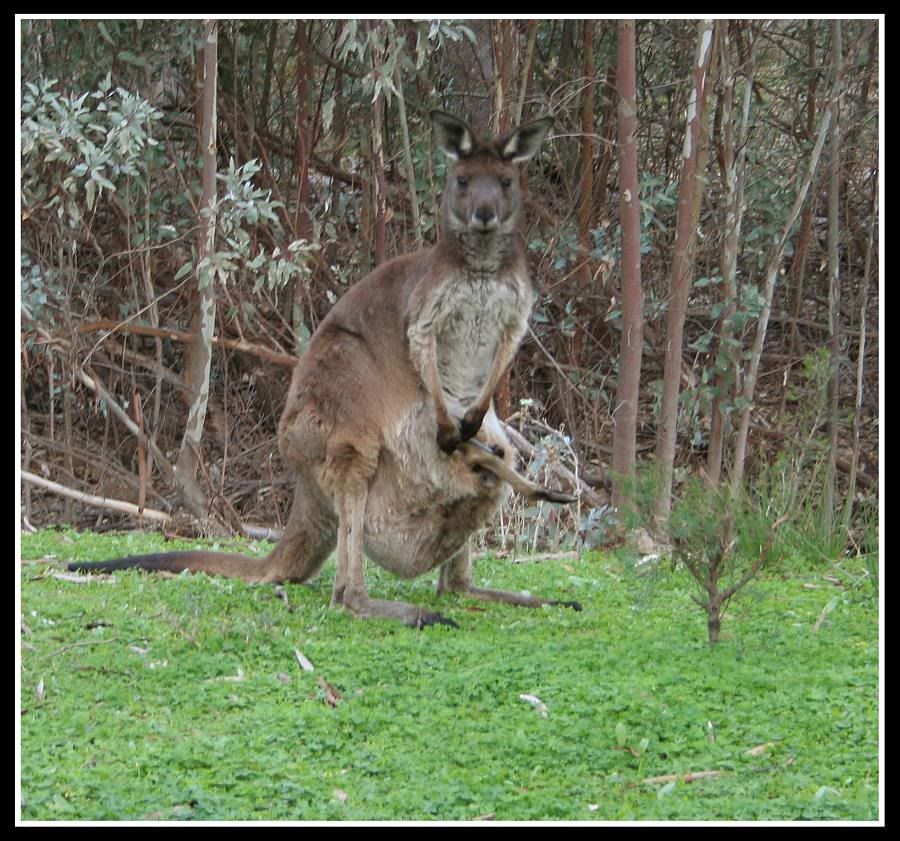 [Kanga on the move]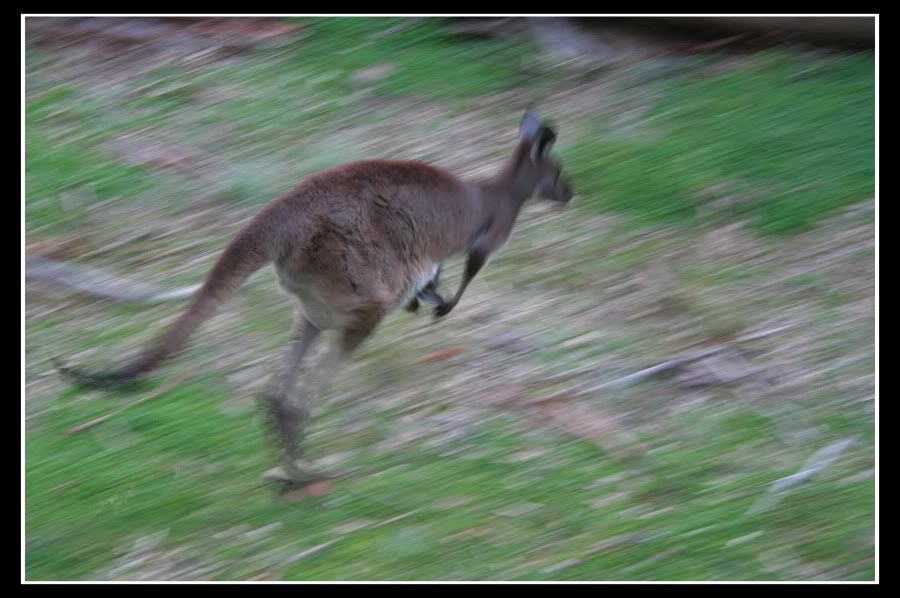 We came back to the room after our walk, which lasted about 2.5 – 3.0 hours given all the picture stops. We freshened up and then headed over to the bar to send an email to our families quickly and get a drink before dinner. Dinner was as great tasting as all the food has been here. I had veggie lasagna and Tim had a chicken and mashed potato dish. I got the table a bottle of wine, which was OK. I wasn't overly pleased with the taste.
We had some very nice conversation with Geoff and then we parted for bed time. He has hinted at the possibility of a surprise for tomorrow, our last day of the tour. I am trying to think of a suitable gift to get for him to say thank you for the great tour.