Outback Day 3
[Early morning at Arkaroola, with the moon dropping over the rooms]
Today's itinerary was nothing like what was originaly planned, and it was wonderful!
We woke up pretty early by the sun. Since there was no alarm clock, we opened up the curtains to the room in the hopes that when the sun came up, it would wake us up in time for breakfast and then our ridgetop tour.
This method succeeded in working for us and when I woke up, I woke up Tim to get the official time from his watch. We were ready to go by 6:45am and headed off for the main lodge for breakfast. The lodge was closed when we arrived and so we were sent packing for a 5-10 minute tour of the nearby rock garden in approximately 0 degrees Celcius weather. Tim also stopped to get some shots of the famous "Kangaroo Crossing" signs.
[Even with the high number of these signs, we still see plenty of "Was-a-Roo's" along the sides of the road.]


This, of course, did not sit well with my very tired body at just before 7 in the morning with no caffeine! Soon enough, however, we were let in and fed well. We had cereal and toast with some half decent coffee and water. Geoff met us in the dining area like a good guide and made sure we were OK and were fed and met up with our Ridge Top Tour group OK.
[Our chariot of the Outback, Number 2]

At about 8:10am we were all gathered together for the tour. There were only 4 people on the tour – Tim and I and the French couple from last night. It was very nice not to be so crowded in and to just have a few people to socialize with. The ride in the large 4x4 vehicle (actually not unlike a Filipino jeepney done safari style) was bumpy and cold and at times very scary. However, it was a great way to see the Flinder's Ranges.
[Kendra bundled up for the ride. It got pretty chilly in the shadowy valleys and when we drove fast]

[The road over the hills- Hang On! It's steep!!]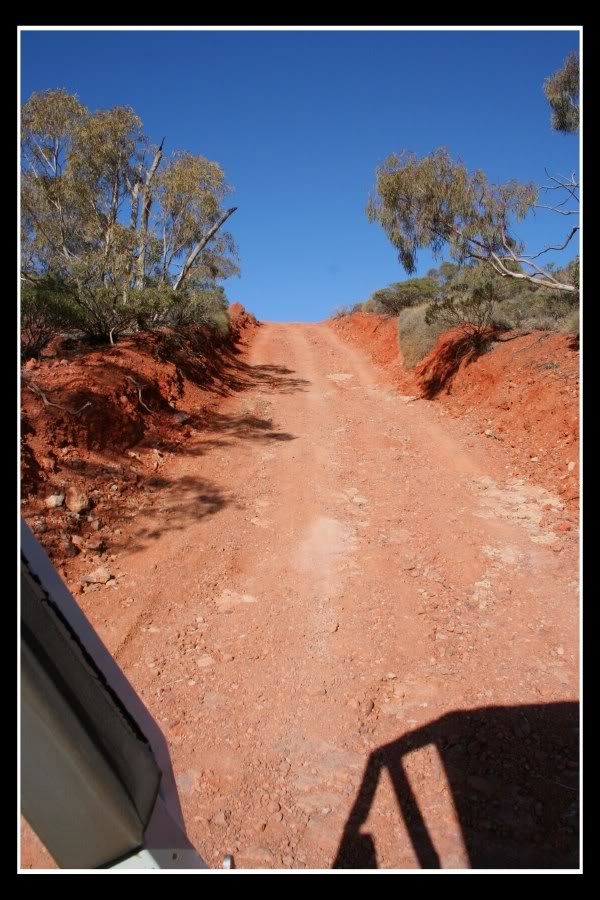 We were taken down into steep gorges and up near vertical slopes to various lookout points, and we even stopped to have morning tea at one of the stops. I'm sure Tim's pictures for this adventure will be wonderful, although I am positive they will have a hard time capturing exactly how steep the drive was and how close we were to the drop offs. It got very bumpy at parts and we had to hold on tightly to keep from being bounced around and out of the vehicle!
[The final ascent to the lookout point]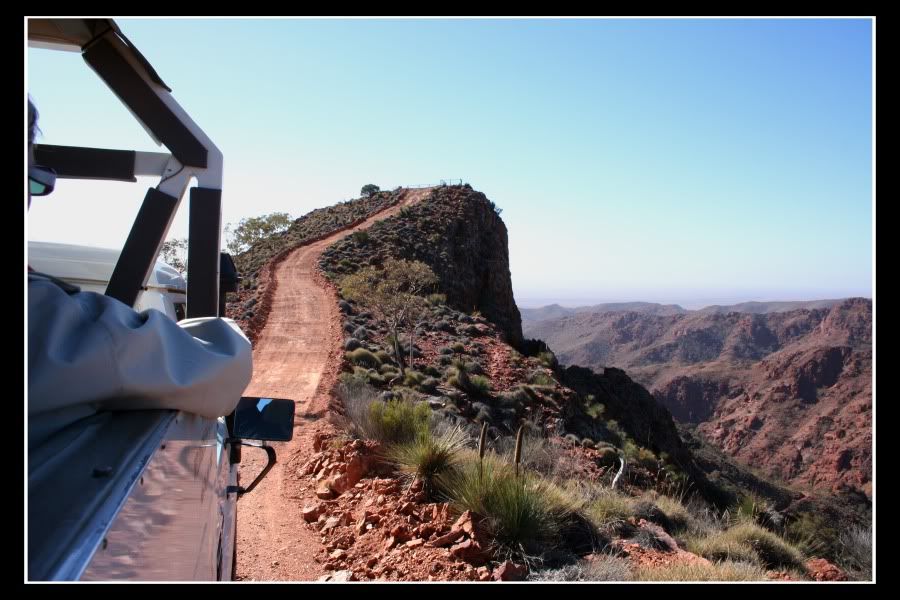 [Tea Time at the Top of the World!]

[Untouched by PhotoShop...no clouds to be seen!!]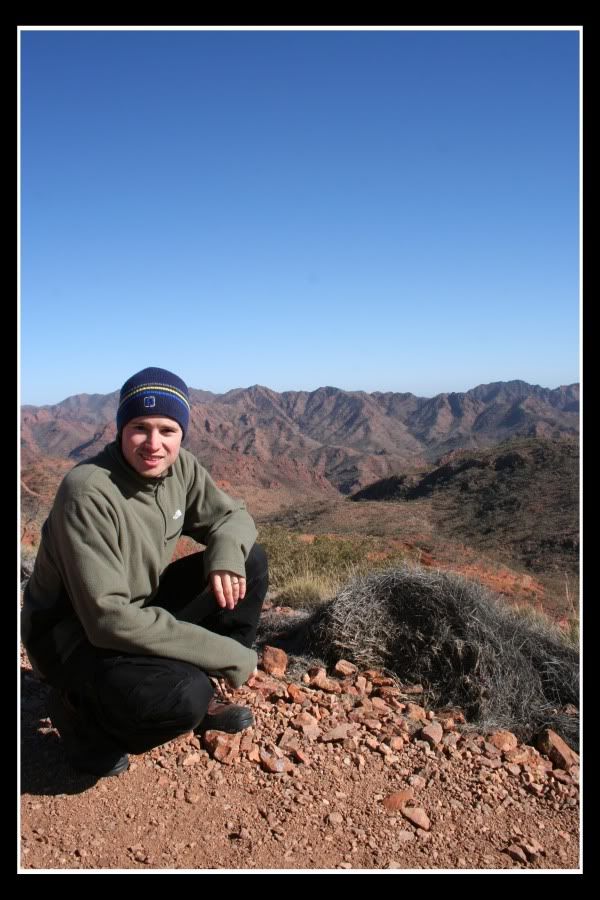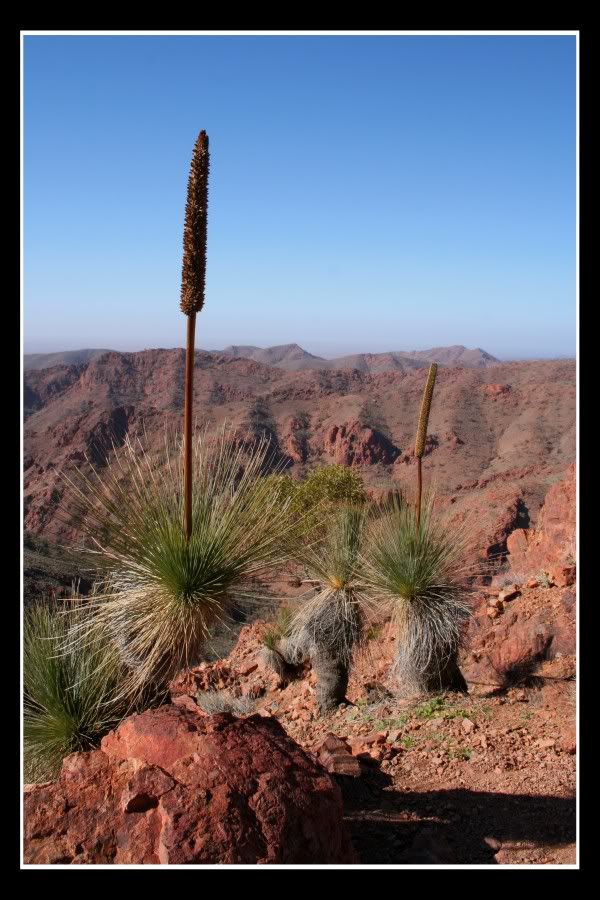 [On our way to Australia, we took a quick side trip to Mars]

Our guide, Wayne, was great at pointing out the various mountain ranges, vegetations and history of the area. We stopped by a big pile of interesting rockes which had been collected all around the area such as quartz, crystals and uranium.
Stopping at one of the lookouts, I had a strange feeling that the man from our French Couple worked for Accenture. I have no idea what made me thing this. However, on a hunch, I said to the couple, "My company has an office in Paris. Have you heard of Accenture?" Immediately, they both perked up and we were full on conversation. He works for Accenture but is resigning in September. She is a lawyer in Paris and they are on their honeymoon right now – a month long trek across Australia. It was neat to talk to them and have this point in common. On the tour we saw several more Euros (similar to kangaroos), and it was just a great experience. I am hoping that all the bouncing and adjusting my back did was in the right direction!
After the tour, we had just enough time for a hot chocolate and a bathroom break before we were off to prepare for our camel tour. The camel tour was just amazing. Since the camel tours were not official yet, and we were kind of guinea pigs, the guide did not have all of his gear with him. There was only one helmet and so Tim and I could not be on the camels at the same time. I rode first and Tim walked along taking pictures.
[Hello Camel!]

[A camel close-up]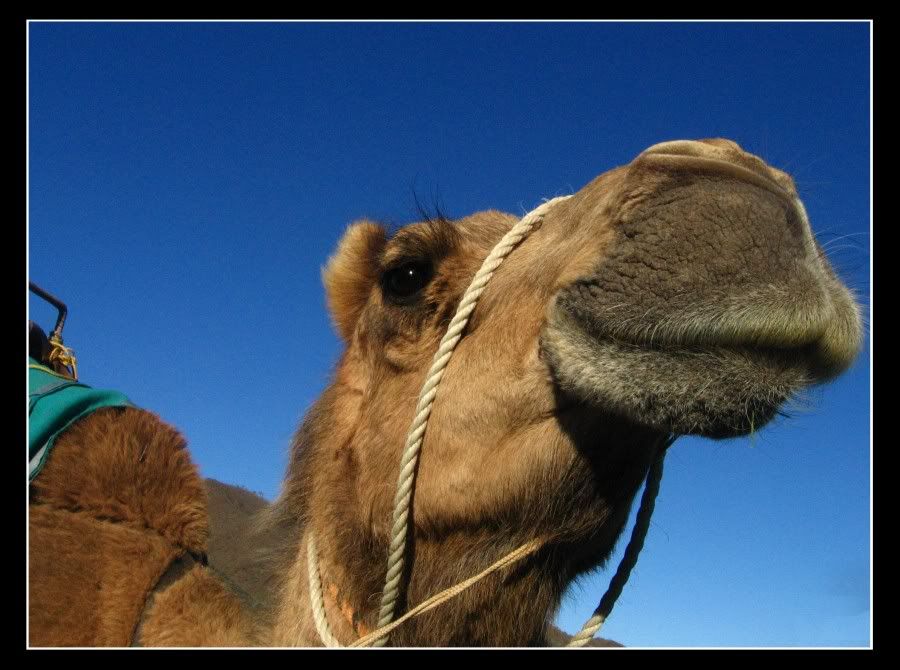 The camels were really neat. There were 4 of them strung together on a rope and their names were Barnie, Sally, Thelma, and Harry. Ryan (our guide) had just returned with these and 5 other camels on a 33 day trek across the dessert to bring them from point A to point B. Now he was setting out already with us for a 4 hour tour of the ranges. I was really surprised at how rough the terrain was that the camels handled with ease. They would step right over the small scrub brush, or just use their heavy (but soft and squishy) feet to bush through any branches in their way. Of course Tim did very well on the terrain when he was walking and I was riding. I just tried to lean the right way. The camels would take big bites out of the trees and bushes as they walked past- and their breath got steadily worse!!!
[Kendra up on Barney]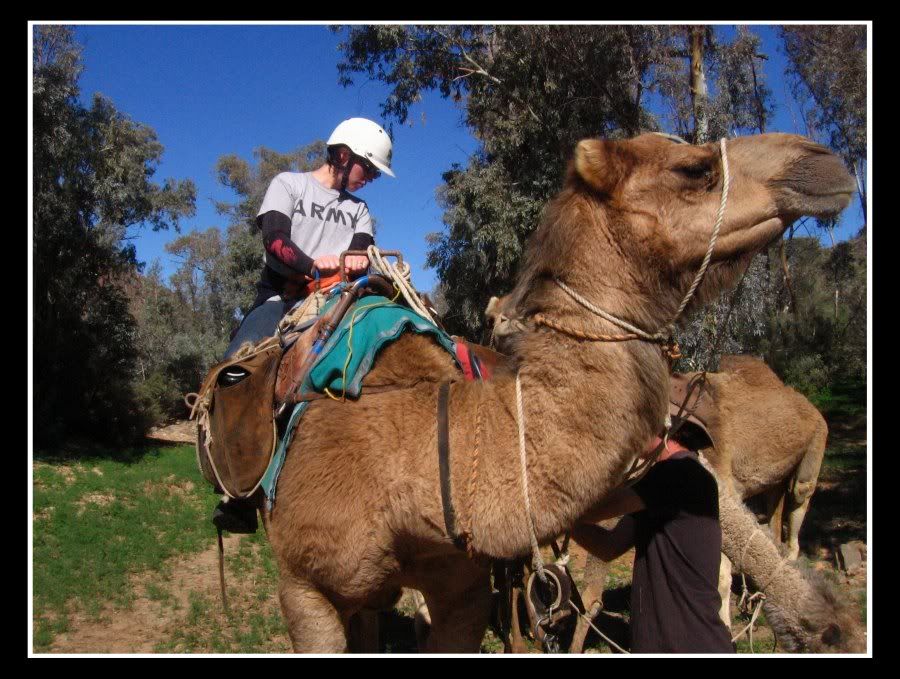 We stopped for lunch at a river bed and had sandwiches and fruit. The camels laid down and relaxed and chewed their cud. It was nice to be able to talk to Ryan while we ate. His family was all from Melbourne and for whatever reason, he decided to pursue a very different life than city life, and he reminded us a lot of Brian Horst when Brian is backpacking. He also resembled the Ryan we met through Peter Brubaker when we were in the Dominican Republic. After lunch, we fed the camels the orange peels and apple cores… at least we tried to. Only Thelma would eat them and the others made a definitely snooty nose at them. If you have never seen a camel turn up her nose at something, it is truly a sight to behold.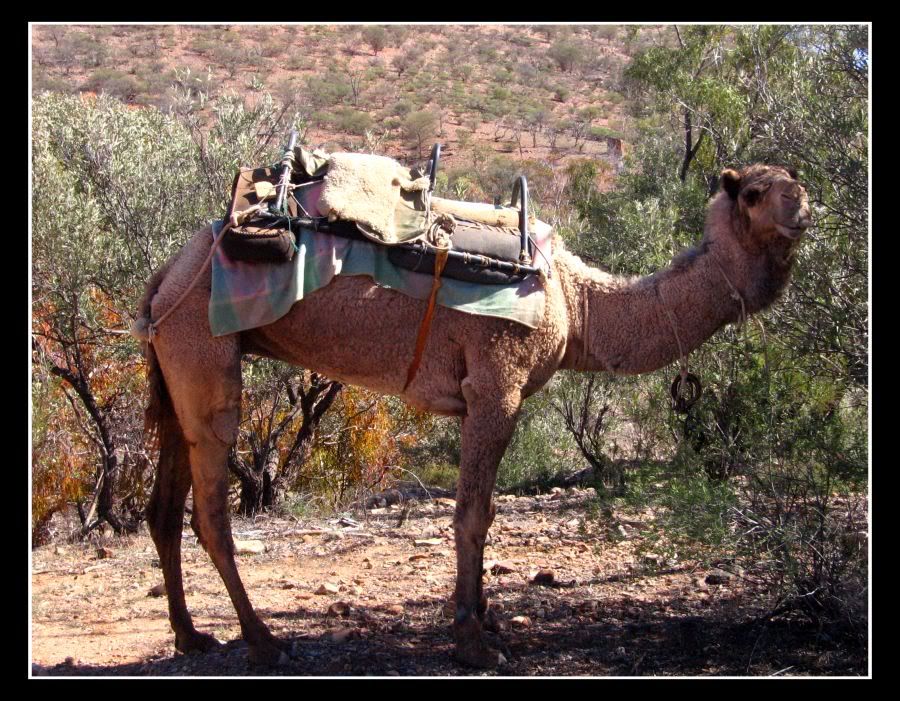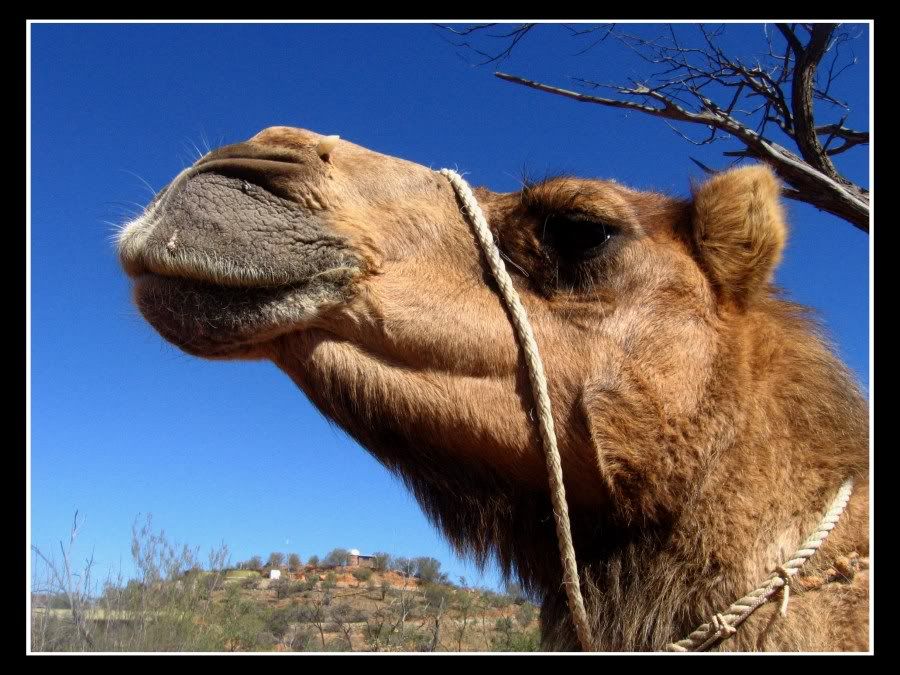 [Tim up on Barney]

[Kendra takes the lead rope]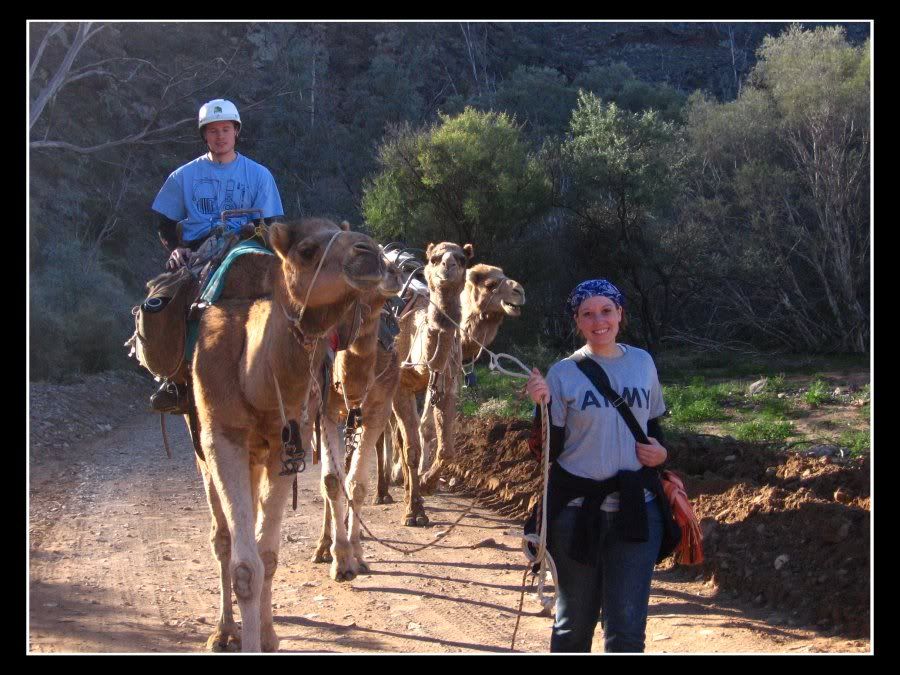 After lunch, Tim rode the camel and I hiked along side and did my utmost to take good photos. I think a few of them turned out pretty decent! The terrain was very rough and and some parts very steep. After ascending to the top of one, we realized that the other side was really steep and very rocky, but Ryan quickly picked out a suitable pathway to get back down. The camels, however, were having none of it. Despite all his pulling and prodding and voice comands in Arabic, the camels just refused to head down the rocky slope, so we turned them around and headed back down the way we came.
[At the top....where do we go from here?]

[Ryan, searching for a way to get down from the ridge. ..Barney is checking out the scenery]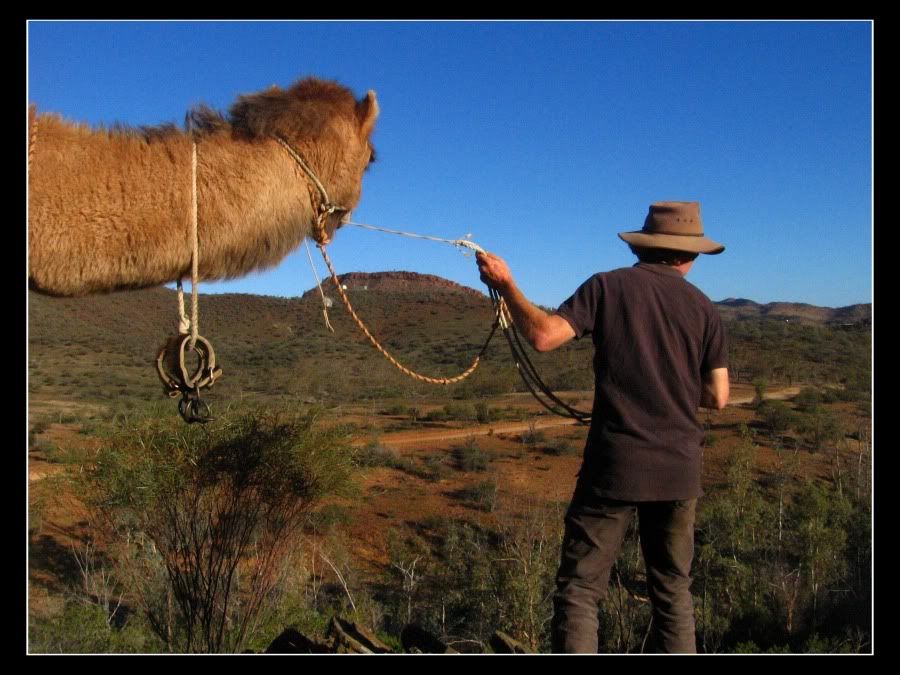 [Not gonna happen! Barney's not about to attempt Ryan's crazy plan of making our own trail down a rocky hillside. When the camel says "No", there's not much else to do.]

I've hardly used my hiking boots and I did a fair amount of stumbling on the loose rocks and gravely hillsides, but I think overall I did pretty well!.
After returning to the lodge with the camels, we took showers and got ready for another great dinner. I had steamed vegetables with garlic and mashed potatoes. Tim had salmon and wasabi mashed potatoes. Geoff got a bottle of wine again and shared it with us. We all had a lovely dinner followed by cookies and coffee for dessert.
Now, our action packed day is catching up with us and we are ready to crash soon. We don't have a long day tomorrow, so we don't have to be up at any certain time, so we won't worry about the alarm clock!
More tomorrow!
[A Man and his Camel]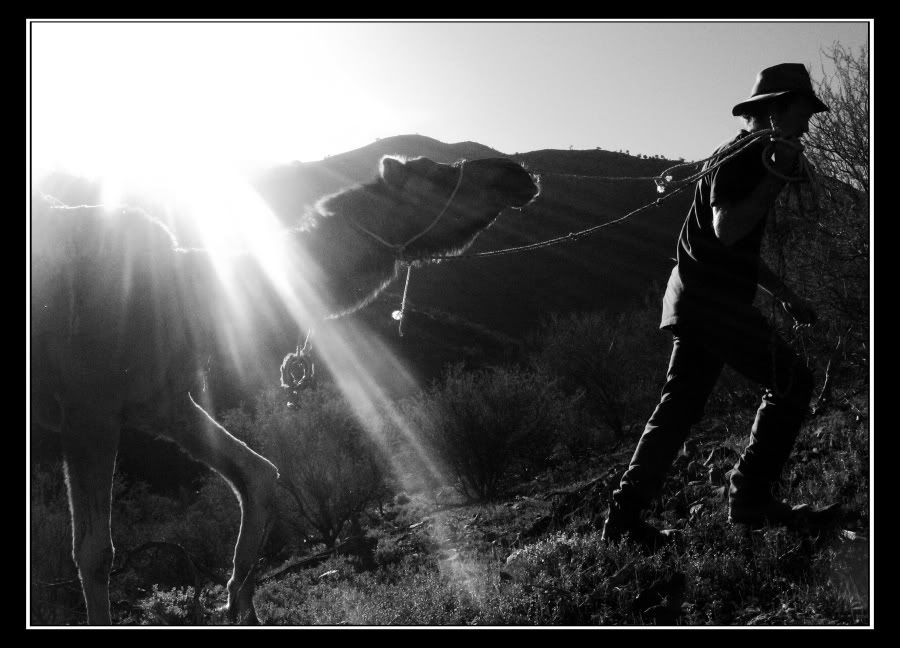 Wait! One more thing!!....Check out this quick video of some really smelly camel belching talent!!