Outback Tour (Day 2 of 5)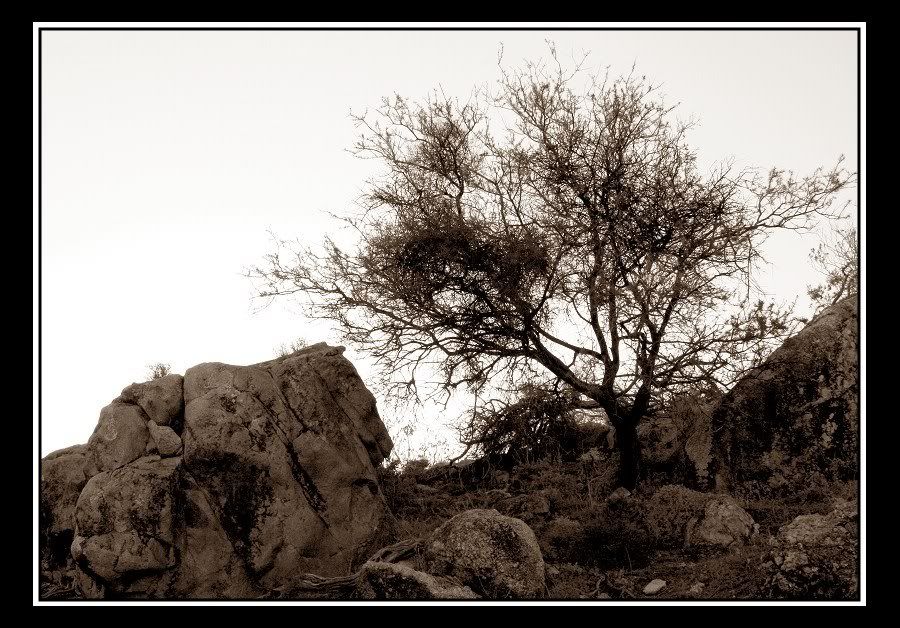 Tim and I both got significantly more sleep last night and so today was much easier as far as fighting back fatigue. Breakfast at the Prairie Hotel was set for 8:00am, and we got up early enough to get ready, shower, and back before breakfast.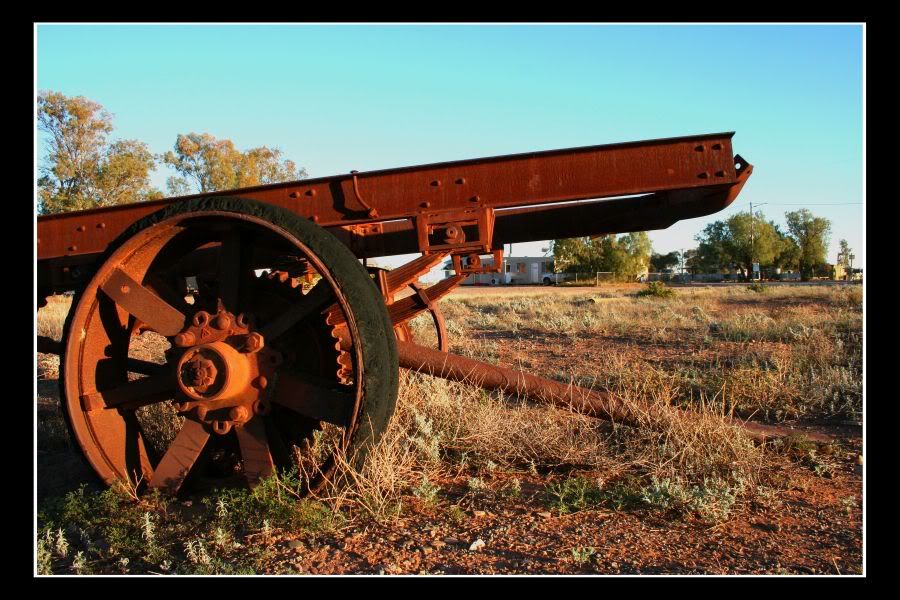 When we entered into the bar area, Jane (hotel owner) and Geoff were there already. Jane really liked my bright orange bandana that I had around my neck. It was actually my favorite bandana that I got from the Philippines, but I had a lot more in different colors. Since she liked it so much, I gave it to her, and so she gave me one of the Prairie Hotel bandanas in trade. It is a very cute bandana with various animals from Australia on it – Kangaroos, Camels, and Emus.
We had some great coffee at the hotel as well as great egg and cheese- Tim's with big thick slices of bacon. Incidentally, Tim has been making up for 6 months of very little edible meat big time. It's great not to have to be constantly worried about food handling, food preperation and general food-borne illnesses while out here.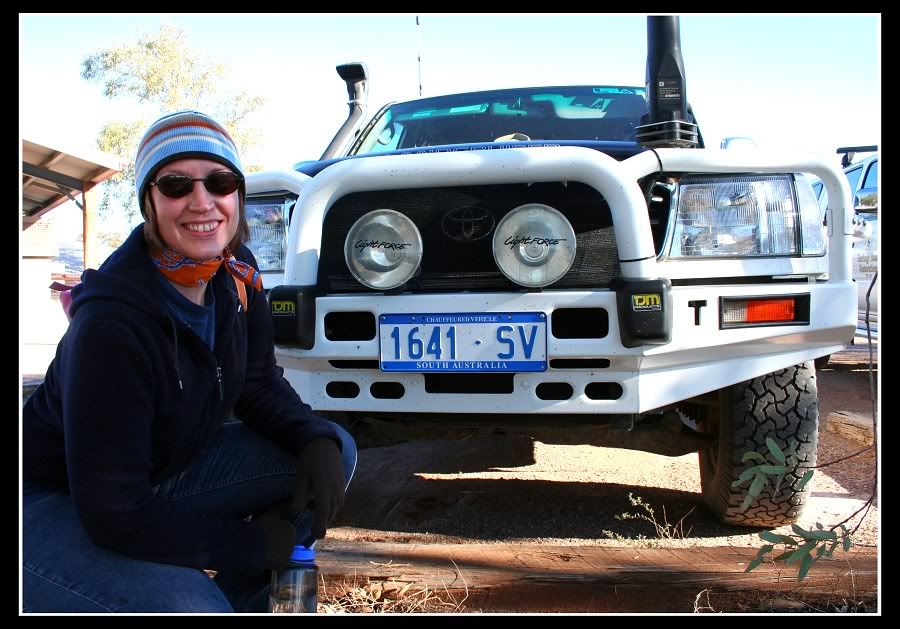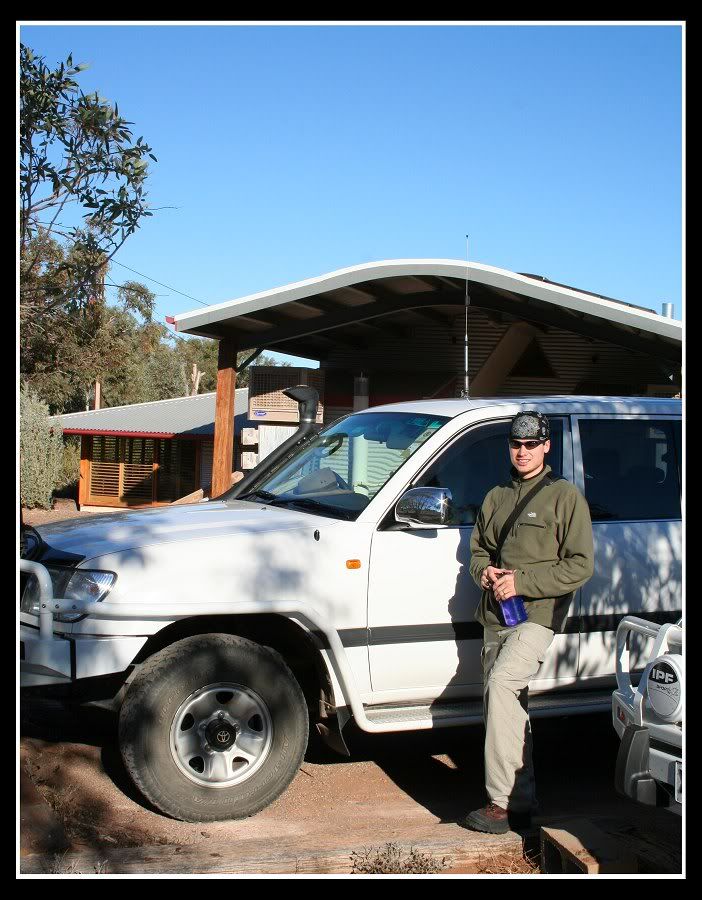 After breakfast, we had a few more pictures around the hotel and then took off across the dry, dusty landscape for our next destination. Geoff took us through a series of buildings which made up a ghost town in the middle of the Outback. The only things left of some of the oldest buildings were the chimneys, which were held together by cement.
[This used to be an intersection that meant something. Now it's just a dirt road meeting another dirt road leading off into nowhere.]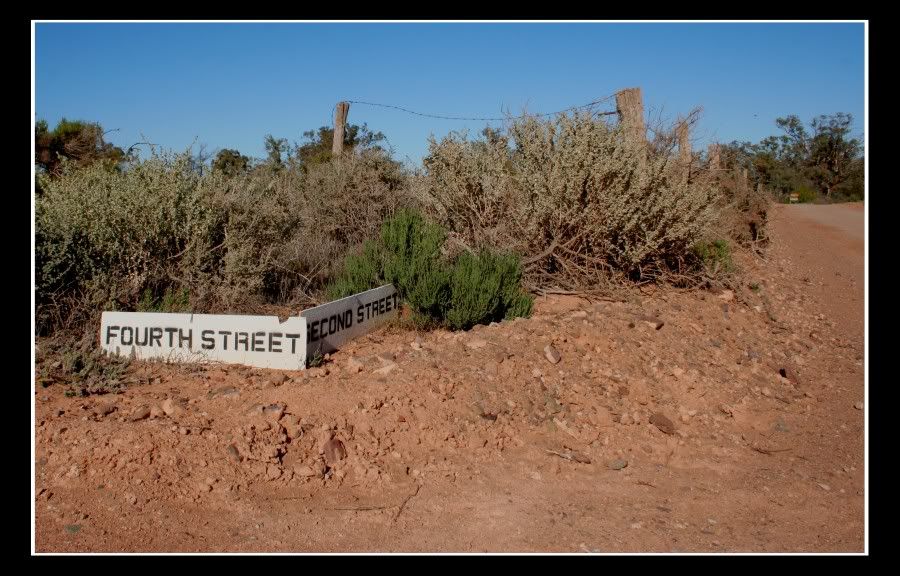 Our next stop was to a very planned and manufactured mining town called
Leigh Creek
(privately owned by the mining company). It was larger than other towns we had seen – about 1,000 people. It was planned and built by the government and so it was very tidy, but somewhat humorous in how it was laid out. Most of the businesses in the store were in one development next to the elementary school. At the elementary school was a skateboard ramp on the playground and also a bike rack with many cute little kids' bikes with helmets. At the entrance to the school was a large sign staying "No Alcohol" among other dire warnings. At the business center right next to the school was a sign stating no bicycles, skateboards, or rollerblades. So, I guess they have an effective system for keeping the drunks out of the school, the kids out of the business center parking lot, and still providing a place for the school teachers to go for a drink after work.
[Geoff is always pointing out wildlife along the roadside. I can't capture all of it with my 18-55 mil. lens, but I try. Here's me in the sideview mirror attempting to shoot an eagle that's flying along the road.]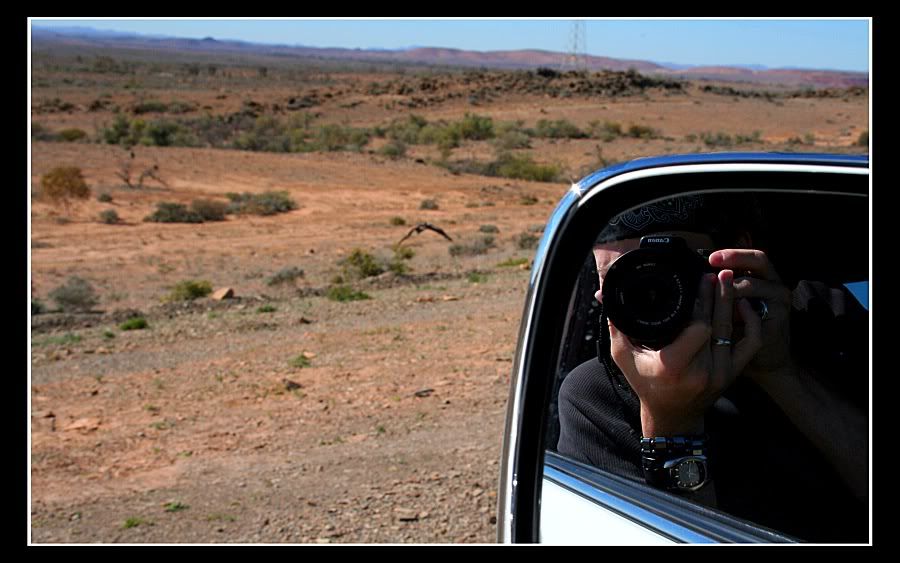 After this we stopped by a modern coal mine and looked at the huge earth movers and cranes and we sat in an enormous tire. While we were looking around, a group of German tourists pulled up and started doing the same thing, except in German. Tim became very fascinated with something inside the huge machine and was gone for quite awhile. I asked him what was so exciting…it was all the gears and big machinery inside the crane.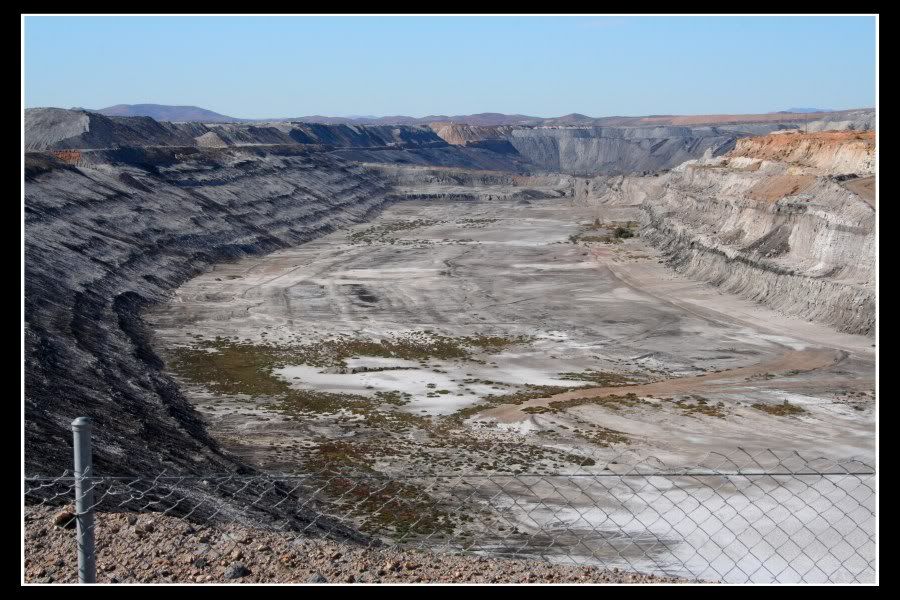 [A "walking" crane- housing it's own electric generators ]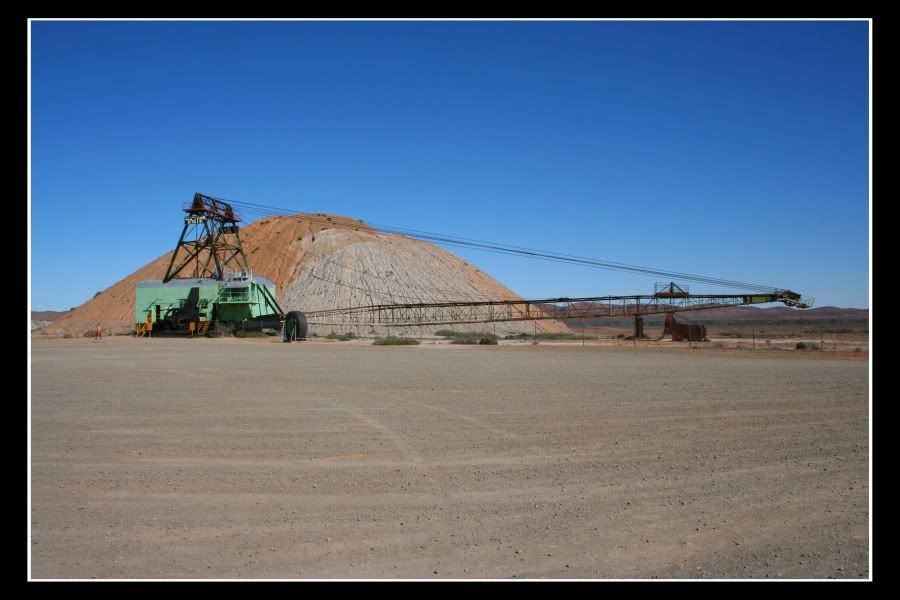 After the mining town, we headed into an area called Copely. Most of this town was comprised of broken and rusted down old cars abandoned behind every house. However, there was a little place called the Quandong Café, which was a brightly decorated New Age coffee shop and eatery in the middle of nowhere (ran by one very unhappy woman!). We ordered some foccacia sandwiches there and headed off for a picnic.
[All the crystals, metaphysics and chakras couldn't elevate the owner of this establishment into a brighter mood!!!]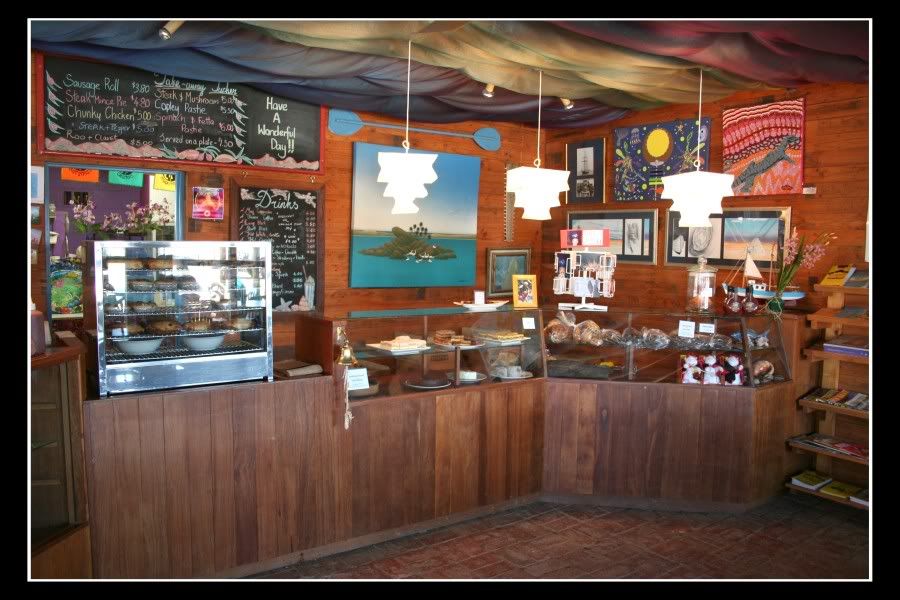 [Some of the Quandong Cafe's musical selection]

Geoff picked a very nice picnic spot a few yard up into a dry creek bed and after eating, Tim wandered around looking for fossils. This was very endearing to both Geoff and I.
[Geoff''s 4 wheel drive, turbo-cooled portable picnic table]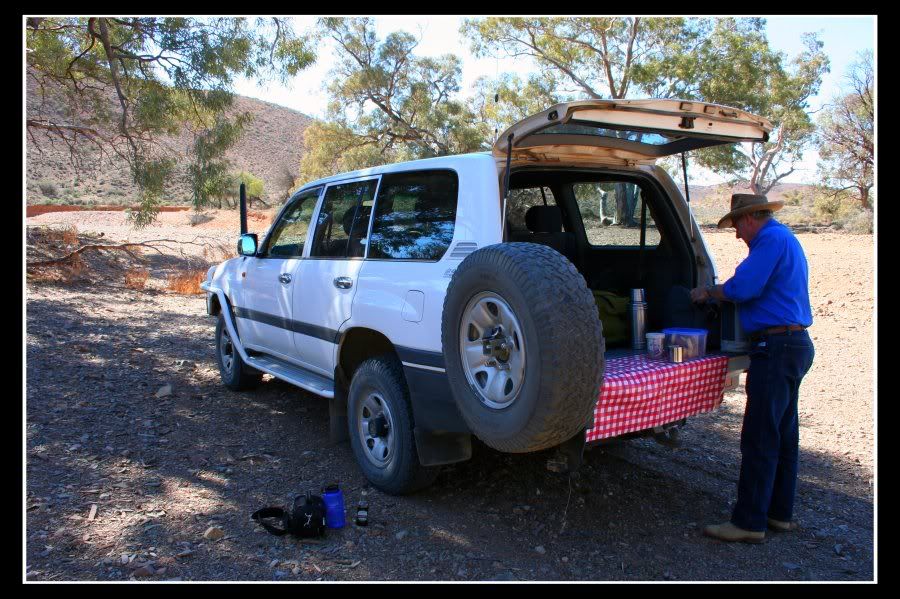 [Geoff says that these dry creek beds can become full of rushing water after rainstorms on the mountains, cutting off the roads, then stopping completly in a few hours time.]

After lunch we headed across more dry Outback country to our next hotel at which we would be staying for two nights. I was very happy about this because I'm really weary of our continual packing and repacking. I do enough of that in my life the way it is. On the way to the next hotel, we stopped at another gorge which resembled a scene from Jurassic Park. Even Geoff mentioned that he always expects a T-Rex to come charging around the corner at us.
We are now at the
Arkaroola Resort
, which is both a resort and wildnerness sanctuary. When we arrived, I took a nap for about 1 hour while Tim looked through some literature about the history of the location. At 3:30pm, Geoff came to get us and drove us to the top of the mountain ridge so that Tim and I could take a 4 kilometers hike back down. The scenery was very beautiful in an unforgiving and wild way. Also, the temperature changed drastically depending on if we were in shadow or out of it, so we were constantly putting our sweater on an off and also messing with our sun glasses. The trail went up and down and around the mountain. It was good exercise, although I several times felt that I would fall to my death. We saw a couple of emu's on a hillside across a ridge and one kangaroo skeleton.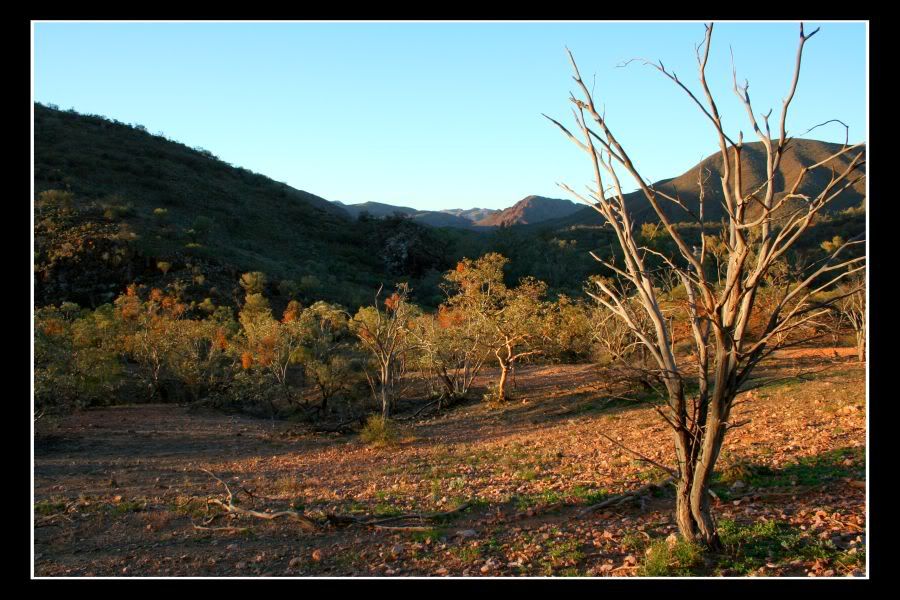 After cleaning up from the hike, we headed over to the bar for a drink before dinner. On the way, we ran into Geoff and a few guys from the hotel and they presented us with the opportunity to go on a 4 hour camel riding tour through the mountains tomorrow. It is 80 AUD per person, so a little expensive, but it should be a great experience! We will be able to have lunch on the way. We've found that Geoff knows everybody around here and always has his finger on the pulse of what is happening. This guy, Ryan, just came back from a cross-country camel drive a day ago and has a bunch of camels with him.
Before the camel tour tomorrow we have a 4x4 ridge top tour for 4 hours. All of this sounds very fabulous to me, and I am very excited. However, I of course am stressed out about the lack of facilities for 8 hours tomorrow. Our tour guide has stated to me that American women are the only creatures remotely concerned about going to the bathroom in nature or in front of other people. Be that as it may, I am nervous about it.
But – all of that for tomorrow. We had a wonderful dinner at the very cozy restaurant at the reosrt. I had a big vegetable lasagna dish and Tim had a kangaroo fillet and vegetables. We had a bottle of wine for the table again – a very good Cab Shiraz which I believe was Jim Barry.
After dinner we headed up to the observatory (with Ryan, the camel guy- who also knows a ton about the night sky) for a view of the stars through a large telescope. We were on the trip with a French couple and an English couple – all in similar age to Tim and I. When we looked at the moon, the English guy made some comment about the Americans not actually landing on the moon. This is the second time we have heard this from people while here. I see the conspiracy theorists are hard at work.
It was really cool to see the stars – especially the incredibly different formations in this night sky. We saw the Scorpian, the Southern Cross, and Jupiter. Here, they call Orion's Belt the Saucepan since it looks a little different from the Southern Hemisphere. Although it is spectacular, the very full moon that is shining right now is preventing us from having a really impressive view of the stars. That has been a little bit disappointing, as we were looking forward to seeing more stars than we have ever seen since there is nothing else out here. Ryan did put the telescope directly on the surface of the moon and it was blindingly bright!!
[The observatory and our 4-wheel drive shuttle bus]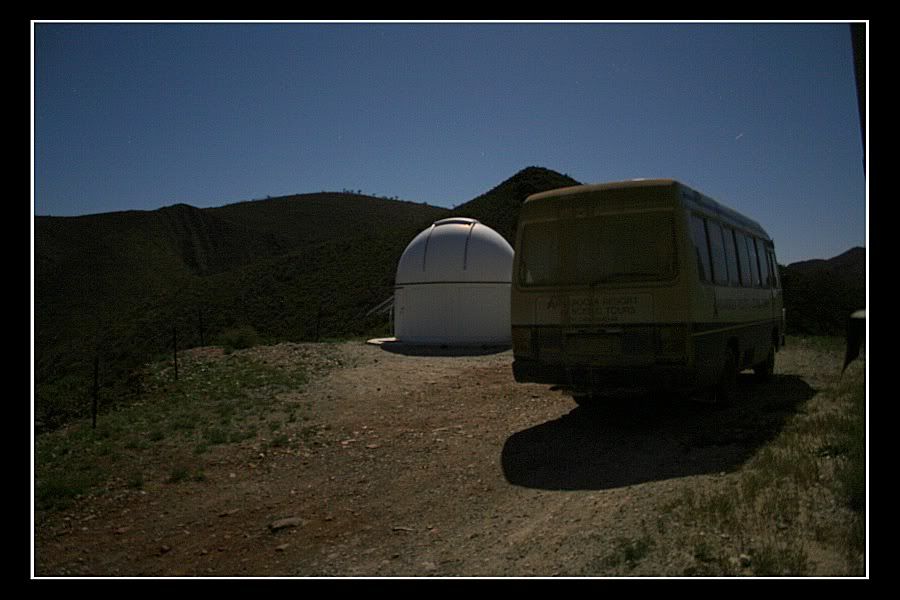 Now we are back in our room, and we are hoping we get up in time tomorrow as there are no alarm clocks in our room. We have to curtains open to catch the sun as it comes up.