Top Ten....Number 2
Many of these Top Ten items have been focused on interactions with people. Number Two brings us to a close-encounter of the animal kind:
Feeding Tigers and Swimming with Whales in Subic Bay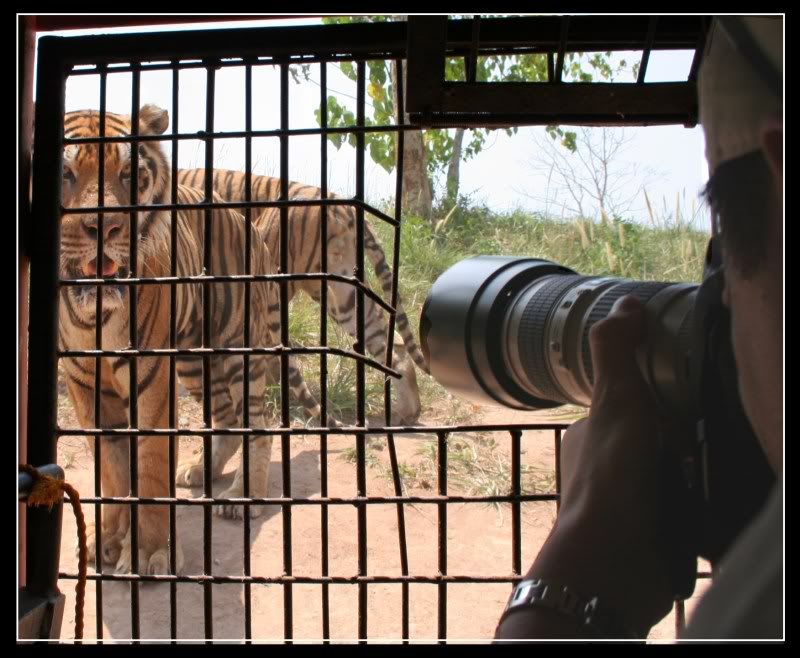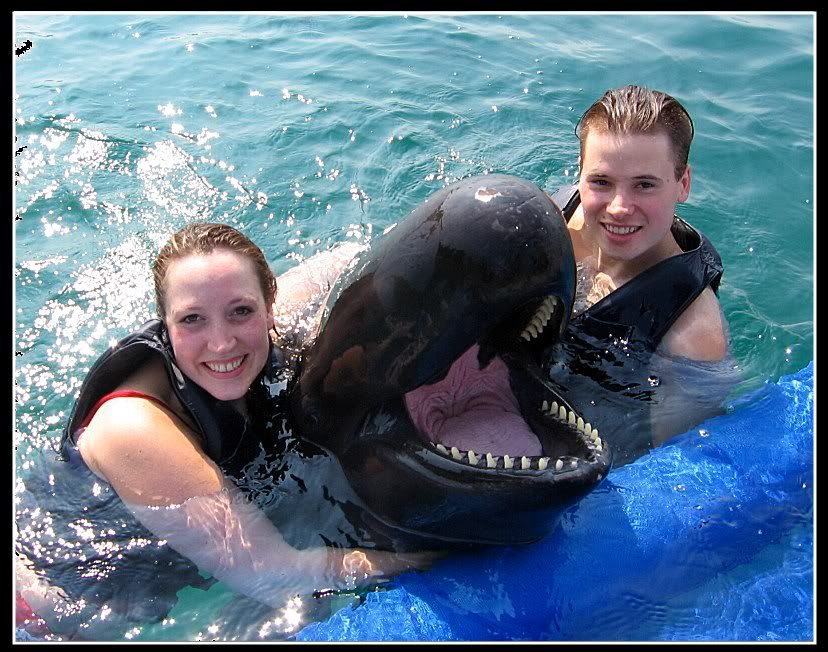 (2 pics...yes, I know I'm cheating)

This trip made us appreciate the loose and/or no-existant regulations around the Philippines. Driver extrordinaire Ramer once again expertly navigated the
crazy streets
of Manila and the provinces to get us to Subic Bay, stopping at the cleanest public restroom he could find and giving us a view of
Mt. Pinatubo
along the way.
We first stopped at Zoobic Safari, where a walking tour took us through many
odd animals
, some of which (like the goats) we just wandering around freely. We then had the unique experience of piling into a
jeepney
with a guide who had a
chicken tied to a string
. This was used as a
lure
(and eventually as lunch!) for the
large tigers
who were prowling the area. The rig was set up in such a way so as to fling the chicken into the air, causing the tiger to leap onto the roof of the jeepney to capture his prey. The small kids along for the ride were a bit traumatized. You certainly would never see this kind of thing in a U.S. zoo!!
Next, we took a few hours at Ocean Adventure (further down the road), where we were able to get into the water and play around with
2 false killer whales
. We road on their backs, holding on to their fins and the trainers had them do various tricks and stunts as we watched, then posed for some pictures (
Tim
/
Kendra
). Later, we saw a
sealion show
and some
dolphin tricks
.
We had a nice
picnic lunch
amongst the trees and
flowers
at a
butterly garden
, where
The Friendly Insect Man
proudly showed off his collection of
creepy crawly's
.
Ramer then took us to nice restaurant with a view of
the sunset on the bay
. It was a really fun day!
Here's the post
.