Top Ten.....Number 3
Number 3 on our list is important for several reasons: First, it offers an environment far different than our immediate surroundings of malls and 6-lane intersections with no light- second, it presents many unique and colorful photographic opportunities- third, it gets us some special, up-close, face-to-face encounters with very friendly locals. We're talking about
Street Markets, Bazzaars and Craftshops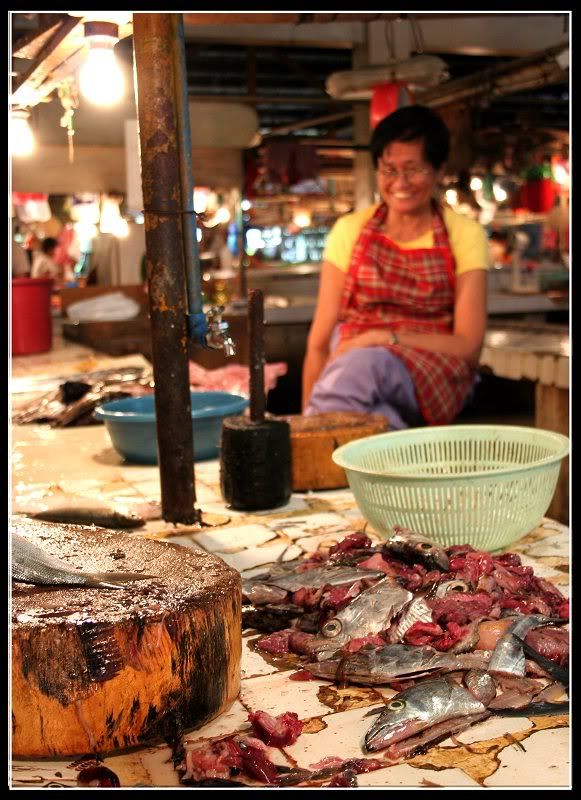 We've gotten pretty good at bargaining (with or without calculators, like at the
Hong Kong night market
), and have gotten some great deals on some really amazing artwork, jewelry, clothing, accessories and wood carvings. But in addition to getting great baragins, these are places of eye (and mind) opening education about a foreign way of life.
Places like
Green Hills
(not the regular mall part- the
other
part), Tiendesitas and the
Women's Bazaar
are great for seeing authentic handicrafts and artwork, but definatly geared toward a tourist or ex-pat target audience. Other places like
the wet market
, street markets and
Quiapo
are windows into no-frills, everyday life of millions of Filipino's.
A short walk from our front door takes you into a whole world of freshly
chopped and shaven coconuts
, mounds of
fruits and vegetables
, every imaginable
cut of meat
hanging from hooks as well as wooden bins full of a
dozen varieties of rice
. Next to all that, all manner of dishes are being cooked, fried,
barbequed
and roasted on each side of the street while
dogs
,
cats
,
chickens and
children
all run around and underfoot. Household good are also sold, many times out of
tricycles,
loaded beyond capacity.
Everybody wants their picture taken. From the
guy delivering rice
to a family running a store out of their house, to the
group of schoolkids
- they all love to be photographed and always say "Thank you!" afterwards. I always make sure to express my thanks as well and often let them check out their pictures on my camera's LCD screen, which always gives them a big laugh. People always want to know where I'm from, and then proceed to share whatever knowledge they have about the U.S.A., or a story about a family member or friend who lives there.
These are the kinds of places that really show the true nature and character of the Philippine people and it's always so enlightening and interesting to walk through them (even if I do come home smelling like a fishing boat!). A heart-felt "Thank You!" to all who we came in contact with for sharing a slice of their lives with us and for providing us with new perspectives on the world we inhabit.