We're in Australia!! (Aldgate/Stirling)
[This what fresh, cold air does to you!!!]
Well, Tim and I are finally settled into the absolutely beautiful Aldgate Creek Cottage Bed and Breakfast in Adelaide Hills, South Australia.
It was quite the process from the time we left Manila until now, but well worth it. Our flight from Manila to Singapore and then from Singapore to Adelaide went about as smoothly as can be expected. It was just extremely exhausting because we left the Oakwood at a little after 3:00pm, sat in horrible traffic the entire way there (while listening to horrible music), and then waited in many lines at a busy airport on a Saturday afternoon.
Before we ever boarded a single plane, we had been through 10 security/luggage/ID checks. We flew coach this time – hence the lack of expedited service! The first flight from Manila to Singapore was about 3 hours. Tim and I were the second to last row in the plane, but we had a two seat row rather than a 3 seat row, so that was very nice. I was already pretty tired going into the trip, as I was up late and up early the night before trying to take care of some last minute things for work regarding my next staffing assignment.
We were not originally given seats together for the 6.5 hour flight from Singapore to Adelaide, so we requested to be together twice and they were able to accommodate us. This time we had a 3 seat row. I sat in the middle and Tim on the aisle. A very nice Australian lady who was returning from a long trip to Greece sat by the window. Tim offered several times to switch seats with me because I was cramped up, but there is little sense in us both being uncomfortable. So, we stuck it out.
I would say that both of us probably slept a grand total of 45 minutes! However, if I were going to fly coach again for a long flight like this, Singapore Air was really a good airline to fly. They at least had pretty good food and very good service and each person had a private video system.
As we got closer to Adelaide, we got our first glimpse of the land of Australia. At least in this part of southern Australia, it wasn't the type of place that immediately makes an impression when you see it from the air. It was also a little foggy, which probably contributed to this lack of a definite impression. We saw that the land was extremely flat and had many green patches and small bodies of water. However, as we got closer, the plane rolled to the right and we got a full view of Adelaide Hills with its rolling green meadows and trees. All of a sudden, I felt as though I were a sheep or shepherd in some remote part of France. Very bucolic. (And Tim is currently laughing at me for using the word "
bucolic
" in an actual sentence).
We arrived at the Adelaide Airport at around 7:45am. We couldn't check into our B&B until 3:00pm, and we were just trying to pace ourselves to last that long, because we were beyond exhausted. We made it through customs and luggage claim and quarantine with a remarkable lack of hassle. The people were very accommodating to us and we were inexplicably fast-tracked and ushered through quarantine- we did get a once-over from a small dog with an overactive nose, but that was it.
Then we took turns changing clothes and freshening up the best we could in the airport bathroom. We found an ATM, got some (very colorful and interesting!) Australian money out, and we were on our way! We were able to get a cab that held all of our luggage, but the driver gave both Tim and I a bad feeling. I can't put my finger on why, but I was happy when we finally arrived at our B&B. Tim had gotten directions from the website to the B&B from the airport and had them printed out for him, but the driver didn't seem to be able to follow them and was reluctant to call his dispatch for help and ended up stopping to ask several people on the street along the way.
Our drive took us out of the small city of Adelaide, through some suburbs and into some neat rolling hills covered with groves of tall green trees and over some small streams. When we pulled into the B&B, we saw such a beautiful sight! The house was just gorgeous with gardens and great trees, a small path through the woods and the freshest air we've ever had the chance to breathe!!.
Aldgate is a very quaint small town in the middle of a beautiful forest and the B&B is just behind a bakery, cafe and art gallery, which make up a large part of the town center. The hostess could tell we were obviously exhausted from the flight and felt so bad that we could not check in yet. However, she took all our luggage into their house and told us to come back at 2:00pm and see if the house was ready at that time.
[The sprawling metropolis of Aldgate, South Australia]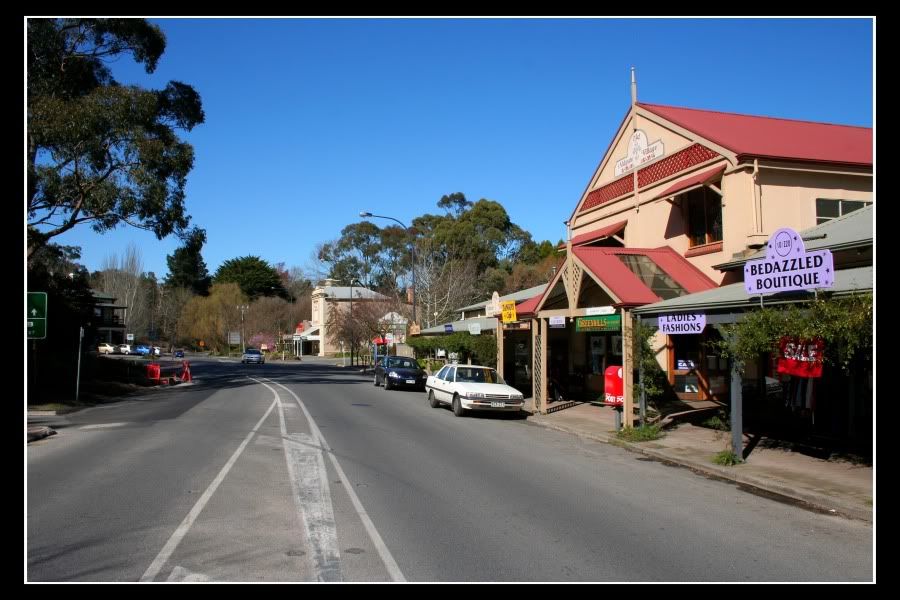 Somehow Tim and I found the energy to walk for about a half an hour each way to the next little town called Stirling. We walked along a curving, hilly road through wonderful shady trees and looked at the very blue sky and breathed deeply for the first time in months!!! It felt wonderful! Tim took a lot of photos.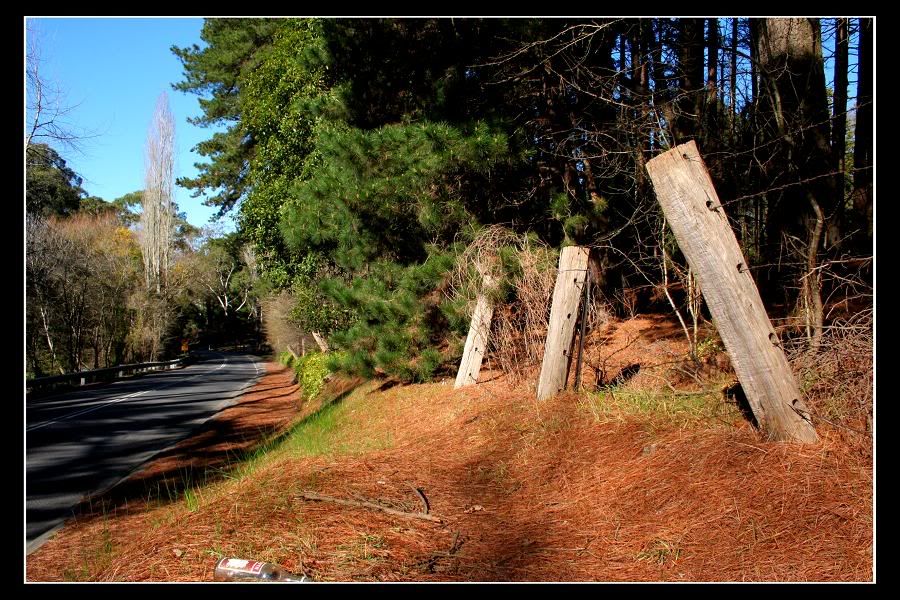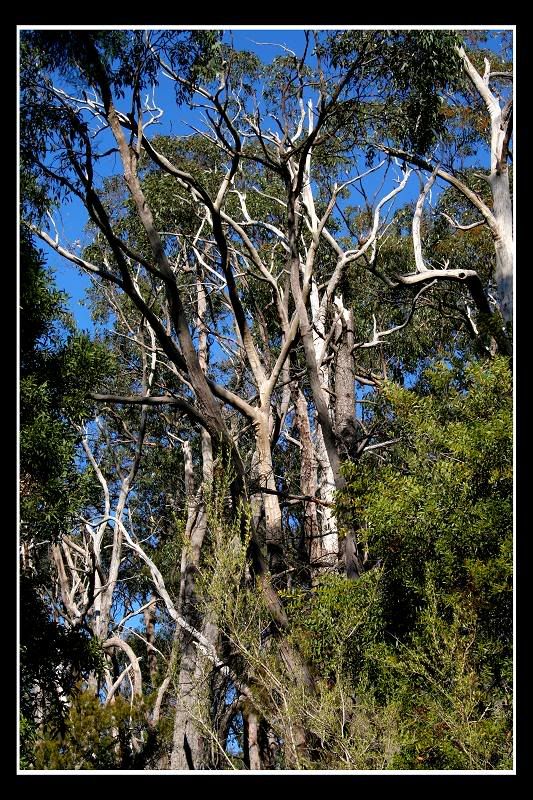 We came across an adorable little café called the Autumn Gate Café and we excited that it was open (being Sunday in a very small town, everything we'd passed previously was closed).
I had vegetarian chili nachos with mashed avocado and Tim had a big breakfast platter, complete with eggs, potatoes and thick slices of bacon. The food was amazing- and it was so great to not be worried about raw veggies!! We stayed for an extra pot of tea and cup of coffee to kill some more time and warm up by the fire place. After our meal, we quickly learned about the Australian tipping policy. We tipped our waitress the normal 18-20% we tip in the U.S. (we left it at the table as she was outside smoking) and left the cafe and continued our stroll up the road. About half a minute later, we hear a noise behind us and here our waitress is actually running after us to give us a hug and to say Thank You! It was really sweet of her, but we were really pleased with great service and great food after all we'd been through!!
We continued walking after our meal up a few hills, around a few curves to a series of really cool shops. Many of them were closed but we got to see many places and what they had. There was a used bookstore that was open and we went in there and got a book for Tim on religions. It was staffed by one man about Tim's age who was sitting in front of one of the bookshelves, intently engrossed into his own reading. He said to Tim (in what we are finding is a genuinely Australian way to speak – not just a Hollywood gimmick- "If you want me to move, mate, don't hesitate to ask me." It was really cute, and I had to suppress a giggle.
After window shopping for awhile, we stopped into several small bakeries and vegetable shops to have a look around. We stopped in at a very unique bar which had several rooms and an outdoor area. We got a glass of wine and a beer and people watched. So far we have observed that people are a lot more relaxed about drinking here. There were a large number of children at the bar. (When I say children, I mean actual children – 12 and under). They were not drinking alcohol, but were with their families, playing pool, playing video games, etc. The people at the bar were a really diverse crowd. There were people similar to Tim and I, older men with sweaters tied around their shoulders, women with small dogs, etc. We headed back to the B&B after our drinks and after two sisters wrapped up their pool game with their dad who was trying to teach them how to play. (I could use a lesson myself, as anyone who has seen me attempt to play pool – either drunk or sober – can attest to). After finishing our drinks, we headed back in the direction of our cottage.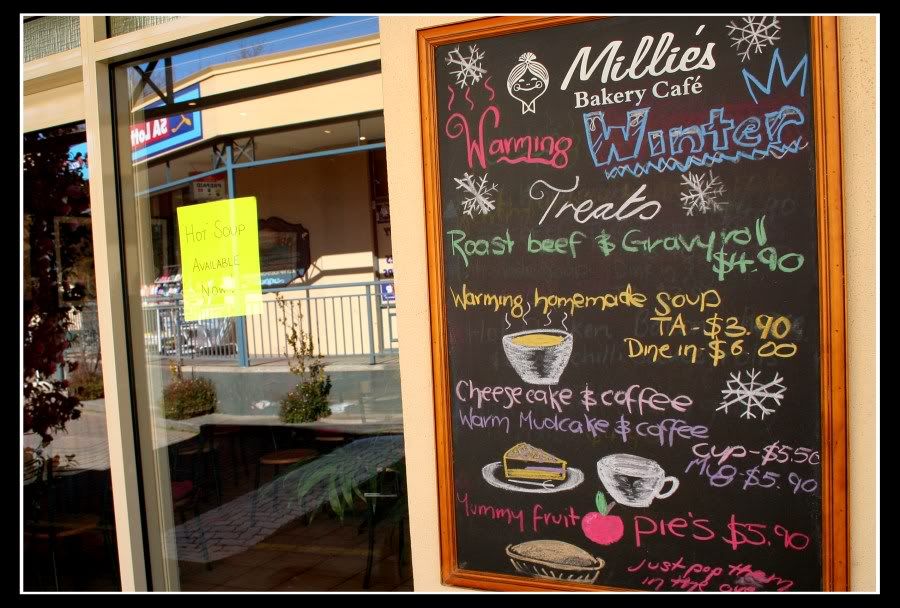 When we arrived, the room was ready, and our hosts had already brought all our luggage over for us, which was so nice. The cottage is separate from the house and contains a great whirlpool tub, a fuel-powered fireplace, digital TV's, well-stocked kitchen, etc. I will mostly let Tim's pictures explain all of that. Suffice it to say that although we are only spending a few days here, it really seems like the perfect place to unwind and adjust into vacation mode.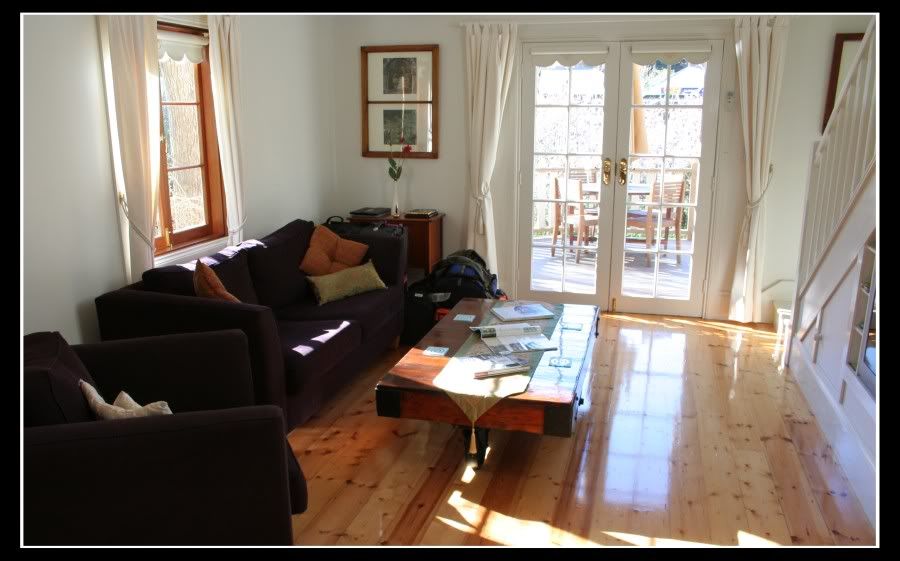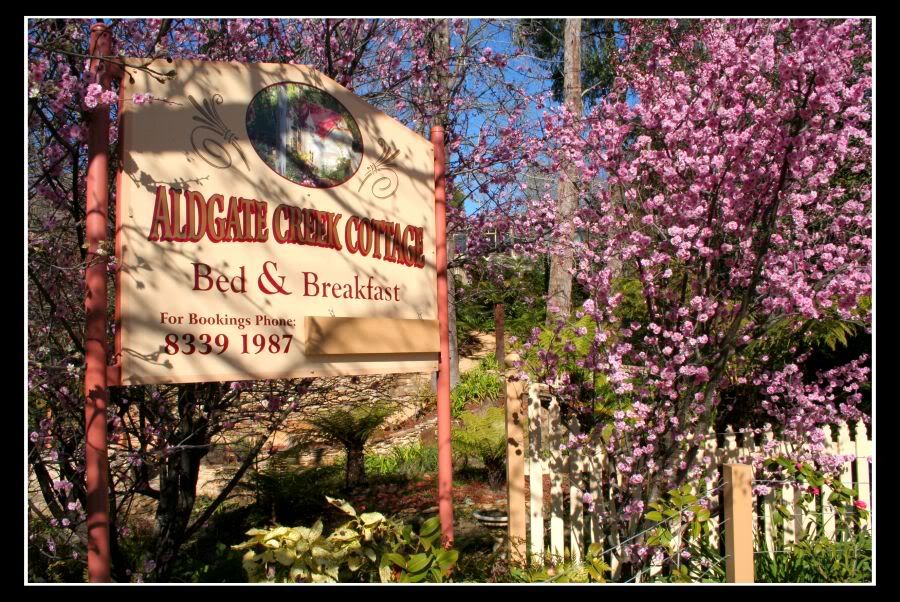 Tim made a bath for us with bubbles, but in true Kendra and Tim fashion, the bath was way too hot for him. I slowly eased into the bath and it was really relaxing. Tim got in a little while later after adding some more ice cold water and also got to relax. So, now we are here and clean and very relaxed, and I should be taking a nap right now so that we can have a more enjoyable dinner, without Kendra being crabby. So, I will close for now, and try to get some sleep!
Back again and we are in bed all ready to get some more much needed sleep. We took about a 2 hour nap this evening and then headed to The Pump Hotel for dinner. (it's right across the street-visible from our balcony- and halfway across town!). Dinner was absolutely fabulous. This town is a sleepy little town as we've said, and we arrived 5 minutes before the kitchen was set to close at 8:30pm. The wait staff still let us place our orders and Tim got a linguini dish with blue swimmer crab and I got a vegetarian dish with this great local type of cheese and tons of vegetables. It was excellent!
I am also really enjoying the wine here. Most of the time when we buy wine at the store, we get Australian wines, so it is nice to be right here where it is made! Tim has been trying the local beers, and he had Cooper Pale Ale two times today. On our way back to our cottage, we heard all sorts of odd animal/bird noises high up in the trees, but didn't see anything. Off to bed! More tomorrow!