Frosty Comes to Town
Wow! Our second post in a month! We hope it's all not too overwhelming! Kendra's still traveling each week for work- my job has slowed down
immensely
travel-wise since Thanksgiving, but I've been busy with
alot
of other office-based projects.
A few weeks ago, Kendra's work held a Christmas party at their Center City office for all the local employees and their kids. They had previously asked for volunteers to entertain the young ones and Kendra signed up. She had
originally
thought that she would be in a Cookie Monster outfit, but when we arrived we found that she would
actually
be Frosty the Snowman, while the boyfriend of a co-worker would be Elmo.
There was a ton of food and desserts spread out in one of the conference rooms and other offices had crafts and games for the kids. A clown came in to do balloon animals and Santa was in another taking requests and pictures with the kids.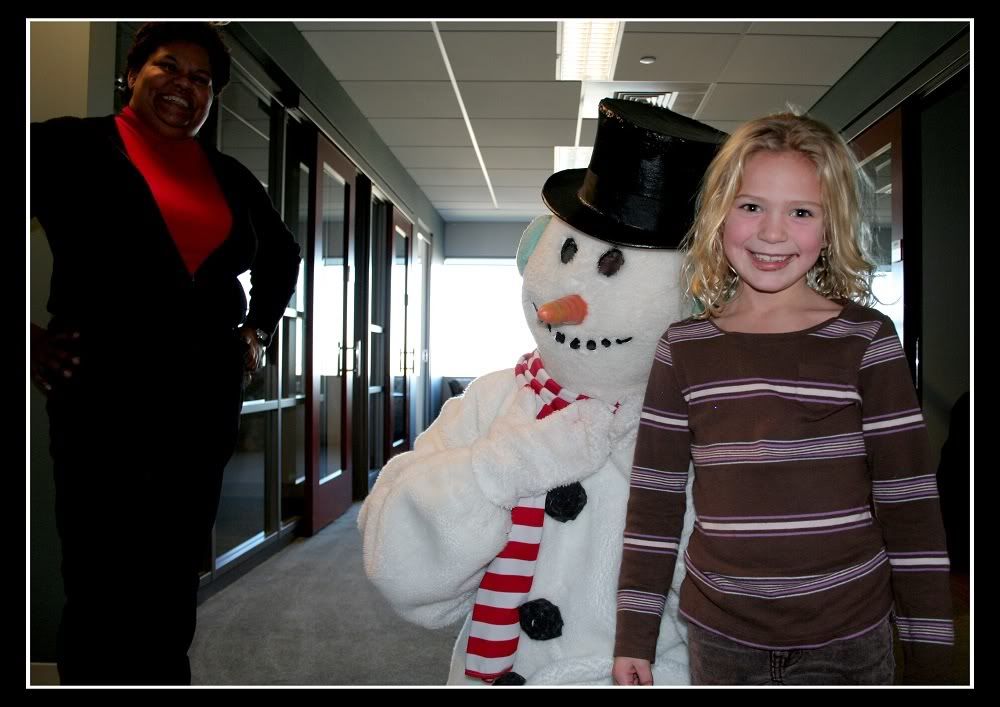 Frosty and Elmo were supposed to stay silent as they went around the building, so a handler escorted them around (also leading the way, as the vision out of the eye-holes was less than adequate for proper navigation!).
The escort would lead Kendra down the various halls and into rooms and offices, announcing the presence of Frosty, which would be met by either shouts of joy and recognition or screams of fright and terror. Many of the children would run up to her for high-fives and hugs as the others would cower in fear clinging to the legs of their parents.
It was all a very
humorous
occasion and Kendra had a great time, despite almost sweating to death inside the heavy, thick and very non-ventilated outfit.
I was also able to get some cool shots out of the high-rise windows of the Schuylkill River, the Expressway and the area around the Philadelphia Museum of Art.