Thunderstorms and Scared Cats
Yesterday was a hot and humid day here in Philadelphia. The sun was blasting through our southern-facing windows and there was no breeze to speak of, so we closed up the windows and blinds and turned on the AC for the first time in a long while. As uncomfortable as it was outside, Kendra and I both had a pretty relaxing day- she went over the
the spa at the Phoenix
for a pedicure, and I walked down to
Terme Di Aroma
for a 30 minute upper body massage, which was quite nice. (and my therapist's name was Kendra- how odd!).
Afterwards, I walked out to get some ice cream and Baileys for coffee and the outside sidewalk dining along Market Street was completly packed. Not too long after I returned home, the skies darkened, lightning flashed, thunder rolled and the rain came dumping down. Elora ususally does fine during storms, but this time we found her trying to hide under the kitchen cabinets, so we made her a dark kitty cave out of blankets and couch cushions so she could feel safe. We watched "
Little Miss Sunshine
" on Comcast OnDemand as the storm rolled through the city.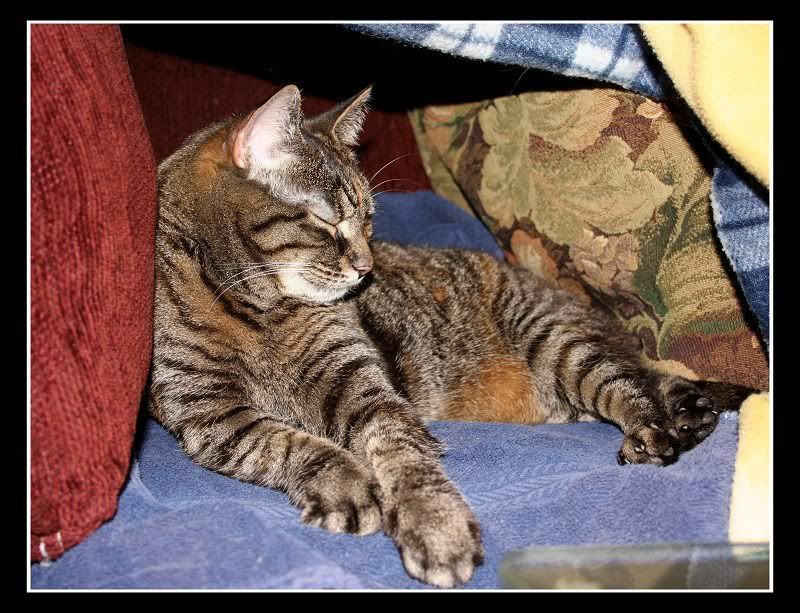 [Here's Elora in her cave...she's thinking that the flash from my camera is just more lightning.]
Now today, we've got the AC back on and just chilling at home, doing laundry and watching our typical mix of History Channel and Discovery Times shows (today it was "Mysteries of the Bible: The Life of Paul", followed by "What the Ancients Knew: The History of Mind-Altering Drugs"...neither Kendra and I can't bear to watch pop TV anymore).
In other news, I went out the other night with Joe, a co-worker and fellow drum'n'bass fan to see the Planet of the Drums crew (
Dieselboy
,
Dara
and
AK1200
) at Fluid. Kendra and I have been to about 6 of the Planet of the Drums shows between the 2 of us (here in Philly, Minneapolis and in Raleigh), and I've seen Dieselboy probably a dozen other times at other parties and his live sets never fail to please. His sound (as well as the rest of the POTD guys) has gotten progressivly harder, faster and more complex- as seen by his collection of mixed albums. I personally prefer Dieselboy's style exemplified by the "A Soldier's Story" (released in 1999) and to leave the more layered, complex stuff to the likes of
Concord Dawn
and
Pendulum
(Concord Dawn and Koldfront were just at Fluid a month ago and gave a terrific show).
Other Happenings: We went to a Phillies game the other week with a bunch of my co-workers. It was a good time for the most part, as long as you go in knowing that you'll be paying way too much for some sort of pale liquid that not so very much resembles beer and a skinny, overdone hot dog with a bun of just barely consumer grade yellow potato bread. Yecch. But it was great to hang out with my friends for a few innings (it started to pour at the bottom of the 7th, so we headed back to the city for dinner and more reasonably priced drinks.)
I took a series of panoramic shots at the baseball stadium and used Canon's Photostitch software to easily create the shot. I've posted a web-sized version of it so you can see the general idea, but the full version is almost 9,000 pixels wide and you can zoom in to see the Philly Fanatic waving to the fans on the sideline.
[Finally, here's Elora the cat with Kendra]