Summer Birthday Bash
On Sunday we had a good time at the ruins area of Kendra's workplace where we celebrated the multiple summer birthdays in the Wingert family. Kendra went out on Saturday and did alot of shopping for vegetables, pesto sauces and fish- which all turned out quite wonderfully, despite our vast inexperience in using outdoor grills. We had vegetable skewers (tomatoes, squash, onions, mushrooms, pineapple and peppers), two kinds of fish (salmon in a basil pesto sauce and talapia in a lemon-pepper sauce). She also got some hot dogs (the uncured pure beef kind from Whole Foods) as well as saurkraut. My sister made a fruit salsa with tortilla chips and my mom made a potato salad and a big tossed salad with carrots, lettuce, spinach, asparagus and radishes from their garden. My aunt made some delicious chocolate chip cookies and we also made smores (compliments of Sam).
The ruins is a very cool little area with two big gas grills under a pavilion, a bunch of picnic tables, wooden Adirondak chairs, a stone fireplace and a playground for the kids. Under the pavilion a bird had made a nest and the parents kept flying back to feed the baby birds. We even saw the baby being fed a worm right in front of us!
The skies were full of dark clouds while Kendra set up her things and prepared the vegetable skewers and marinated the fish. We played a little catch with a massive frisbee we got at Walmart.
[Kendra putting the vegetables on the skewers in her meticulous predetermined order]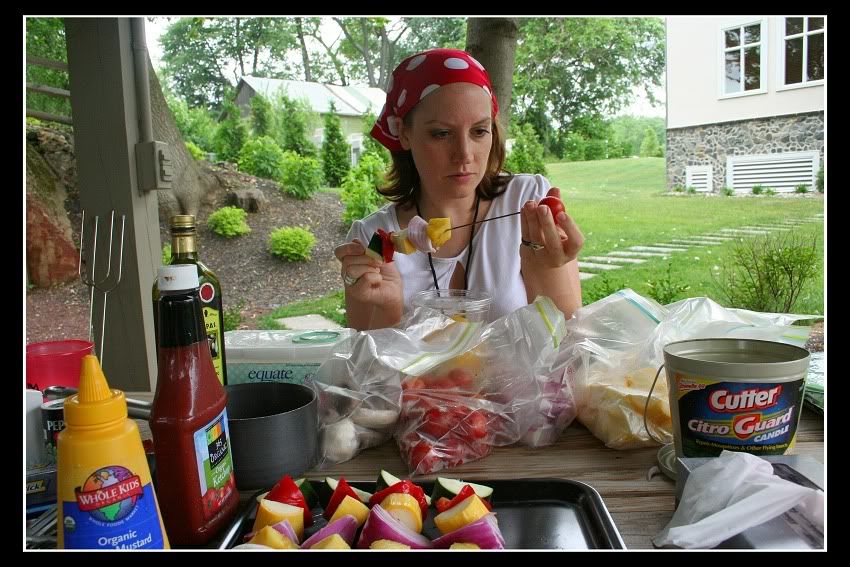 [Kendra giving Tim a semi-annoyed smile after picture #10 of her was taken while waiting for the rest of the guests]

[Kendra putting the marinade on the fish]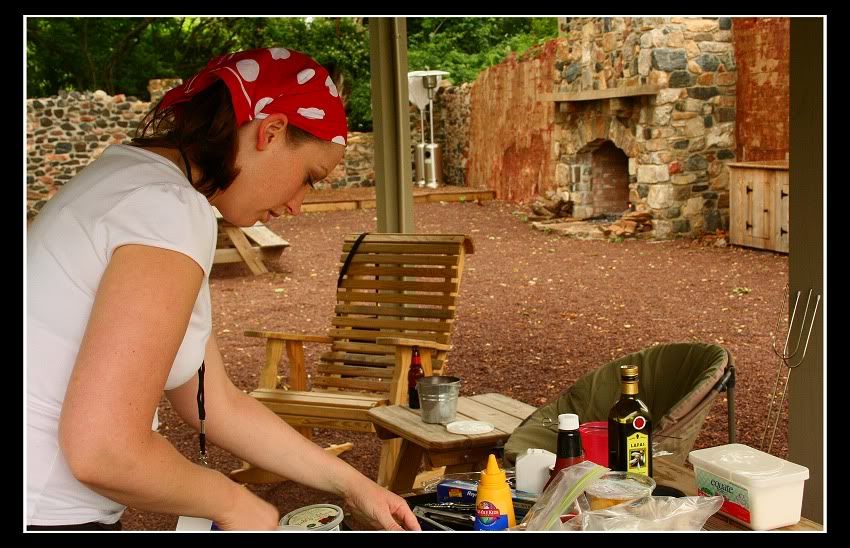 [Kendra deciding we need some pictures of Tim, too. Here is Tim building a fire in the rain!]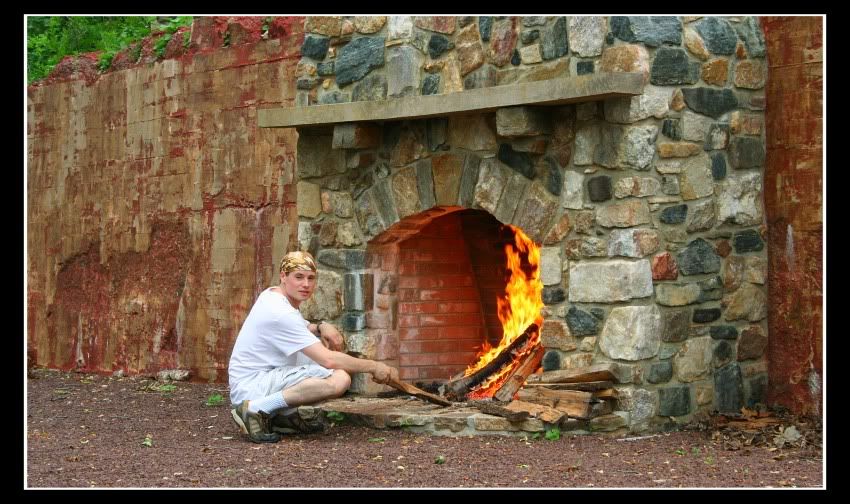 Everyone arrived around an hour and a half after we got there, and the weather was starting to get worse. It held out for us long enough to get the food cooked and sit down for our meal. Almost everyone except Kendra was pretty wrapped up with the fish and side dishes when it started raining hard enough that we had to take cover.
We all moved under the pavilion and in between downpours, people ran out to the firepit to make their hot dogs and then s'mores.
A little while later, it really started to pour and we had to take cover inside where we had some coffee and exchanged birthday gifts.
It was a great day, despite the weather woes!
[Here's our everyday view out of our windows- looking south across the Ben Franklin Bridge, toward Market St., and Society Hill with the rain moving in. This is another 4-shot panoramic stitched-shot]