Costa Rica [Day 1] (Flight and Settling in to Shawandha)
Official Agenda (Costa Rica Online Travel.com):
SAN JOSE – ARRIVAL
Arrive into the San Jose International Airport. Our Driver will be waiting for you right outside the main airport's gate, with a board and your name on it. Also, the minivan will be identified with the Costa Rica Online Travel logo. Board the van for the 4.30 hour transfer to Puerto Viejo. Arrive and check into two bungalows at the Shawandha Hotel. Take the rest of the afternoon to enjoy the hotel and explore the town.
Tim and I woke up at 3:15am in Philadelphia and made sure that all the final preparations were taken care of for our trip to Costa Rica. The main purpose of this trip for us is the wedding of our long time and very close friend, Sherry Swingholm. We also decided to make a vacation of it with our friend Brian and travel around for a few days following the wedding. Before leaving we played with Elora for awhile and made sure she had enough food until Kerry (of
Kerri's Cat Care
) came later that day to take care of her. At around 4:00am, we were off to get our cab and head to the airport.
The flights went smoothly enough for us. We met up with Brian in Miami and flew the last leg of the trip together.
When we arrived at the San Jose airport, we were very impressed with how modern and clean everything was. (Much better than the international wing of MIA by a long shot- what a dump!). We got through immigration and found the baggage claim area without issue and then waited for our luggage. This took quite awhile – close to an hour. Our bags were almost the last to come out. We were worried, but not overly so, because we had included enough basic stuff to get by for a few days in our carry on bags, given the fact that on almost every group trip I've ever been on someone's bag gets lost.
While we were waiting, Tim and Brian exchanged some money (20 U.S. dollars got us 10,358 very colorful colones). Finally, with local currency and luggage in hand, we passed through customs and headed out to meet our driver… almost. I was chased down at the exit by an customs agent who thought I had a banana in my purse. I let him look, but I had neither a banana nor anything remotely resembling a banana in any of my bags, so he let us go. (Meanwhile, 10 other bags are rolling freely through the now unmanned customs station!).
We found a man right outside the exit holding a sign with my name on it and were taken to the car. Our driver, Enne (not sure on the spelling here, but it is pronounced like the letters "N – A"), told us it would be a 4-5 hour drive to Shawandha Lodge and we all agreed to stop somewhere for lunch in about an hour.
The traffic out of San Jose was horrendous (e.g. Makati, Philippines). We were happy (and I could breath better ) when we came out of the city and Enne stopped at a small Costa Rican food stand for lunch.
It was really cool to be able to eat the local food so soon. I had a little trouble communicating the vegetarian thing, since I hadn't studied up on those Spanish phrases yet. However, I was able to point to some vegetarian looking things, figuring I'd give them to Tim if they were not (50% success rate with my selections, but the rice and beans were very good!) Brian got some yummy chicken (rave reviews from him), and Tim got beef. Tim and I also tried the local beer, Imperial. This was Enne's #1 beer. (After struggling to find a way to ask him what his "favorite beer" was but not knowing the right words in Spanish, we finally remembered the phrase "top one" used in the Philippines and asked him what his "#1" was….that worked)!
[The first of many thousands of Imperial signs throughout the country]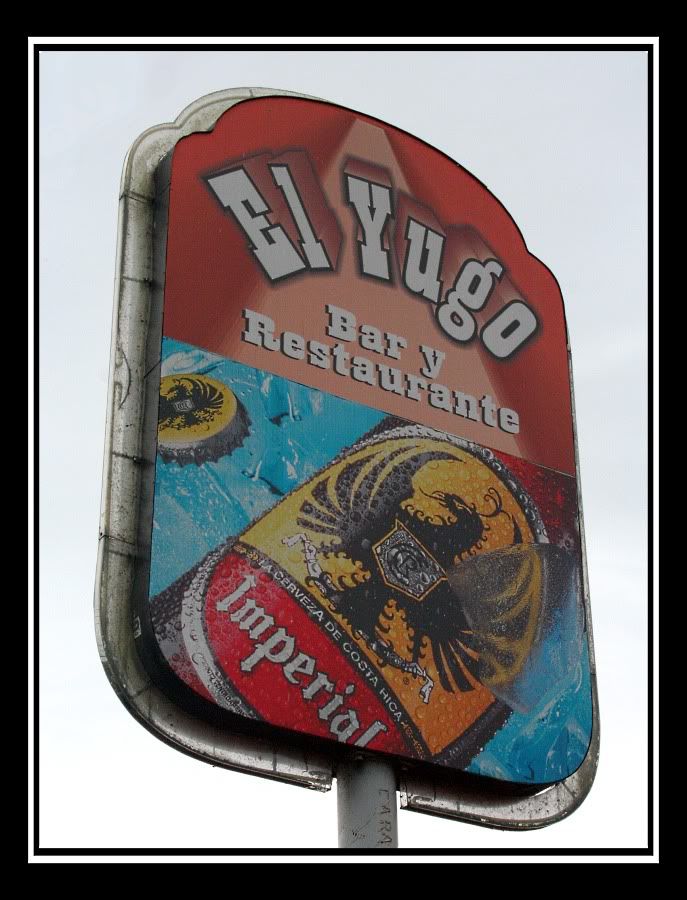 For the rest of the drive we were treated to some amazing scenery. We drove on incredibly steep roads with mountains all around us and covered with huge, dark green forests and cascading waterfalls. Seeing all of this now, we could not wait to see the area closer in some of our tours to take place later in the week!
We were all pretty sleepy after our very early morning and eventually we all fell asleep in the van...
[Tim]
...despite the continuous swerving by Enne to avoid the numerous and deep potholes pitting the surface of the road- which had become only half-heartedly paved at this point. He was also pretty good with overtaking and passing slower vehicles, even if it meant going into the oncoming lane at a blind corner. Even with all this, I still felt safer for some reason here than in the crazy Manila streets.
We woke up as we entered into the town of Puerto Viejo and passed through several local hotels and beach resorts and drove parallel to a very cool-looking black sand beach! After driving through the main part of the town, Enne pulled up in front of Shawandha Lodge. Our first impression was that it was amazing! It really was located right in the heart of the jungle. The bungalows were screened in wooden structures with cool curving stairways leading down to the colorfully tiled bathrooms. Everywhere there was overgrown brush and plant life, crackling with the buzz of insects, birds, lizards, and monkeys.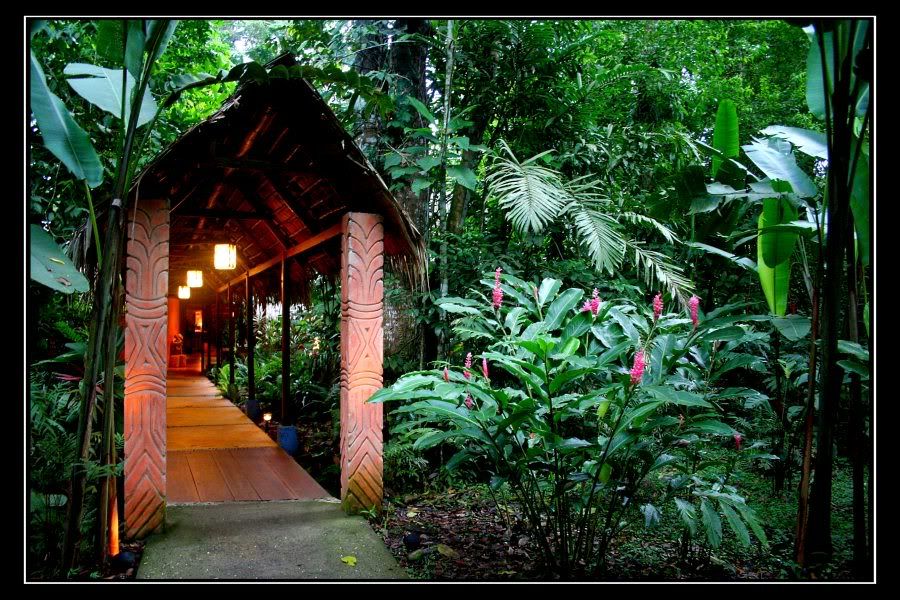 The main lodge area is open air with a thatched roof on top. The whole place had a wild and natural type of beauty.
We thought it was the perfect place to start the vacation and spend time with Sherry and Josh, their family, and friends.
[Inside our bungalow. Jungle Style!]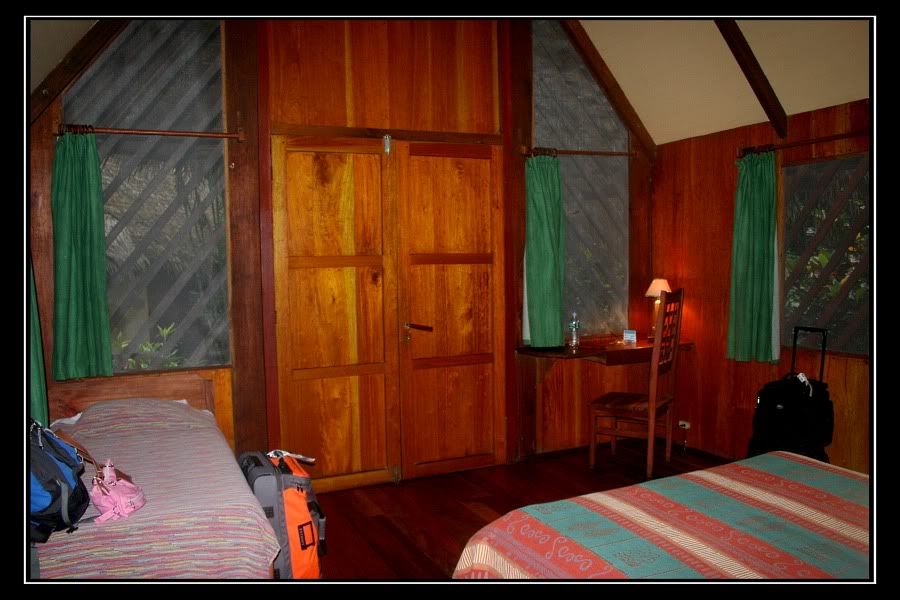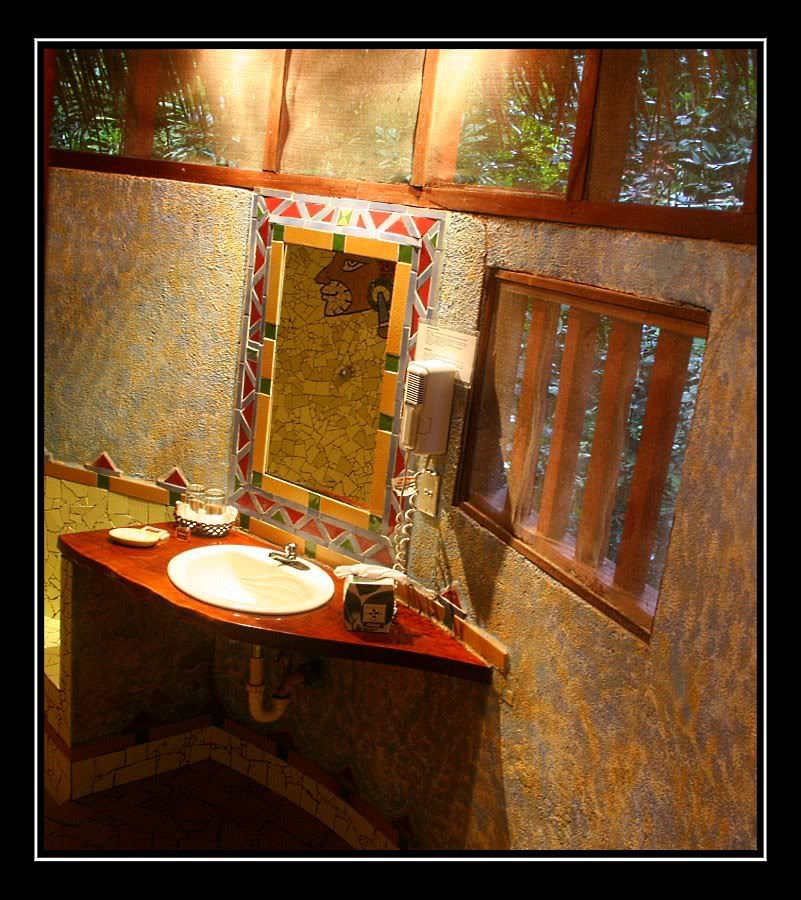 [Tim] Windows around the top of the bathroom walls (see above- by Kendra's head) are a great idea for releasing steam and humidity from the shower to the outside air. Windows located at chest level next to the shower (see below) are a great idea for giving the other resort guests a strip tease and shower show. We really should have charged a fee...
[Nothing says 'Costa Rica" like seeing your wife relaxing in a hammock that says "Costa Rica"!!!]

We settled in and then returned to the lodge for drinks, dinner, and a few rounds of cards. While we were having drinks, people started to arrive. First, Sherry, Josh, and Hope pulled up, then Sherry's mom and David, and then finally Josh's parents.
Dinner was fabulous. At this resort things are priced more of less as they would be in the US at a moderately priced restaurant such as the Olive Garden. However, the food is amazing so far!
I went to bed pretty early on this first night and Tim followed soon after. Upon waking up to use the bathroom in the middle of the night, I saw that a very large insect had wandered into the shower area, but I guess that is why we packed shower shoes!
[...to be fair, we ARE in his jungle!
But, yeah, he's ugly.
]