Costa Rica [Day 2] (The Beach and Rehearsal Dinner)
Official Agenda
(Costa Rica Online Travel.com):
Enjoy the Caribbean Regions. Visit the gorgeous Cahuita National Park and Gandoca Manzanillo Refuge, home to amazing coastal rainforests and stunning underwater marine life and coral reefs. For the avid surfer, a trip to this region would incomplete without staying over at Puerto Viejo, with its amazing beaches and home of the famed Salsa Brava. The prefect place to kickback and have a good time, this town is a great place to stay in. Overnight in two bungalows at Shawandha Hotel.


This morning I woke up from a half-sleep /half-dream state to a bizarre sounding creature declaring war on the rest of the jungle from our roof. (I would later learn it was 5:30am and the bizarre creature was most likely a howler monkey). I asked Tim what all the noise was and then remembered we were in Costa Rica. At this point a very typical and often repeated (in some variation) conversation took place between Tim and I.
Kendra:
I can't sleep. It is far too noisy.
Tim:
It's a nature resort. You're supposed to feel part of it.
Kendra:
I feel like something that nature is about to eat. What is that thing anyway? A monkey?
Tim:
Not sure, but it's certain to be funny looking, whatever it is.
At this point I decided to start getting ready for the morning and asked Tim if he wanted to go to the beach with me to take a walk before breakfast.
He agreed and we spent a little over an hour walking along the water as the bright, pre-6am sun blazed down at us. Tim took a lot of photos and I tried to help him spot good pictures. The walk was very nice. There were very few people out. In fact, until the end of the walk, we had only passed one man jogging with his dog. The waves were coming in at a steady pace and there were many interesting logs, fallen trees, and porous rocks, which were covered in snails and scurrying crabs.
[The path to the beach]


[Our first steps out onto the Costa Rica Caribbean coastline, lit perfectly in the morning light. Crashing waves, soft sand, rocky outcrops and some early morning haze hanging in the jungle vegetation makes for a shot that says "Hello Overseas Vacation!!!"]
[The base of this fallen -but still alive- tree was all roots and leaves, giving off a very distinct warm compost odor as the salt water washed back and forth over it.]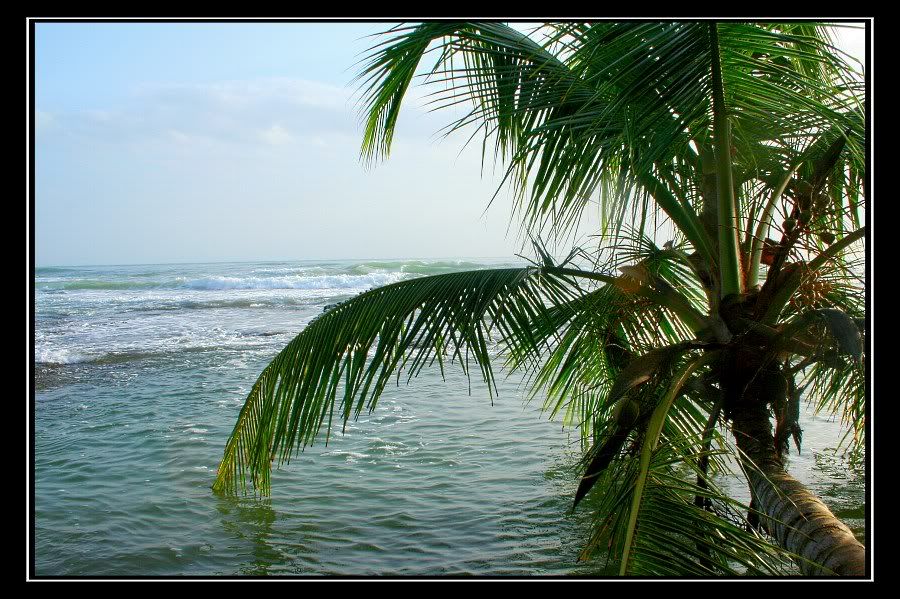 [Early morning light shadows]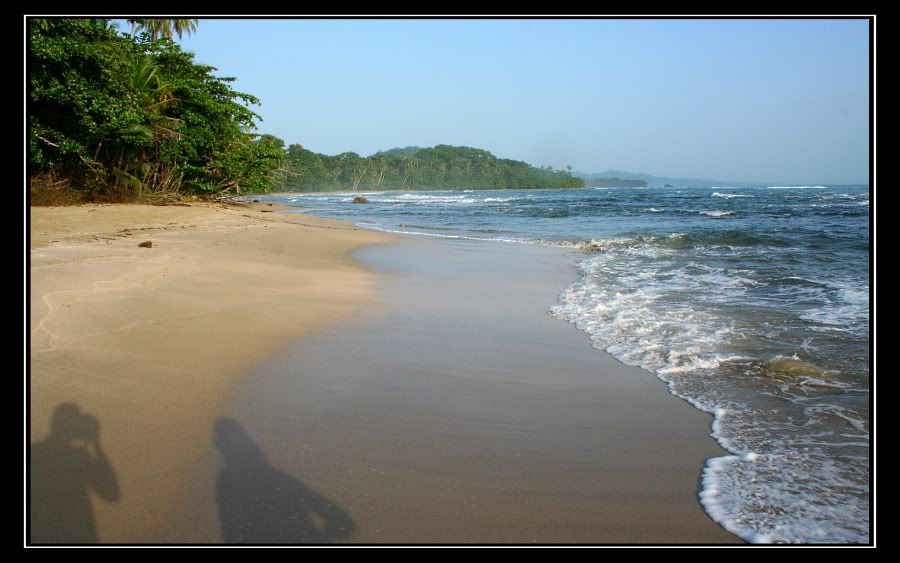 On first glance, I did not think that particular beach would be a good one for swimming or sunbathers. It seemed wild, overgrown, and rocky, without a large sand strip. It seemed to just appear out of the jungle behind it.
We finished our walk and returned to the lodge to see if anyone else was awake for breakfast.
[The path and beach were dotted with hundreds of small burrows, in which these cool little crabs lived and would come scurrying in and out over the sand.]

For awhile, we amused ourselves with watching some small jungle kitties play in the lodge and Tim took more photos. [It is always amazing to see how quickly cats without disabilities move and how high they can jump. It amazes me every time. However, I think it is equally amazing -if not more so- what Elora accomplishes with neurological and muscular damage!]
[The pair of jungle cats play-fighting between the ever-so-subtle stone statues indicating the gender of the restrooms next to them]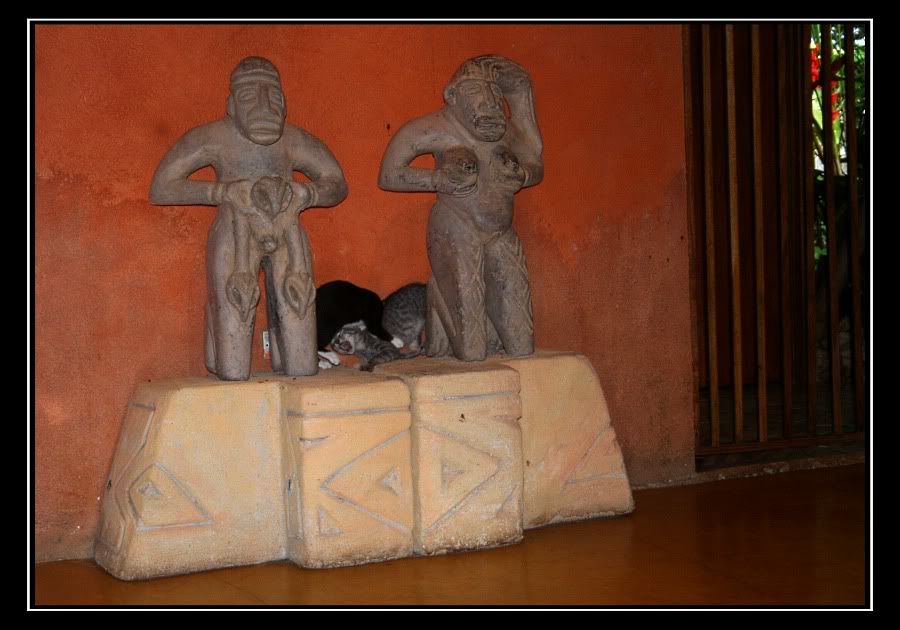 [Some of the beautiful, odd and otherwise interesting vegetation I found around Shawandha Lodge as Kendra wrote the day's events in her journal]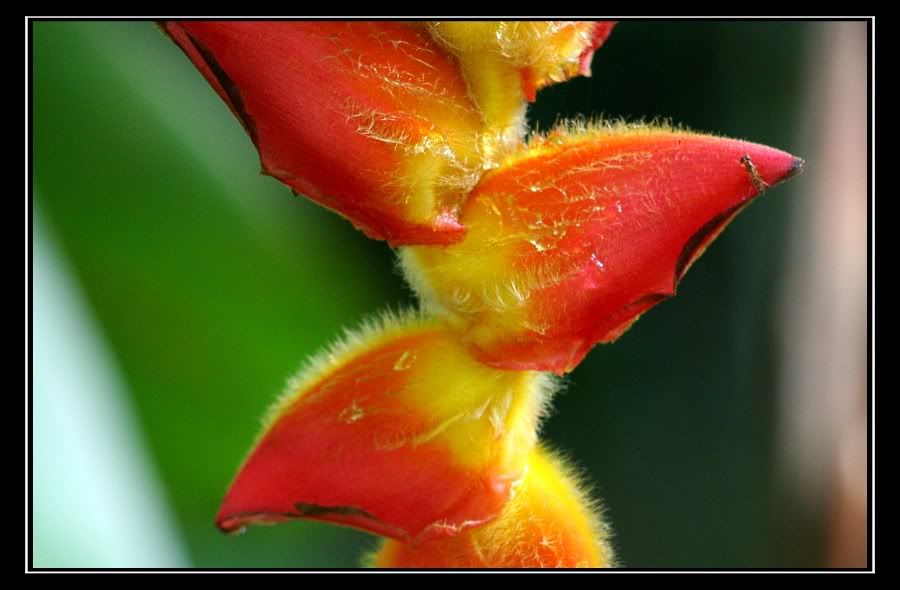 [There were many large hummingbirds buzzing around and feeding on the brightly colored flowers outside the dining area, however they were much too fast and fleeting to capture in a picture. (I had to wait several days for one of these little buggers to sit still enough to get a decent shot!) But I did find this little lizard sunning himself and catching bugs on a bright pink flower. He posed well. Maybe he's the Central American version of the Geico spokesman and used to being in the camera lens.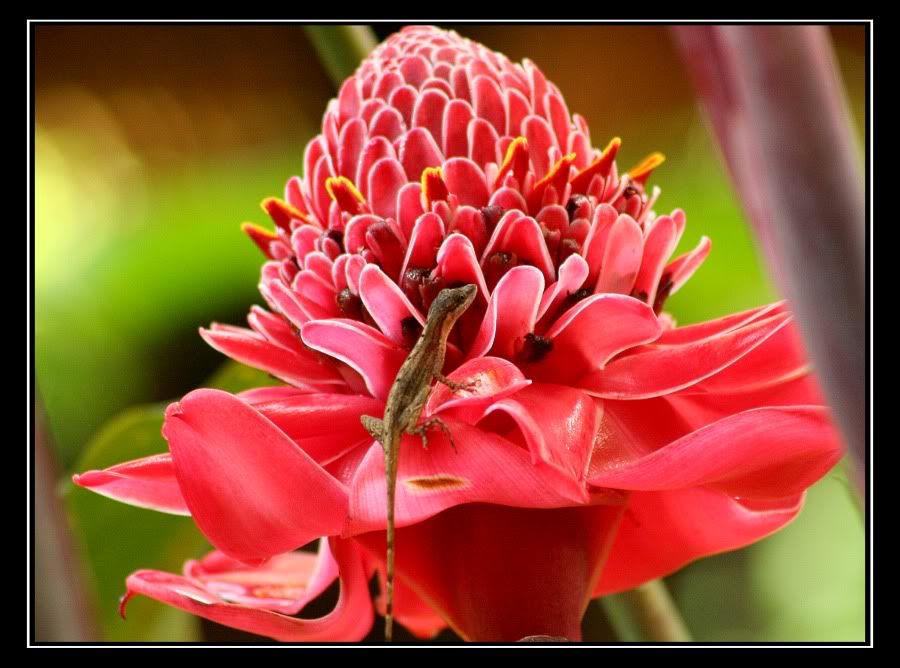 Eventually, we just sat down for breakfast and greeted people as they came out. The breakfast they served was huge! It started with a very large plate of fresh fruit per person, followed by bread, butter and marmalade (the latter of which we quickly rushed back to the kitchen after it caused an extremely upsetting swarm of insects to invade our table), and finally scrambled eggs.
[The mango's were a bit different in flavor than the ones we had daily in the Philippines, but still the best we've had since returning from Manila! -and cut and presented the same way, too! Notice the black coffee- if the locals had their way, it would be half milk with lots of sugar.]

Sherry and Hope were the first to join us for breakfast, during which time Hope stopped playing hard to get and became obviously smitten with Tim. This would last the entire trip. The most touching moment for me was when she started to follow him around with her little digital camera, posing like him and taking some pictures. She also did plenty of sticking flowers in his hat and behind his ears.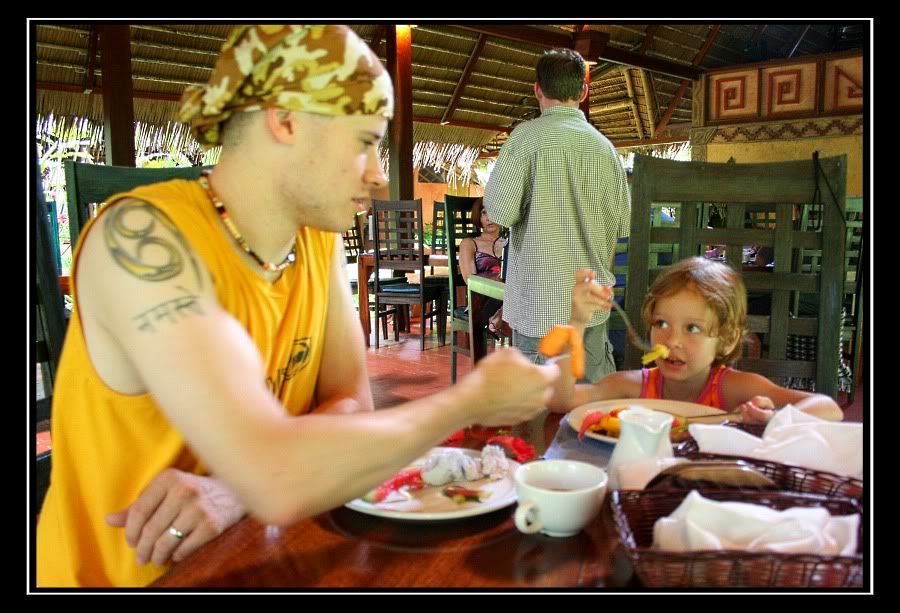 [Several colorful butterflies were dancing around the flowers, which enticed Hope to go out and creep around the bushes attempting to catch them in her hands. She did get one, but it escaped her grasp a moment later.]
[The Hunted...]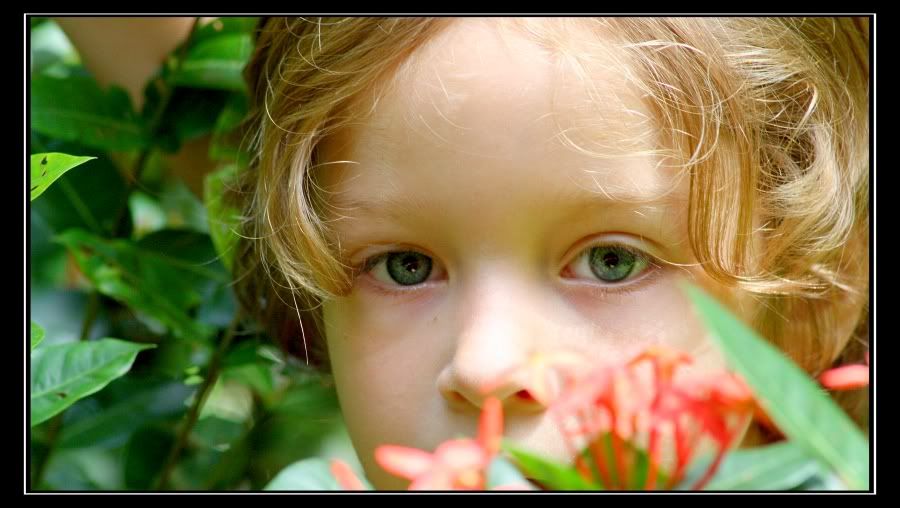 [One of many attempts to capture the elusive butterfly]
[After a failed attempt]
I realized upon meeting Josh's dad for the first time when he came out for breakfast that it was a mistake to go to bed early the night before! Somehow in the introductions at that time, it became very confusing who I was actually married to, and the joke became that everyone had claimed to be married to me except my actual husband, Tim. This became a recurring theme throughout our travels, since I was traveling with both Tim and Brian. For the remainder of the trip, Tim was husband #1 and Brian was husband #2.
[Kendra and the soon Bride-to-Be!
Note: The coffee cups are still full, hence the forced morning exuberance on their faces!]

After breakfast and after a long morning socializing with each person as they woke up, came out to the dining area and ate, we all piled into Josh and Sherry's SUV and headed to the grocery store. Josh needed some things, and the rest of us went along to see what the store was like. We arrived at a little store with the basic necessities and ice cream bars, which were being devoured by a bunch of school kids.
[The Shopkeeper]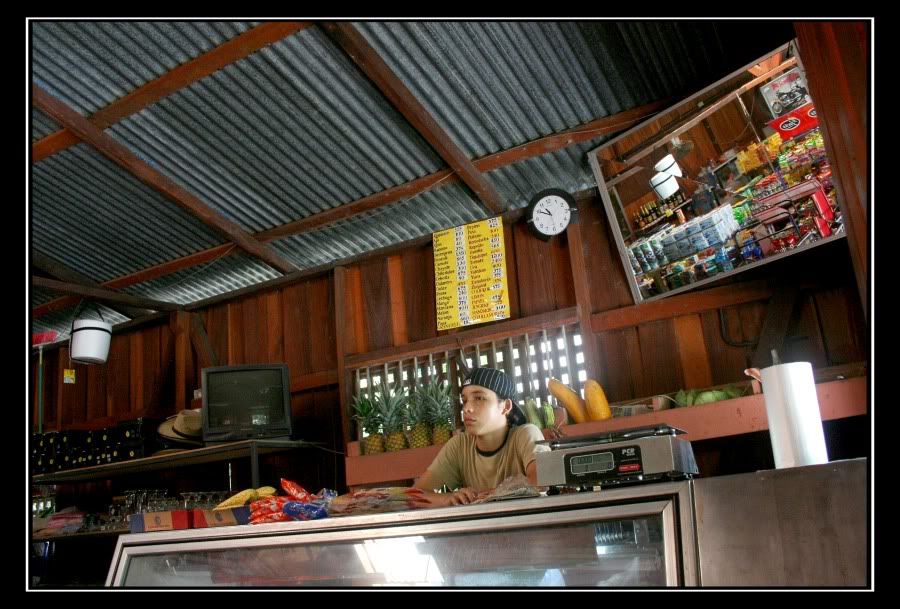 While we were there, an old man saw Tim taking pictures and tried to rent us lodging in the casitas he was "the boss of." We went to the back to look at them but told him we already had a place to stay, but "gracias."
Instead of taking the car back, Tim, Brian, and I decided to walk to check out some of the local shops and restaurants. The great majority of them were not open until 1pm, but we did see a potentially good one for lunch – Jungle Love. It even had several vegetarian options!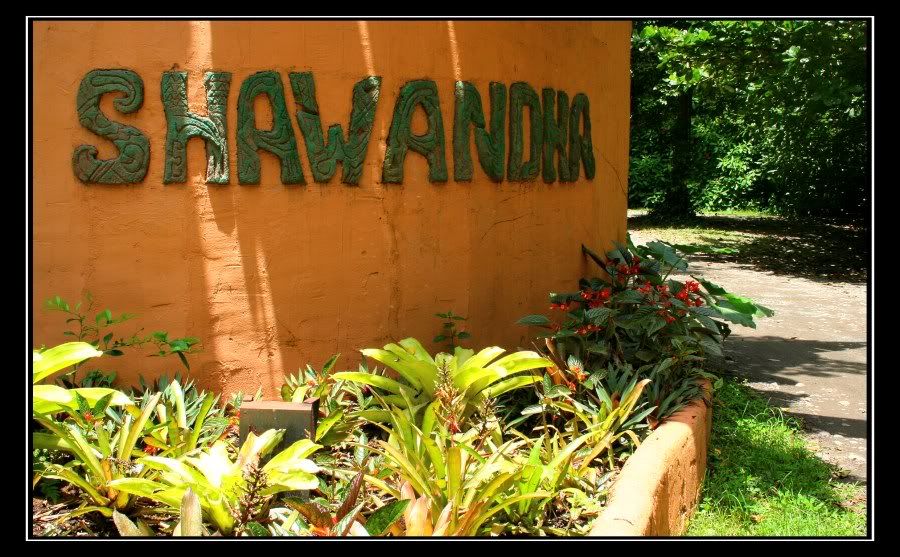 [At the entrance of Shawandha, one of the famous
Diquis Spheres of Costa Rica
]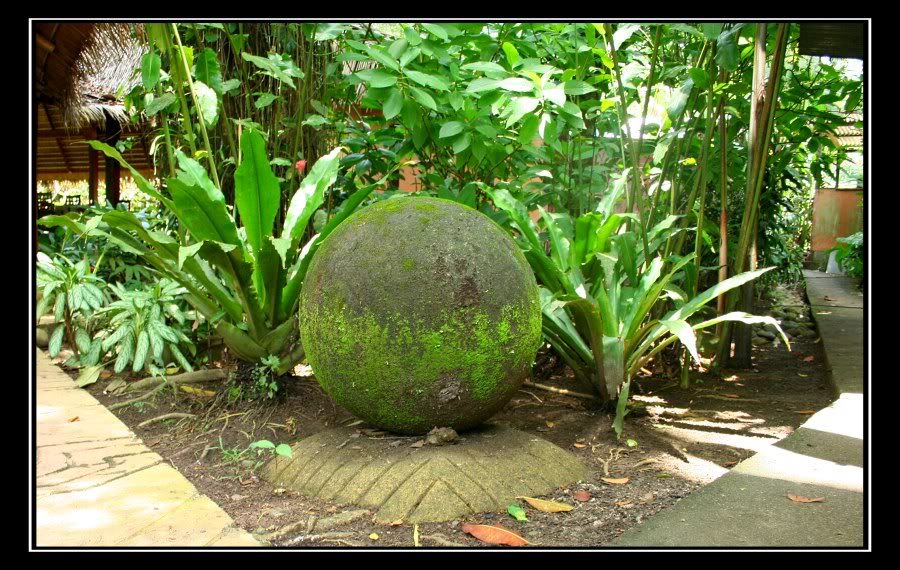 When we got to the beach, we went in the water this time. The water was very warm and the waves were constant. We had to really watch the extremely hard current which kept pulling us close to the rocks. When this would happen, we had to swim as hard as we could parallel to the shore and away from the rocks. After several times of doing this, we were wiped out and headed back to the lodge.
We showered and set out to relax before the rehearsal dinner scheduled for the evening. Sherry's dad and Beanie arrived during this time, and we chatted with them for awhile as we watched a sloth high up in the tree near their bungalow.
[Despite switching to the Canon 55-200 mm zoom lens that Kendra got me for Christmas, I was unable to get a decent shot of the sloth. Imagine a brown lump of fur high up on a branch surrounded by green leaves moving verryy, verryy, slowly. Congratulations! You've seen a sloth!]
At around 5:30pm the van came to take us all to the rehearsal dinner. We now had two additional people – Steve (a college friend of Josh's) and his wife, Shannon. It was about a 30 minute drive, and the van was extremely tightly packed with some people sitting on laps and others smashed together in the seats, but we all had fun and were in good spirits!
We arrived at Edith's – a small shack serving Jamaican style food, which had been recommended by Sherry and Josh's photographer. Maureen (Josh's mom) video taped us as we made our clown car exit, which I'm sure was quite the sight for the other patrons at the restaurant!
Our waitress (who also appeared to be the owner) was a stout, brusque woman who spoke very little English. She warmed up after awhile and even started to smile and joke with us a bit, although she was extremely no-nonsense about the ordering. She quickly went around the table and asked for orders. When someone would state their order, she would say "How many?" at which point all others wanting that same dish were to raise their hand. This style was a little much for Brian and Maureen who seemed to consistently like to take their time with choosing their food. Eventually, after being asked and being abandoned 3 times, they just randomly chose something, which resulted in Maureen drinking something called a "Horse's Neck" and Brian consuming a "Mexican Mule"… described by Brian as "weak lemonade"...still not exactly sure what it was.
After the great food, we all headed back into the clown car and returned to Shawandha where we hung out longer and had more drinks at the bar. Brian continued his random cuisine streak by ordering a drink made of red beat juice.
Tim, Maureen, and Hope spent the time coloring in some of Hope's coloring books. Hope was being very cute and signing all of her pictures and even write Tim's name on one with her own address below it.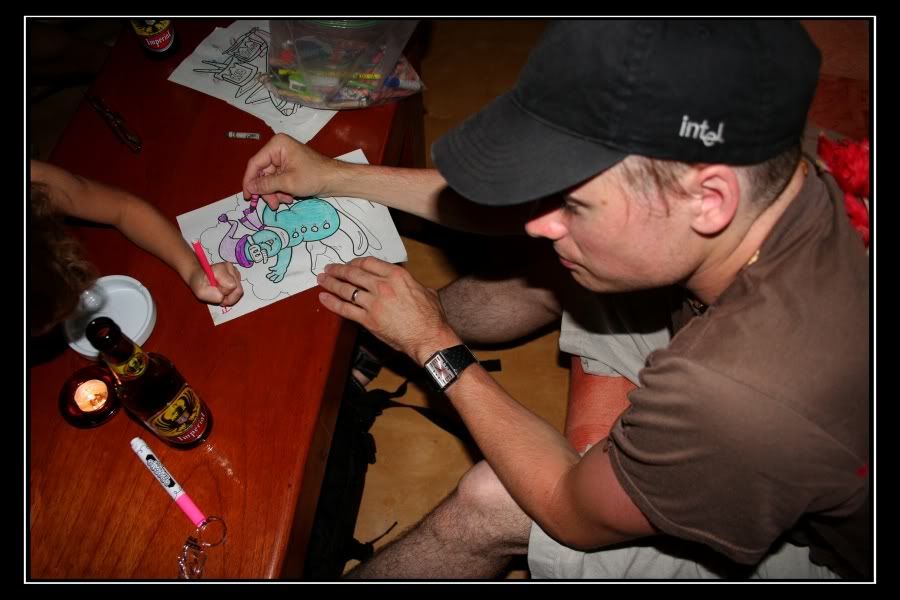 Steve was teasing them for coloring, which prompted Hope (admittedly with some encouragement from me) to provide Steve with his own set of pictures to color and pile of all pink crayons. This was very amusing to me, although Tim seemed to think I was mean for encouraging such things.
After closing down the bar (at an early 10:00 pm), we all headed to bed at the end of a long and fun-filled day!