Costa Rica [Day 3] (Wedding Day!)
Official Agenda
(Costa Rica Online Travel.com): PUERTO VIEJO
Enjoy the Caribbean Regions. Visit the gorgeous Cahuita National Park and Gandoca Manzanillo Refuge, home to amazing coastal rainforests and stunning underwater marine life and coral reefs. For the avid surfer, a trip to this region would incomplete without staying over at Puerto Viejo, with its amazing beaches and home of the famed Salsa Brava. The prefect place to kickback and have a good time, this town is a great place to stay in. Overnight in two bungalows at Shawandha Hotel.
We were up again bright and early the morning of Sherry and Josh's wedding. We headed over to the lodge and were soon joined by Shannon and Steve for breakfast. Brian stumbled out a little later when he woke up. This time we were smart and turned down the sticky marmalade that had resulted in the massive bug attack the previous morning.
All of us were pretty tired, but soon perked up as more coffee was consumed and before long, Shannon and I were out-talking everyone at the table 10 words to 1, as is the norm. (Although to be fair, both Tim and Steve are on the exceptionally quiet side).
After we finished eating, we went back and changed into our swim suits. The plan was to find another beach which we were told was a bit less rocky and without quite the strong current like the first beach which resulted in the feeling that you were swimming on a treadmill. We understood that the beach was about a mile or so down the road and was called Playa de Uva. Since it was so terrible hot, we decided to drive, so we all piled into Steve and Shannon's car.
It was a little difficult to find the beach, but finally we turned down a narrow dirt road and followed it until the dense jungle opened up to a beautiful sand beach and sparkling waves. It was much better for swimming and not very crowded. We swam and chatted on the beach for several hours (Tim lost his sunglasses in the pounding waves) until we realized we had better find some lunch somewhere or else we might be hungry for the wedding. So, we returned to Shawandha, changed clothes, and headed up the road for what was communicated to us as "just a little ways" and ended up being a very long sweltering walk a considerable distance past the beach we had just left!
By the time we arrived at the restaurant (Seville's), we were all sweating and exhausted. However, we soon forgot this after ordering a
grande aqua
and cold
cervezas
all around. The food took awhile to arrive, and so we spent the time chatting and looking at the political brochures which were passed to us and also to the signs hanging around the restaurant. It appeared to be a cause for liberation… from what or whom it was not clear. Our waitress was very friendly as well and seemed amused by us. Really, I guess you can't blame her. During our talks, we learned more about Steve and Shannon and their friendship with Josh. Brian and I also learned that our parents had moved within 5 houses of each other on the same small side street in Mt. Joy, Pennsylvania. This was unbelievable!
When the food arrived, it was GREAT and definitely worth the wait.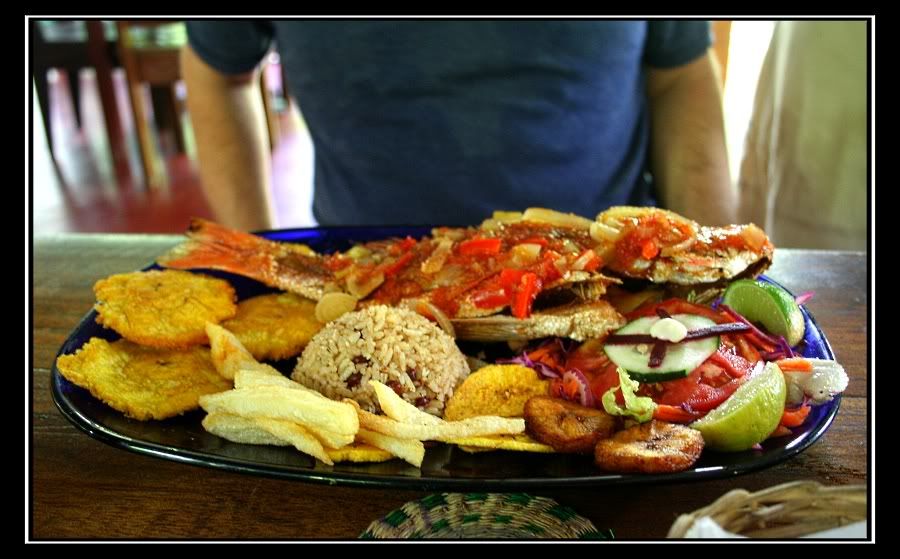 We finished our food and paid the bill with tip added, which apparently made the waitress/owner's day. She came running after us with chocolate which was very sweet! We shared it on the walk home. Also on the walk home, we passed some very amusing signs advertising a butterfly farm. See for yourself:
[Kids for free? See the other side for more confusing information....]

[Reproduction Center with free kids? Weird.]
As we were walking back, trying not to die from heat exhaustion, Josh drove up behind us and beeped his horn. Even though we were pretty close to the resort by now, we all piled into the car and enjoyed 3 minutes of A/C.
From here on out, we all got into preparation gear for the wedding. Shannon and I went to check on Sherry and see if she needed anything. She was in the process of getting her hair dried in a very hot bathroom, but looked beautiful nonetheless. I returned to the bungalow and pulled out what we would wear for the wedding and decided that I would probably wear my hair back because it was so hot.
At around 3pm, Josh came over an asked me if I could get his clothes for him because he left it in their room. So, I went to check on Sherry again and pick up the clothes. Sherry was on the porch and was now getting her hair curled. I changed into my dress (a coral dress), did what I could with makeup considering it was bound to melt off anyway, got a video camera from Maureen, and headed back over to spend the rest of the time with Sherry and make sure all was going well. I took some footage for Maureen of Sherry getting ready and helped her get dressed along with her mom and Shannon. Juan Carlos (the photographer) was also there and was fanning Sherry with a large round screen to keep her cool while she was getting ready. He was also getting progressively more and more annoyed with the hair dresser who was by now severely eating into his time to photograph Sherry. Periodically, the other women and Terry (Sherry's father) would stop by to see Sherry and say hello.
During one of these times where the maximum people were there, Hope said, "I'm so hot. This was a bad idea." Sherry's mother who was also melting into a puddle seemed to agree, but in the end everyone toughed it out and agreed it was a beautiful day and a beautiful event!
I'll pause now to say a few words about Sherry. She looked so beautiful – absolutely magnificent. As the photographer said, she was a "magazine bride." It was an honor to be able to be there to help her and see how beautiful and happy she looked. For the ceremony (to take place on the beach), she wore a traditional wedding gown and fit her perfectly and was very elegant. She would change into a short halter dress for the reception later. Sherry had her hair all curled with half of it up and orchids pinned into her hair in a scattered pattern. It was gorgeous. It was also such a wonderful thing to see Josh's parents (Maureen and Jim), Sherry's mom (Faith) and step dad (David), and Sherry's dad (Terry) and step mom Beanie all there and beaming at her. It was beautiful, as will be clear from the pictures Tim was able to capture both before and during the ceremony.
[Tim's Note: Not all the shots that I took during the wedding and reception will fit in this blog entry. To see all the images from today, you can go to our
Picassa album
. ]
Finally, after all hair and makeup was complete and some pictures were taken, we all headed for the van to go to the ceremony (albeit a little late), and Sherry headed over with Juan Carlos in his car.
Once we arrived at the beach (Playa de Uva where we were earlier in the day), we realized we may have some logistical issues. We had to all walk either through the water (in our wedding clothes) or through the woods (dirty and rocky) to get to the part of the beach set up for the wedding. This was going to be particularly a problem for Hope because of her high-heeled, open toed, silver shoes.
Before I continue with how we resolved that plight, I must segue to explain a very amusing conversation Hope and I had had earlier in the week about said shoes. I will start by saying that Hope just turned 6 in April. Here was our conversation:
Hope:
Kendra, for this wedding I have my first pair of high-heeled, open-toed shoes.
Kendra
(thinking there is no way I will get an answer to this question): That's wonderful, Hope! Now, do you know what we do not wear with high-heeled, open-toed shoes?
Hope
(with no hesitation): Stockings or socks.
Kendra
(looking at Sherry with a slightly worried and very amused expression): That's right, Hope!
So, back to the story! As Josh struggled to unbuckle her shoes, I realized that there is no way he should be worried about this on his wedding day and asked him if he'd just like me to carry her. He looked incredibly grateful not to have to worry about those small buckles and said, "Please!".
So, it started that Hope and I were inseparable for the duration of the wedding. She couldn't get anywhere without me until those shoes came off, and I got to spend a lot of time with her.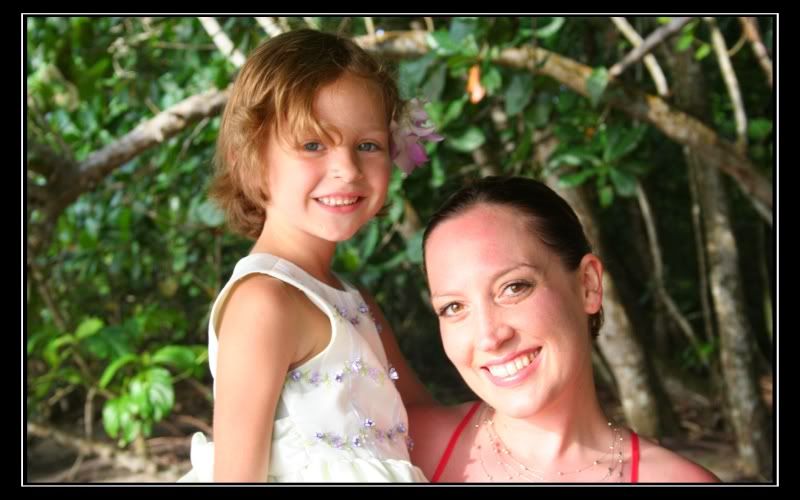 We all arrived at the appointed section of beach and waited for the bride. The beach was beautifully decorated with strands of orchids and strewn flowers on the beach. There was also a small local band playing hand made string instruments and drums and singing island music. One of the band members was wearing a NY Yankees hat and a puma t-shirt .
We were all wondering how Sherry was going to get over with her dress. Her father might have normally been able to carry her, but he had suffered a severe back injury in the month prior to the wedding. She was able to hike up her dress though, take off her shoes, and come over holding onto Terry's arm.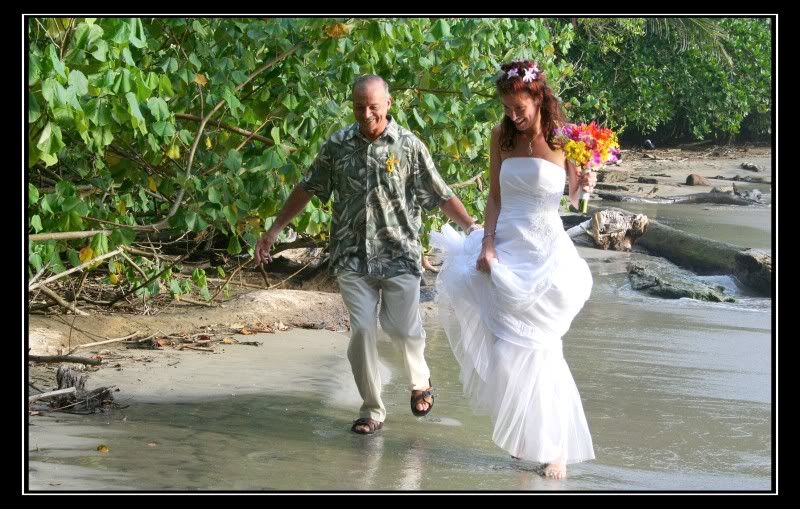 The ceremony started. It was a beautiful ceremony, even though we couldn't hear quite all the vows due to the sound of the ocean waves crashing against the nearby cliff. However, it was obvious that what was being said was heartfelt. Sherry's parents and stepparents and Josh's parents were emotional and obvious moved by the event, and it was very nice to witness.
After the vows, ring exchange, and kiss, we all shared a champagne toast on the beach. Sherry had asked me to be her witness (and Steve was Josh's), so we all headed up to the front to sign their marriage documents and have another toast. It was such a great thing to be part of.
Following the ceremony, there were more pictures on the beach (for which I stuck around to carry Hope), and then we headed back to the lodge to rinse off our feet and get ready for the reception.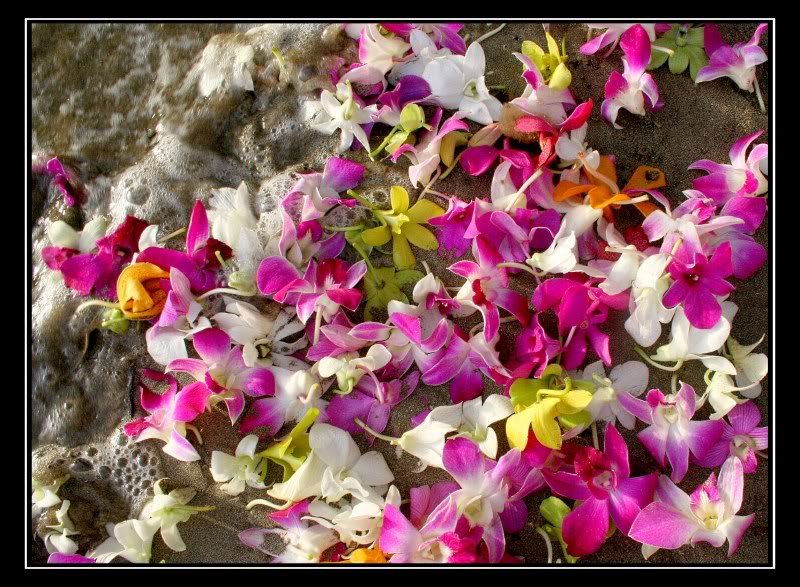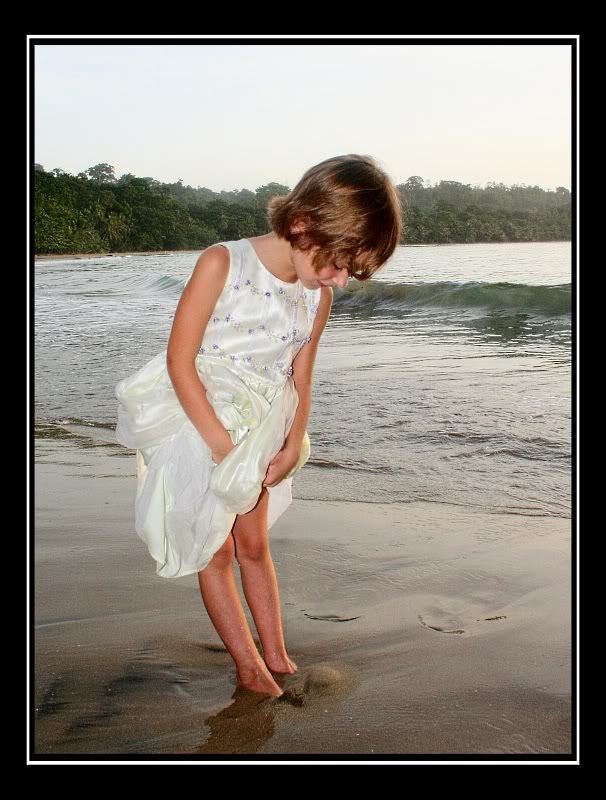 I still had Hope, so we washed off her shoes and feet in our room and got her ready to go. During this time, I put some lip gloss on and of course Hope wanted some too. I would learn later that grandma puts some on her when she stays over, so she is used to it.
We all piled into the vans again to head over to the reception. The reception was at a restaurant in Puerto Viejo about 30 minutes away called Amimodo il Restorante. Apparently, there was a visiting chef in from Italy (we think). That became very clear after we had arrived and were treated to a ridiculous number of courses of out of this world food! But, first things first… we headed over in the vans.
On the way, Hope turned around to me and said, "Kendra. I think your lipstick is probably off by now, because mine is definitely gone." I don't have any children, and I'm sure they do things like this all the time, but this just amused me to no end. The majority of the van was giggling.
When we finally arrived at the restaurant, we headed inside the front gate and saw a beautifully decorated room. The entire inside of the restaurant was reserved for our party, although the bar in the front was still open to other patrons. The room was open to the outside in the back, and had a roof over the table and the dance floor. The table was covered with a white tablecloth with colored orchids strews down the center and tea lights along the center line. It was exquisite.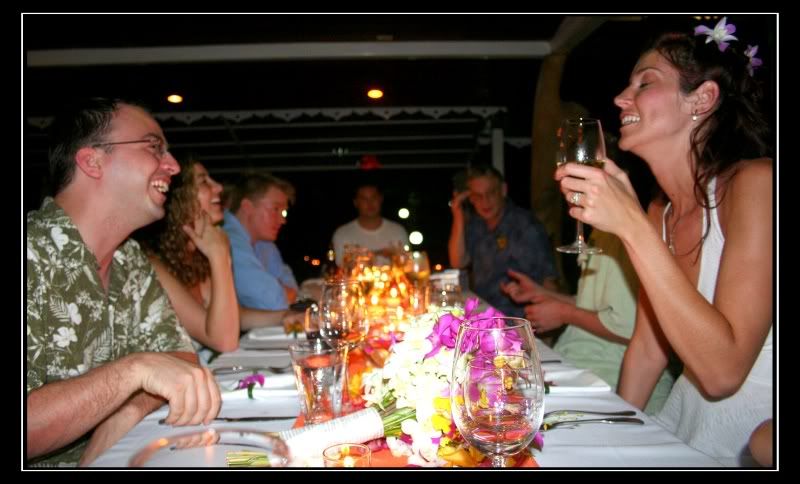 While Tim and Juan Carlos headed out to take pictures of the cake, the flowers, and the surroundings, we all got settled at the table and were served pre-dinner drinks. Rather than describe in long form all the food and drinks we were server, I will attempt to capture the menu here the best I am able from my memory and then describe some highlights of the evening.
Wedding Reception Menu
Pre-Dinner Drinks from Open Bar
Choice of Red/White Wine
Avocado, Lime Salsa with Tuna, Beef, Salmon, Pastry, and Lobster Roll Appetizer
Shrimp Salad
Beef Carpaccio
Lemon/Vodka/Ice Cream Drinks
Lobster Ravioli and Shrimp/Avocado/Pineapple Ravioli
Choice of Fresh Fish or Beef Kabob
Wedding Cake
Even considering that each course was small, this was a ton of food. All of it that I ate was excellent, and the boys vouch that the other courses that I couldn't eat were equally as wonderful. I have rarely had such a meal!
Hope was served an entire cheese pizza in lieu of all of this food. She looked a bit overwhelmed at first, until she realized she could share her pizza with all her favorite men, starting, of course, with Tim. In the end, Tim, Papa Dave, Brian, and Grandpa all enjoyed most of the pizza. I think Hope might have eaten one piece for herself.
What she did eat a lot of were cherries. She went around and requested (sometimes demanded) the cherries from everyone's drink. It was all sweet. I tried to entertain her. At times she was a bit wound up, but I think overall she did very well. It was a long night, and she is 6, after all.
Sherry and Josh's parents were so tired. I wish they would have stayed longer, but it was a long day, and they headed back soon after the cutting of the cake and the first dances. We've known Sherry's parents for a long time – since I was about 13. It is always nice to talk to them.
Speaking of the first dances, the first dance of the nice was actually MC Hammer's "Can't Touch This" requested by Josh's mother Maureen. When the song came on, she went out to dance at Josh's request. Shannon and I joined her after a little bit, because it just seemed wrong to let the mother of the groom out there by herself. We all had a lot of fun, and I think she appreciated the back up dancers.
Sherry and her father danced to the "Butterfly Kisses" song and Josh took Hope and danced with her during the song. It was really very cute, and I'm not sure which couple ended up with more pictures taken of them.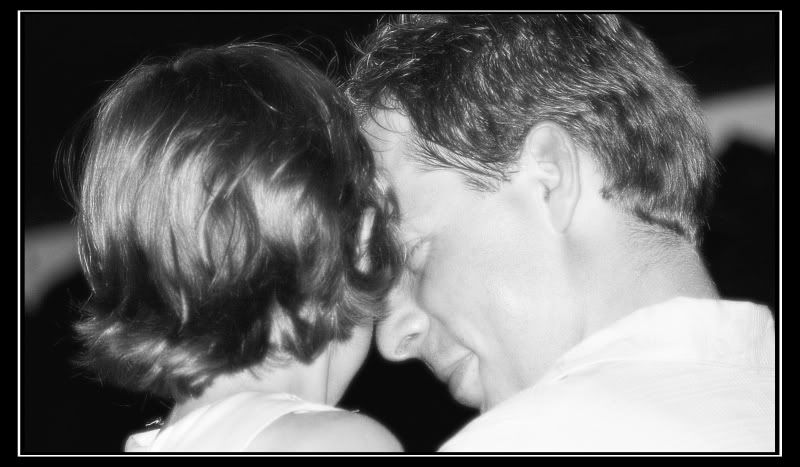 Josh and his mother danced to the song "I Hope You Dance" and Sherry and Hope danced along with them on the side. It was incredibly touching.
Sherry and Josh then had their first dance to the song "Someone Like You." They were elated and looked very much in love and incredibly happy.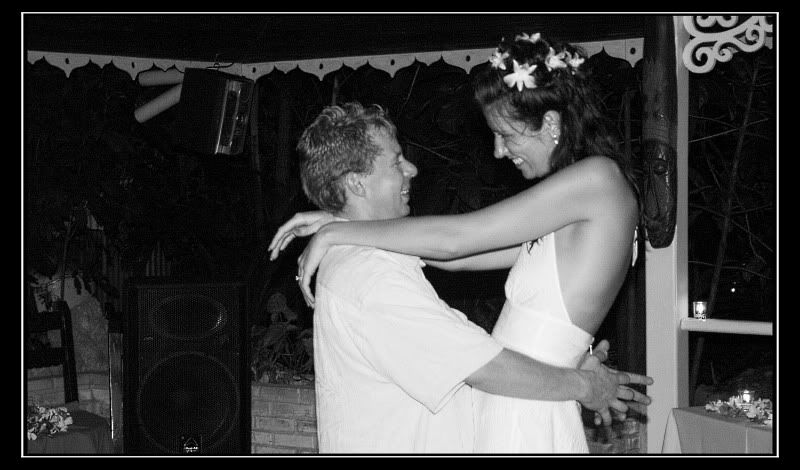 After this, there was the cutting of the cake, and then dancing!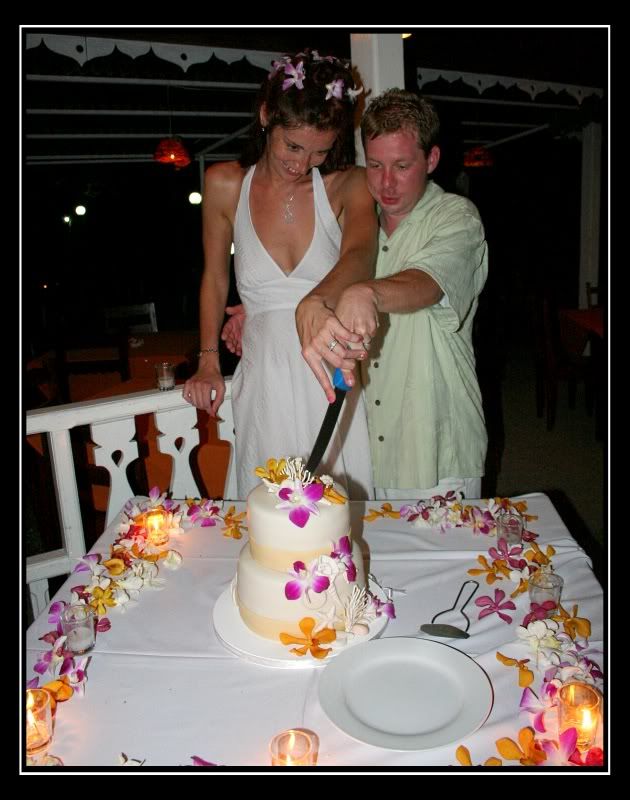 We all danced for hours. Sherry loves to dance, and it is her wedding, after all! We had a blast. We stayed dancing and talking until the entire restaurant closed. They told us they were going home but we could stay as long as we wanted.
[7 hours of marriage and it's come to this. Opposite ends of the bar- drinks in hand. To be fair it was a really, really long day.]
Eventually, we all headed back (squashed into 2 small taxis!) and arrived at the lodge at 2:30am.
Brian, Tim, and I needed to be up at 4:00am for our ride to the next adventure, and we still needed to pack! But, Sherry and I were able to have a few minutes to say good-bye before all of this. I'm so happy we were able to come. I can't wait to talk to her when she and Josh return from their honeymoon!
Congratulations
Josh and Sherry Mitchell!!