Costa Rica [Day 4] (Monteverde)
Official Agenda
(Costa Rica Online Travel.com): PUERTO VIEJO / SAN JOSE
At 5.00 am board the Terraventuras van for the private transfer to Limon Airstrip. Arrive in time to check into the Nature Air flight departing to San Jose at 7.00 am arriving at 8.20 am approx. Upon landing board the JJ tours van and start the private transfer to Monteverde. Enjoy the scenic drive as you travel through the Guanacaste savanna, home to the country's cattle ranches and tilapia farms, as well as many agricultural products. Continue past the city of Bagaces en route to Canas. Continue on the Interamerican highway and veer north taking the road up the mountains to the Monteverde Cloud Forest Region. Pavement will stop and the adventure up the gravel and mud road will start, taking you from sea level to an altitude of about 6,000 feet. Arrive and check into a junior suite at the Hotel Fonda Vela. At 2.30 pm the staff from Don Juan Coffee Tour will pick you up at the hotel to experience the age-old coffee tradition through a unique tour of coffee farms. The specialized guides will point out the most important aspects of coffee, its harvest and processing. They'll take you through the history of this crop from its beginnings in the Arab African countries and Ethiopia, and highlight they they'll highlight the importance the "golden bean" (grano deoro) has had in the social, cultural and economic development of Costa Rica. At our traditional house, you'll enjoy a friendly atmosphere and the delicious, seductive aroma of one of the best coffees in the world. Along with your exquisite cup of coffee, you can try one typical snack. Overnight in a junior suite at Hotel Fonda Vela.
[Tim]
The key word in today's agenda is "5:00 am". To refresh your memory, we got back to Shawandha from the reception at 2am.]
After packing and a sleep which I'm not sure actually took place, we were startled by the security guard's knock on the door and a stern
"Quattro!"
. The security guard roaming the grounds was the only means of an alarm clock at this location. However, in the end I'm not sure it was necessary, considering we already had successful attempts to wake us up by a gang of howler monkeys, a rooster, and numerous other birds in 15 minute intervals between 3 and 4am.
Breakfast had been laid out for us the night before in the lodge area and the coffee was still hot, so we stumbled over to that area with our luggage and tried to eat something. Thanks to Brian's forethought, we had thoroughly gone through our check out and room bill payment procedures before we even left for the reception- good thing, cause the only life at that time was or security guard alarm clock!
[Breakfast, even at 4am, in Costa Rica is still a delicious event!]

The driver arrived on time at 5am. We mumbled our hellos, but we were soon all asleep in the van on the bumpy, winding way to the local airport. The drive took about an hour, and we beat most of the staff into the small airport. Tim and Brian were soon asleep on the airport chairs, while I watched our luggage and wrote in the journal some details from the day before.
[A small, no frills local airport, but it certainly was colorful. Or maybe it was just lack of sleep that seemed to make these colors pop]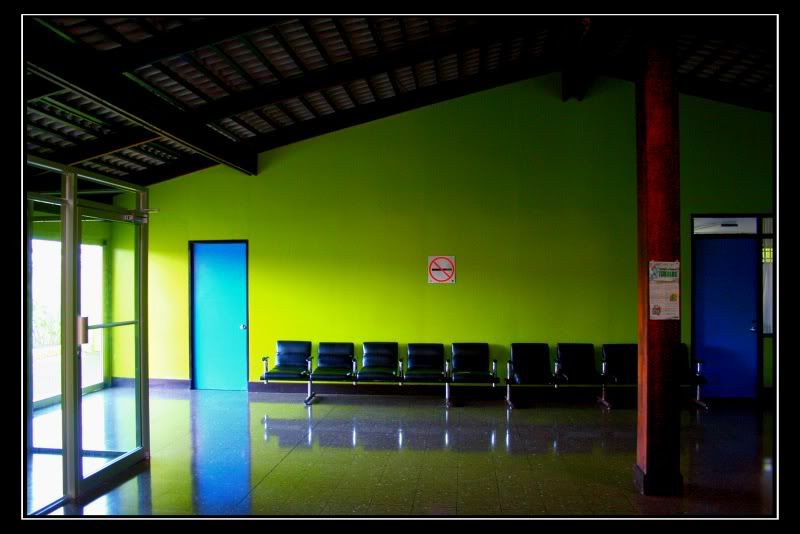 Now would be a good time to mention how nervous I had been regarding the luggage situation and this specific flight. Because the local flights are on small 20-seat puddle jumper prop planes, they have a 30 lb. weight limit on baggage, which includes a 10 lb limit on your carry-on piece. For 8 days of vacation in which a variety of events including weddings, adventures, hikes, and water activities are planned, this is really not a lot! So, of course my baggage was overweight by about 10 lbs. If there was room on the plane, the airline would allow you to pay for the extra weight ($1 per pound)… if there was room.
In addition, each person was to be weighed with their carry-on piece before boarding the plane for weight distribution purposes. Tim and I have definitely been through this before traveling to Palawan and I never liked this part. The weighing is usually on a large scale everyone can see, and I don't like it.
So, I'm sitting there, writing in my journal, dreading these activities and wondering what I will have to get rid of if there isn't room for my extra luggage.
As it turned out, my worries were -luckily- unfounded. About 15 minutes prior to departure, a woman came by and told me in Spanish (so I'm only really guessing at what she said) that we can get in line (well, the three of us actually
were
the line). I took our stuff over because the boys were in the bathroom as several people exited the small plane that had landed just outside the building. The pilot came in and said they were ready. The person asked for the names of the people in my party, and we all boarded! No scales! No passports! I believe we just got lucky, because others attending the wedding had described this experience and that they did have to get weighed along with their luggage. Happy day!
We all got on the plane and settled in for the short one hour plane ride which would include a stopover. The pilot circled over
Tortuguero National Park
and Brian and Tim saw the sea turtles swimming in the ocean and on the beach laying their eggs!!! They thought it was so cool. Most likely due to my poor vision (even with glasses) and sitting on the wrong side of the plane, I was not able to see the turtles and thought they were seals, so it wasn't until we landed that I realized that everyone was excited because they were witnessing the famous sea turtles.
[Our puddle jumper of the Costa Rica skies]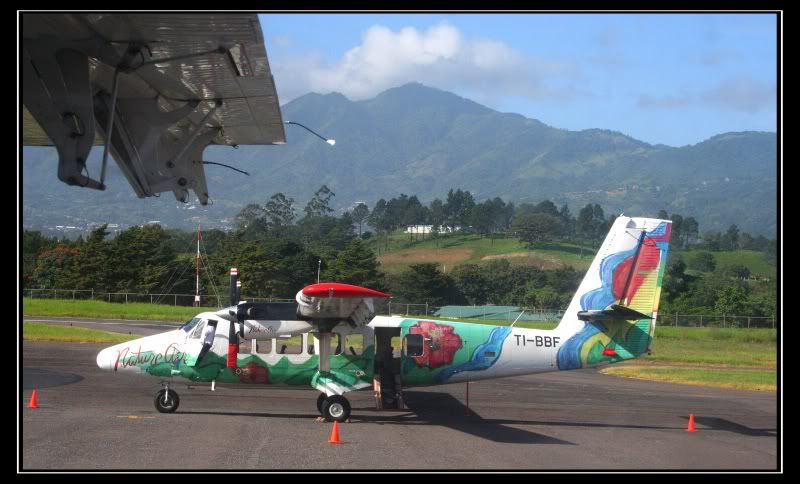 [We sat in the farthest back row and we could still see the actions of the pilot and co-pilot]

[A boat cruising down the brown waters of some Costa Rican coastal river]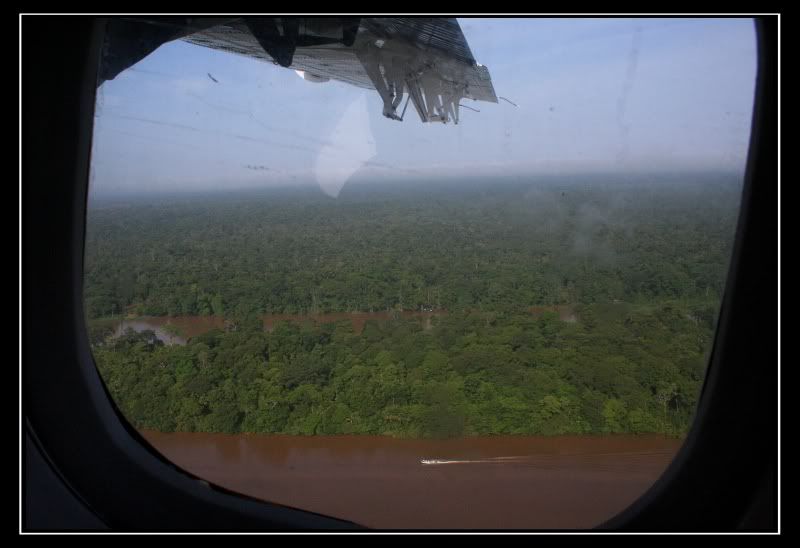 [Here we are! Does this remind you of
this picture
from our trip to Palawan? Do we look a year older? Or just a year wiser?]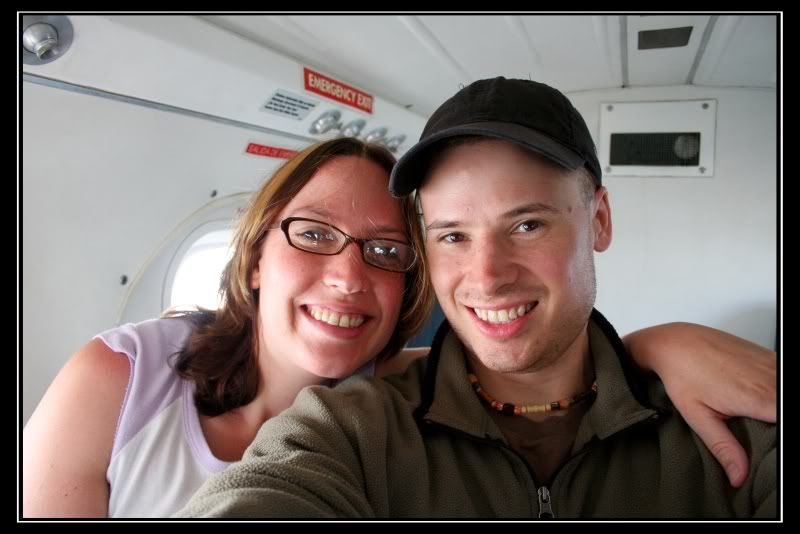 [There's turtles down there somewhere]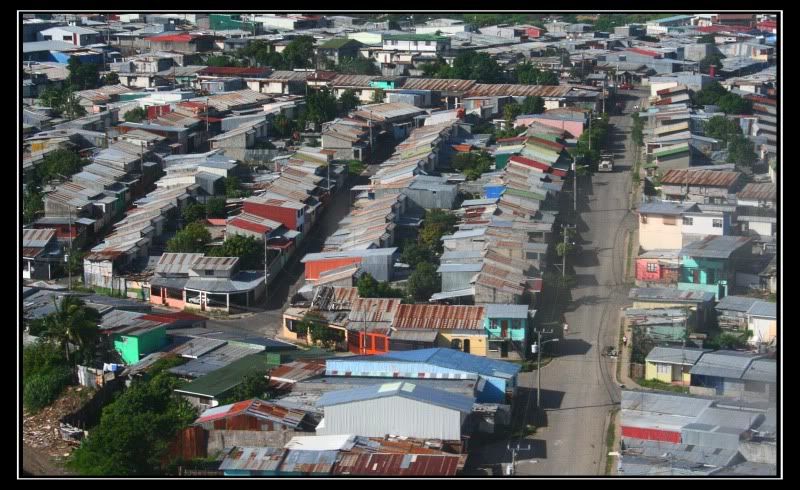 [The thin white line in the center of this shot is the cloud made by a crop duster plane far below us. ]
[Upon arriving at San Jose, we were greeted by the dreaded luggage allowance laws were thankfully not imposed on us!!]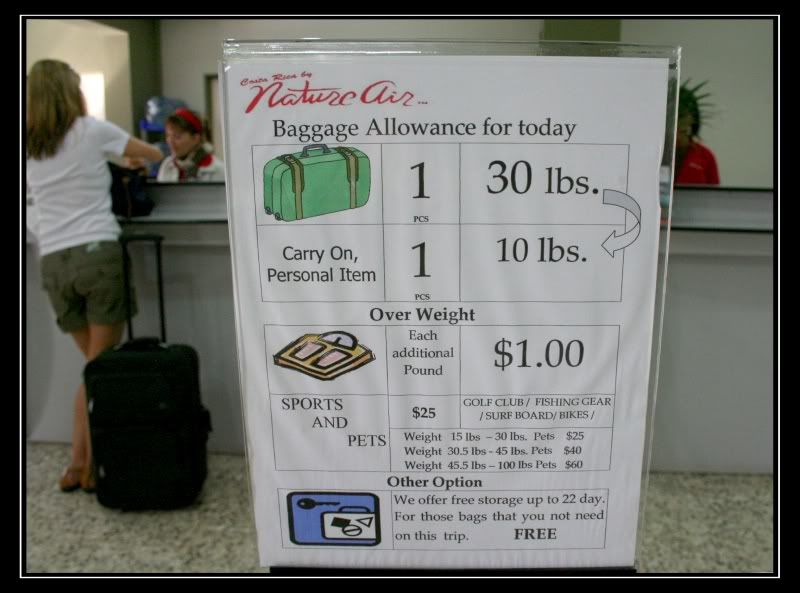 When we landed in San Jose, we saw that we had Enne for our driver again! However, we were so exhausted from the early morning wake up and very active wedding day that all three of us soon fell asleep again. Poor Enne! I think we were giving him a complex...he was always trying to point out interesting things along the way and we could barely muster any acknowledgment.
We did wake up periodically during the windy, steep, rocky journey leading up to our hotel in Monteverde. There was lots of jostling and I started to get a headache from all the long days, constant activity, lack of sleep, and most likely the altitude. Despite this, we were treated to some very excellent views of cows, horses, goats, sugar cane, pineapples, bananas and hillsides with fog and coffee plants. It was really cool to be able to see the crops that we use almost every day up close and growing in their natural environments.
There was one amusing part of the trip where I was looking out the window and all of a sudden, a huge opening in the brush occurred, and it looked as though the road was no more and we were going to go right over the side. Brian was still laughing the next day at the expression on my face! I really was resigned at the time that I thought we were going over the side and were likely going to die!
[Tim]
Major accolades go out to our friends from the wedding (including the bride and groom themselves!!) who rented SUV's and did this drive from Monteverde to Puerto Viejo themselves!! (some even in the dark!!) They have more guts than I and we're just glad they all made it back alive.
[Looking back at the road and the trail of vehicles making the slow, bumpy climb]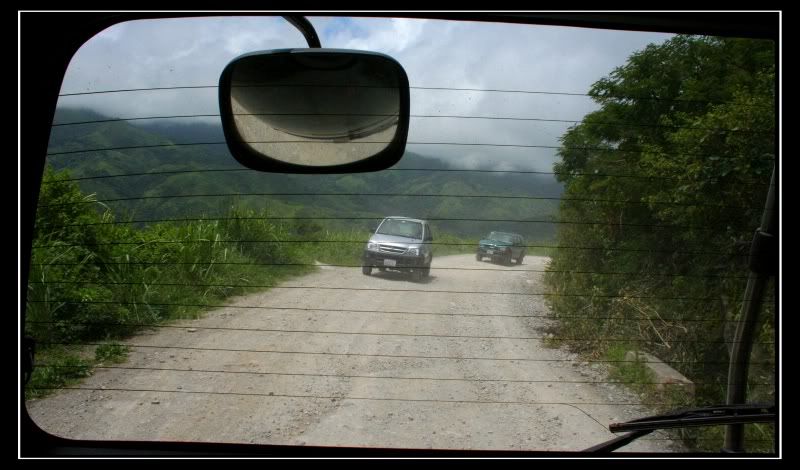 Finally, we arrived at our hotel – Fonda Vela. This hotel definitely had more amenities and was a bit more western looking than Shawandha, but it was still located in the middle of the rain forest, which was nice. The grounds were much more manicured as opposed to the jungle-like setting of before. In addition there were some very nice fountains and the sounds of a lot of birds.
[Some shots of our very cool, hardwood floored room.
Note to Marketing Directors of Monteverde Fonda Vela Hotel:
Inquiries about purchasing these photos for promotional purposes can be made at tw711@hotmail.com !!!!]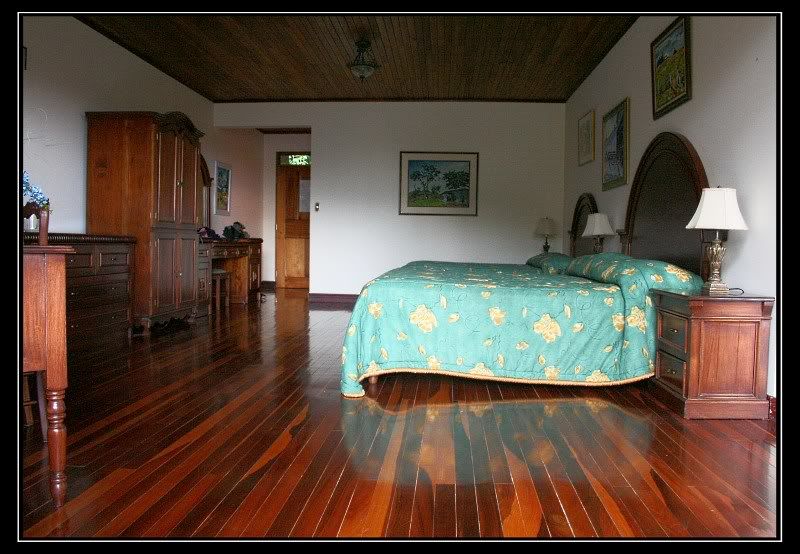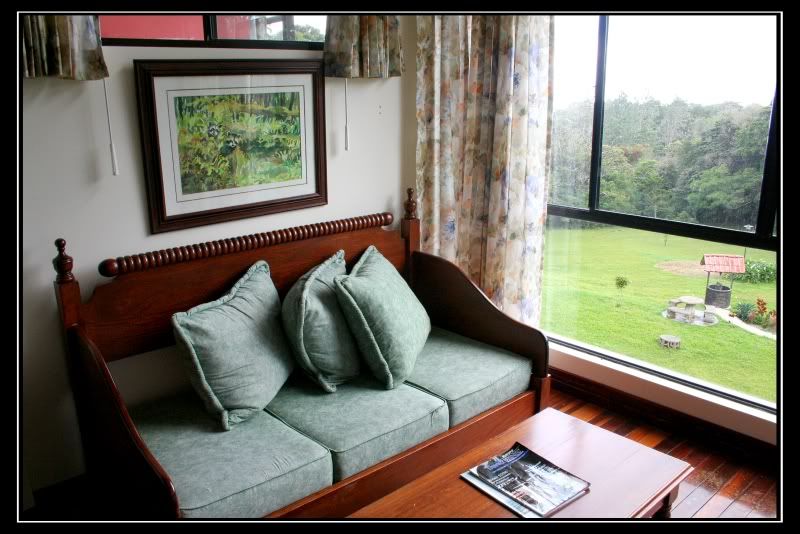 We checked in and headed to our room to clean up a little bit. We also took some time to spread out our wet clothes (from sweat, rain and sea water) which had really started to smell bad being packed tight in our luggage. This room had an oscillating floor fan, so we hung up the worst offenders in the closet, put the fan on high and hoped for the best. The plan was to have lunch at the hotel restaurant and then get ready to meet our pickup at 2:55pm for the Don Juan Coffee Tour and decide what to do for the evening.
For lunch at Fonda Vela, I was able to have a homemade soy burger. Tim got a club sandwich with an egg on it.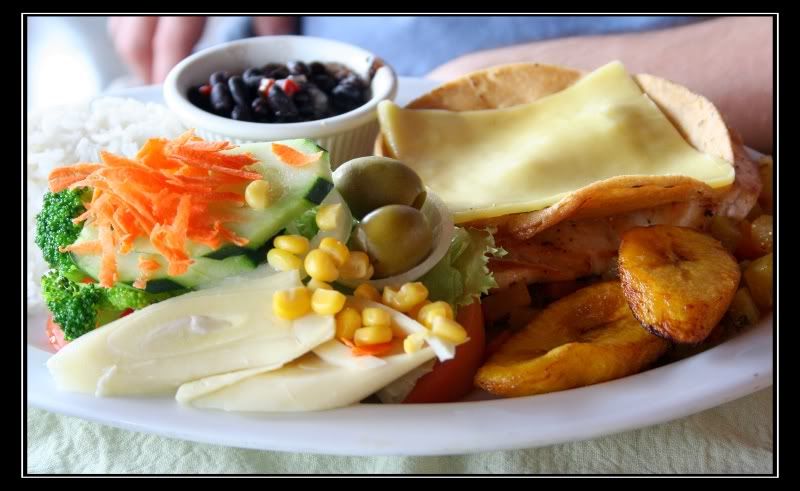 After lunch we looked at some of the other tours offered in the area that evening. We were pretty close to the Cloud Forest, and so we decided to sign up to go on a night tour of the Cloud Forest that evening. As we made this decision, we realized we were a little crazy, since we were already exhausted from having virtually no sleep the night before. However, since we were checking out of the hotel the next morning, we wanted to take the opportunity to see the cloud forest – even if it would be dark when we did so.
Our driver for the coffee tour arrived relatively on time, and we set out on the bumpy downhill journey through the town, picking up some other people as we went along. The group turned out to be a pretty cool gathering of people. We had a guy traveling on his own from L.A., a couple from Switzerland, and a honeymooning couple from the San Francisco area. When we arrived at the coffee plantation, we got to walk around the main building for awhile before the tour started. Don Juan himself (the founder) was there talking to people, although we did not know that it was Don Juan at the time. He is a very smiley, short man in his seventies.
[Don Juan of Don Juan Coffee. He offered us some bananas.]
Our tour guide was Geraldo (went by Jerry), and he knew a great deal about the history of coffee in Costa Rica. We went from station to station on the plantation to learn that various phases of plant life and production that coffee goes through. Everything is hand picked and processed at this location until it is put into the roasting machine at the end. I was even able to use the huge mortar and pestle to crush some of the coffee beans. A handmade fan was then used to blow the chaff off of the beans.
[Life is Created! A non-fat half-caff triple grande sugar-free vanilla non-fat lactaid extra hot extra foamy caramel macchiato is born!!!!]

[Coffee Beans on the plant]

[Kendra mortar-ing/pestle-ing some beans into smithereens]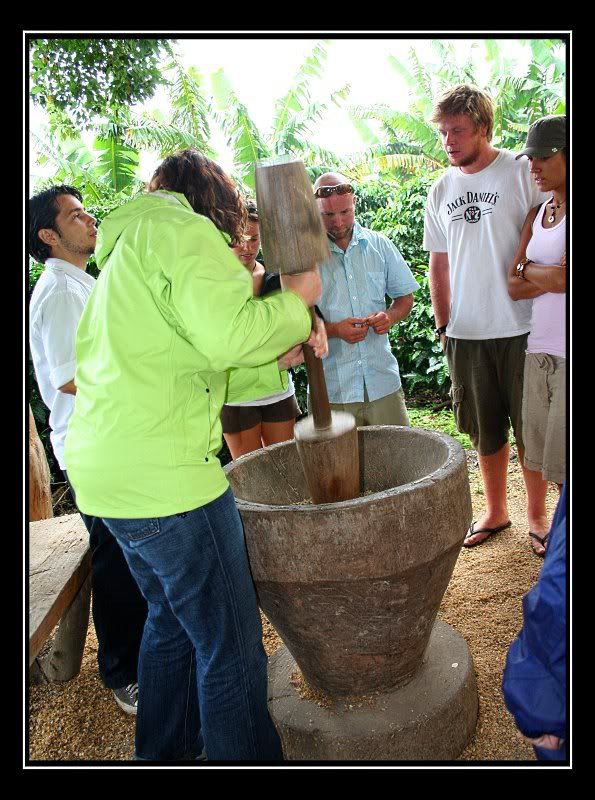 [Coffee Beans in the solar drier]

[At the very end of the tour we all received a small package of the freshest coffee you can get- (short of manning the roasting machine yourself and dipping out a handful). You can guess for yourself whether Kendra is happy because she's got good coffee or because she finally has a chance to wear her new lime-green
Helly Hansen
raincoat.]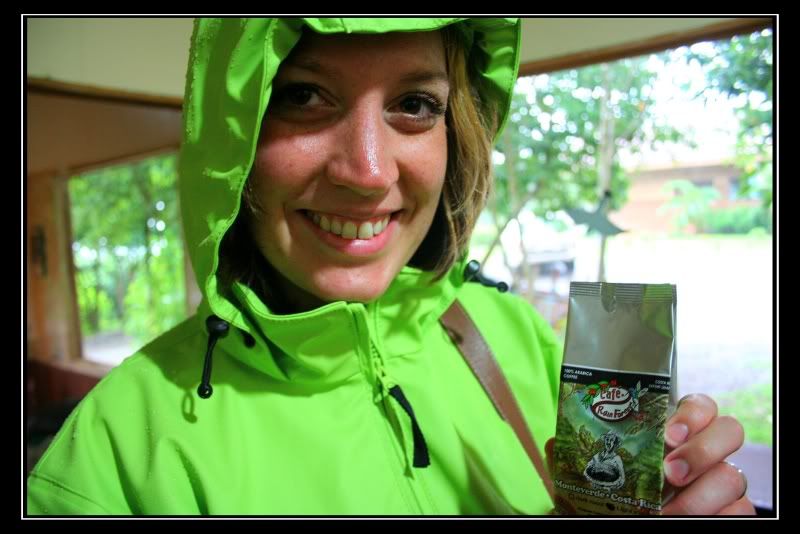 [Fresh coffee and snacks back at the lodge. Our 4:00 am wake up call was almost completely forgotten after the first few sips of Costa Rican
cafe negro
!!]
[Our tour guide, Jerry, handmade me a completely mind-blowing dark roasted espresso...]
[...and Cost Rica coffee legend Don Juan was not above clearing dishes from the tables.]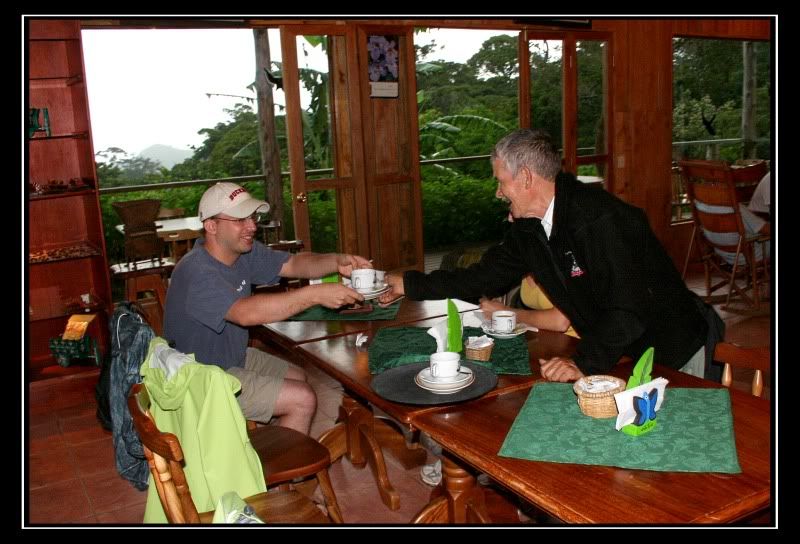 [I make a rare appearance on film...]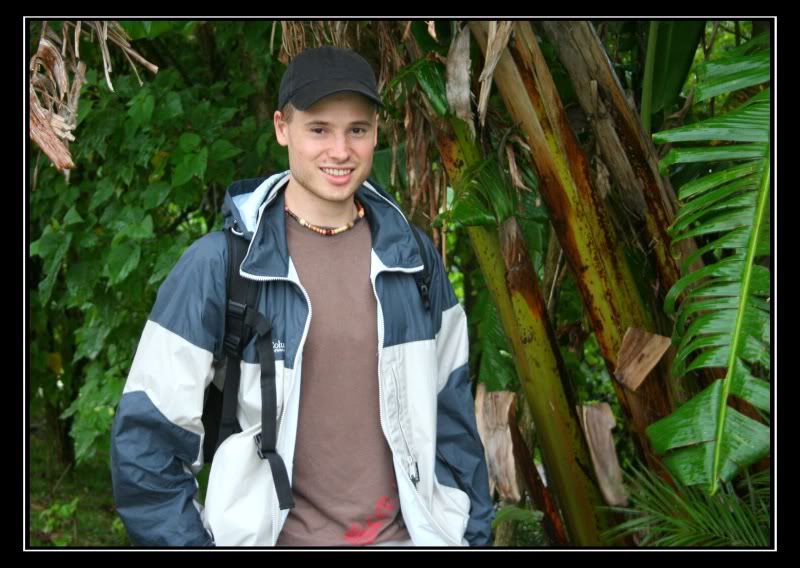 [...along with Kendra...]

[...and finally the three travelers themselves!!!]

We were having some debate over whether to stick around in La Fortuna (the closest town to the hotel) for dinner and exploring or to return to the hotel and have dinner there before our night tour. I think Brian wanted to hang out in the town, but I was a little nervous about trying to find a way back to the hotel in time for the nighttime tour we had set up. In addition, the tour guides at Don Juan were saying that the bar at Fonda Vela was really cool. Here lies the problem with trying to see such a beautiful and diverse country in such a short period of time!
Eventually, we decided to go back to the hotel and have a few drinks and appetizers at the bar before the pickup for our next tour.
The bar at the hotel restaurant did not disappoint! The bartender was friendly and sociable and the appetizers and drinks were very good! I had a glass of Two Oceans Cabernet Sauvignon and Brian and Tim had some tropical drinks – a Sunset and a Toucan, I believe. For appetizers we ordered a salad and a few orders of sea bass bites with a tartar sauce.
[Brian and I know it's going to be a good night when our drinks will glow in a blacklight!!! (Kendra goes conservative with the red wine in the middle.)]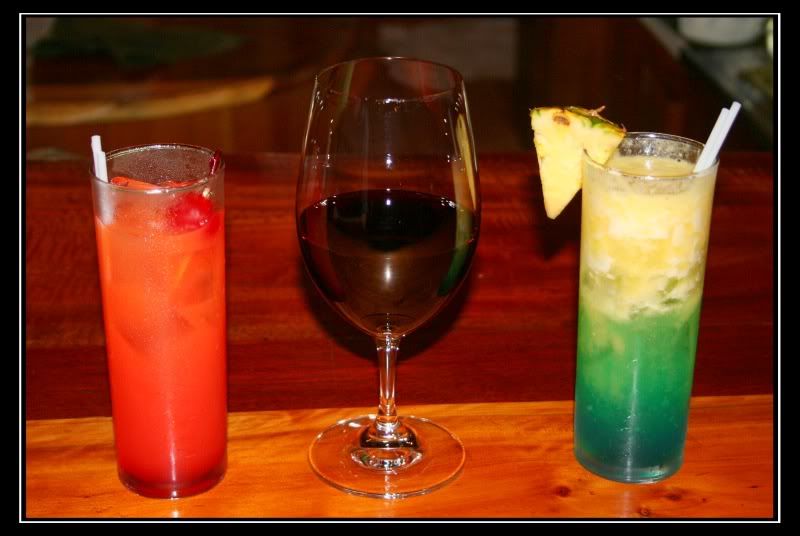 [The main dining area at Fonda Vela Hotel, Monteverde, Costa Rica]

When it was time for our night tour pickup, we headed to the lobby to wait for the van. The driver was a little late, but I was impressed when the receptionist called and checked on the status of the van even before we asked!
[
Tim:
What an infinitely less-stressed time our 6-month Philippines experience would have been had this happened even just once!]
When we arrived at the location for the night tour, we were joined by a family who was also there for the night tour and a young lady traveling alone. We all watched a video about the cloud forest and the conservation efforts there. After this we were equipped with flashlights (all with widely varying levels brightness) of headed out into the dark and drizzling jungle. The tour itself was pretty uneventful with the exception of a very cool bat demonstration. We all sat in a small shelter and the guide talked about bats and had a red light to show off the many bats once in awhile. There were also feeders of nectar hung about. Each person was given an opportunity to take pictures of the bats one at a time at the feeders.
The rest of the time we were walked many miles in the dark through the dense and dripping woods and caught the occasional glimpse of an insect. We did see a tarantula, which was cool. Tim didn't take as many pictures during the tour. The father of the family who was with us had a very large camera who seemed to feel he was the only one entitled to take pictures. By the time he would take all his pictures, the guide was moving on and there wasn't much time for anyone else, and I think Tim gave up trying. I mentioned this before when Tim and I were on the tiger safari in the Philippines, but I continue to be thankful with how considerate Tim always is with his picture taking, despite his passion for the craft and talent in it.
[
Tim:
It's almost comical how bad the majority of my pictures turned out from this little excursion. I've never made claims about having night photography skills and from the results of this, I won't be for awhile. Plus, there's absolutely no pride in showing off pictures of creatures that were specifically pointed out to you by a professional guide, when you would have had less than zero chance of seeing such things had you been out on your own -in the jungle- at night. I'm pretty sure Brian got an exceptionally sharp and well framed bat shot, so I'll let him share that. Here's a few of what I did get (
heavily
Photoshop-ed:]
[A walking stick.]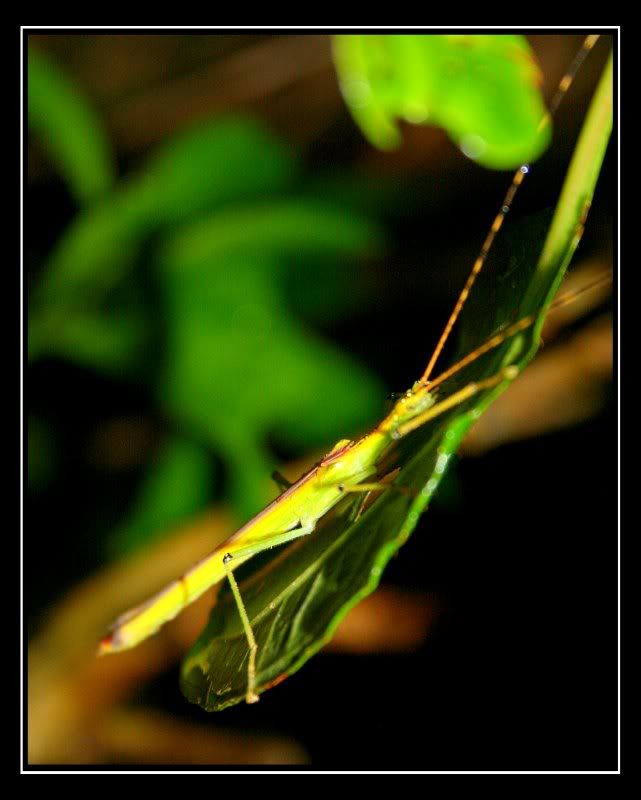 [A Tarantula.]
[And a shot to show how massive some of this jungle vegetation is.]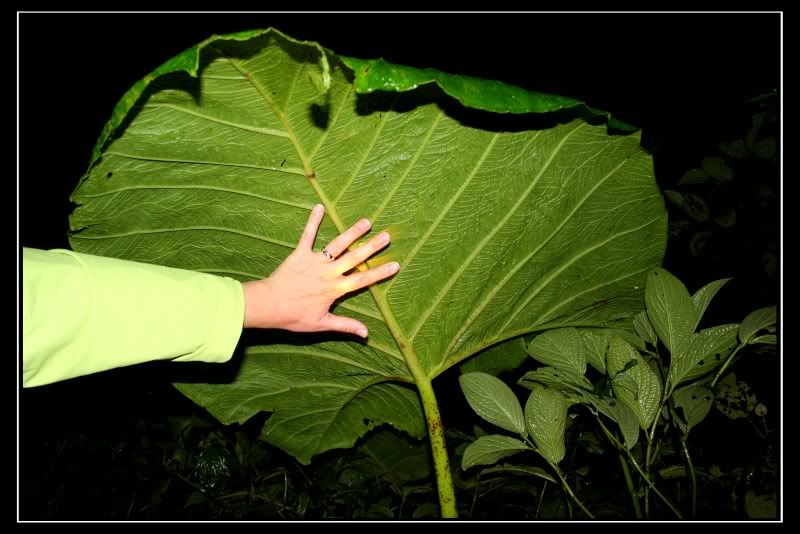 [My semi-ok bat shot. His head is actually beneath the hummingbird feeder]
Towards the end of the tour, however, Tim was able to get a good shot of the inside of a hollowed out tree. The flash made it all light up, and the picture is awesome!
We were pretty ready to get back to the hotel at the end of the tour. We were sore and tired, and had another relatively early pickup to look forward to in the morning.