Costa Rica [Day 5] Trip to Arenal Volcano
Official Agenda
: MONTEVERDE / ARENAL VOLCANO
Following breakfast at 7.50 am, you will be picked up by the driver from the Sunset Tour
Company for your Land/Water/Land transfer to the Volcano Lodge in the Arenal region. Climb down from the Cloud Forest Region on the north side, driving to the shores of Lake Arenal. After reaching the lake, board the boat for the short ride across, where you will be met by staff members of the tour company to start the 30 minute drive to the Hotel. Arrive and check into a standard room at Volcano Lodge. At 2.55 pm the staff from Sunset Tours will pick you up to start the Arenal Volcano Hike with entrances
and dinner at Tabacon. You'll travel by minutes 25 minutes to the far west side of the Arenal Volcano to begin the tour in Arenal National Park. You'll cross the river, and spend about 2 hours exploring the park. Your expert bilingual naturalist guide will find the animals, point out indigenous rain forest plants, and educate you on a few.
Frequent sightings include: monkeys, wild boars, two types of toucans, White-Nosed Coatis Oro Pendulas, Golden Eyelash Vipers, Boa Constrictors, and Great Curassows. Overnight in a standard room at Volcano Lodge.
We woke up at around 6:30am the next morning and could definitely tell we were dragging a bit. The excitement of our vacation and having time together had carried us so far, but we were starting to feel more and more tired.
As we packed our bags again, Tim made some coffee in the hotel coffee maker, and we drank it in the bay window area. Our makeshift clothes drier/dehumidifier/odor eliminator worked to a small degree, but we all still had a bag full of damp and stinking dirty laundry to haul around.
Eventually, we made our way to the main lobby building so that we could check out, get our items out of the safe, and meet our pickup at 7:50am. Tim took some last minute pictures around the area until our driver pulled up and said, "Kendra?". That would be literally the only thing he said to us during our entire 5 hours together – even when we asked questions in both English and Spanish! But at least the conversation started off on the right foot!
[Bright blue skies this morning. Perfect for a cool, rainforest tree silhouette. ]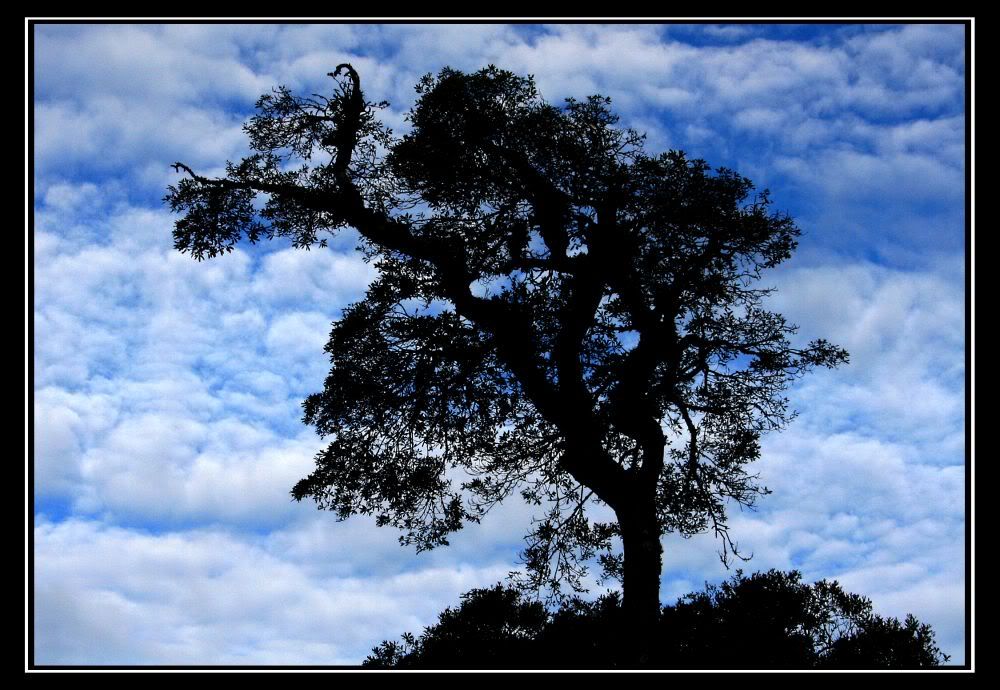 We headed out and before long stopped inexplicably by the side of the road. Eventually we were joined by two additional people – Nathan and Phil – two backpackers from Utah. Nathan was more on the quiet side and Phil was all over the place. They were extremely entertaining and took lots of pictures and videos during our drive. They were both Mormon and told us about the missions they had done. They also spoke Spanish very well. Phil was even reading the new Harry Potter book in Spanish! We drove off again and headed down the mountainside, passing fields, farms and a few small colorful houses.
[Nathan and Phil- from Utah]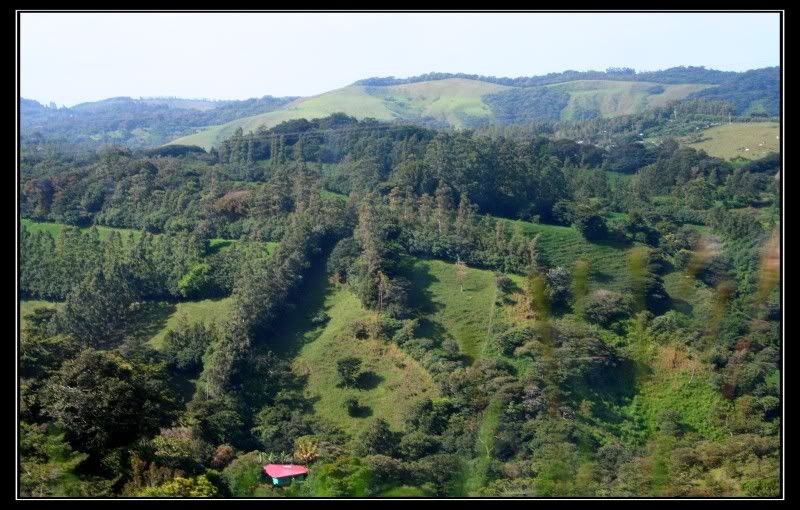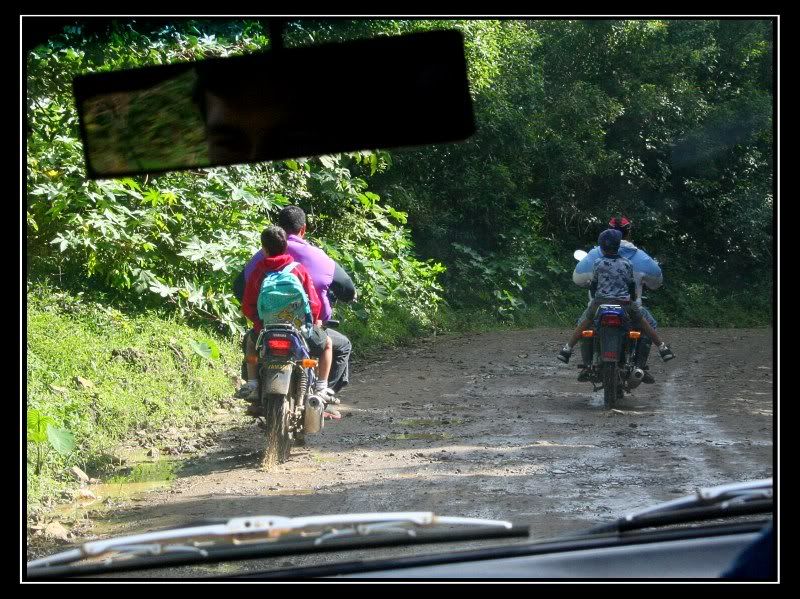 [This guy was taking an ox-pulled cart of metal canisters up to the Fonda Vela hotel]
In another hour or two, we again stopped inexplicably right in the middle of the road. Our driver left the vehicle and went over to another van also stopped in the middle of the road to talk to him for quite a few minutes. I was starting to get a bit nervous. There was another passenger in front and we asked him in both English and Spanish what was going on and received no answer. We still have no idea what the deal was. However, our driver eventually came back, moved the van to the side of the road, returned to the other driver for several more minutes, returned to our van and drove away again. Very odd.
[Some funky plants on a Costa Rican hillside...]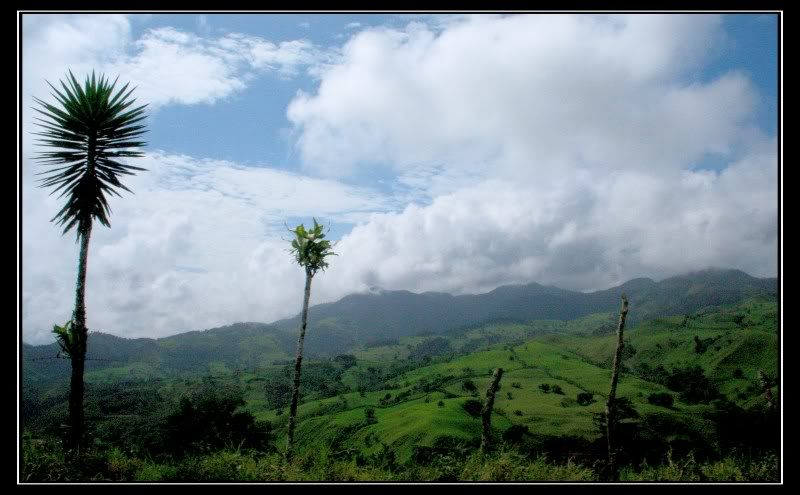 [...and some more rolling green hills.]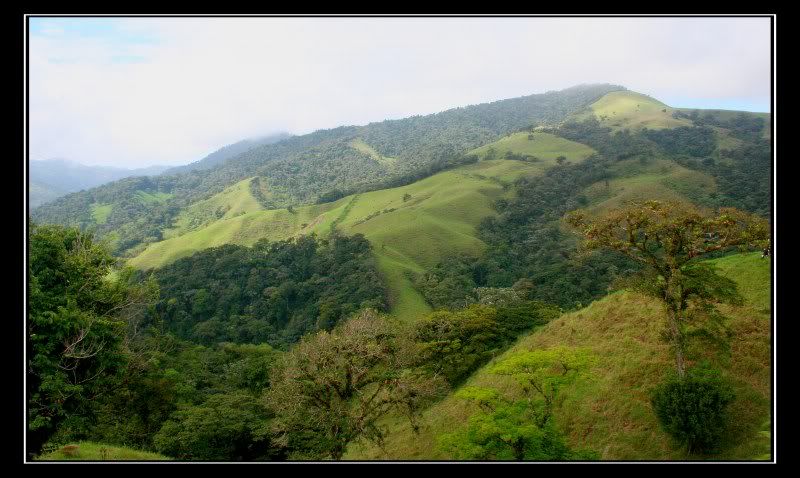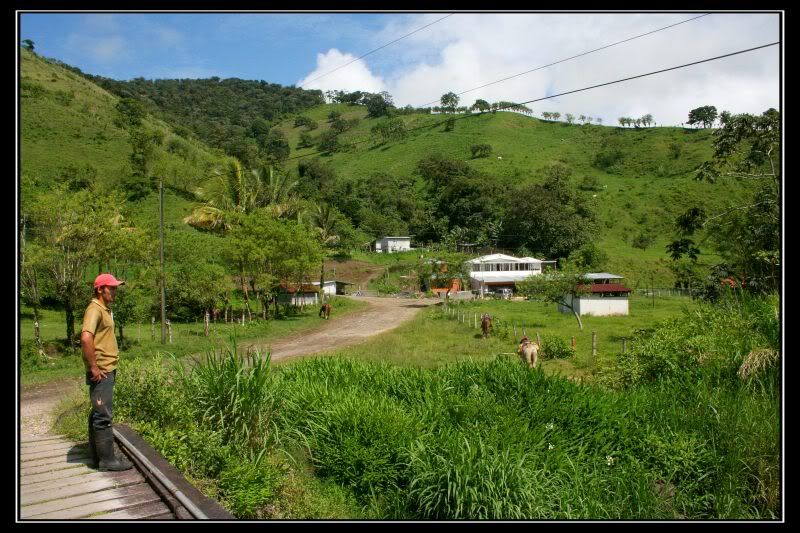 Before long, we stopped at a little road side stand for a break. There were bathrooms there, some souvenirs, some food, and a parrot. It was a pretty funny setting all in all. Phil as asking me for advice on what to get his female friend and if I would recommend a small purse he had picked out. I talked to him a bit about style and how the purse would not be as versatile because it actually said "Costa Rica". Perhaps a bag with a pretty local design would be more useful?
We ate some bean turnover food which was really good and Tim took pictures of the store, a nearby creek, and a neighboring shack where a man was playing pinball. In fact I had no idea where he was half the time or where he had wandered off to.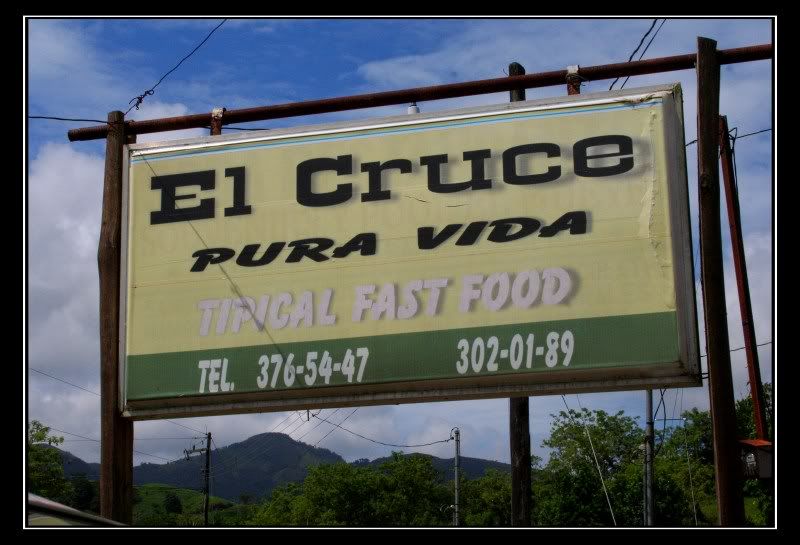 [Inside our roadside rest-stop...complete with pool tables, souvenier shop, and ice cream]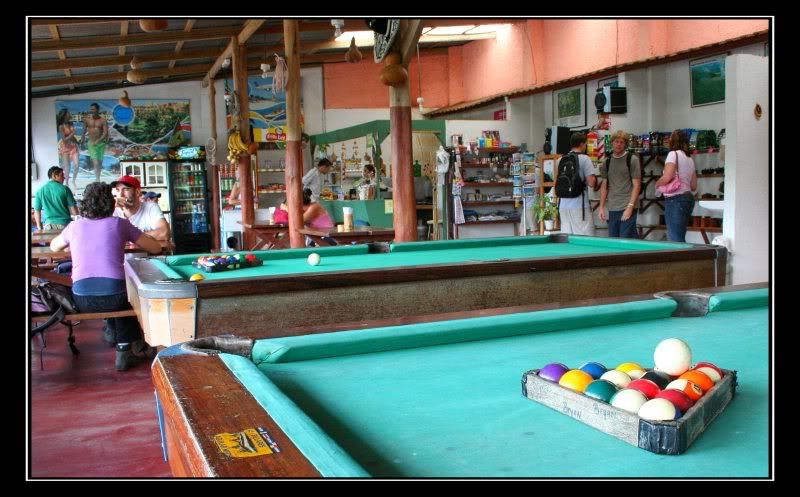 Eventually, we all loaded back into the van and headed for the water where we would cross over to the Arenal Volcano on a ferry. We had an hour or two more of winding roads and lots of cows, goats, and sheep.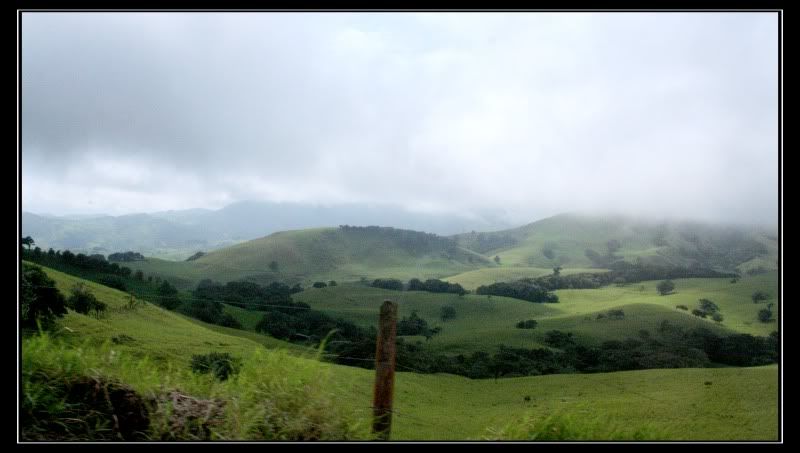 [Cattle loose on the road]

When we got to the lake shore, we unloaded our luggage from the van and started to head for the ferry. A boy (maybe 13 or 14) saw me struggling with mine and ran out to me saying "Lady! Lady! Let me!" It was very sweet. Although he did not appear to expect a tip, I gave him one anyway, and he stayed loyal to me the entire trip.
[On the shores of man-made Lake Arenal, with the Arenal Volcano in the background, it's peak lost in the clouds]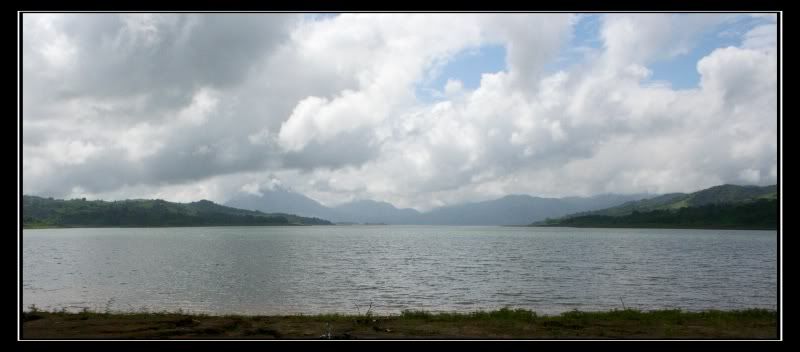 The boat ride was a lot of fun. All of the people on the boat (several vans worth of passengers) seemed in good spirits and were taking a lot of pictures. Four people were allowed up front at a time to take pictures there. Tim and Phil headed up and stayed up there the entire time. Pretty soon the 4 person limit was not enforced, and the entire boat seemed to be up there.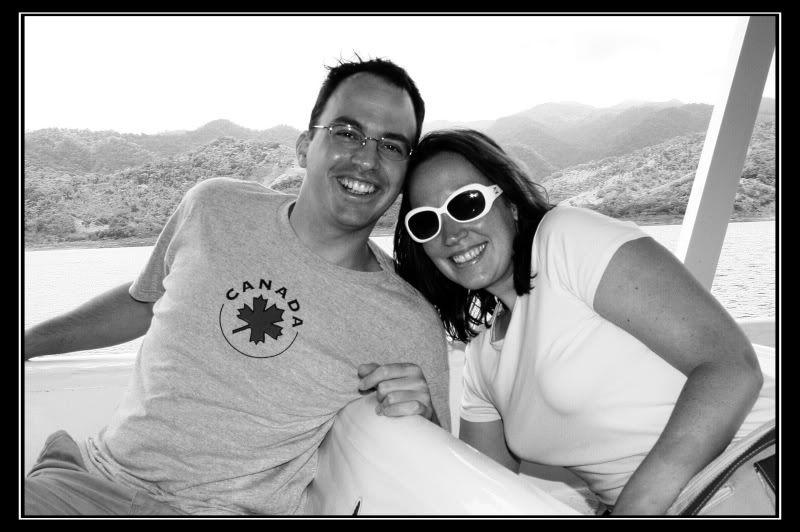 [Our boat captain is not using his hands.]
Phil told Tim he wanted to learn how to make panoramas with his camera (also a Canon). Tim showed him and he started taking panoramas of everything! He probably took fifty of them on the boat ride alone  We started joking with the more subdued Nathan that Phil was going to have him pose in the front of the boat and take a panorama of him! This teasing took place about 3 minutes before he actually was called up for a picture of the two of them together ;-)
[Phil- in the middle of his panoraam-taking frenzy.]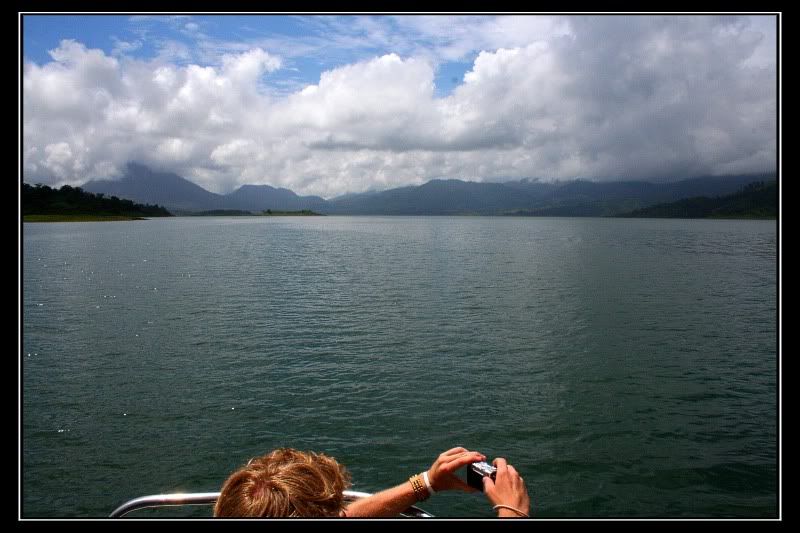 [Going close up on the volcano...still in the clouds.]

Another funny part of the trip was as Brian walking back to his seat from taking pictures in the front of the boat, the guide pointed to him to sit down in what he thought was Brian's seat next to someone else's wife so that he could give them instructions for what to do when we get to shore. Brian looked confused, shook his head, and came and sat down in front of me. I was laughing. The guide got flustered and apologized to me. I said it was OK – he isn't my husband. At that time the lady's actual husband came back. I guess you had to be there, but it was a pretty funny situation
[Finally, the clouds move on to give us a clear view of the top of the volcano (a good luck sign- many tourists come here and never see the whole mountain and volcano cone. This would be a very lucky trip for the three of us, seeing that we saw lots of clear views on the volcano on numerous days. On the very rightmost edge of the volcano you can see the smoke and gases of the
strombolian lava eruptions
.]
When we got to shore and had all of our instructions from the guide, we had a very steep walk up to the main road. The boy grabbed my back and carried it up without me even asking!
[Walking up to the road after exiting the boat]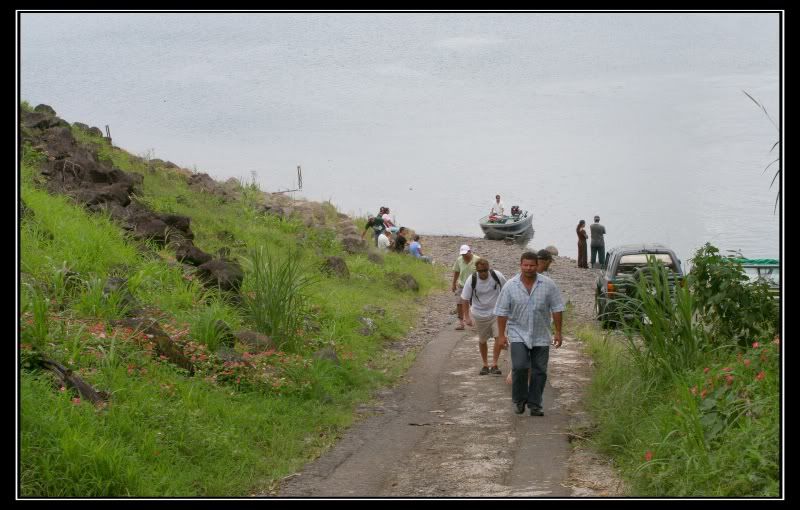 [There were some roadside vendors at the top of the hill. One stand had a metal pole covered with these massive lengths of thousands of tabs from soda cans.]
We all loaded into the van and headed off to our respective hotels. Phil and Nathan were in our van again, although they were going to stay at the backpacker's hostel rather than the Volcano Lodge.
We said good-bye to them upon being dropped off at the Volcano Lodge and wished them well on the rest of their vacation.
I was very happy to see that this hotel was very modern and very nice. They even had a spa! I felt I needed some rejuvenation! I was even happier we were staying at this location for two nights in a row! That should aid our ability to catch up on some sleep!
We and our luggage were taken to our room on a golf cart. We unpacked a little bit and then decided to head over to the pool side restaurant for lunch and some swimming prior to our 2:55pm pickup for the Arenal Volcano hike and Tabacon Hot Springs tour.
[The clouds move back in as we get into the Volcano Lodge]

We waited at the reception area for the tour to come pick us up along with a mother and her two grown daughters who were also going on the tour. Our tour guide finally came, and our guide was Jose. We learned that we should have brought our swim suits along, which we didn't know beforehand, so the tour bus drove around close to our casita so that we could get our swimsuits.
Jose was a very friendly and informative guide, but he moved extremely fast and it was very hard to follow what he was saying sometimes. For this reason, the majority of the people on the tour were perpetually confused. Brian seemed to be able to follow him well enough though and served as a translator.
The tour van first dropped us off at one part of the volcano where we could hike down and see with binoculars a cross which had been put up in the valley below to some rescuers who had tried to save some stranded people and were killed themselves during an early eruption.
[This was one of thousands of tiny ants carrying leaves many times their size across the ground]

We then loaded back in the van and headed to a different section of the volcano for the main part of the hike. We hiked through the rain forests surrounding the volcano, moving very fast and climbing higher and higher. We would pause periodically to look at a tree, plant, or animal that Jose saw.
[Welcome to the Jungle!]

I did pretty well keeping up, but I started to struggle the higher up we went (the elevation of the area was already pretty high to begin with). The nausea I had experienced earlier that day came back and was a lot worse this time. Then I started to get dizzy. Then I was sure I was going to throw up. About that time, we all stopped again – this time to look high up in some trees at some monkeys. Apparently at that time I turned an unnatural shade and attracted Jose's attention who asked if I was OK. I wasn't. Jose mentioned that this could be the altitude, and I had experienced something similar when visiting my aunt and uncle outside of Colorado Springs when we were mountain biking. Tim and I went ahead of the group so I wouldn't throw up on them.
This put a bit of a damper on the tour, because I was feeling so incredibly terrible. Even though we all wanted to enjoy watching the volcano erupt lava down the side and the Tabacon hot springs and subsequent dinner at the "Investment Banker Hotel", I was so sick that I could barely get from place to place. At the Hot Springs, I did get in for a few minutes, but got so dizzy I had to get out and sit on the side. We found a cool pool and I sat in there for most of the time. Tim will have to add comments to the rest, since I was just counting down the minutes until we got back to the hotel by this point! I wanted nothing better than to leave that minute, but we were on a tour, and I had to wait until everyone else was ready, which was a terrible feeling.
What I do recall is that we waited by the side of a road waiting for lava to come down the volcano. I sat down because I couldn't stand. I was rewarded by a swarm of attack ants all over me which were absolutely impossible to get off!
When the lava came down, it wasn't in huge streams of bright red, but from our distance looked more like bouncing steam with the occasional spark moving down the mountain. We would tell that it was moving extremely fast, though.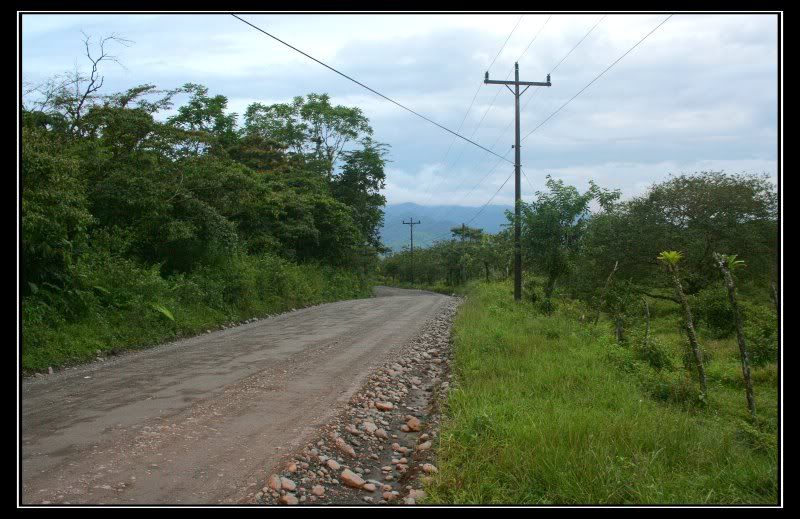 When we got to the Tabacon Hotel (the hotel formerly referred to as the "Investment Banker Hotel" when we were teasing Shannon and Steve for splurging on a stay there), it was a scene of chaos. There were multiple tour groups in line to get locker keys, towels, receive instructions about eating dinner there afterwards, etc.
It was complete mayhem in the area where we all got the towels and changed into our swim suits. Women were crawling all over each other to get their swim suits on, their clothes stuffed in the locker, and scamper out to the already very crowded hot springs.
Once I found the boys, we walked around to find a less-crowded pool of water, since there were many pools of all types and temperatures. We went into one with waterfalls first to let the pounding water massage our muscles and necks. That felt very nice, although soon the heat and steam became a bit overpowering. We walked around a little more to find one that was more isolated. We found the cold water pool just in time and I just sat down in there.
After an hour, we changed back into our clothes (but had not brought any brushes or combs, so after I rinsed off in the shower, my hair was just a huge tangled clump) and headed over to the Tabacon hotel restaurant which is supposed to be one of the best in the area! It was very odd to be going there in my hiking closes with unbrushed hair and a while/yellow shade of face.
I was only able to get down a glass of ginger ale, white rice, and a piece of watermelon. However, Tim and Brian seemed to love their food. Tim got rice, beans, fresh fruit, cheese, beef, coffee, chocolate fountain, and an Imperial.
After what seemed like the longest hour in the history of man kind, we were all done with dinner, and headed out to meet our 9:30pm transfer home.
As soon as we got to the hotel, I took out my contacts and fell into bed. We were all a bit worried that I would not make it to the next tour in the morning. Sadly, that was the one I was the most excited about – the zip lines. Tim gave me some Advil and water and the boys read for awhile as I tried to fall asleep. It's been a very busy, fun-filled adventure!!!